May 29, 2017
Today's a holiday, but you get a blog post because I write these in advance – this was completely last Friday! So what I'm saying is that TOMORROW, you're just going to get something short and sweet about my holiday weekend…
It's probably the most common question I get in my email: How can I pick accent colors?
Couple that with lots of questions about the most versatile neutral colors, and I've got a lot to think about!
But I've got to admit that more and more, I'm beginning to suspect that starting with navy and beige in a wardrobe might be the very easiest choice. Only if you have the luxury of starting from scratch, of course, or if you're in a position to build a capsule wardrobe of over a dozen pieces for a season (plus accessories!).
We often find, as we explore ideas on The Vivienne Files, that something that starts out really well with one color scheme can be expanded into lots of others, so this idea might really grow to include many other neutrals; we shall see!
First up, let's start with the neutrals as I see them: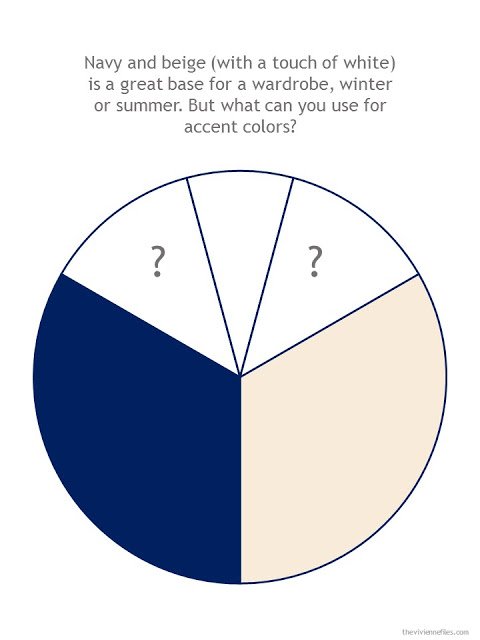 Please note that I've included the top center accent color as white; in reality, it could be any light "shirt and blouse" neutral that's not pure white, such as ivory, bone, etc. The only thing you have to be sure is that it is a color that works well with both the navy and beige. I suspect that at some point in the future I'll be using a slightly warmer neutral there…
Having established the 2 neutral colors, and that light-color accent, there are (potentially) almost countless possible accent colors that could be tossed into this mix. I've tried to be somewhat systematic about how they are shown here, but I'm open to trying a LOT more combinations if suggested. (that's a hint…)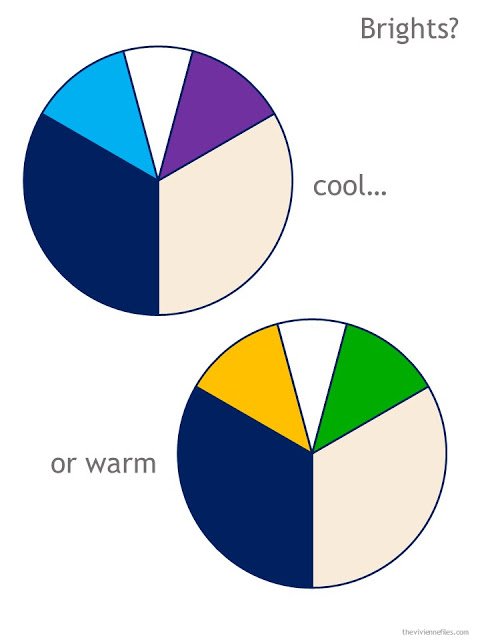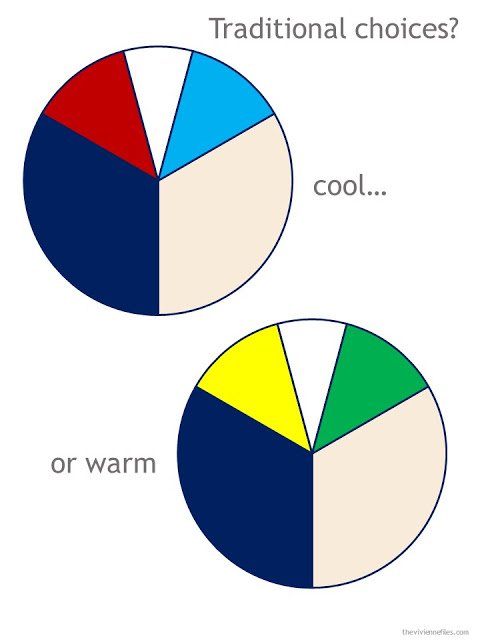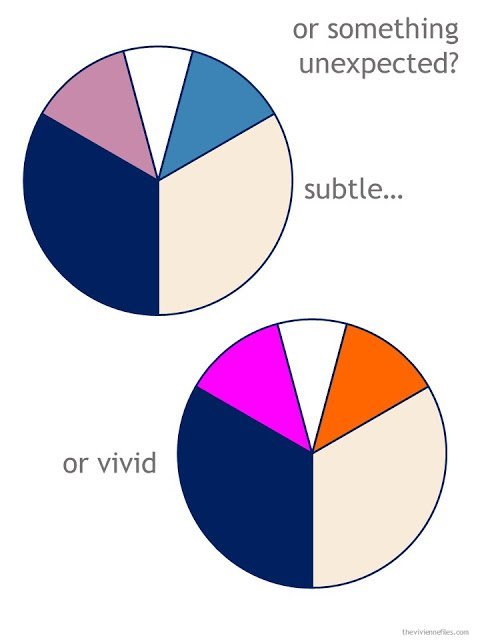 To show how this works in "real life," I'm going to pull together a small 13-piece travel capsule wardrobe. This isn't going to be a strict "Whatever's Clean" wardrobe because I'm going to be a little bit more relaxed in the choices of accent pieces. Nonetheless, this wardrobe's going to offer up about 2 dozen possible combinations – more than enough for most travel adventures!
First off, I'm going to start with a core of pieces in the 2 neutrals, and a pair of comfy summer shoes in the beige…
(Yes, I got all of these clothes from L.L.Bean. I did this deliberately – probably the biggest drawback to using navy in your wardrobe is the "matching navies" dilemma. Buying from 1 source might help minimize the issue of having navy garments that don't look good together… If you sew, this is a great excuse to buy a big hunk of navy fabric! Note that all of the navy pieces are described on their site as "classic navy," and that the beige is called "heritage stone.")
I'm just starting with the very first color scheme, which uses a soft bluish green and pastel purple as the accent colors. Figuring out what to search for when you want to look at clothes in these colors online is a tricky business!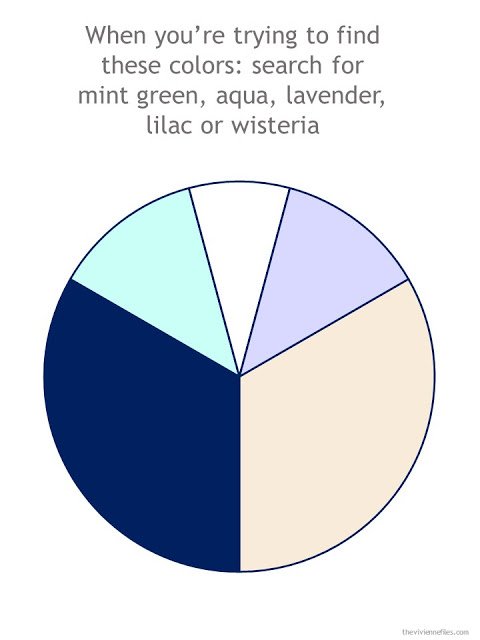 I'm also going to drop the six "starter" garments into a 13-piece template so that my additions to the wardrobe are chosen with some kind of plan. As much as it is important to listen to your heart and buy things that you truly find appealing, it's also pretty urgent to make sure that you don't go overboard in one segment or another of your wardrobe!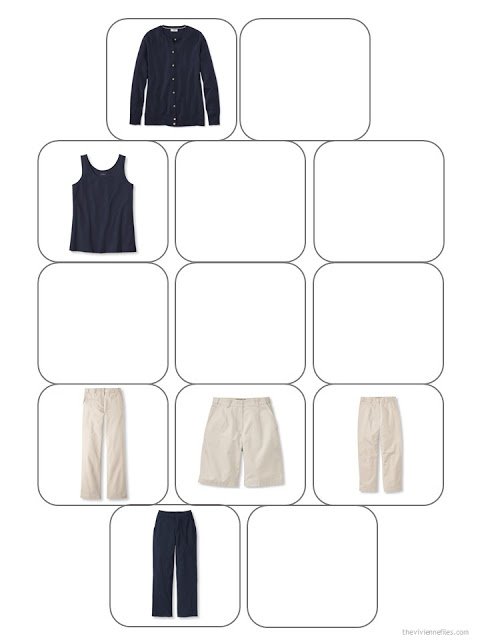 A couple of pretty tops, a lovely bracelet, and a pretty extravagant baseball cap! Knowing that the tops won't last terribly long, you don't have to pay a fortune for them, but something like a hat might be around for a long time, and could justify a splurge…
I'm just going through the same general exercise with another accent color – note that these colors don't have to match exactly because you'll never wear them together! Again, I chose one really classic tee shirt, and then one top that's a bit more relaxed and has a bit more… distinctiveness. This scarf would be really pretty with the tops above too, of course.
I could add more pieces in the accent colors, but I'm feeling a need to "shore-up" the neutrals somewhat. This print tee shirt combines the neutrals nicely, as well as sharing the overall soft feeling of this wardrobe. And for those of us who don't look our best with too much beige near our faces, this rather minimal cardigan might be okay for warm weather…
Referring back to the 13-Piece Wardrobe Template, I remember that we're going to need another "bottom." And a dark pair of sandals makes sense… I truly intended to put solid navy sandals here, but I just could NOT resist these beaded ones… Sometimes, you have to give in when your temptations are strong!
Now, when we look at the wardrobe template, it looks both nicely complete and has an overall feeling of coherence and harmony. Nothing sticks out terribly, and you can at a glance see all sort of outfit possibilities: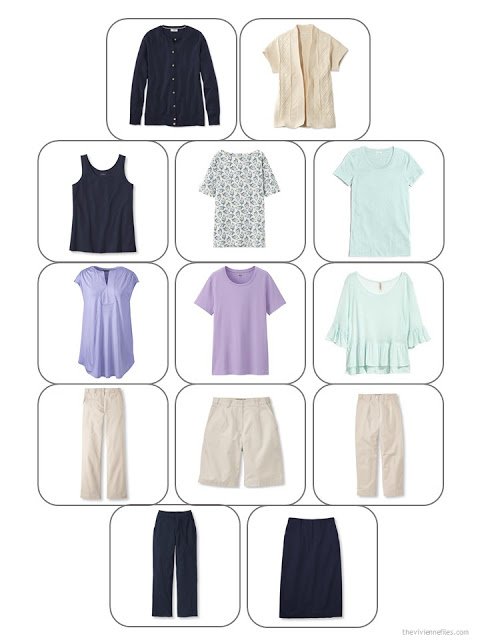 This is how it all looks, including the accessories. For some reason, when I see all of the pieces in 1 place like this (like spread out on a bed, perhaps?) I can more easily see the possible combinations.
This might be why I'm so fond of having a template to complete – to avoid missing a critical wardrobe component. Once I'm sure that I'm "covered" on all of the normal travel bases, then I can get creative…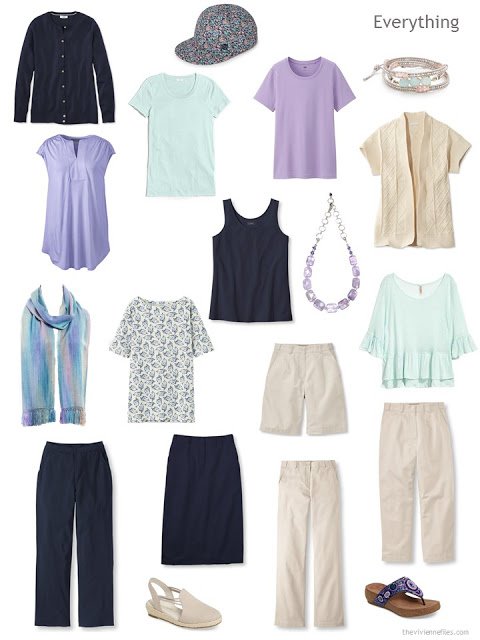 But just to be certain, I'm going to run through 20 outfits… I really like the way these look!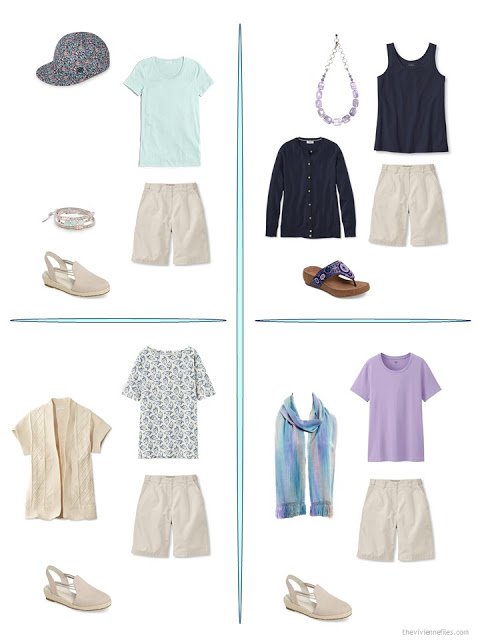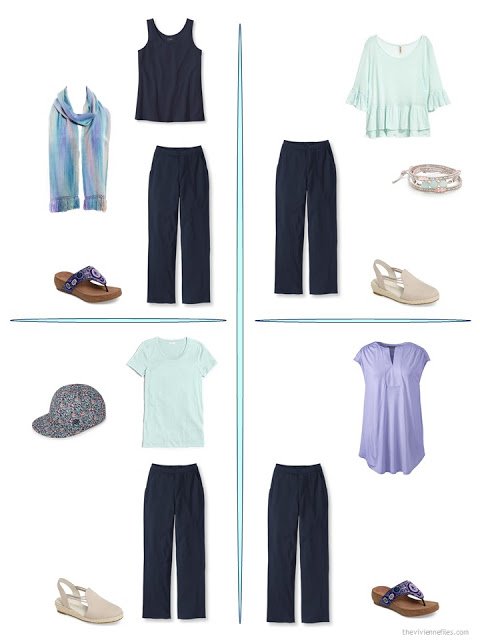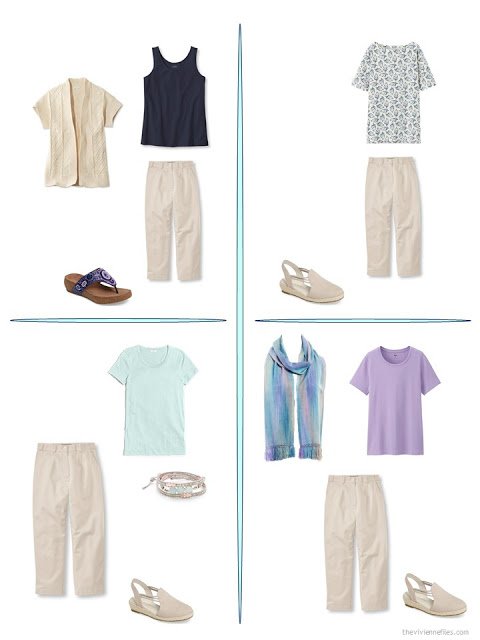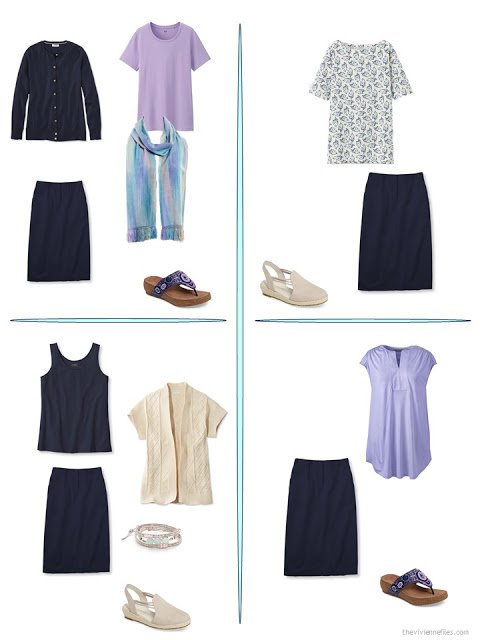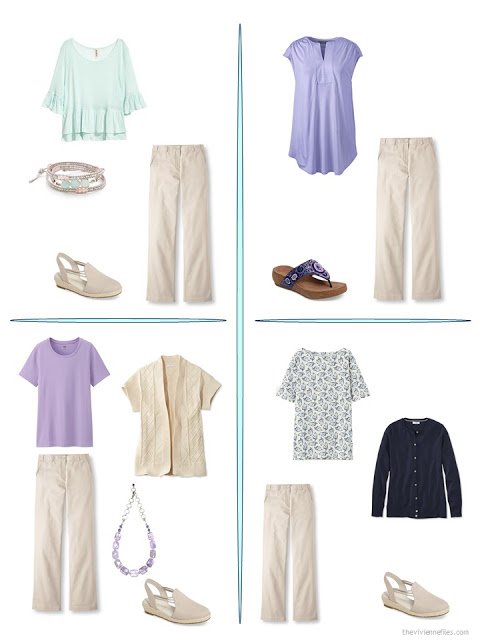 I'd deeply, madly love to change out the accent colors here and see what other possibilities can be discovered in the navy and beige neutrals. Are you interested in these possible experiments?
love,
Janice