April 25, 2017
Let's revisit yesterday's painting – I don't feel like we've nearly exhausted the possibilities of these colors! My hypothesis is that yesterday's heroine has been invited to… a wedding, let's say, out of town far enough that she's going to stay for a week or so. Except for the rehearsal dinner and the wedding itself, she won't have to get madly dressed up, but she can reasonably expect at least another dinner or two out with relatives and old friends.
So we start here: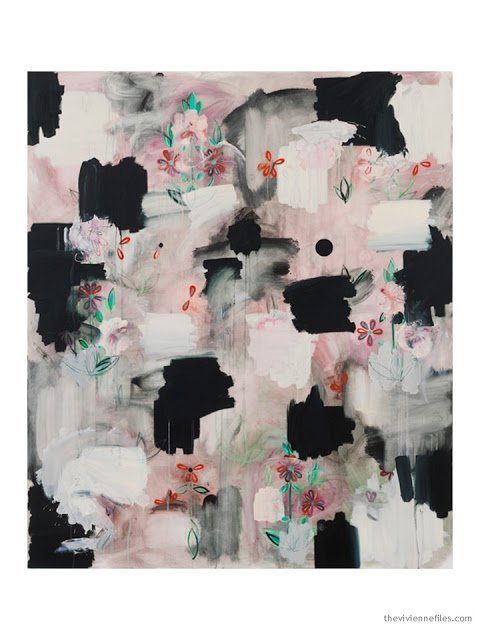 And we remind ourselves of what our color scheme is going to be for this travel capsule wardrobe: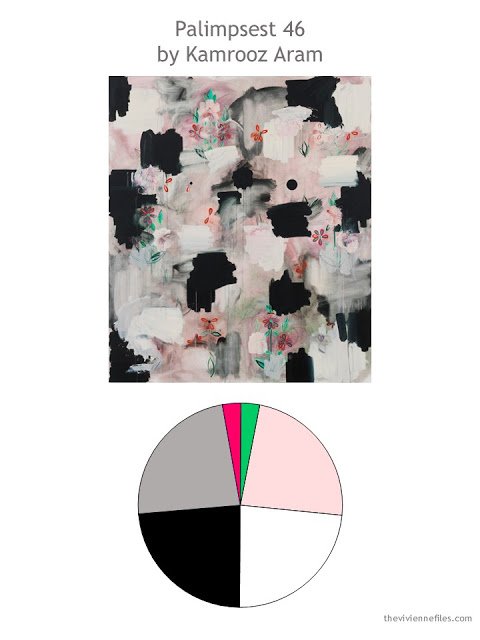 Our heroine was really happy with her travel outfit when she took her long lazy weekend break, so she's not changing a thing here:
She really like everything that she packed for that trip, so that's where she's going to start for this longer, and more demanding, trip:
In order to get her thinking organized, she takes all of the clothes that she knows she's taking with her, and places them (at least mentally) into a 4 by 4 Wardrobe template. This helps her see where the gaps are that she needs to fill, bearing in mind that she's going to need to dress up for 2 events during the weekend!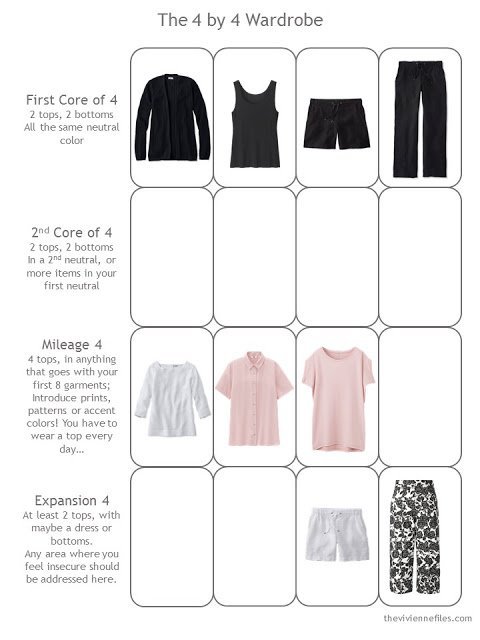 She's got room for an entire 2nd neutral, so she decides to include grey in her wardrobe. She's not quite at the point that she feels entirely comfortable wearing black to the wedding itself, although she knows that many people certainly will.
And she's planning that the rest of her time on her trip will be pretty relaxed, so a couple more casual pieces are in order. Lastly, she's certain that she will be getting together (in freezing cold restaurants, probably) with some friends or family in addition to the wedding festivities, so a matching cardigan and pants give her at least a handful of additional outfits that will be perfect for those evenings. These are what she chooses to add to her suitcase:
She was a bit extravagant in her dress choices, but they're classically styled and won't date – she can wear them for the next few years without fear of looking like a fashion victim. And everything else in her travel wardrobe is rather moderately priced. Note that when she found the pink sweater at Marks & Spencer she IMMEDIATELY starting looking in the same store for a scarf. That's always a good idea – if a buyer or a buying committee has committed to a color, you might easily find it in a variety of departments.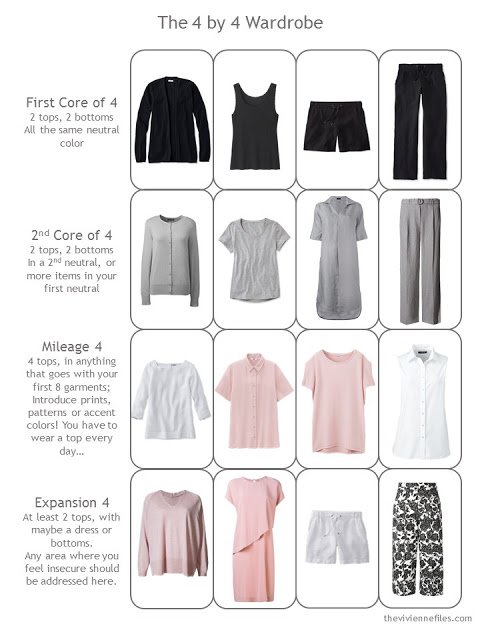 Everything makes perfect sense within the 4 by 4 Template (which is not the only way to determine if a wardrobe will work, but it's a good guideline), and the number of possible combinations from these pieces must be over 2 dozen!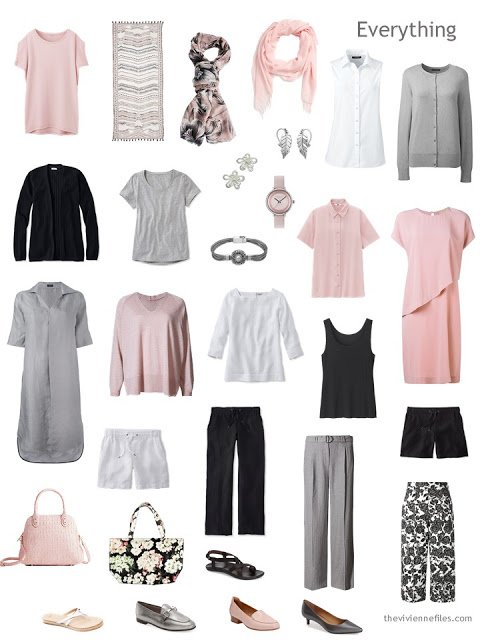 She's got excellent options for both a rehearsal dinner and the wedding itself – she will look pretty and festive…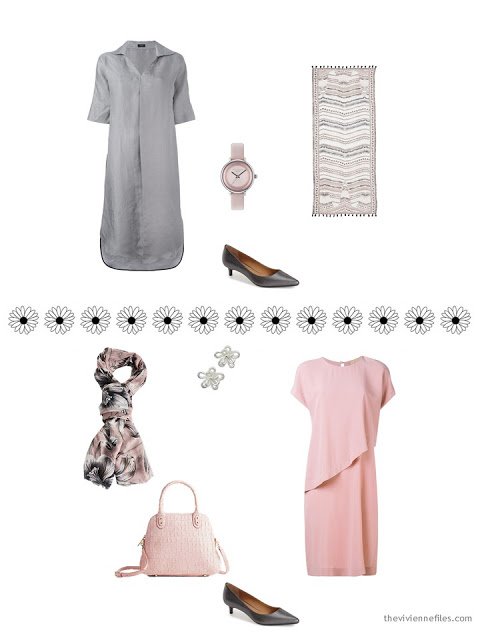 For other evening activities, she has a nice pair of pants and a lot of choices about how to wear them: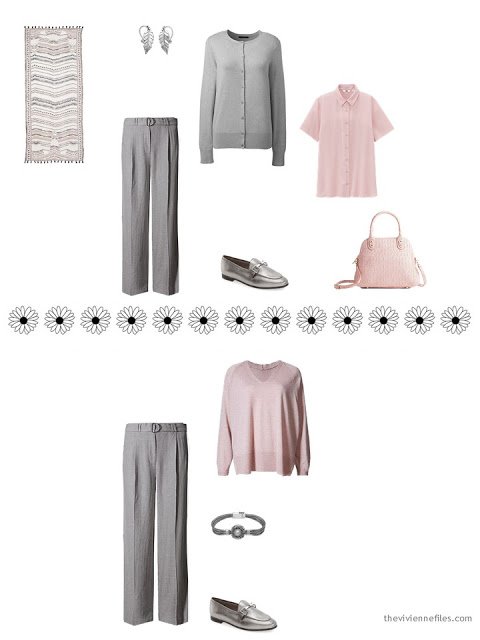 For the all-important relaxation and down-time, she will still look neat and attractive: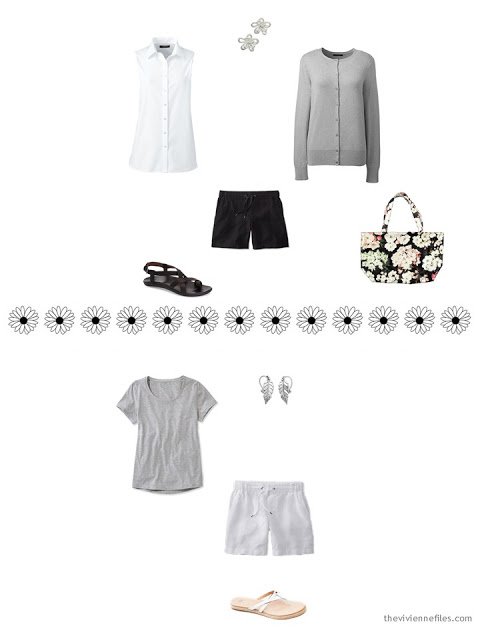 When you have everything with you that you need on a trip, you can concentrate on the more amusing things like observing the family dynamics, playing with children you don't often see, taking lots of photographs, and just generally being in the moment. "Isn't elegance forgetting what one is wearing?" Yves Saint Laurent once said…
love,
Janice