March 20, 2017
So far, we've been relatively subtle in our accent colors… THAT'S going to change!
I see many things in this image, but I do NOT see a pot of tea!
What might be the thing that really threw this painting into the "must address" bucket for The Vivienne Files is the surprising presence of that beautiful purple. (and yes, a wee touch of green!) Normally, I think most of us, if we were painting this, might be tempted to use blue alongside the red and yellow. But that's why he's Leger, and we're not…
I also really appreciate the degree to which these colors are strong, but not jarring or neon. That takes a bit of skill…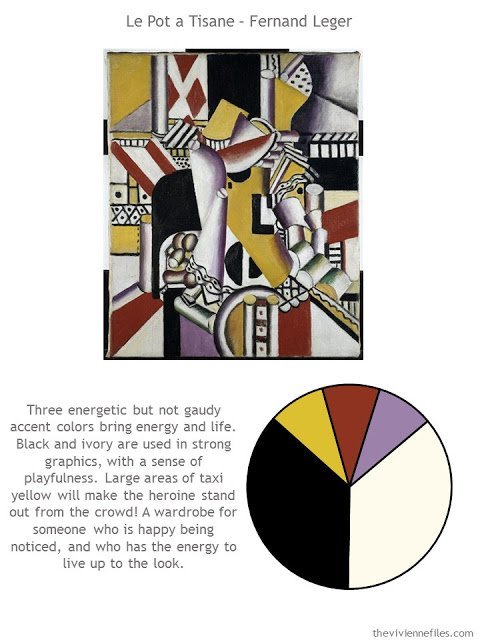 I know we're getting a bit weary of seeing these, but I have to always remember that many of my readers aren't following these series in order, and might stumble into this post without any advance notice of the overall plan. So, in the interests of full information, these are the 9 neutral garments upon which I'm going to build a nifty little travel wardrobe for our intrepid heroine: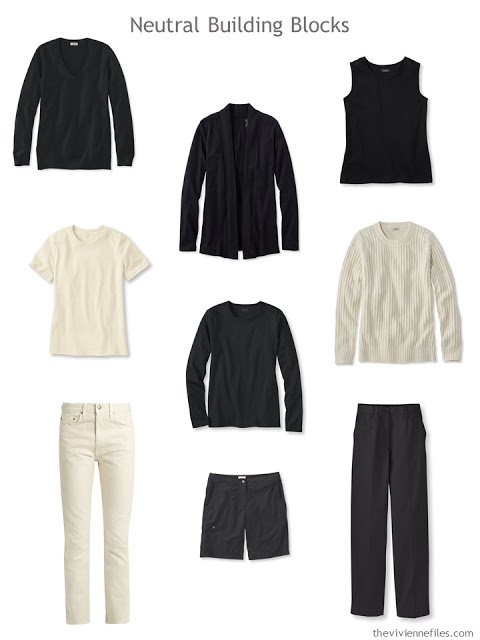 v
-neck sweater – L.L.Bean; cardigan – L.L.Bean; sleeveless top – L.L.Bean; short-sleeve tee – L.L.Bean; long-sleeve tee – L.L.Bean; sweater – L.L.Bean; jeans – Brock Collection; shorts – L.L.Bean; pants – L.L.Bean
And these are a dozen outfits that this person already has, before I've added even one accent garment: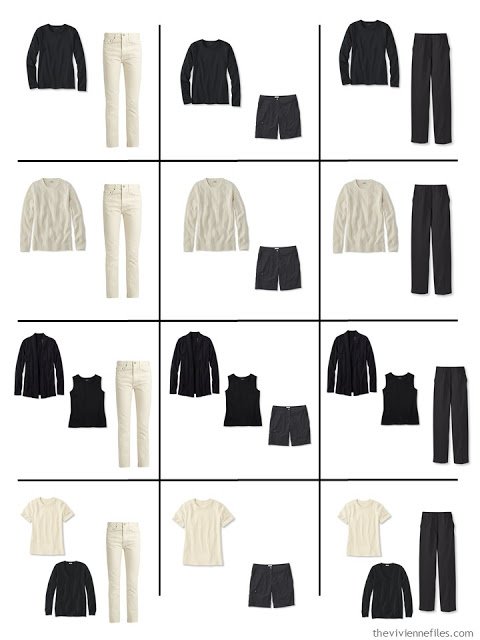 And just to keep me honest, and focused, this is how these 9 pieces fit into a 4 by 4 Wardrobe Template. Even if I've done a certain wardrobe plan a bunch of times, it never hurts to stop and remember what I'm trying to accomplish!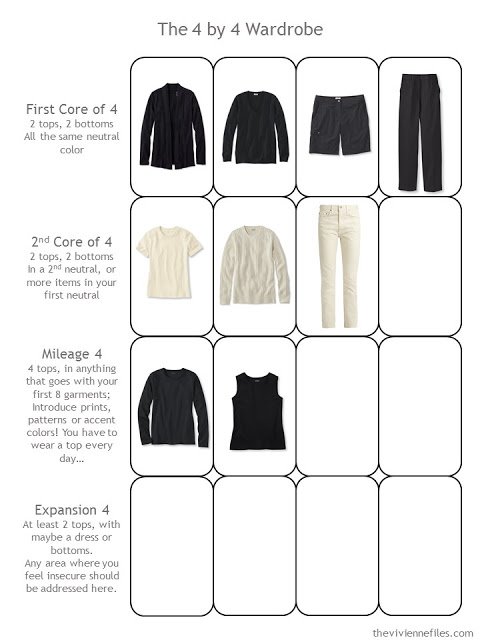 These colors are closest to those that I normally wear, so I had a particularly good time choosing these! If someone who really loves me is reading this, I would wear that Keith Haring "star" tee shirt in a New York minute…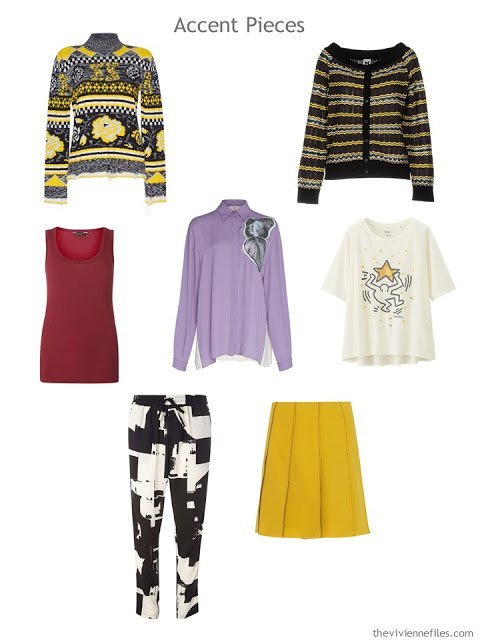 sweater – MSGM; cardigan – M Missoni; tank – Dorothy Perkins; blouse – Marco de Vincenzo; tee – Uniqlo; pants – Only; skirt – Parden's
Even though the top row of each of these templates has remained the same (as well as 75% of the 2nd row…), just seven different garments give each wardrobe a very different personality, I think!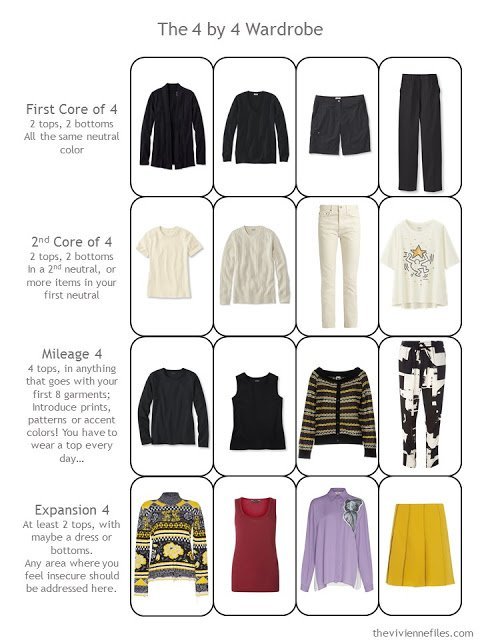 This is my favorite part of the exercise – can someone really WEAR these clothes in enough different ways to be able to honestly call this a capsule wardrobe? I'd say yes, in this case: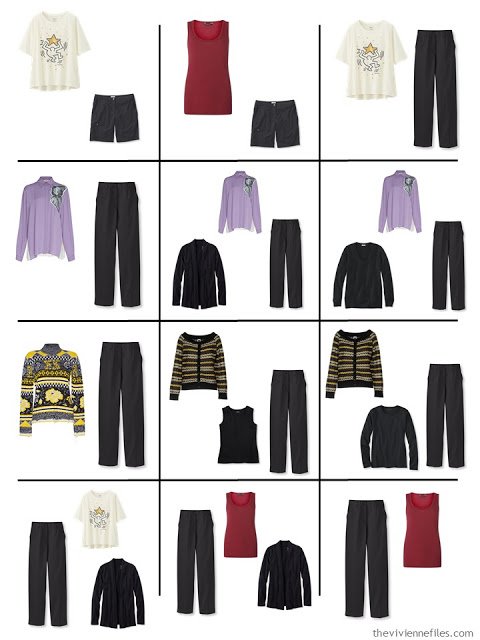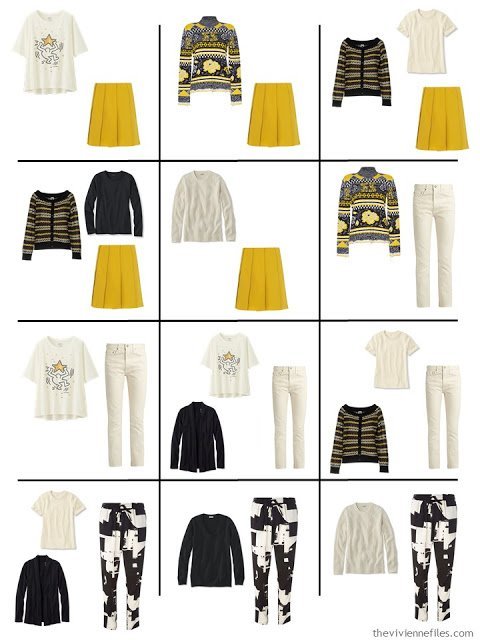 Tomorrow, our heroines are all going to meet up, and compare outfits! I'm still barely started on this, so it will be a surprise for all of us to see just how it all turns out…
love,
Janice
For more on Personalizing a Neutral Capsule Wardrobe, please read: