By the time this is posted, I will in fact be back from Ireland, and in Florida! My head spins at the very thought….
But my packing for Ireland is pretty compact (as usual) and I had a specific approach that might be worth keeping in mind.
First off, my travel outfit, which includes one of my "target garments" to try to wear a lot in January:
Please note that I'm also checking a suitcase, because I am of course bringing undergarments and pajamas with me, as well as fleece leggings and a couple of wool base layer shirts. I've got gloves and a couple of Buff fabric gizmos in my parka pockets, too!
Because the whole purpose of this trip is to reacquaint ourselves with Dublin, we're going to be walking a lot, and thus I'm packing hiking shoes AND athletic shoes. They're both very bulky, so scaling down the clothing I'm taking is essential…
Note that I've included 2 cotton turtlenecks and my black dress, that are all on my "things to target in January" list. I made the January list with this in mind!
This doesn't really seem like a lot, but the beige sweater is bulky, and I'm going to have quite a few pair of wool socks, so I'm going to be pretty thoroughly loaded!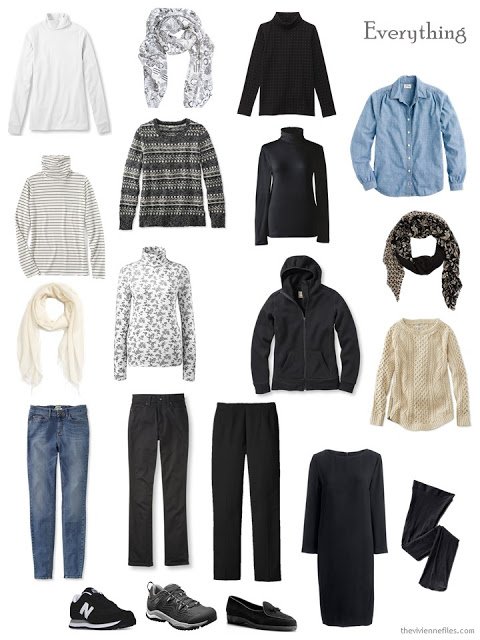 So there's a method here! I'm going to have 3 pair of pants with me – two pairs of jeans, and the corduroy pants that I'm wearing on the plane. Each of those pairs of pants will have a sweater that's (more or less) designated to be worn with them. And THEN, I have two options for what to wear under the sweater…
Yes, we're assuming that we're going to need to wear layers every day. We might cram our down vests into our bags on the off chance to see a warm-ish day, but we're resigned to carrying our parkas if it really heats up. (ha – that's NOT going to happen…)
And the only thing that we might do that dressy is go out for a dinner or two. My black velour dress of all tasks will be fine with opaque tights and my flat loafers, as well as any of the 3 scarves. Yes, I'll have to wear my parka with my dress. We're not going to any restaurant SO fancy that this would be an issue!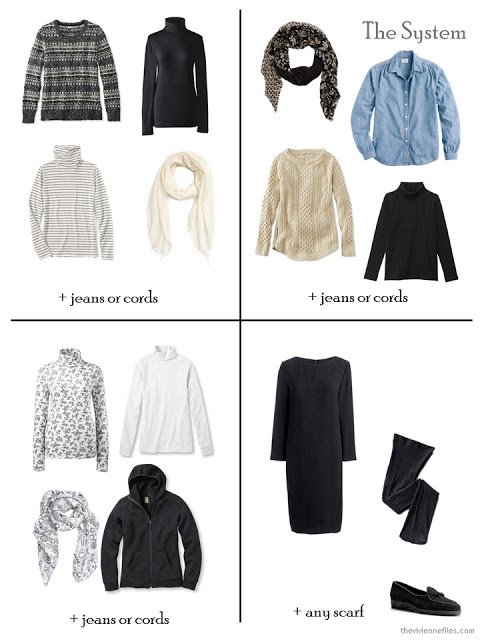 And most important of all, we're staying in an AirB&B apartment, so we're going to do laundry at least once, probably twice, during our 11 nights there.
I'm not concerned about having enough clothes, nor about staying warm enough. After being in single-digit Chicago, Ireland will feel positively balmy!
love,
Janice