January 31, 2017
One of you has fallen in love….With a cardigan! And you're somewhat concerned that you won't wear it enough to make it worth the purchase…
This is the winsome object of her affections:
She assures me that she really loves the yellow, but has never worn it. And she's very devoted to her black and white neutrals:
I don't think she's going to have any problems at all – realistically, I think she need to maybe buy 1 thing for each of these outfits to pull everything together.In these first 2 outfits, she'll want to grab those delicious sandals, and the bracelets will be essential…
Another pair of yellow sandals might be overdoing it. Maybe. And the yellow tee shirt – assuming she can find a yellow that's close enough for clothes – would be genius.
For air-conditioning, I think a yellow wrap would be handy, as well as pulling together the outfit. And if she's feeling REALLY bold, she could go with a striped top under the floral cardigan. (I like to toss out some wild ideas, from time to time!)
Overall, these six outfits might require her to buy one or two new garments. Doesn't this look like it might also make a great travel wardrobe?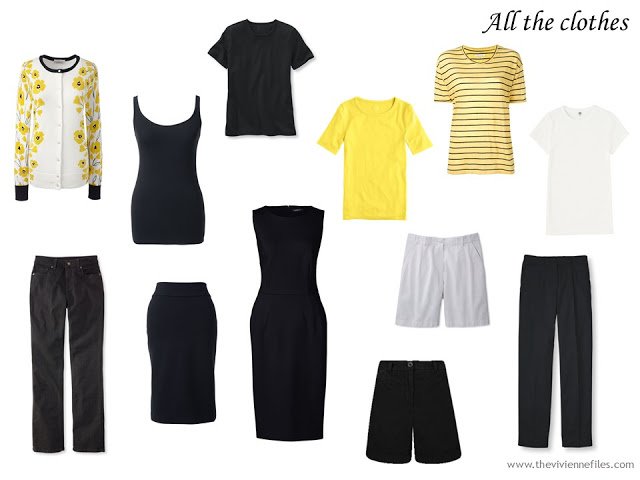 Accessories might be a bigger investment, but she could certainly manage with just one pair of yellow sandals… then a scarf and a set of bracelets – that's not a big "color experiment" if you truly are tempted by yellow. I'm assuming that she already had a penchant for the floral, and already owned the flower jewelry…
Now, you might absolutely detest this sweater – I can appreciate that. But I think the lesson is still valid – if you're madly tempted by something that works 80% with your wardrobe, ask yourself if you're willing to invest your wardrobe for warm weather in experimenting with that 20% that's new and fresh. It might be a different way to liven up your neutrals, and maybe discover a new accent color for long-term!
love,
Janice
p.s. I'm not quite back on my normal "5 day a week" posting schedule, but I'm getting there soon!