January 20, 2017
This is such a lovely painting, and such a truly simple and straightforward color-scheme: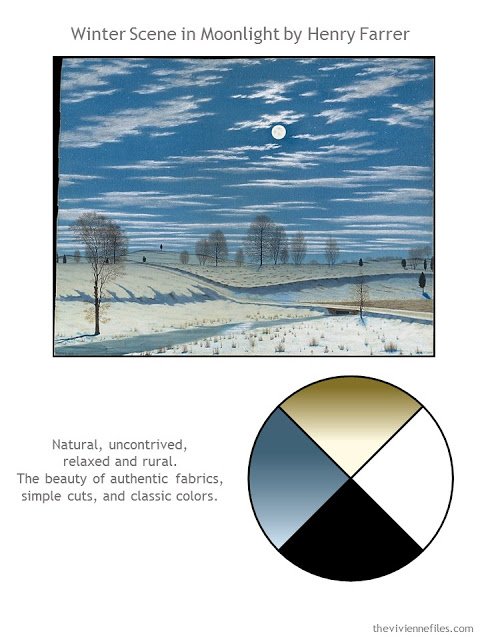 When we first visited this painting, it was to help inspire a cold-weather long weekend in the country. This was the wardrobe (minus the nightgown!) that our heroine packed. Many of you asked me if it would be possible to expand this wardrobe a little bit, into a more complete winter wardrobe; I'm ALWAYS happy to try to oblige!
That translates into half of a Four by Four Wardrobe, arrayed this way: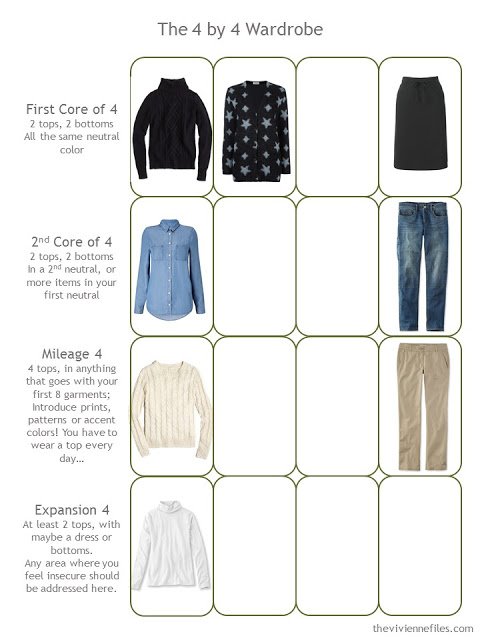 As much as that star cardigan could be worn every (cold) day for a decade and not grow old; it only makes sense to have at least a couple of cardigans for the colder weather. A zipped black cashmere sweater is warm and cozy:
And while we're reinforcing the black segment of this wardrobe, another pair of pants is a smart thought:
But it's always fun to break up the solid colors with a nice classic striped tunic…
The only real shirt in this wardrobe, so far, is the denim one, so it's time to bring in another. If you absolutely positively can't wear beige near your face, consider substituting a black shirt, or maybe a pink accent…
So long as you have tall boots and fleecy tights, there's no reason not to wear dresses or skirts in the winter. (well, maybe not in single-degree weather…) I love a simple denim shirtdress; I wonder why I don't own one?
On really cold days, you can legitimately wear a down vest indoors, and on those intermittent mild winter days, it might be all of the outerwear you need:
That poor white turtleneck is going to get REALLY worn out if we don't find another white top of some sort. I always like a classic button-front shirt (those from Lands' End are very nice – I own FIVE of them…) but if you don't wear button-fronts, you could always get a black cotton turtleneck, or a denim-ish blue one…
And since all of our core garment basics are here, it's time to break out one more fun sweater – this time, with gold trim!
This is a pretty well-balanced assortment of pieces; you could get dressed through the winter without much trouble here: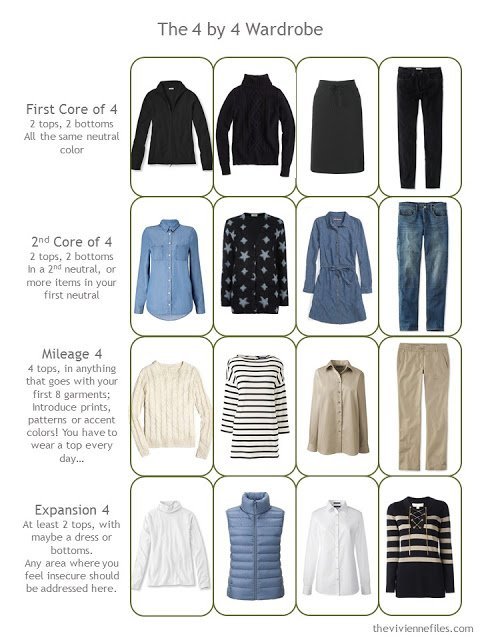 Monday, I'll add some accessories!
love,
Janice