December 6, 2016
Back on the first of November (which seems like it was YEARS ago…) we left this capsule wardrobe looking this way: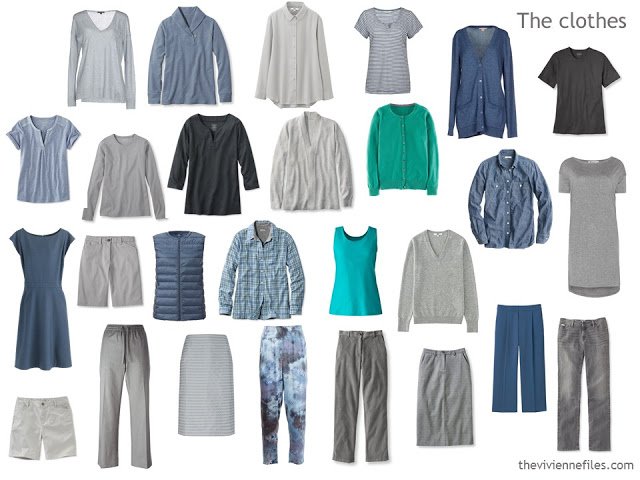 If you need to track back and catch up on how we got to this point, the earlier posts can be found here: January, February, March, April, May, June, July, August, September, October, November.
I had a hunch that this wardrobe was in pretty good shape, and this is borne out by the way that the Four by Four Capsule Wardrobe fell into place so easily: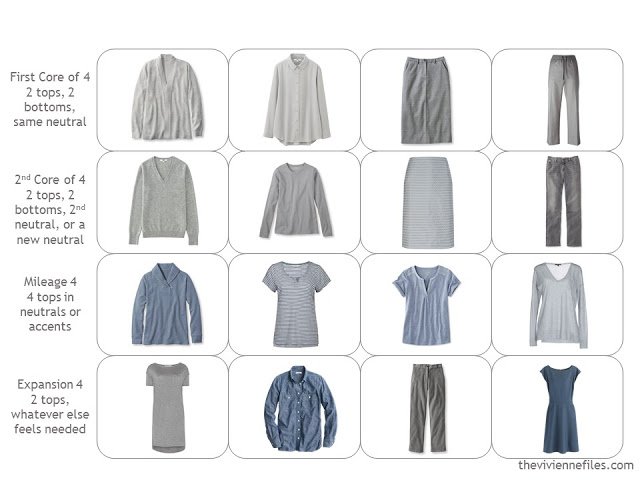 I noticed something sort of interesting when I graphed the garments on the basis of season and dressiness – the cooler weather clothes were more casual, and the warmer weather items skewed a bit more dressy.
This makes sense, when you think that a lot of us wear dresses frequently in the warm weather, but tend to layer on 37 sweaters when the temperatures drop. But it doesn't really reflect wardrobe needs – for many people, their dressiest events are in the cooler weather. So that's a possible wardrobe "gap" that could be addressed now.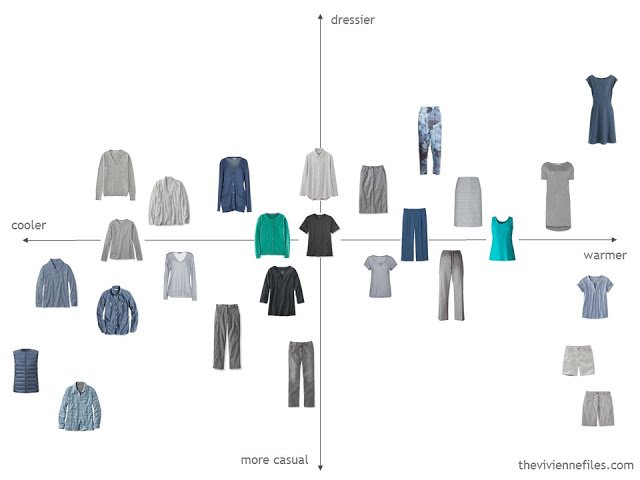 When I sorted all of the pieces into categories, everything feels pretty well-balanced; no big absence of second layers, or shortage of tee shirts jumps out at me: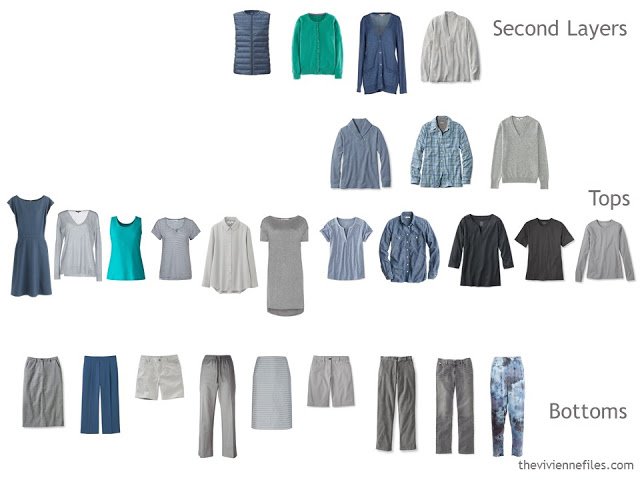 Shoes also feel pretty well balanced – as long as you have a pair of classic pumps, you're covered for a million dressy events! Maybe a pair of more "sturdy" boots, if the heroine of this particular story is an outdoor-ish sort?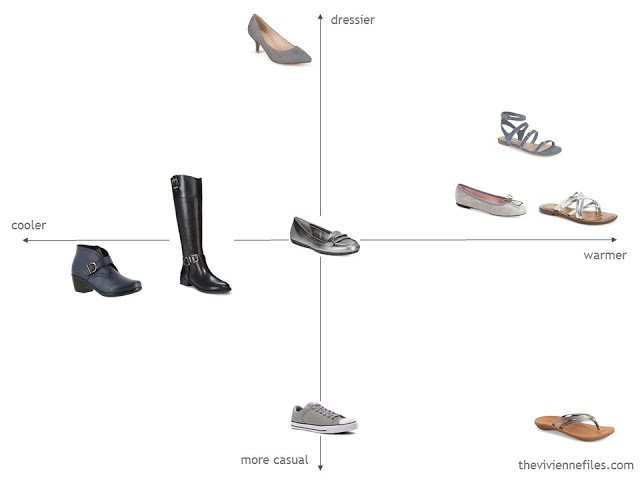 When it was all said and done, and I'd looked at lots of nice things, I thought that a pair of more dressy winter pants might be a good starting point. I'm not talking tuxedo trousers here – those are too limited in usage for most of us! But a nice pair of wool trousers will dress us any simple sweater, especially in a room full of blue jeans.
And then I saw these sweaters, and just plain liked them; they will both look really great with the new pants, and will also be wearable with a ton of existing pieces of this wardrobe. A pair of sturdy, but not clunky, boots finishes out this last addition to the wardrobe: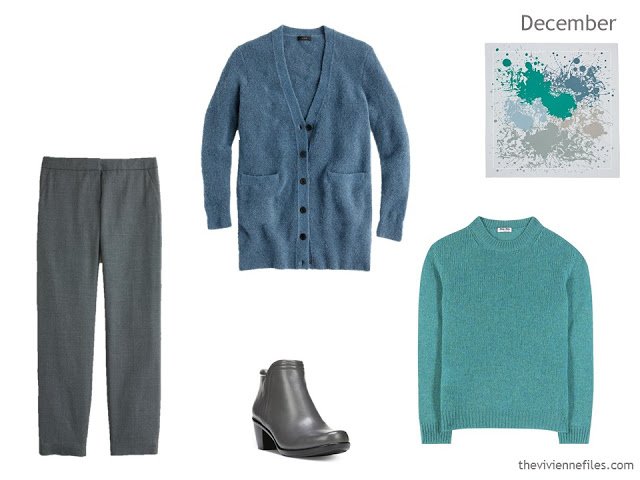 Pants – J. Crew; cardigan – J. Crew; Boots – Naturalizer; sweater – Miu Miu
Here's the updated wardrobe – I sincerely believe that someone could live for a long time with these clothes. Yes, you'd have to do some laundry pretty often, and you might really want a pink tee shirt at some stage! But still, you'd be fine…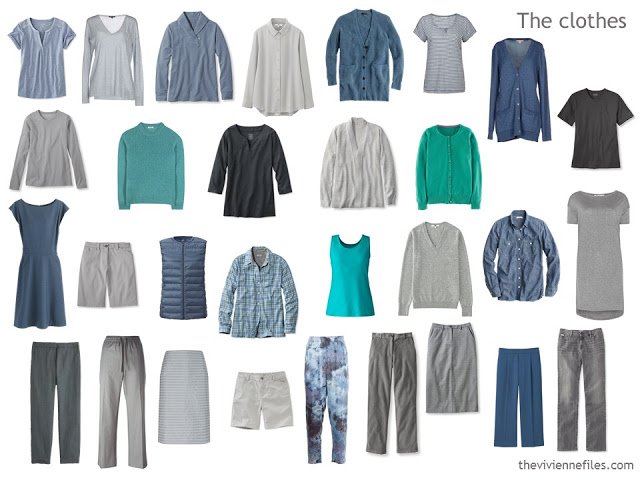 You know full well that I'm an accessory fan, and I particularly like the way that these all "hang" together. The little punches of turquoise brighten things up, and the central theme of "fluid" silver is well-represented.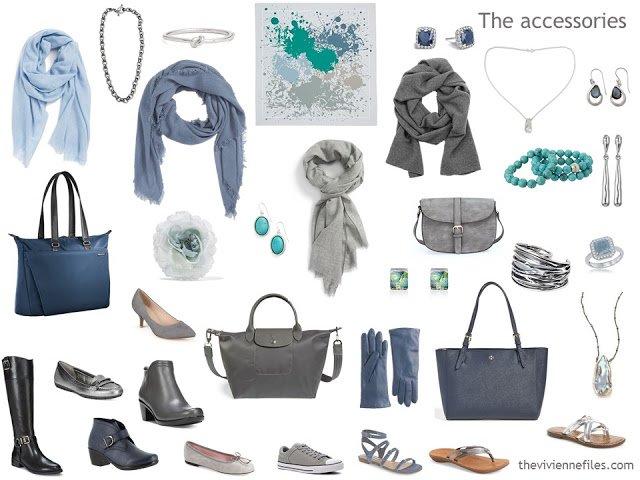 Of course, we wouldn't consider buying ANYTHING without clearly and SPECIFICALLY thinking of a variety of ways in which our new stuff can be worn. Our 3 new pieces here do quite nicely: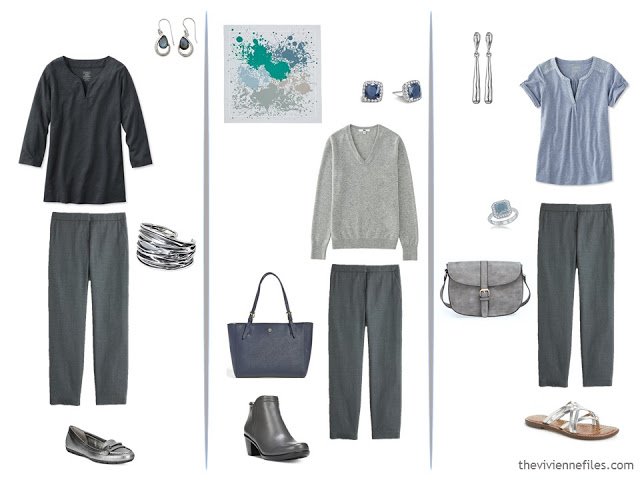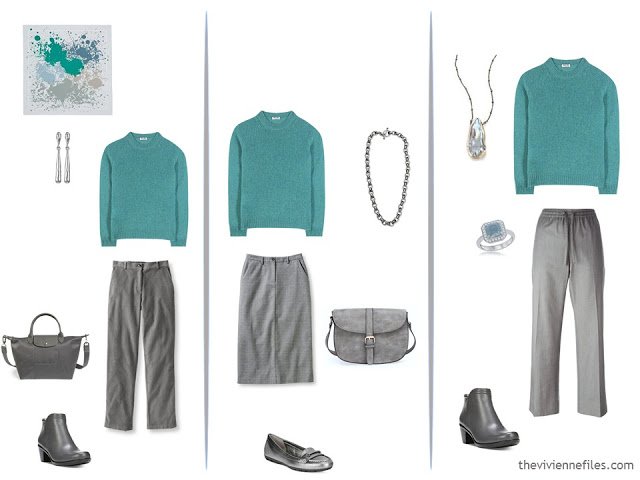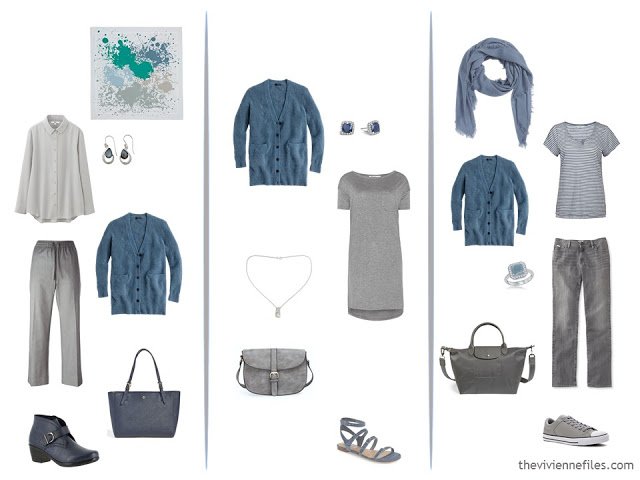 Realistically, this wardrobe could have stopped at the end of November; there was really no compelling need to add to it. It's important for us all to keep in our mind's back pocket the suggestion that we don't HAVE to buy anything. Unless you're literally partly naked, you should be able to cobble together something.
Addressing your desire for something new is an entirely different question – but in the interests of our budgets, and of the environment, it behooves us all to think about our purchases, seriously, before we purchase. I'm not telling you to never buy clothes again, but I would like to lovingly suggest that you think of your real reasons for buying before you do so. Just to be sure…
love,
Janice