December 7, 2016
Ah, this one is closest to my normal capsule wardrobe, and to what I would buy if I had to start all over…Remember, we left this wardrobe on the first of November like this: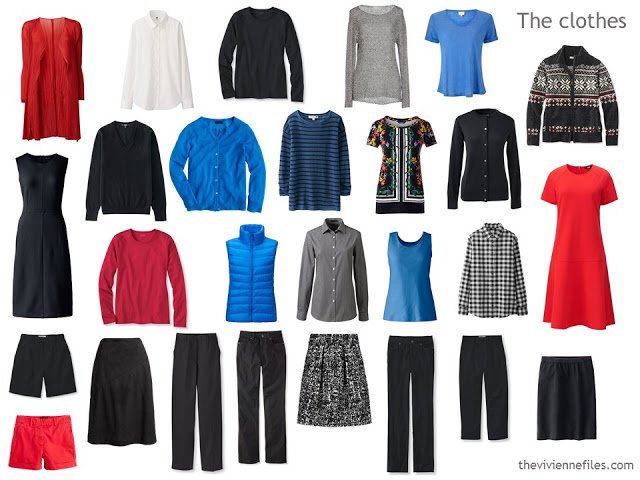 You can see the outfit-by-outfit progression of this wardrobe here: January, February, March, April, May, June, July, August, September, October, November.
Because this wardrobe is so close to my own, I wasn't really concerned that things wouldn't be reasonably well balanced. The easy assembly of a "Four by Four" capsule wardrobe supports my thoughts: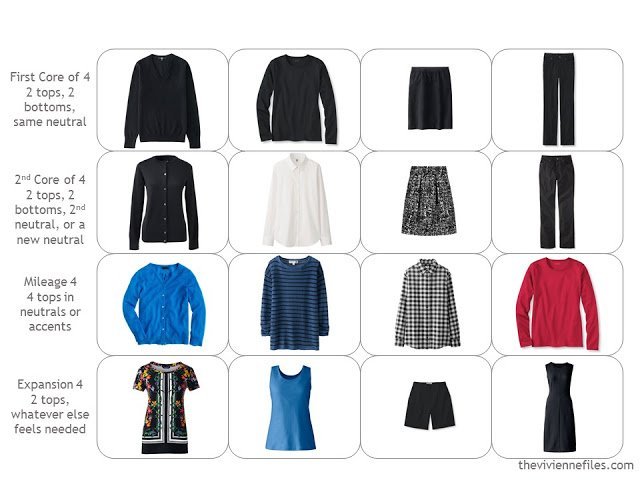 I wasn't quite as certain that things would be as well-balanced for seasons and dressiness – I tend to love cold-weather clothing more than warm, and to like dressier things more than casual. You can see that here – the upper-half of the graph is somewhat more populated (the dressy things), and the left half – the cooler weather half – is also more filled in.
This would be a clear indication as to what needs to be purchased, but of course in November in North American, the shorts and tee shirts that would be most logical aren't going to be easy to find.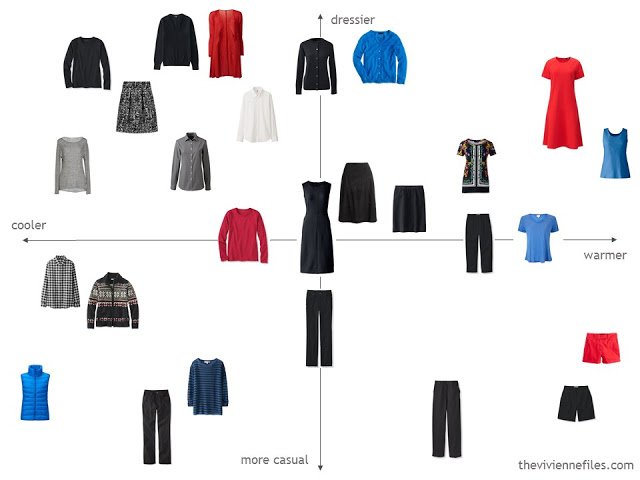 I like to look at the array of clothing collected this way too – it gives me a sense of whether or not I need another cardigan or jacket, or maybe another skirt… This wardrobe seems okay in most respects, I think.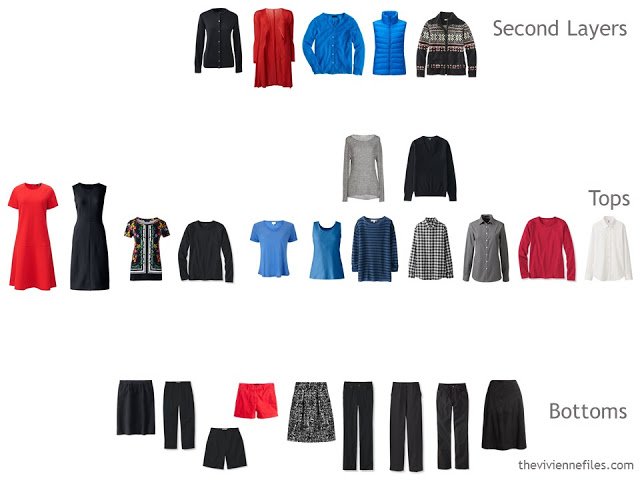 The shoe wardrobe could use something more dressy for cold weather, and also a pair of more dressy sandals – both of the top corners are empty: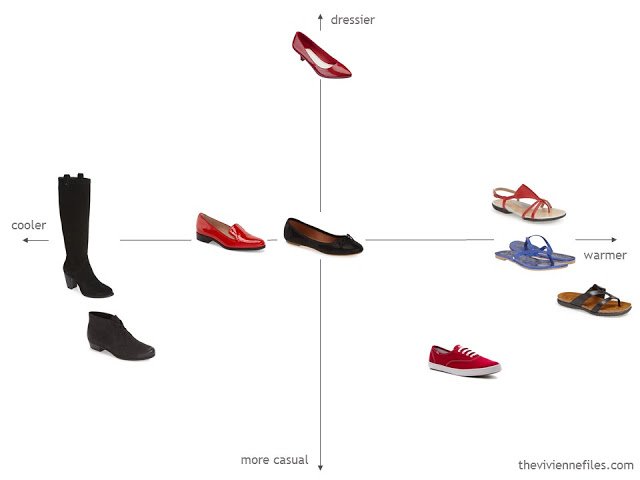 In the interests of cool-weather dressy, but not TOO dressy, I'm suggesting a nice pair of wool pants. While I manage to get through most of my life in jeans, and in the cold weather – corduroy pants or wool pants change everything.
And I thought some more red would be a good idea…
This is the wardrobe as it now stands – I could live with this for quite a while: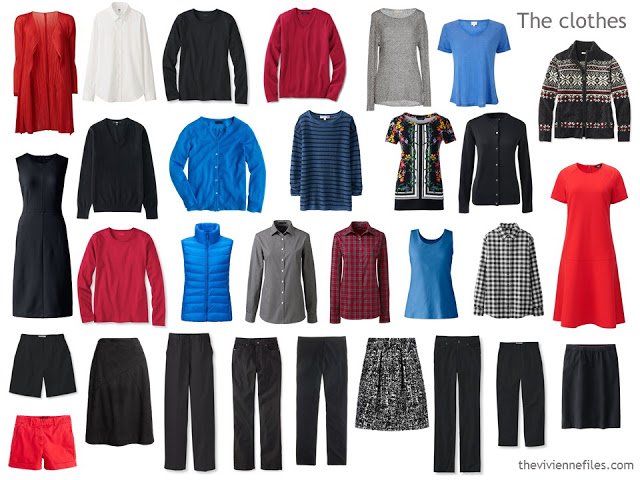 And I love these accessories!
I know I sound like a broken record, but you've got to be certain that your new purchases fit into your wardrobe in a variety of ways – this is the only way to be sure that you're going to actually wear your new clothes, and not just waste money on pretty things.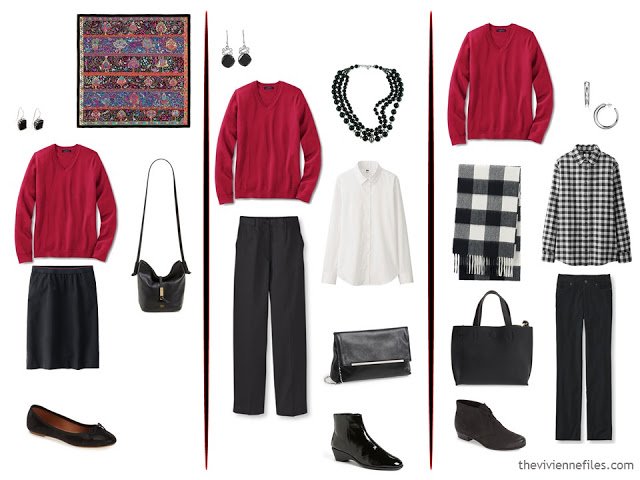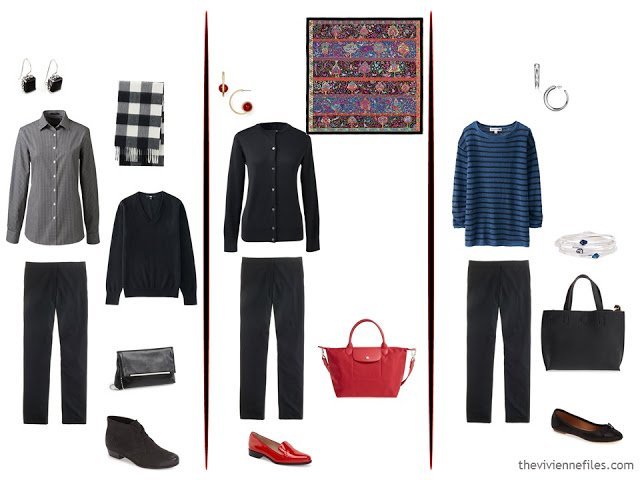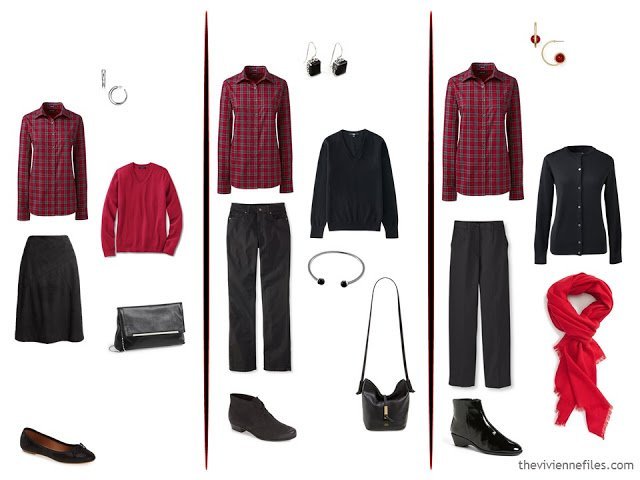 Whew! I fully intend to start six new wardrobes on January 1, 2017. Come along for the fun!
love,
Janice