December 9, 2016
The wardrobe is as far from colors that I wear as is physically possible, but I still think it's really nice – very well-balanced, lots of attractive choices, and a wide range of ways to pull outfits together.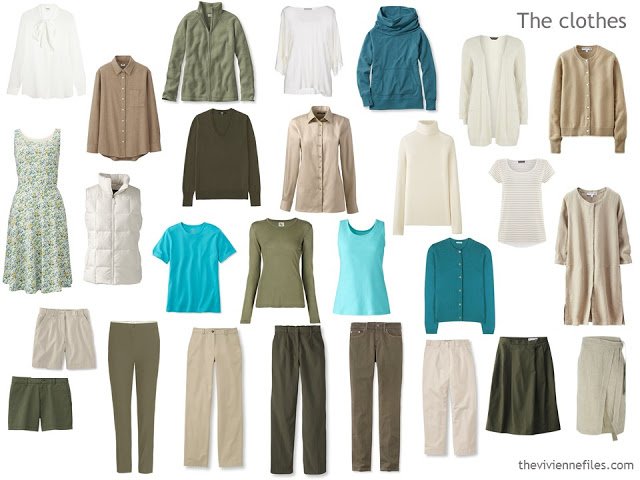 I'm always surprised to see how organized these wardrobes turn out to be, even though I made choices for a lot of months based on things that just interested me, or that I found attractive. In this wardrobe example, the Four by Four wardrobe possibilities were really easy to find: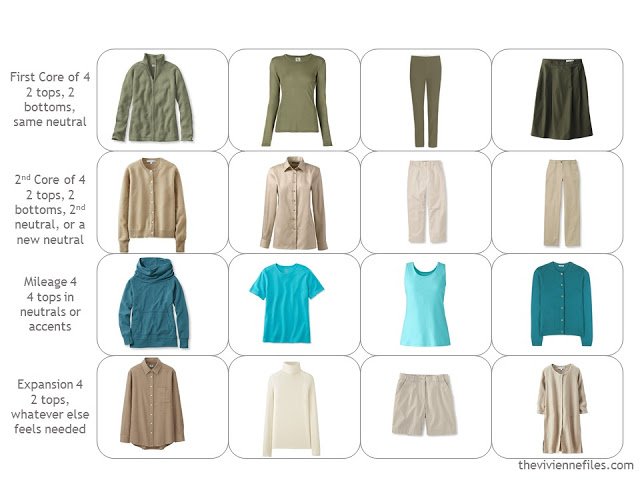 When we look at this wardrobe in terms of how well it serves the owner for a range of activities, through a full year of weather, the only real "blanks" I see are in the area of very dressy activities. This heroine might need to look seriously for something like a sequined tank top in her colors, or some silk separates that could take her to summer activities. I would have liked to include those here, but I'm keeping my options open because warm-weather pieces aren't easy to find in November!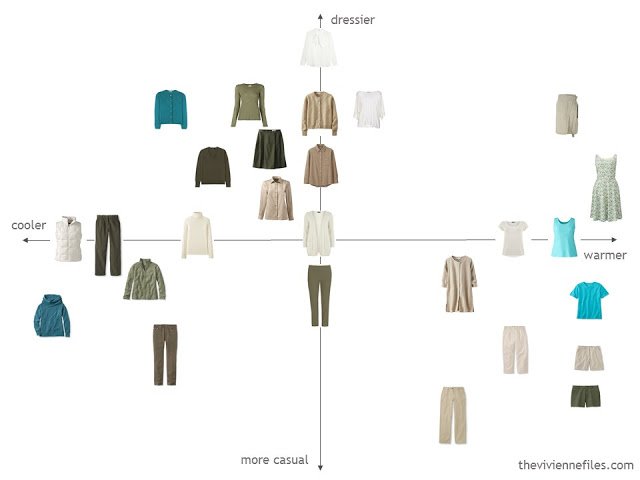 Here's where my real lesson was learned – normally, I like these wardrobes to contain at least 3 or 4 pieces that can be worn on their own, OR layered over something else. In this wardrobe, right now, there's just the one v-neck sweater. Of course both the turquoise and the camel cardigan can be worn on their own, but I just feel like I want something more.
And there's also that "gap" in the area of cold-weather dressy clothes that might be filled by a pair of wool trousers in a "non-utility" color, like ivory. Gold silk would be pretty – in either a top or a bottom… Some olive velvet? There are a lot of possibilities…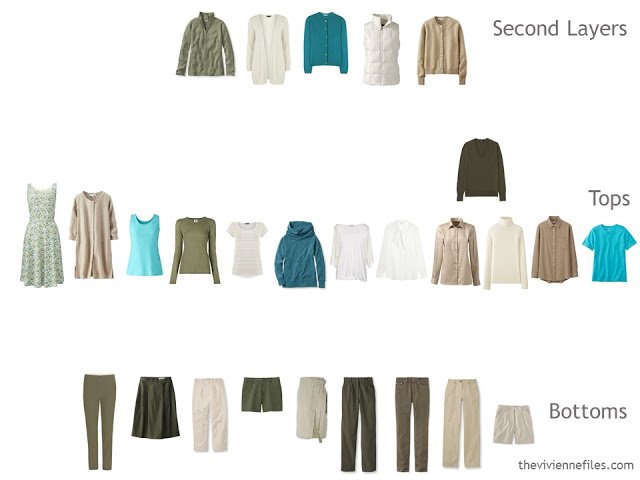 And shoes…. That upper-left corner looms large in its emptiness… dressy flats or loafers for cooler weather are a possibility here. Gold? Olive suede with gold trim? One could go quite off the rails if a pair of olive brocade smoking slippers turned up, eh?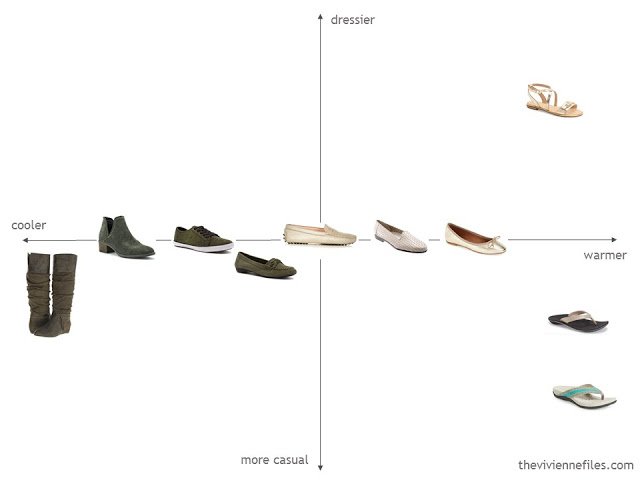 After much deliberating, this was where I settled. The pants can be worn with almost any top, and the color can be dressed up quite a bit! Either of the sweaters chosen can be worn with these pants, or with most of the skirts and pants that are currently in the wardrobe.
As much as I could have gone really crazy with a pair of gorgeous dressy shoes, I thought that these were much more moderately priced, and could be more versatile than something more "over the top." (but a pair of silk brocade in gold and ivory???)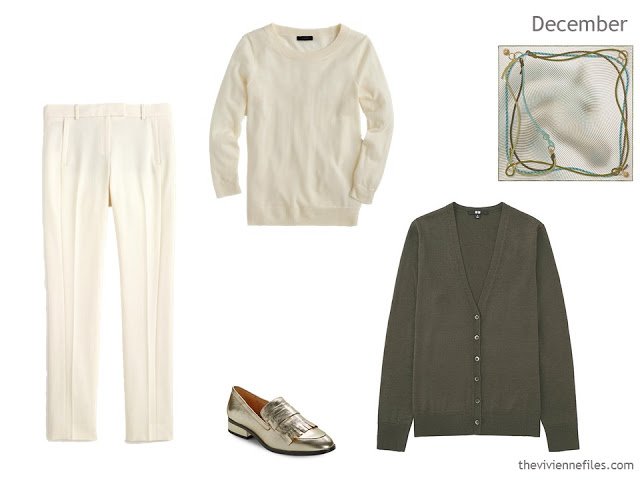 Pants – J. Crew; sweater – J. Crew; Loafers – IMNYC Isaac Miszrahi; cardigan – Uniqlo
This is the updated wardrobe – it feels very complete, doesn't it?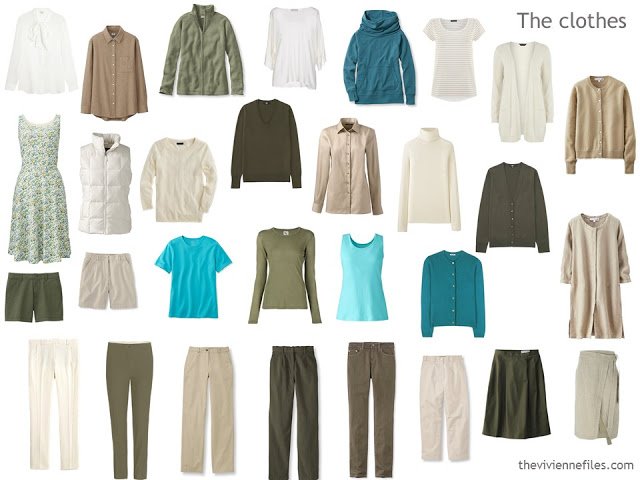 And these might be my favorite accessories, in some ways. I'm still completely smitten by that fringed cape, and the beaded bracelet is just wonderful…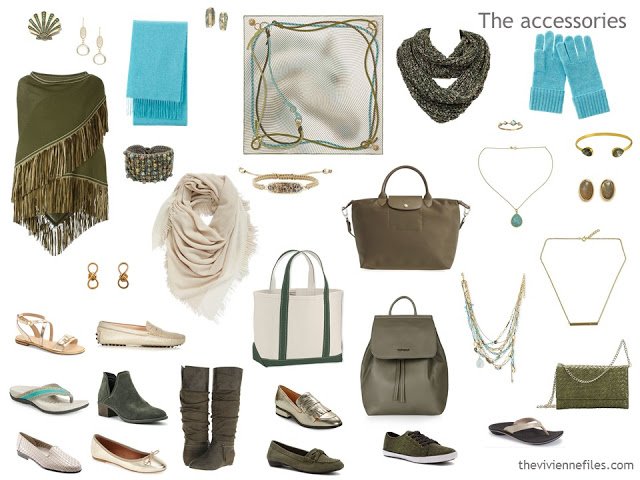 These outfits that I show with the new garments are not nearly all of the options possible; this middle outfit would be so much fun for a cool-weather dressy occasion…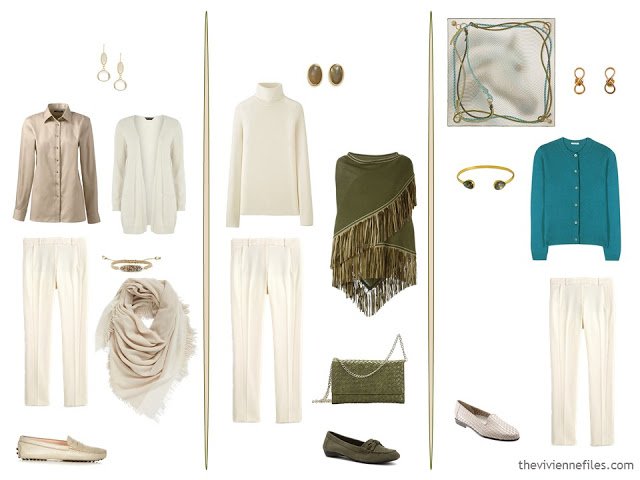 This simple top is a great base for accessories: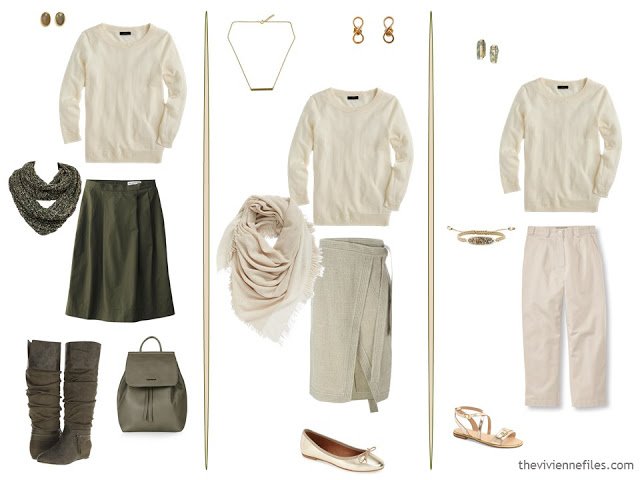 And a classic cardigan is never a bad idea!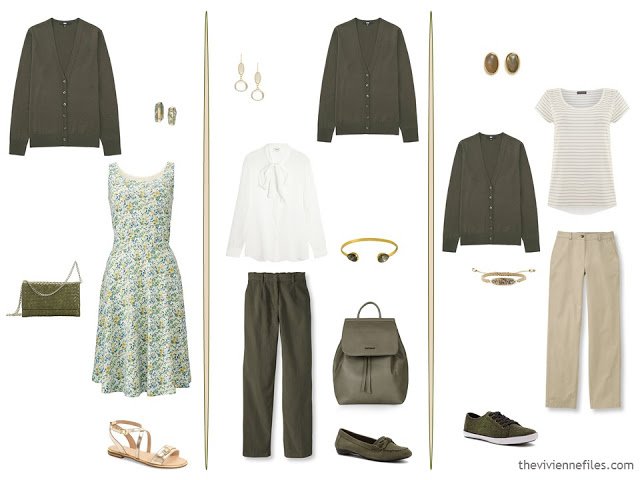 Olive is hard to find in stores, but it's so lovely that it's well worth waiting for!
love,
Janice
p.s. Just in case you need to go back and catch up on earlier posts, check here:
January, February, March, April, May, June, July, August, September, October, November.