November 29, 2016
Yes, I got back from Florida late Sunday night. And yes, I'm leaving for Paris on Thursday….Somehow, that got past me when I was planning these trips individually! But it's going to be fine.
When planning a travel capsule wardrobe for cold weather, it's critical to start with your outerwear. During the day in Paris, virtually EVERYONE is going to see me in my coat, and only the rare person in a restaurant and maybe a museum will see what's underneath. Thus, the coat is pretty important!
For this trip, I felt like I wanted to wear my red Barbour jacket. Partly because I want a break from black, partly because it's a wonderful jacket (with two big snapped pockets that completely obviate the need for a handbag!), and partly because it's such a perfect color for the holidays.
I have a couple of secondary priorities for this trip, too:
I want to take my hiking shoes with me, in case the weather becomes foul. The shoes have stellar traction, and are weather-resistant, which might be important. I figure that if I bother to carry them all the way to Paris, it won't rain, nor snow, the entire time we're there!
So that I can maximize my relaxation on the flight, I want to take my Sennheiser headphones. My big, bulky, awkwardly-shaped Sennheiser headphones that have their own case. This changes a LOT for my carry-on bag.
So this is my plan:
three "pods," all based on black trousers – one pair of dressy-ish pants in which I will fly, one pair of corduroy pants, and a pair of black jeans.
three different, but primarily black and white, sweaters to go with each of the pairs of pants, and
the necessary tee shirts or white shirts to complete the outfits.
The big accent? SIX Hermes scarves!
This should be fun…
I've had my reindeer cardigan for a couple of years, and I really love it (mine zips, and is a little bit… less… "out there" than this one, but this one is perfect for the visuals here.) I really think that having it with me during the holiday season will be fun, at least for me if not for anyone else! With a sweater like this, only a simple tee shirt is needed.
My next "pod" takes shape around a comfy pair of black cords, a cashmere v-neck sweater, and white shirts! Add in some scarves, and I've got 3 outfits…
Please note that this plan absolutely REQUIRES laundry be done. I'm traveling with my friend La Photographe, so we're staying in a different hotel than I'm usually in – the Best Western Jardin de Cluny. Highly recommended – I love their single rooms, I love their breakfast, I love the location, I love the excellent staff…
And just around the corner: 5àSec, the same-day laundry service that makes this travel plan work!
My second "pod" is a simple turtleneck and jeans, with three different (quite old, in 2 cases) scarves that will look perfect with a red jacket.
The only other things I'm taking will be those hiking shoes on which I've set my heart, a change of shoes from the ones I'm wearing on the flight, and another tee shirt!
I'm not worried about wearing athletic shoes most of the time; the last time I was in Paris, most of the people that I saw were dressed in just about this way. We don't have anything dressy planned, and it's more important to be comfortable than anything else. Wearing New Balance shoes puts you in the majority in Paris!
Assuming that I have 3 or 4 pieces of laundry done two times, I'll be in great shape – I have all of the following outfit options: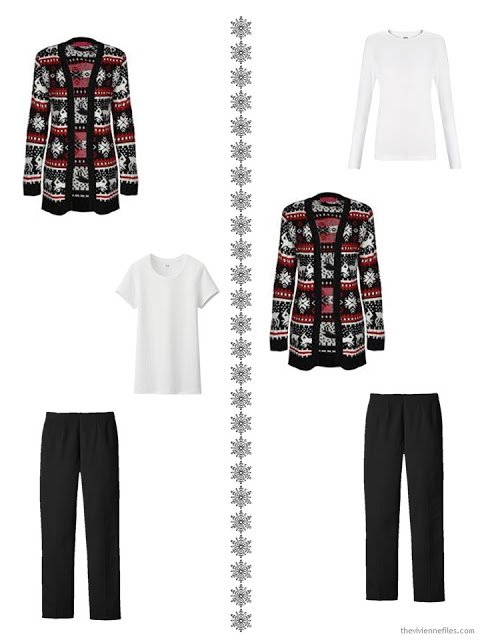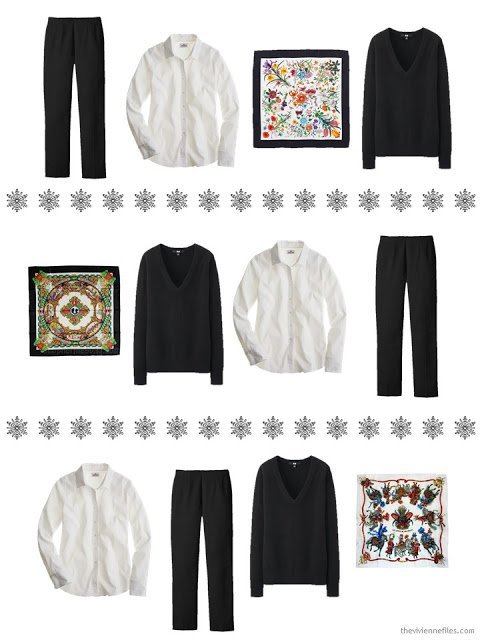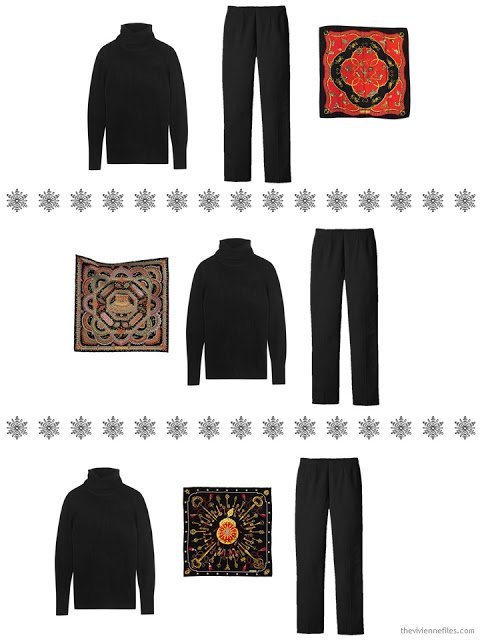 Partly as an experiment, and partly just to cut down my luggage as much as possible (so as to accommodate the aforementioned headphones and hiking shoes), I'm minimizing my accessories significantly. Normally, I'd take all of my earrings (it's not that many, really), all of my headbands, and a stack of bracelets. For this trip, this is a pretty clear representation of what I'm taking. There will probably be about 5 pairs of socks, and I suspect I'll wear a red headband…
It's almost amusing how much I'm rearranging in order to get these headphones into my bag! But I really am curious to see how much having them with me can change the experience on the plane – I know that last night, my headphones were so inadequate that I had to really turn up the volume of things in order to just drown out the women in the row behind me. (not a pretty story…) This might not be a great experiment, but I'm going to see!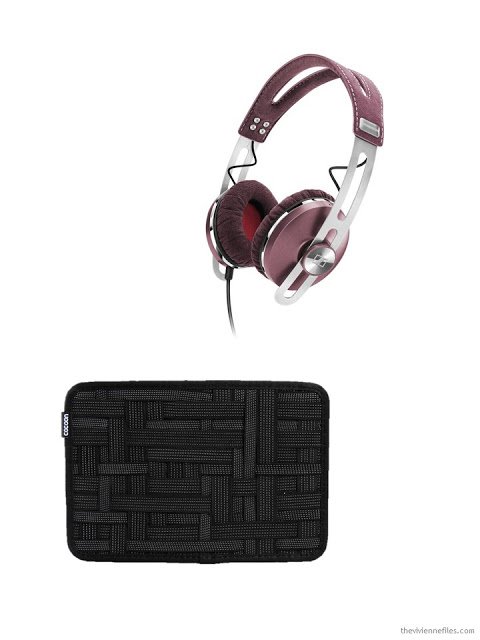 These grid boards with lots of elastic straps are genius – I use mine for my back-up phone battery from Anker, my charging cords, my travel chopsticks (yes…), and anything else that dangles around in my bag. The back has a zipper pocket that would be ideal for documents you need at some point, or even spare currency. They come in a variety of sizes, so you can choose a size that's optimal for you. It's wondrous for tidying up my bag!
Beginning Thursday, and through next week, you'll still have blog posts on The Vivienne Files, but I won't be responding to comments or questions. I'm only taking my phone with me, and it's really appallingly inadequate for communication, beyond Instagram. But DEFINITELY follow me on Instagram (where I'm called the poorly-capitalized and spaced "viviennefiles" without the quotes) to see what I'm seeing.
And of course I'll report back…
love,
Janice