November 22, 2016
It came up yesterday – can the capsule wardrobe based on grey be combined with the capsule wardrobe based on beige that I showed back on Friday? The larger question here revolves around combining warm and cool color palettes, so it's well worth addressing.Of course, I believe that it's more than possible! If you have clothing in both of these colors, it's quite desirable that you wear them together if necessary to wear them frequently, with the goal of eventually wearing them out…
Our original painting inspiration combines warm and cool to great effect: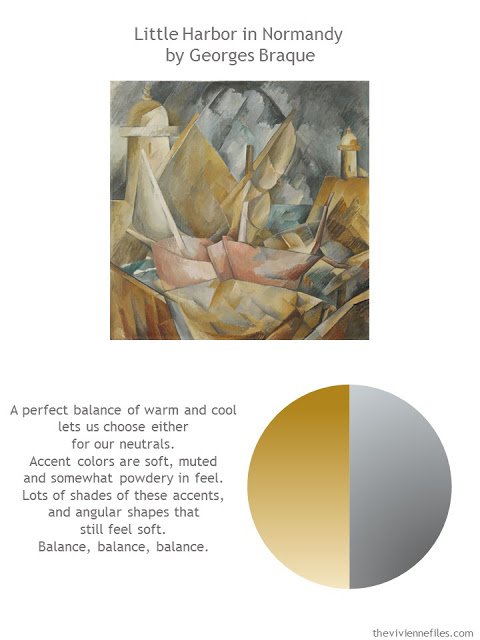 So what if we just try combining the neutrals? As a reminder, these are the two groups of Capsule Wardrobe Building Blocks (aka simple, timeless garments)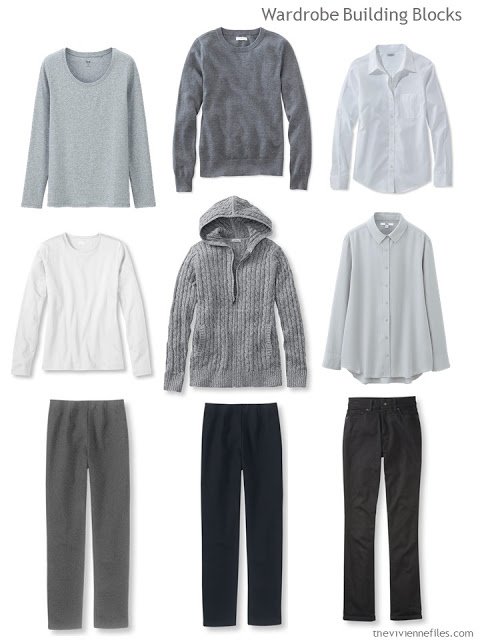 tee – Uniqlo; sweater – L.L.Bean; white shirt – L.L.Bean; white tee – L.L.Bean; cardigan – L.L.Bean; grey blouse – Uniqlo; grey pants– L.L.Bean; black pants – L.L.Bean; jeans – L.L.Bean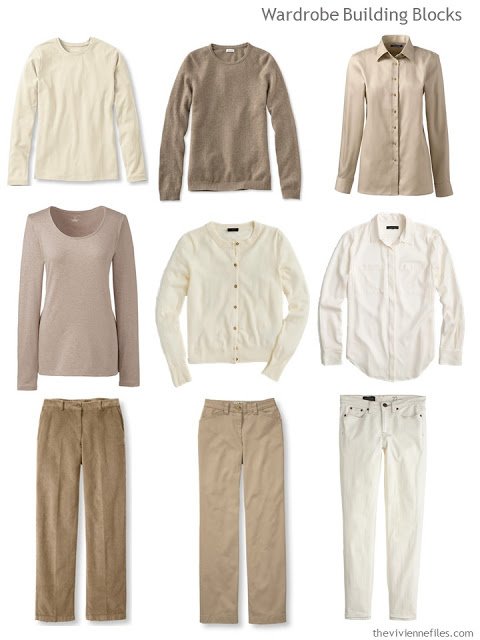 tee – L.L.Bean; sable sweater – L.L.Bean; shirt – Lands' End; Sand tee – Lands' End; cardigan – J.Crew; silk blouse – J. Crew; Camel cords – L.L.Bean; pants – L.L.Bean; jeans – J.Crew
So my first thought is just to arrange everything together and see how it feels. While it's clear that we're working with colors from both ends of the "temperature" spectrum, the styles of the clothes are very compatible, and the degree of intensity of the colors is pretty harmonious. The black pants might be somewhat too dark, but they might be fine. Everything else shares a gentle, rich color value that feel comfortable together.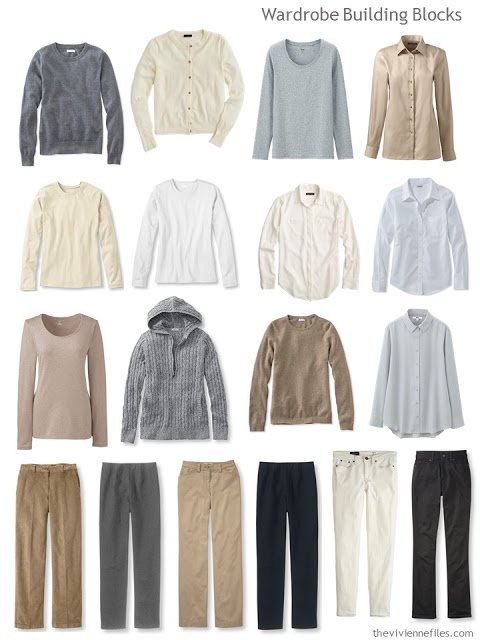 Just for a bit of additional material with which to work, I grabbed a literal handful of accessories that combine warm and cool. These kinds of pieces reinforce that the mix of temperatures in your outfit is intentional, and not just a "nothing else is clean" accident!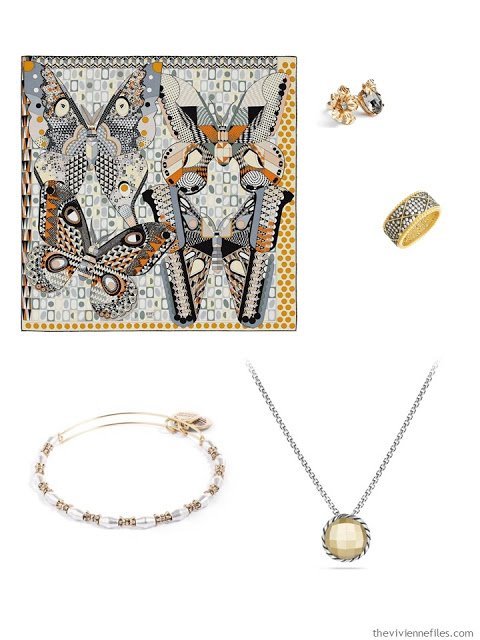 Scarf – Hermes Les Ailes de la Soie; earrings – Oscar de la Renta;ring – Freida Rothman; bracelet – Alex and Ani; necklace – David Yurman
By my way of thinking, mixing these palettes can work 3 ways:
Wear a "suit" in one color family, and wear a blouse, sweater or tee shirt from the other family;
Wear a "column of color" from one grouping, and then add a second layer from the other, or
Wear a "twinset" from one of the palettes, and a "bottom" from the other.
So here's how they would work out, first using the warmer-hued garments as the primary color, and then using the "cooler" garments as the main neutral.
I've included a pair of shoes and a bag in each set of outfits, just to show that you can sort of go either direction with what you choose for them. Mostly I just looked at the outfits and pondered what felt more balanced. For example, in these first two outfits, I thought that some additional soft grey or silver would balance the grey tee or blouse – give them a partner in the outfit, if you will!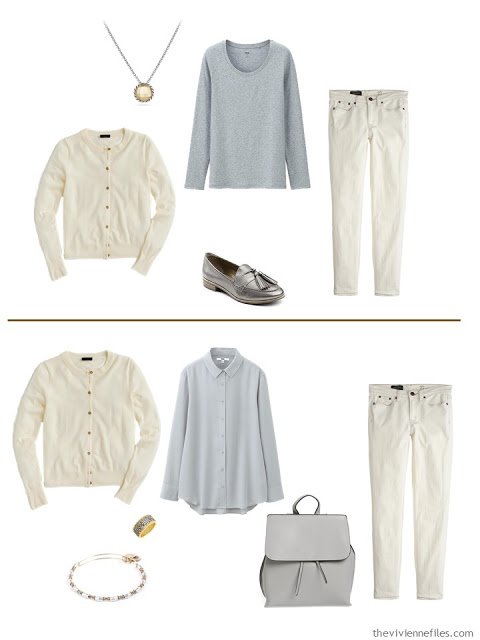 Loafers – Bass; backpack – Sole Society
Here, I thought that I wanted to continue the long column of warm camel, so I chose camel loafers. But for the second outfit, I thought that the grey sweater could use another touch of grey so that it looked like it was chosen deliberately. You could still wear them camel shoes here – shoes and bags don't need to match, so long as they look as if they were chosen for a reason!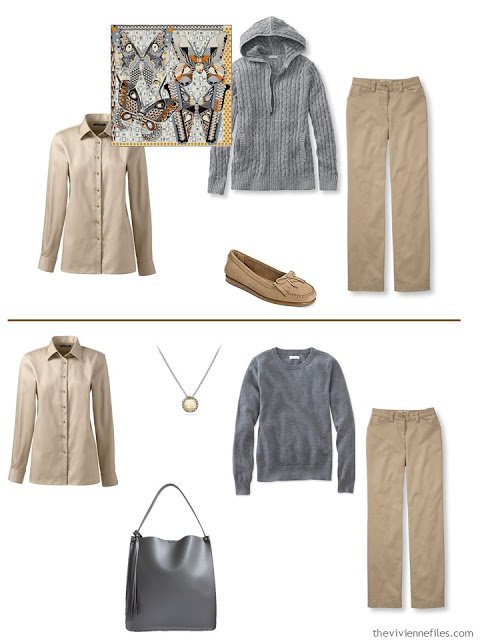 Shoes – Aerosoles; bag – Emperia
Here, I wanted to lighten up the dark pants with a bit of ivory below the waist…In the 2nd outfit, I'd wear black shoes, and let the scarf do the real "blending" work of the outfit!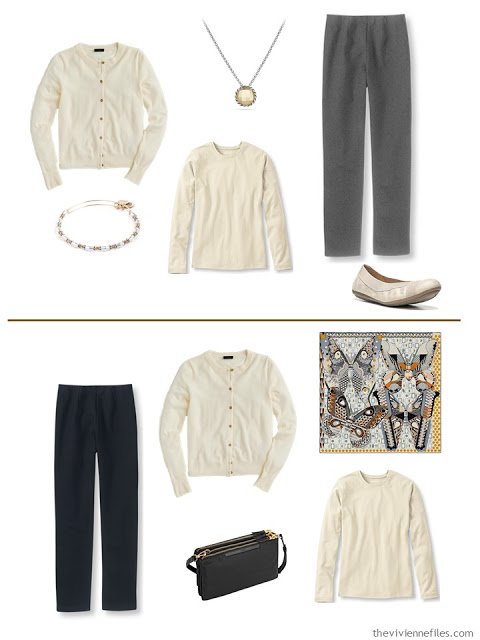 Shoes – Naturalizer; bag – Tumi
Ivory shoes would look really light-weight with the sweater in the first outfit, so I thought that grey boots were a better option. I'd probably wear grey shoes or boots with the 2nd outfit, too, since the great taupe tote helps strike a balance between the warm and cool…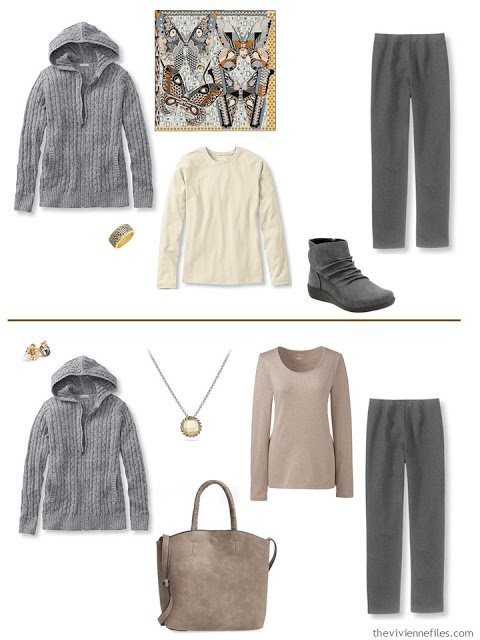 Boots – Clarks; bag – Street Level
I like to wear dark shoes with dark pants, usually, and I felt that the grey were excellent here; the jewelry picks up the warm notes from the sable sweater..I would wear dark shoes with the 2nd outfit too, even though the bag is ivory. Again, with a scarf that includes all of the outfit colors, you don't have to worry too much about the color balance.
I love the idea of wearing an Hermes scarf with canvas shoes… Both of these outfits feel casual enough to me that the idea of color balance isn't as critical.
Shoes – Superga; bag – Eddie
Questions about an outfit feeling balanced are very personal – someone who really feels comfortable and snazzy in a pair of bright shoes will have a different opinion from someone who is self-conscious about the size of their feet, or who has a tough time finding shoes that fit properly. You just have to experiment… I did a series of posts last April about proportions and colors that might be interesting for you.
And what about the jade/teal and dusty rose accent pieces (as well as the silver and gold?) Those can definitely be incorporated into a combined wardrobe, but I'd personally be pretty careful about bringing THREE colors together into any single outfit. (something like a rose blouse, camel pants and a grey cardigan…) While you might be able to make it work beautifully, it requires a pretty careful eye.
But if it appeals, go for it! I don't make rules about what to wear – nobody really does, any more.
love,
Janice
p.s. I'm heading off to a nice quiet interlude in Florida for Thanksgiving, but I've left you a few pretty things to see. They're reviews of old posts, so if you're all tied up this weekend, you'll be fine…
p.p.s. I think it's in my blogger contract that I'm supposed to remind you that !!!!! FRIDAY IS BLACK FRIDAY!!!!!!! and !!!!! MONDAY IS CYBER MONDAY!!!!!!!!
As if you wouldn't know unless I told you. If you're going to shop online, I'd be grateful if you clicked through the occasional link from The Vivienne Files, and threw a wee commission my way. But I'd much rather that you shop smart, and remember what's really important…. hugs!