August 31, 2016
I always intended to do 3 posts with this dress, yesterday's pastels, today's bright colors, and on Friday I'm going to look at some muted shades… (tomorrow is the first of the month – time to revisit those "1 Outfit per Month" wardrobes!) So today, I changed the shoes, but kept to the same general theme of working through a range of colors.
(These seven images look really great together on my computer; I don't often notice this, but I've got this lovely rainbow running down the side of my desktop right now…)
The color spectrum isn't quite the same as yesterday, but I still worked my way around the color wheel. Doing this ensures that I don't miss any possibilities; it's something to consider when you're looking for just the right color for something…
Just a note about this second cardigan: it's shown here FIVE times among the 14 outfits shown! The range of colors offered is pretty amazing, and I can personally vouch that it's quite a nice sweater… Sometimes, I just simply find things that work well (both on The Vivienne Files, and in real life) and I try to be loyal.
The ballet flats? Well, they're available in about a DOZEN color combinations, including a black and white that just screams out to me…
I am using this scarf pretty frequently, right now, but what's not to love? The colors are unusual, but SO perfect together…
When you're dressing for special occasions, there's no rule that says your jewelry MUST be all "real" stones, nor that your handbag can't be… vintage… It really isn't anybody's business, and if you look lovely, (and feel lovely!), that's all that matters…
Some jewelry is very expensive; some is not. You don't always know unless you check, or someone tells you.. I rather enjoy the juxtaposition of a range of items – it keeps everyone (who cares about these things!) guessing.
If you're looking for an accessory in a particular color, cast your net WIDE. There are tons of retailers (and designers) in the world that you've never seen; your chances of finding really fun, perfect-for-you things are greater if you don't assume that a store or website is "off-limits" for you. Even most of the really expensive places have amazing sales…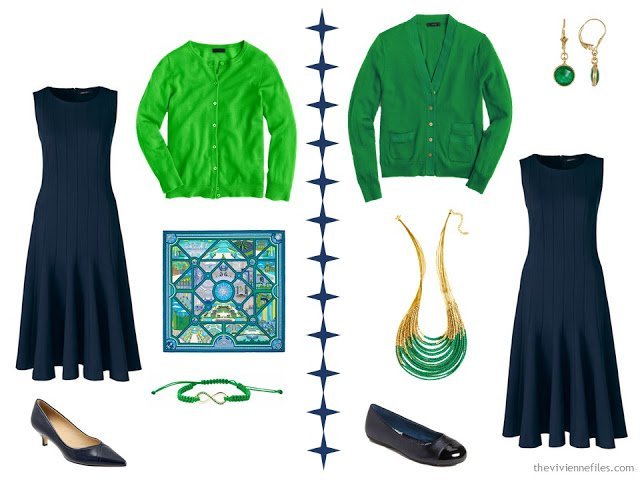 Dress – Lands' End; scarf – Hermès Flânerie à Versailles; bracelet – Rassweiler & Baker; cardigan – J.Crew; pumps – Trotters; cardigan – J. Crew; earrings – Savvy Cie;  necklace – Zad Fashion Inc.; flats – SoftWalk
They're both blue, but WOW are they different! And then you put a blue dress with them…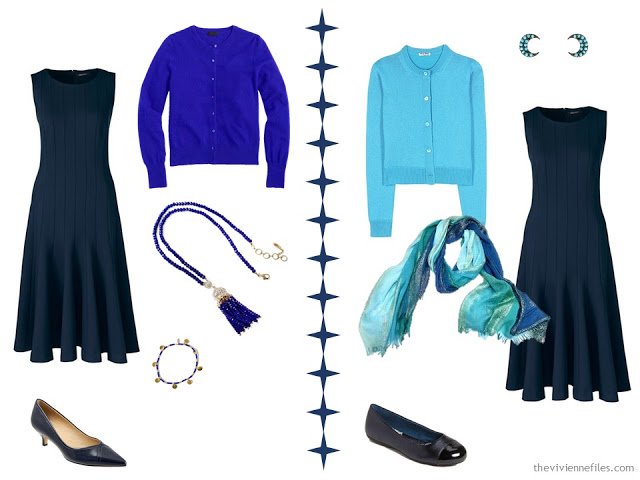 Dress – Lands' End; necklace – Amrita Singh; bracelet – Shashi; cardigan – J.Crew; pumps – Trotters; cardigan – Miu Miu; earrings – Wild Hearts; scarf – Ganz; flats – SoftWalk
Purple is HARD to find these days – if you love it, grab things when you see them. There are times when waiting for a sale might not be the best idea. (now, if we only had an oracle to tell us when things will go on sale, and when they're going to sell out in the first week!)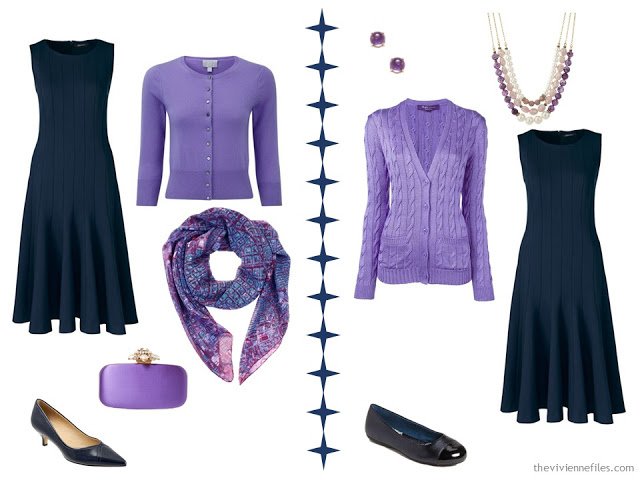 Dress – Lands' End; cardigan – Pure Collection; scarf – Cityzen by Azin; clutch – Oscar de la Renta; pumps – Trotters; cardigan – Ralph Lauren Purple Label; earrings – Roberto Coin; necklace – Talbots; flats – SoftWalk
love,
Janice
For more in the One Navy Dress series, check out the following articles:
One Navy Dress in a Capsule Wardrobe: 14 Ways to Wear it With Brights