August 11, 2016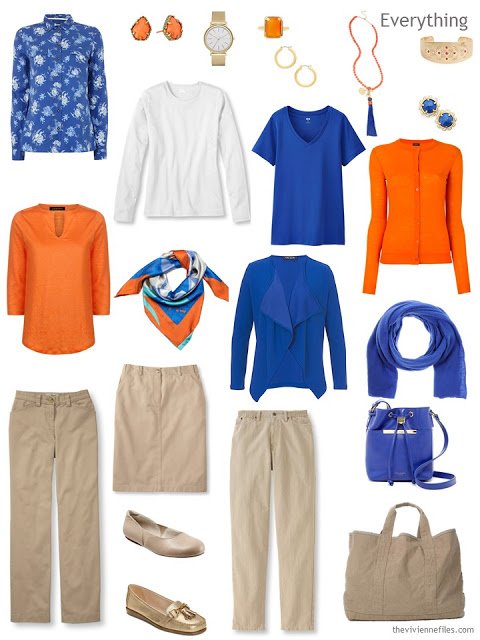 floral shirt – Barbour; orange earrings – Kendra Scott; watch – Skagen; ring – Savvy Cie; hoop earrings – Madewell; necklace – Bleu; bracelet – Danielle Nicole; blue earrings – Kate Spade; tee – L.L.Bean; blue tee – Uniqlo; orange cardigan – Joseph; orange tunic – Jaeger; scarf – Eloise Bricka; blue cardigan – Betty Barclay; wrap – Goyo; pants – L.L.Bean;
skirt –
L.L.Bean
; ballet flats –
SoftWalk
; loafers –
Aerosoles
;jeans –
L.L.Bean
;
bag –
Ted Baker London
; tote –
James
Perse
A few people asked me if a travel wardrobe could be expanded into "Whatever's Clean 13;" of course, almost anything is theoretically possible in The Vivienne Files world. But interestingly, it's actually more difficult to fill a "Whatever's Clean 13" template than almost any other kind of wardrobe plan, because of the flexibility that each garment has to have. Realistically, this wardrobe's not going to be exactly perfect, because there might be some "issues" about the floral shirt with the orange cardigan. But you could certainly wear them together without someone throwing rocks at you, so we press on in our work.
(in the best of all possible worlds, the floral print would have a touch of orange in it – designers, take note!)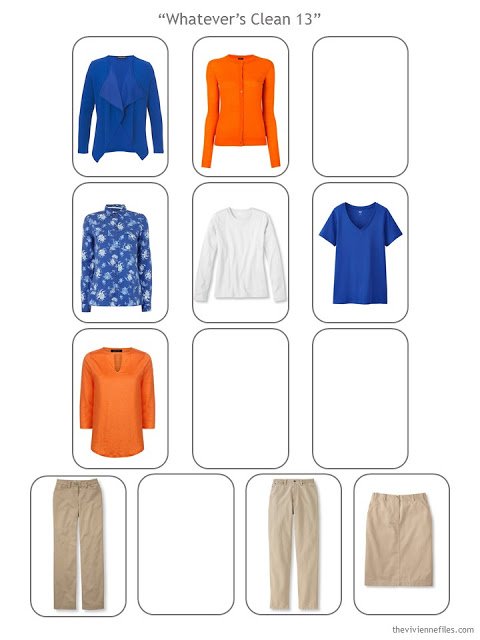 When I look at this template, the first thing that I see is that there's an abundance of beige below the waist – time to look for something different!
You might remember, a while back, I wrote about keeping all of your printed and patterned fabrics in one "row" of this template – this keeps your from trying to do really difficult pattern mixing things like wearing a floral cardigan with plaid pants! For our purposes, that means we want a solid-color skirt, jeans or pants. Since it's still hotter than blazes here, I'm going with something white…
The only real caution here might be about wearing the white tee with the white jeans – you want to bring some color into the ensemble so you don't look like you're wearing some sort of uniform.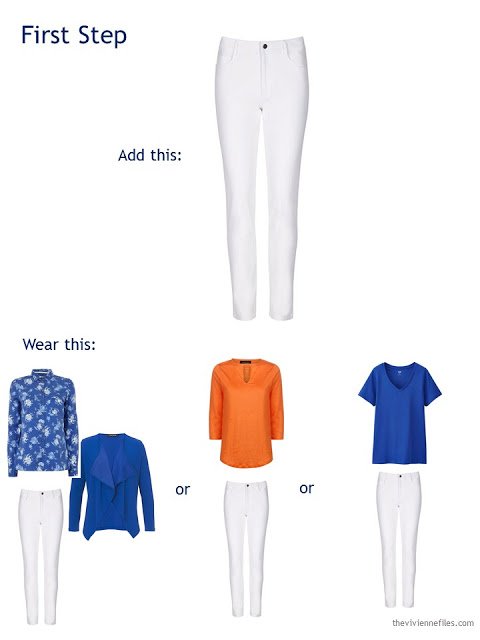 Jeans – Winser London
In addition to noting that there's a lot of beige below the waist, I realized that it's ALL below the waist – a beige jacket will balance that out nicely. If you absolutely don't want to wear beige near your face, this would be an ideal place for a white cardigan or jacket, too.
Now, the hard part! Inherent in the concept of "Whatever's Clean" is the idea that all of the garments work together – logical, and obvious. But if you're looking for pieces that aren't solid-colored, it can require quite a bit of patience to find the right thing! This top is perfect – it includes all of our colors, and a pink background, too. Of course it's from a relatively obscure Italian designer…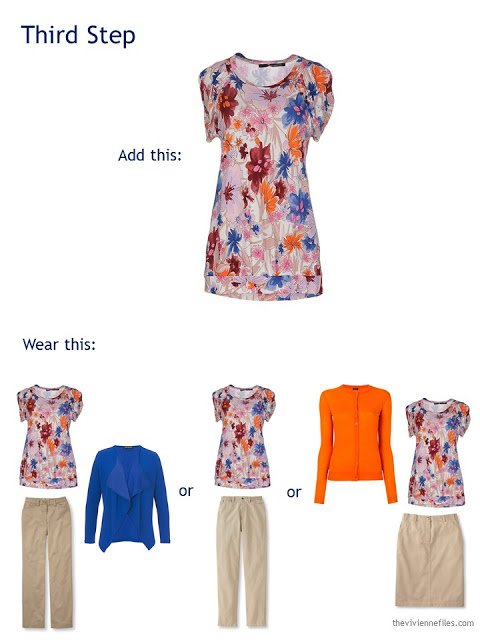 Tee – Atos Lombardini
Lastly, one more summery, bright top. When looking for unusual and amazing color combinations, Missoni is always a brand to check. Their pieces are often available second-hand, or deeply discounted, if you look long and hard…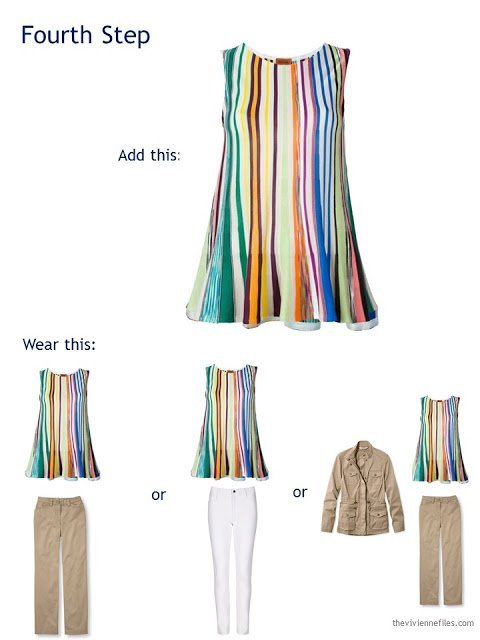 Tank – Missoni
With just a few additions, and a lot of patience, and quite a bit of thought, we now have an expanded wardrobe with the same cheery summer colors, and a bit more flexibility.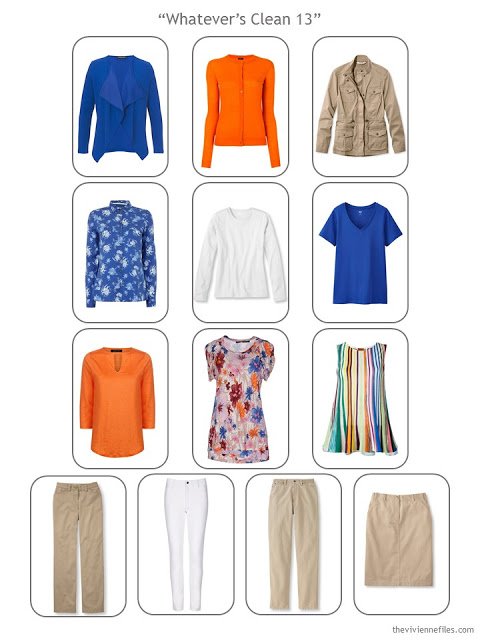 Next, accessories!
love,
Janice
p.s. If you like The Vivienne Files, might I ask you a small favor? Would you please consider telling your friends, family, co-workers, strangers on the street, random people on the internet… (I get carried away!) about my work? Expanding my little business is difficult; I am staunchly committed to NOT selling out to the high-heel selling, trend-pushing companies that would change the spirit of TVF…. Thanks, and hugs all around!