August 12, 2016
Oh, how I love accessories….As a reminder, this is where we left the capsule wardrobe when we finished the 4 additions to it yesterday: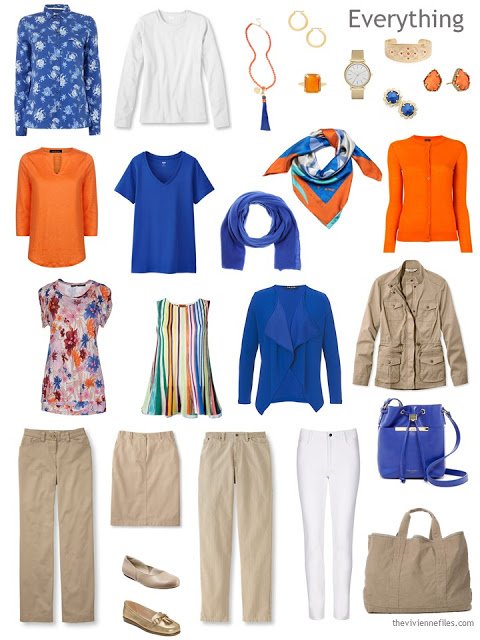 floral shirt – Barbour; orange earrings – Kendra Scott; watch – Skagen; ring – Savvy Cie; hoop earrings – Madewell; necklace – Bleu; bracelet – Danielle Nicole; blue earrings – Kate Spade; tee – L.L.Bean;blue tee – Uniqlo; orange cardigan – Joseph; floral tee – Atos Lombardini; tank – Missoni; orange tunic – Jaeger; scarf – Eloise Bricka; blue cardigan – Betty Barclay; field jacket – L.L.Bean; wrap – Goyo; pants – L.L.Bean;
skirt –
L.L.Bean
; ballet flats –
SoftWalk
; loafers –
Aerosoles
;jeans –
L.L.Bean
;
bag –
Ted Baker London
; white jeans –
Winser
London
; tote –
James
Perse
I was really appreciating the summery-ness of this wardrobe, so I thought I'd add some warmer-weather accessories (before they disappear entirely from the stores…) Sandals are essential!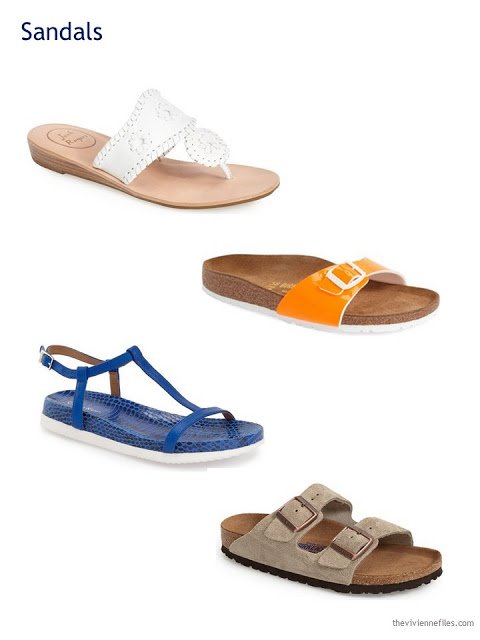 First – Jack Rogers; second – Birkenstock; third – Calvin Klein; fourth – Birkenstock
And sunglasses. If I convince you to change only ONE thing in your entire life, I want it to be that you buy and wear GOOD sunglasses regularly. You might think that it's just a question of squinting, and getting wrinkles, but your eye health is dependent on shielding them from bright sunlight. Please, not a cheap pair of sunglasses – get something worthy of you and your health.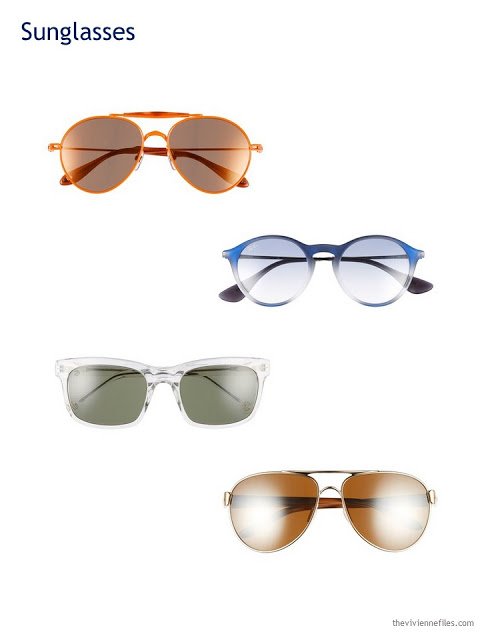 First – Givenchy; second – Ray-Ban; third – Jonathan Adler; fourth – Oakley
As I've said before, I'm the rankest amateur in the world of belts, but I found all four of these to be really attractive; they would add a lot to a simple outfit, wouldn't they?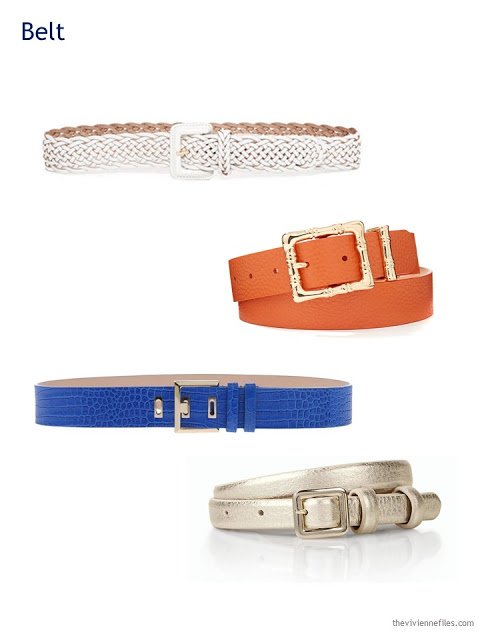 Top – Cole Haan; second – J. McLaughlin; third – Dsquared2; fourth – Talbots
So far, I was looking at white accessories, but I can tell you that there are VERY few white wallets in the world. Not that this is terribly surprising…And I'm trying – really hard – to find some things from time to time that are off the normal "4 department store designers" path. There's nothing wrong with the mainstream of products, but I like the idea of supporting small creative endeavors – like The Vivienne Files – they can use good exposure! Plus you always have cool topics of conversation right at your fingertips – literally.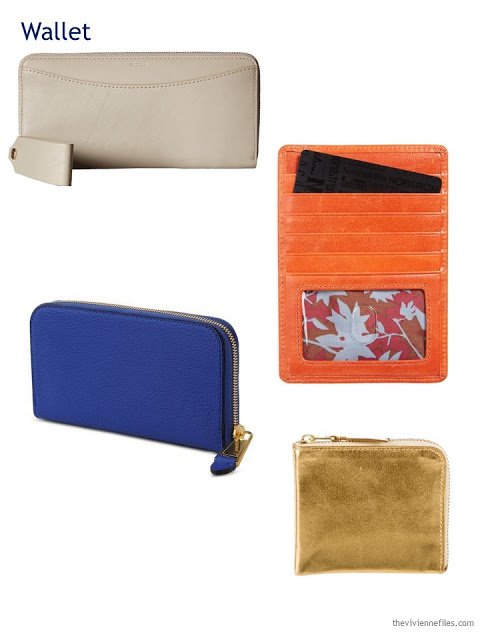 First – Skagen; second – Hobo; third – Moschino; fourth – Comme des Garcons
Yes, we've already got a handbag, but there are some really cool bags in the world… owning more than 1 isn't the worst thing you could do to add variety to your look.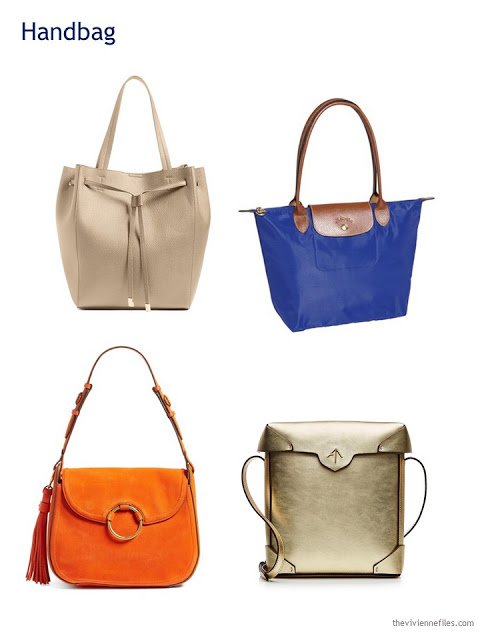 First – BP.; second – Longchamp; third – Tory Burch; fourth – Manu Atelier
If you have long hair, do you have problems with it getting tangled in your necklace? I'm growing my hair out, and I'm avoiding necklaces right now… I know someone out there has an answer; I'm not going to go through the rest of my life without wearing necklaces! Especially when there are so many beautiful ones in the world…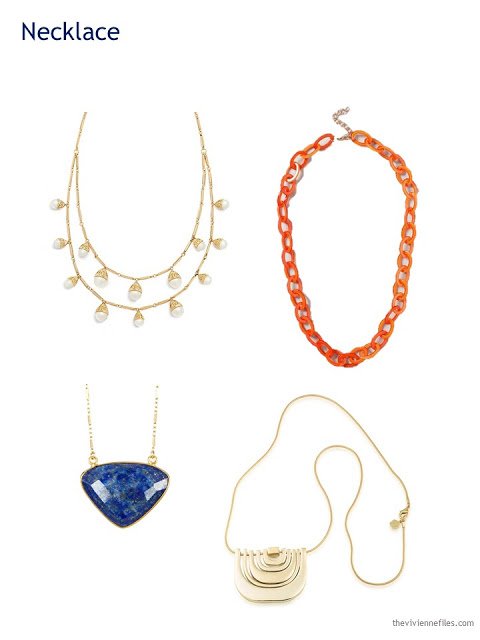 First – Tory Burch; second – Topshop; third – Sonya Renee; fourth – Trina Turk
Bracelets are really surging in my wardrobe, right now. They aren't a problem with my gnarly hair, and they're not uncomfortable in hot weather. And any bracelet you can imagine is probably out there, somewhere!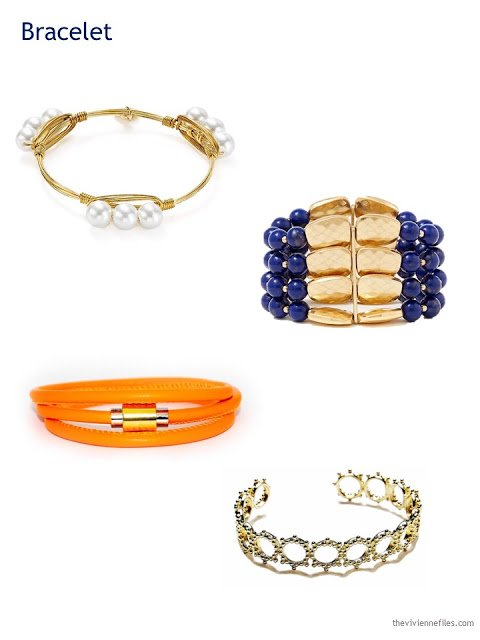 First – Bourbon & Boweties; second – Charming Charlie; third – Liza Schwartz; fourth – Agnes de Verneuil
Rings are something that I overlooked for YEARS – I have 10 fingers, and I was only wearing my wedding ring! Now, I'm occasionally guilty of wearing three or four rings on my right hand…(and isn't that knot ring cool?)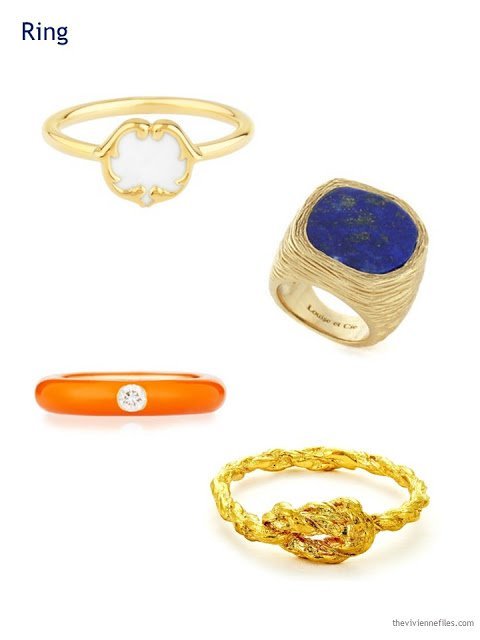 First – Rosie Sanders; second – Louise et Cie; third – Adolfo Courrier; fourth – Chupi
I don't think I've ever looked at "hair stuff" on The Vivienne Files, and that's a pity. I have to wear a headband or similar device every day, or risk looking like the shaggy dog… There are thousands of possibilities out there, that add a touch of color, texture, or interest to your appearance and are literally "out of sight" once you put them on. Bring back the headband!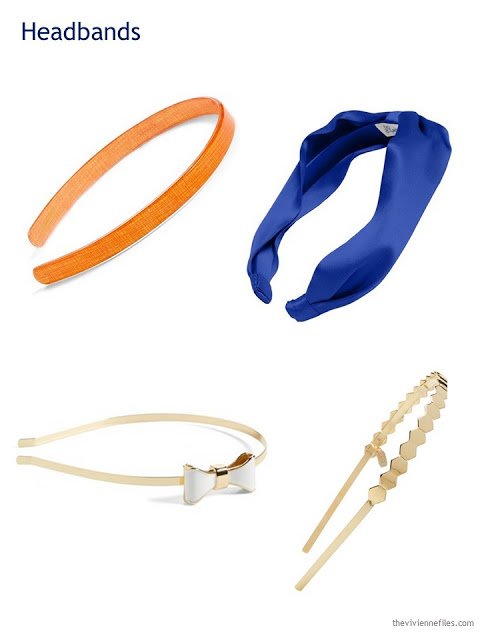 First – France Luxe; second – L. Erickson; third – L.Erickson; fourth – Tasha
As I was collecting all of these beauties, it occurred to me that the range of colors meant that the overall wardrobe could take on a variety of overall "feels," depending on which accessories were included.So I've included two versions of the "final" – one that uses mostly beige and orange, with touches of gold: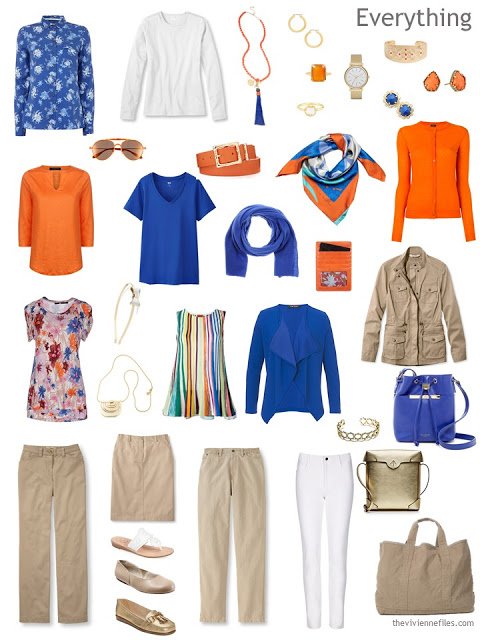 This second version leans much more heavily on the blue accessories: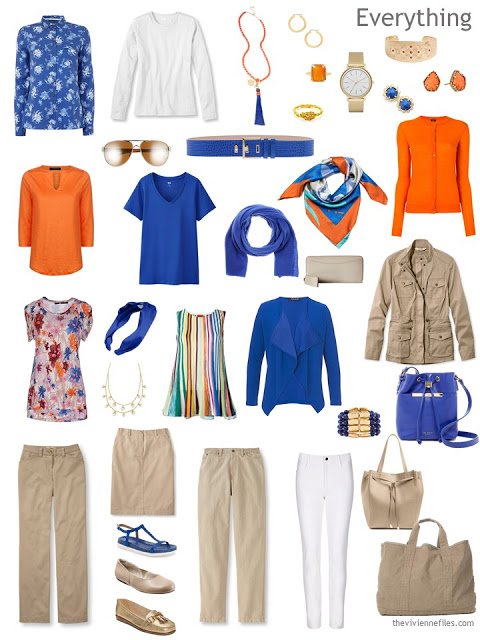 Of course, in my world, if you can find the storage space, you can have all of the accessories that you want!
love,
Janice