July 14, 2016
I'm in a real navy and olive mode these days; I started this a couple of days ago, before yesterday's navy and green outfits. One of my all-time favorite posts on The Vivienne Files is still this one – navy and gorgeous accent colors.How's this for a glorious painting?
There are of course a variety of ways that colors could be extracted from this, but these are what I've chosen for today: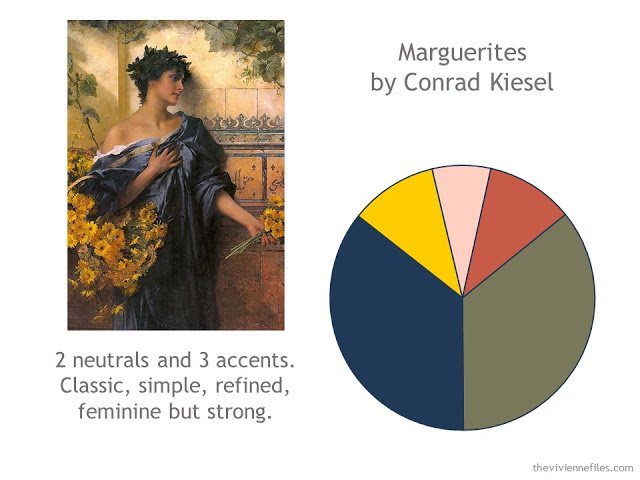 In honor of all of you who are traveling to colder climes this autumn, I'm thinking about packing that includes a warm coat and waterproof boots. Especially for those of you going to Ireland in the fall, you'll want both sunglasses AND gloves!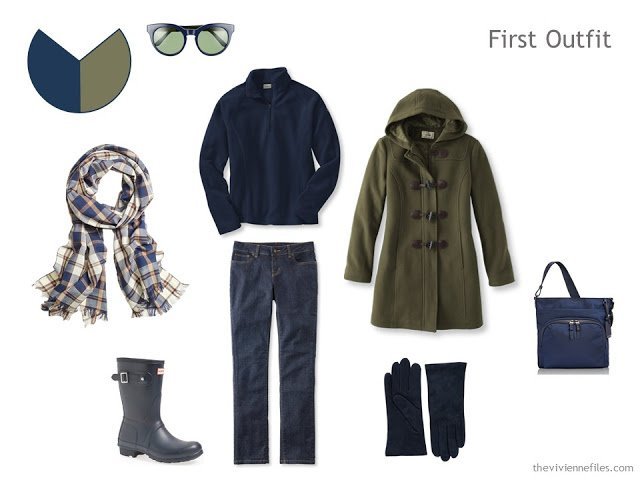 Sunglasses – Tory Burch; scarf – Brooks Brothers; boots – Hunter; fleece – L.L.Bean; jeans – L.L.Bean; coat – L.L.Bean; gloves – Lord & Taylor; bag – Tumi
My assumption is that our packer is starting with her 3 favorite outfits, and will then build around them. She's committed to the olive and navy core: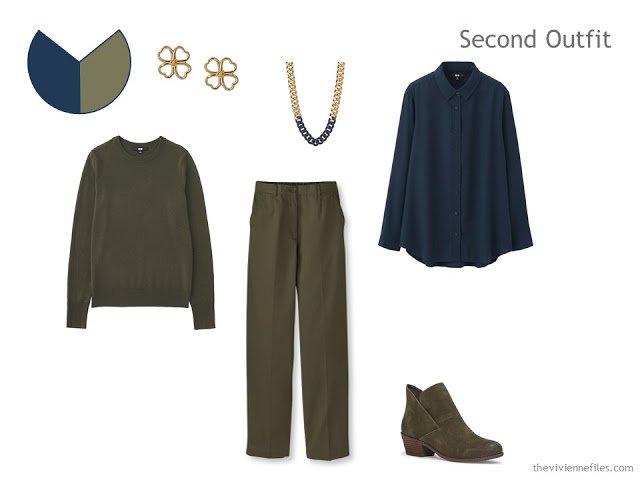 Sweater – Uniqlo; clover earrings – Aurelie Bidermann; necklace – ABS by Allen Schwartz; pants – L.L.Bean; blouse – Uniqlo; boots – Me Too
This is her third outfit choice: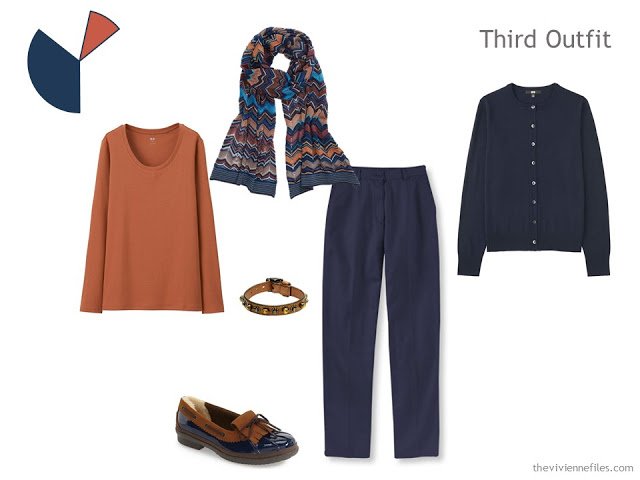 tee – Uniqlo; scarf – Missoni; bracelet – Coach; shoes – Ugg; pants – L.L.Bean; cardigan – Uniqlo
At this point, this is what she would have with her for her trip. This is NOT a bad wardrobe – much the contrary. Depending on how long one was going to be away, this might be more than sufficient…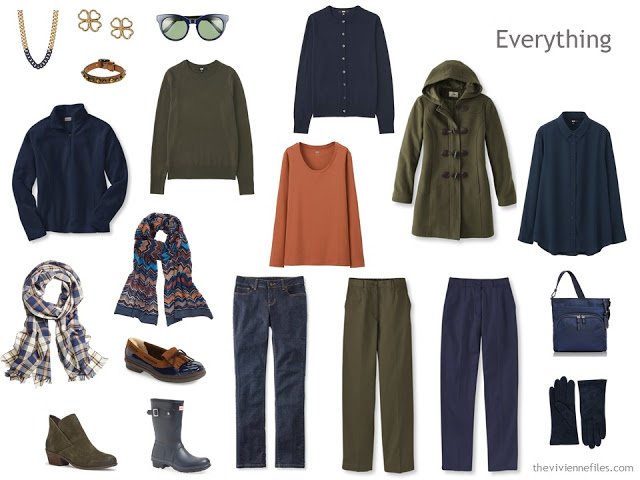 In addition to the 3 original outfits, there are plenty of way to recombine these pieces to create new ensembles: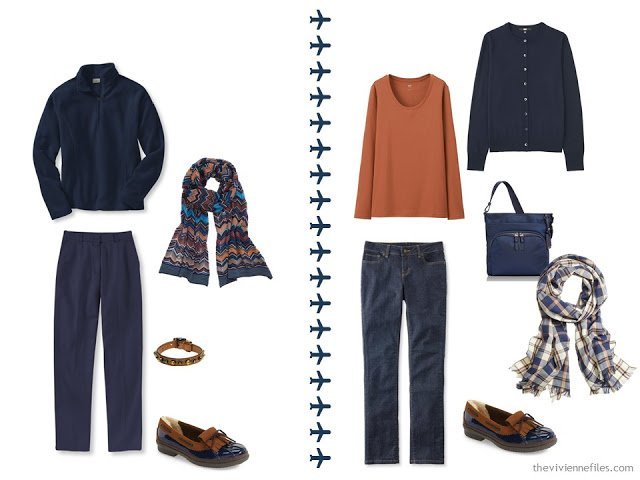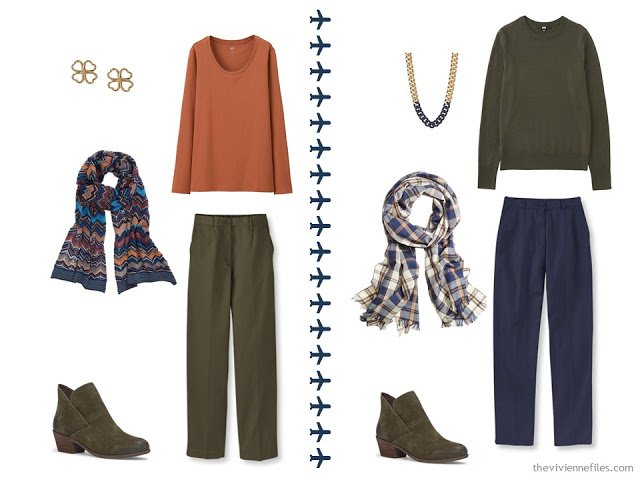 But let's imagine that our friend wants to include a few more pieces in her luggage. Let's lay everything out in a "color-sorted" way, and see what we might still want to include: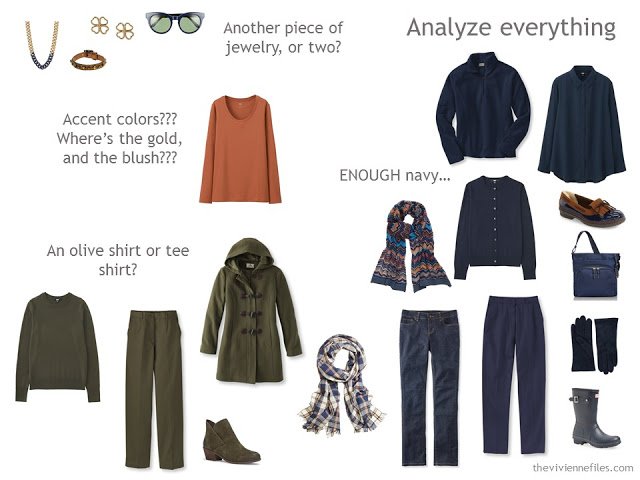 To my eye, the biggest thing that might appeal, and offer some variety, is a couple of pieces in accent colors, as well as a few more accessories. Earrings are tiny, but can pack a big punch in terms of how much they change the way an outfit looks (and feels!).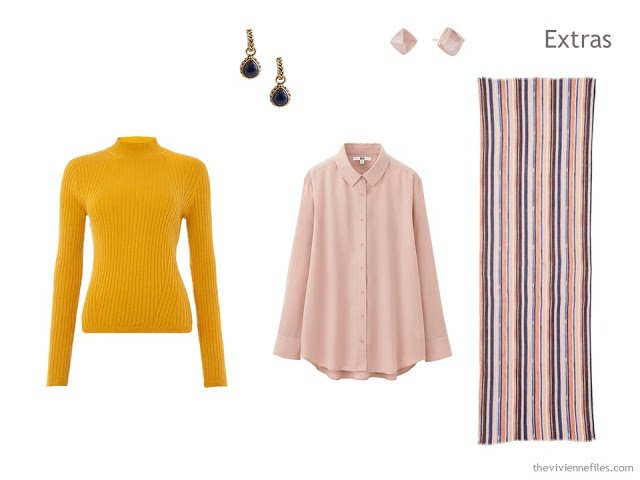 sweater – Therapy; lapis earrings – Barse; blouse – Uniqlo; blush earrings – Michael Kors; scarf – Halogen
Now, with the addition of our accents, the entirety of her travel wardrobe looks like this. Yes, the pants and jeans are going to be worn a lot, but if you're in a cool climate, and moving around from town to town, that's not a bad thing. Unless you are literally mucking about in dirt, trousers won't be so badly soiled that they need to be laundered EVERY time you wear them.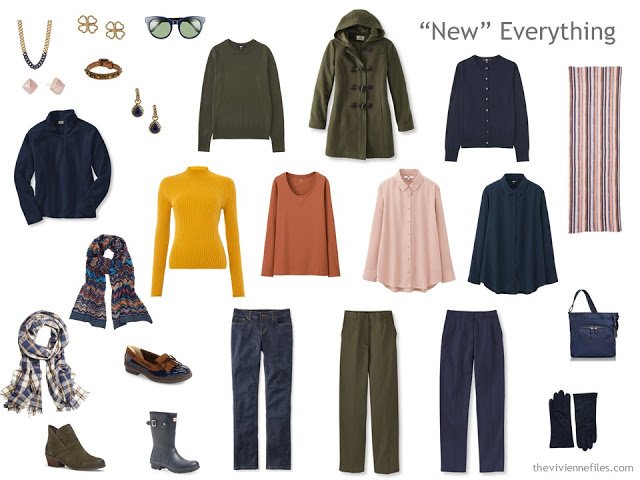 This still isn't a mountain of clothes for a week or 10 days. Bulky shoes are the worst, in terms of packing. If this were me, I'd probably fly in my Hunter boots. Seriously. I'd take them off when I was sitting, and wear them otherwise. They're not particularly uncomfortable (albeit maybe a bit hot, indoors), and being able to avoid packing them might make it worthwhile. What's the worst that could happen?
The wardrobe additions can be worn in a lot of different combinations: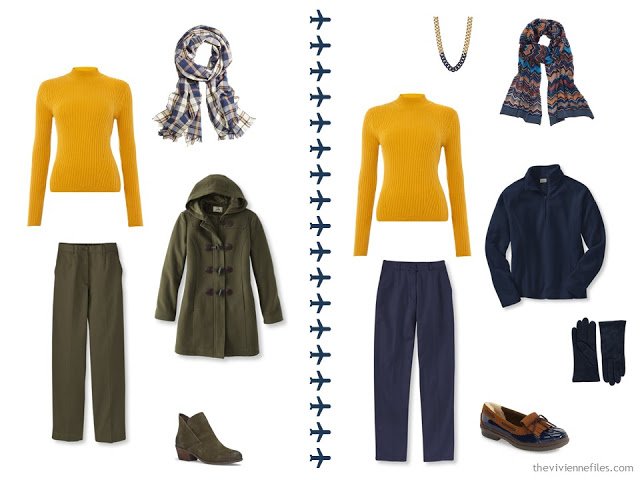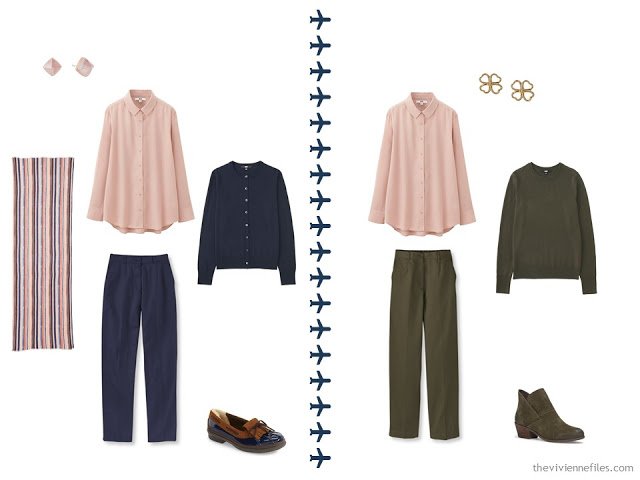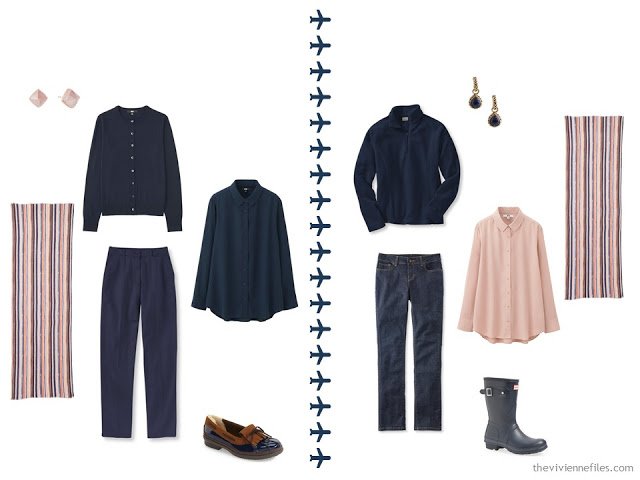 Just thinking about travel puts a smile on my face…
love,
Janice
p.s. I'd be a really delinquent blogger if I didn't remind you that early access to the Nordstrom Anniversary Sale starts today (i.e. if you have their credit card, you get first dibs). If you're looking for something specific for the upcoming autumn/winter season, this is a chance to maybe find a good price on something you need. And yes, I get a commission if you buy something. That's what keeps the air conditioning turned on at The Vivienne Files during the hot weather!