July 13, 2016
I had a few of these ideas lingering in my head, and I've FINALLY figured out how to present them in a somewhat unified manner. What unites all of these outfits is that they're based on the simplest navy "core," either a dress or a matching tee shirt and pants.The key, to me, for wearing accent colors successfully is to give them a sense of looking intentional, rather than just grabbed at the last minute. While you might not want FOUR pieces in your accent at one time, wearing 2 or 3 green items – shoes, jewelry, bag, or sweater – makes it look like the green was a purposeful choice on your part. Plus, it lends a sense of balance to your ensemble!
Using a hoodie and canvas shoes gives your dress more mileage than it might get if you only wear it "dressy." And olive can be such a gorgeous color for leather goods…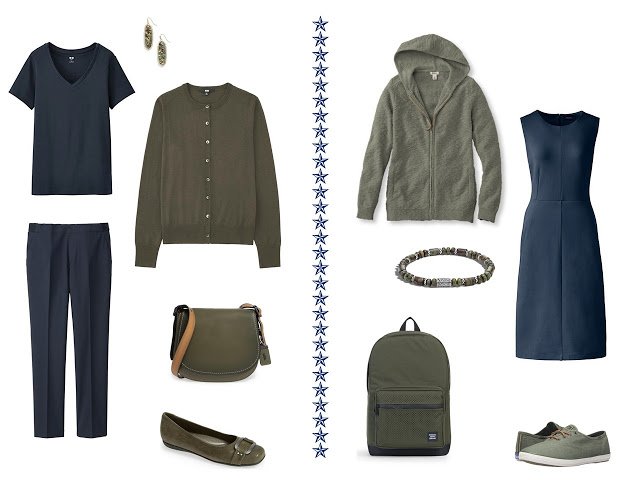 Earrings – Kendra Scott; tee – Uniqlo; ankle pants – Uniqlo; cardigan – Uniqlo; bag – Coach 1941; flats – Trotters; hooded cardigan – L.L.Bean; bracelet – John Hardy; dress – Lands' End; backpack – Herschel Supply Co.; canvas shoes – Keds
I think this is such a fun color – and what's not to love with a gingham cardigan?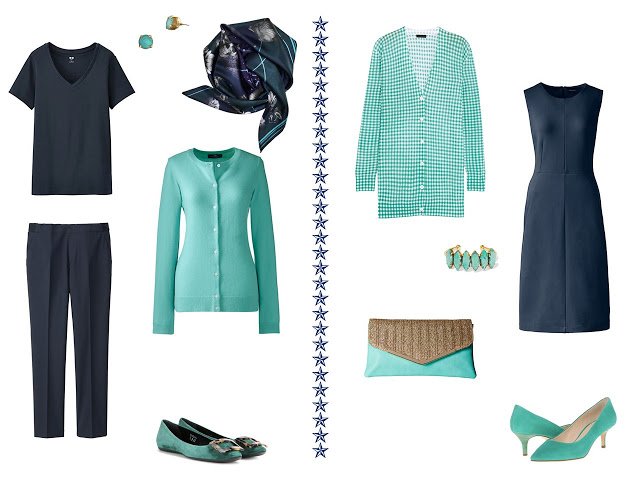 tee – Uniqlo; ankle pants – Uniqlo; earrings – Mela Artisans; scarf – Antagoniste; cashmere cardigan – Lands' End; flats – Roger Vivier; gingham cardigan – J. Crew; bracelet – Elizabeth Cole; dress – Lands' End; clutch – Jessica McClintock; pumps – Nine West
Remember that you don't have to match your shoes to your accent color – that could lead to shopping madness! Nice neutral shoes are always appropriate…And yes, in all of these "paired outfits," you could swap accessories left and right. You knew that…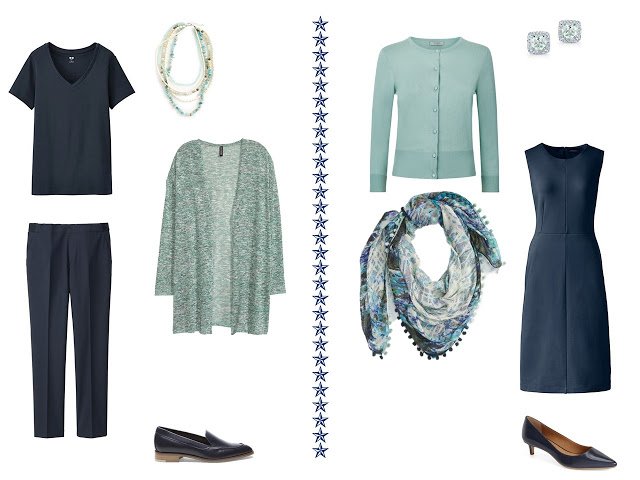 tee – Uniqlo; ankle pants – Uniqlo; necklace – Panacea; marled cardigan – H&M; loafers – Everlane; short cardigan – Hobbs; diamond earrings – Ice.com; scarf – Sandy & Sid; dress – Lands' End; pumps – Calvin Klein
I want to do this one more time (at least), with brown and shades of orange…. any other ideas?And I have to thank everyone who commented when I asked about how to adjust my posting schedule. Monday-Friday is going to be the rule from now on! Your VERY kind and generous comments made my day, and have made it possible for me to adjust my schedule without guilt…
hugs all around,
and love,
Janice