June 24, 2016
So I realized a couple of weeks ago that I wasn't wearing these 2 cardigans NEARLY as often as I felt that I should…
Every time I would pull out one of these sweaters, I just couldn't get an outfit together that really felt right.In a bit of a funk, I went back to my own best advice, and realized that a lot of my basic summer clothes in black were either too big, or too…faded/droopy/saggy/limp/icky for public consumption.
So I picked up these – the Original Core of Four:
After those arrived and were well-integrated into my wardrobe, I got wild and bought these 4 tops:
It turned out that I was wise to stock up on summer basics, because… well… the weather has turned hot here, AND I'm going to Florida for a week. (yes, going to Florida in the dead of summer will NOT win me membership in Mensa. Family wins out over humidity, every time!) My current "regular" travel outfit, with a cardigan that's a blend of silk and cotton – perfect for warm weather:
And then 10 pieces of clothing, plus 2 pair of shoes. (pajamas, swimsuit, and swim tee will ALSO be here)
I know that for almost everyone, this would be FAR too monochrome, but after I've looked at clothes all day working on The Vivienne Files, I find a black and white wardrobe is a good way to cleanse my color palate for another day of work.
I'm well-covered, both literally and figuratively, for a week-long trip: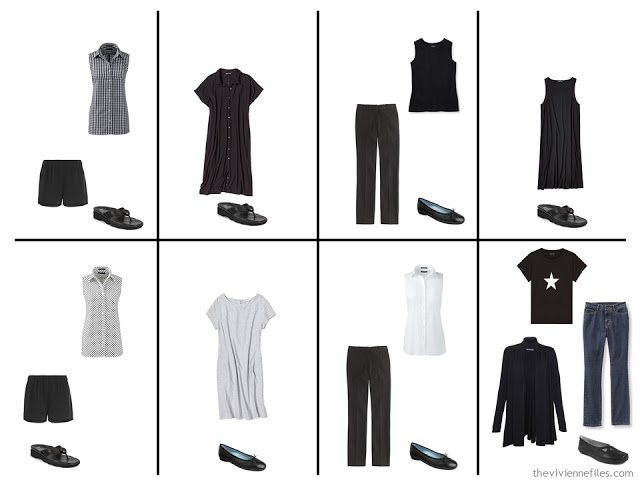 I will almost certainly throw in some earrings and bracelets, but not likely any necklaces, and certainly no scarves for this trip. But just seeing this page makes me feel really comfortable that I'm going to have enough with me for celebrating both my birthday, and the 4th of July.
Please note that you WILL see the "12 Months, 12 Outfits" instalment for July on the 1st…
And then I'll be back on a somewhat more regular schedule by the 6th or 7th of July!
love,
Janice