June 18, 2016
I'm sure you see these lists too: "12 Things You NEED in Your Capsule Wardrobe in 2016." They always amuse me, and irritate me, in equal measure.
Let me be perfectly clear: there is NOTHING that is required for every woman. Nothing. Every woman does not needs shoes. Every woman does not need to wear a bra. Really, so long as we're all covered enough to be decent in public, I think it should be much more of a free-for-all than it currently is. Conformity kills creativity…
So let's look at this particular list, and see what we can learn that might be of use!
1. Ankle Boots
If there were even an item that I would encourage you to consider, it would be this. If you live in a climate that is cool or cold part of the year, and if you wear pants or jeans, these are pretty handy, fun, and flattering. They can either be worn to lengthen the line from your leg to your toes (and hide your purple socks!), or they can be worn as a great accent. Either way, carefully chosen, these can be comfortable as heck, and you can get your money's worth from them before they're considered passé.
But please think at LEAST twice before you buy open-toe/heel boots. To me, it seems like turning on the heat and then opening the windows! "My heels are gorgeous" said no woman, ever…
It might feel painfully early (in the Northern Hemisphere) to think of buying boots, but if you're at all picky, or if you wear a difficult size, bear in mind that the best boots will sell out (as all the best things do) QUICKLY. And you'll be able to spread out those expensive fall and winter purchases over more of the year if you start early.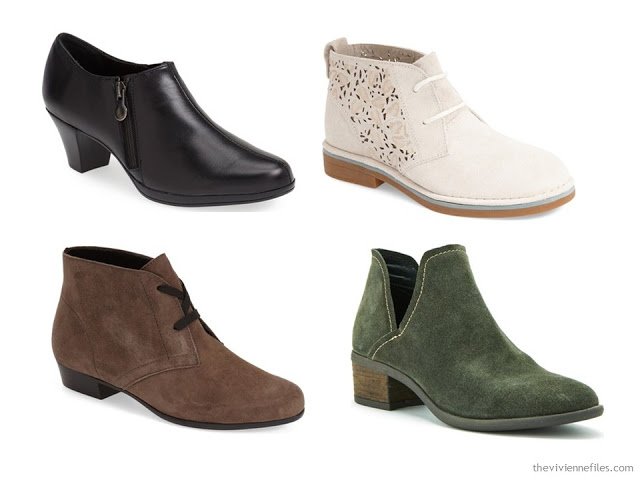 Black – Munro; brown – Munro; off-white – Hush Puppies; green – Blondo
2. White Buttoned Shirt
3. White Tee Shirt
NO. Just no. So many women don't like buttons up the front, and many women don't wear white as their light neutral, AND there are women who prefer to wear darker colors near their face. In other words, there are a ton of good reasons NOT to ever own one of these.
However, if you do like to wear a light neutral top from time to time, I strongly encourage you to think WAY beyond the man's shirt stereotype. (I say this as a woman who wears white menswear shirts A LOT…) There are so many options that are relaxed, feminine, whimsical, dramatic, expressive, and just plain interesting. If you have a signature motif, or a preferred styling detail, it's probably available in a white, ivory, cream, or bone top, somewhere in the world.
(who am I kidding? this stars tee shirt just screams to me…)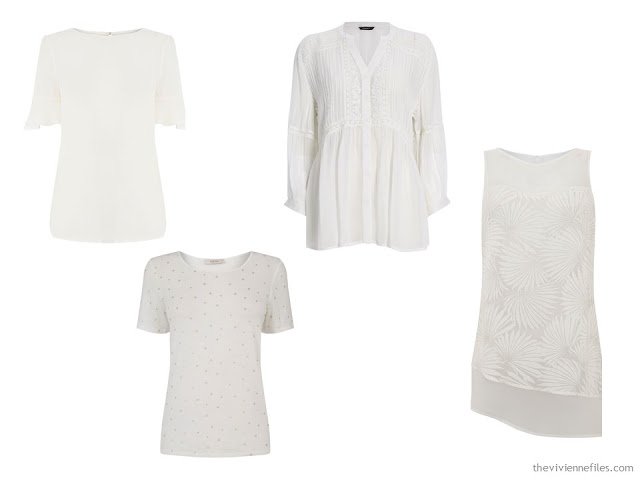 Frill-sleeve tee – Oasis; stars tee – Oasis; tunic – Roman Originals; sleeveless tunic – Mint Velvet
4. Jeans
I know, you'd never think of buying jeans unless someone told you that they were a "must have item." Seriously, if you need jeans, you've already got them, and if you don't want to wear them, don't let anybody make you, or try to persuade you to change your mind.
There is a need in many wardrobe for a neutral pair of casual pants, but these could be all sorts of different things. I'm personally finding ankle pants to be useful right now, and I could easily envision having some fun with some culottes… Wearing things like this in place of jeans is often cooler, and always makes you look MUCH more dressed up than you feel.
(experimenting with a new style from a store like Uniqlo means that you can try something different without missing a mortgage payment. If you end up really loving a silhouette or style, you can always upgrade in a year or two…)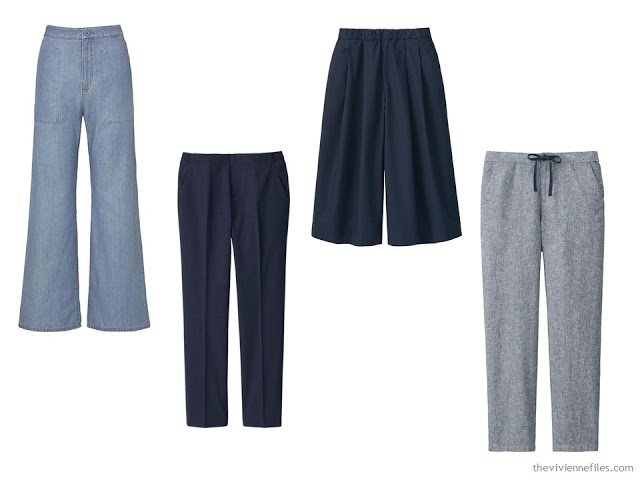 Wide leg – Uniqlo; navy ankle pants – Uniqlo; gauchos – Uniqlo; cotton/linen drawstring – Uniqlo
5. Striped Tee
This is another one of those garments that, if you don't already own it, you don't need it! Those of us who loves striped tee shirts have been wearing them for years, and those of you who don't wear them know ALL about them, and have made the deliberate choice to NOT wear them. No list should change that…
There are SO many tee shirts in the world (far too many, in my opinion. Might I interest you in a gross or 2 of 5K tee shirts?) that you can indulge in 2 or 3 in the spring and change the look of many of your outfits. I particularly like to look at Uniqlo for tees, because they partner with all kinds of really cool designers. You can find beautiful, unusual, funny, classic, and just plain "new favorite" tee shirts…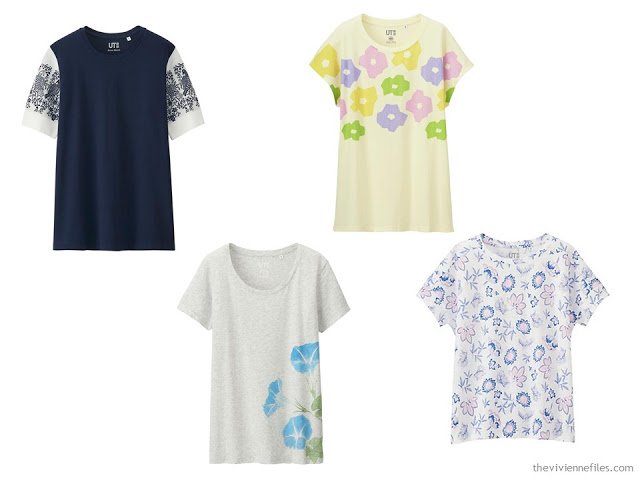 Navy – Uniqlo; grey – Uniqlo; yellow – Uniqlo; pink and blue – Uniqlo
6. Black Blazer
Great grief, nobody NEEDS a black blazer. Nobody needs to wear black, and nobody needs a blazer…
What you might need, though, is a dark neutral something to wear over your tee shirt, blouse or soccer jersey when the weather turns cold. I personally love cardigans, but a sweatshirt, or other style of jacket, is also an option.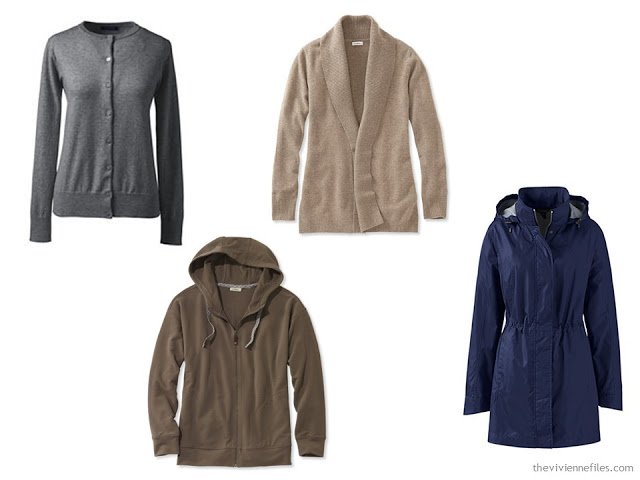 Grey cardigan – Lands' End; brown hoodie – L.L.Bean;
beige cashmere – L.L.Bean; navy rain jacket – Lands' End
7. Tailored Trousers
If you don't wear pants, these make no sense at all. All women do NOT wear pants, no matter what the fashion world wants to tell us. And if you wear jeans, and then dresses to get "gussied up," then tailored trousers don't have a place in your wardrobe either! AND, for those of us melting in record heat, the concept of trousers is just plain icky!
It's not innovative nor creative to be told "you can wear your tailored trousers with your white button-front for work, and then change your shirt for your striped tee shirt for leisure!" You can figure these things out on your own. Following this kind of advice puts you at risk of looking like half of the women in any room you enter…
Sigh… I wish we weren't constantly pressured to all look the same…
If you have these kinds of options in your wardrobe, you could go a LONG time without wearing trousers of any ilk, tailored or not: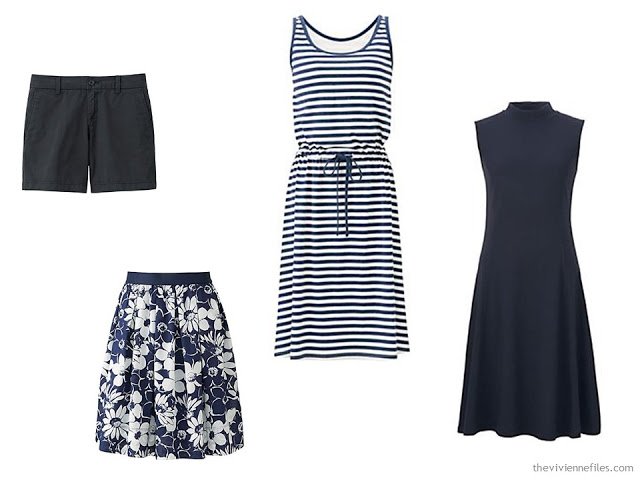 Shorts – Uniqlo; skirt – Uniqlo;
Striped dress – Uniqlo; solid dress – Uniqlo
8. Black Pumps
These might be the single most conformist things you could buy – EVERYBODY tells you that you need these…
But if your wardrobe's not based on black, these are going to be useless. If you never get dressed up, ditto. If you don't wear pumps, same problem. There's no "one size fits all" shoe solution for women, any more than there are garments that really fit everyone.
Shoes are a great place to express your personal motif, be it a bow, a scalloped edge, or a lush tassel. If you want a black shoe to wear to get somewhat dressed up, there are plenty of more interesting options than the predictable pump: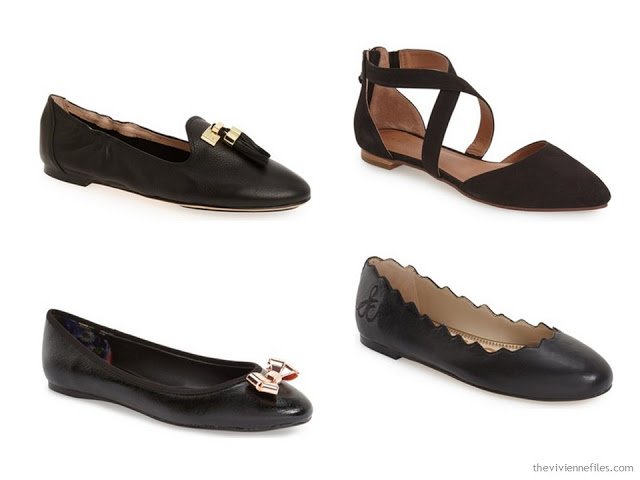 Tassel – Louise et Cie; bow-trimmed – Ted Baker London; Cross-strap – Caslon; scalloped – Sam Edelman
9. Black Leather Jacket
What is it with thinking that every woman has to wear black? And some of us don't like to wear leather – I look like a child trying to be tough if I wear a leather jacket! Of course many of us need some sort of a jacket, but we don't ALL want to be wearing black leather, do we?
10. Denim Jacket
Same general idea – they can be nice, and a lovely casual touch when worn with a dress or skirt, but they don't suit everyone. I either have to buy one that's ENORMOUS everywhere else on my body, or look like I'm trying to flatten my breasts into oblivion…
11. Olive Field Jacket
Olive? For EVERYONE? Yee gads…
There are so many other jacket options in the world – don't ever take it on faith that you need to own these, when there are more expressive and interesting options available:
Black satin – Wallis; floral – Ganni Sanders; Plaid – L.L.Bean; blue – Dorothy Perkins
12. Maxi Dress
I have to admit that the whole idea of maxi dresses has been completely spoiled for me by seeing LOTS of women here in Chicago walking about with the hems of their dresses dragging on the pavement. The idea of bringing that garment back into my home at the end of the day, with all of the… icky stuff, shall we say?… that's on sidewalks gives me the shivers. We don't even wear shoes past the front door…
But moreover, these dresses that I see just don't fit, plain and simple. If you want to wear a maxi dress and have it altered to be the proper length, do it, and enjoy! And if the idea doesn't appeal, walk away!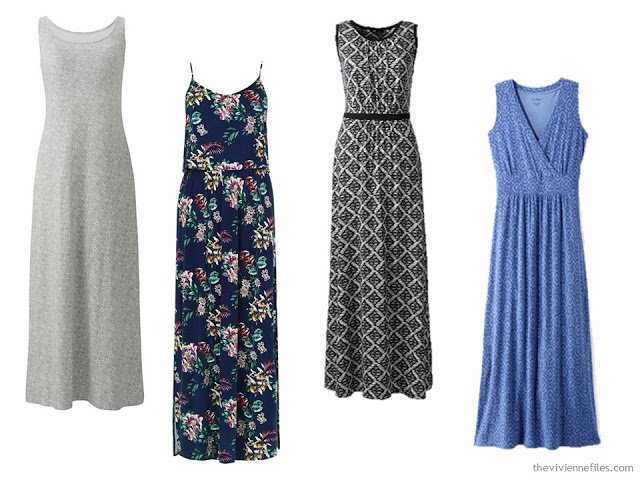 grey floral – Uniqlo; navy floral – Oasis; black and white – Lands' End; blue – L.L.Bean
Remember, these lists are written in order to make you feel inadequate, and to drive you to go shopping. The writers want you to buy things that you never thought that you needed; I want you to buy what's perfect for you, when you need it, and when you have the money.
Try to resist this kind of manipulation of your emotions and your ego; millions of women throughout history have lived productive and fulfilling lives without owning ANYTHING that ever appeared on a "must-have" list. You can too!
love,
Janice