April 7, 2016
What beautiful summer colors, and what exciting accessory possibilities!
Coral was a specific request…
Normally, I would build solid columns and suits, but just to show you a different way to go about building a wardrobe, I'm adding an accent tee shirt first. This can be a wonderful idea if you're still "on the fence" about a color scheme; if you buy an accent piece and find that you don't reach for it every couple of days, it might mean that you need to rethink your choice of colors.
Okay, NOW we're putting together the black suit. These kinds of monochromatic outfits really come into their own when the accessories show up!
Since we're fast moving into summer, I thought that a pair of light pants would be fun – and it gives you a suit-like pairing with the matching cardigan. Almost any tee shirt or shirt could be worn with those 2 pieces; talk about versatile…
Time for more accents!
Even if you never choose to wear the tee shirt and cardigan together, if they're both your chosen accent color, it makes sense to have them – anything that goes with one will go with the other! And always remember: a sweater that buttons all the way to the top is both a cardigan AND a sweater that can be worn on its own…
If you abhor the idea of culottes, substitute a regular skirt, or shorts, or "pedal pushers." I just thought that these were intriguing enough to merit inclusion!
I love stripes, and any top that includes 2 or more of your wardrobe colors is always going to be a great "hinge" piece in your wardrobe.
A sweater for cool evenings isn't the silliest thing you could add here – and it looks really great just tossed over your shoulders as an accent, or to have handy in case of over-air conditioning.
Every woman who wears pants needs a good pair in their chosen dark neutral color…
Here's a perfect example of a top that includes all of the wardrobe colors here. While you might not be interested in skipping a mortgage payment just to buy a tee shirt, the idea of this is sound.
If you're planning this wardrobe for travel, you don't want to forget some sort of rain protection. It could prove to be the single most important thing you take with you!
As before, if you don't wear shorts, look for a different style of skirt, or cropped pants, or maybe a printed or patterned "bottom." But these shorts aren't painfully short, so they work better than most for those of us who are uncomfortable exposing too much…
And finally, a dress! A simple, basic, but beautifully-colored dress. This could go a LOT of places, with the right accessories and shoes:
This turned out pretty nicely, I'd say! Lots of possibilities…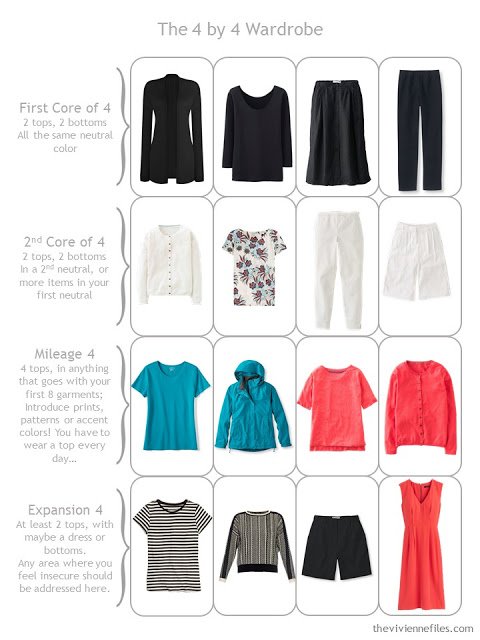 Accessories for this wardrobe tomorrow!
love,
Janice