April 8, 2016
Yesterday's "1 Piece at a Time" capsule wardrobe is a great base for accessories – although trying to find turquoise and coral that are the same shades can make you a bit daft…This is our starting outfit:
Shoes are critical, and I thought that a simple ballet flat would be pretty with the swing and movement of the black skirt.A small-ish bag is my next accessory choice. I'm particularly smitten with that octagonal bag…
I love earrings, so they're next! While I'm not usually a big fan of "matchy-matchy" accessories, I think there's some wisdom to purchasing the earrings that were manufactured in the same batch as your necklace; you know that they're the same overall mood and color. You don't have to EVER wear them at the same time!
You'll be surprised how often a scarf like this is just the touch needed to pull things together.
For this wardrobe, if you found a turquoise and/or coral watch that you loved, it wouldn't be the worst idea. But I've opted for more neutral watches this time… I have a reason!
THIS is why I was sort of conservative in my choice of watches – I had some over the top bracelets in mind… (you know that something really caught my eye if I'm linking to HSN!!!)
I couldn't get through summer without a pair of sandals; the black sandals with this outfit "ground" the black tee shirt.
In order to balance out the larger earrings we bought, as well as the outrageously "statement" bracelets, I think some small, classic earrings are in order. Unless you want to make another statement – it's your wardrobe!
Another solid scarf, although a patterned one wouldn't go amiss in this wardrobe, with this particular ensemble, it would be a tricky coordinating job!
As always, I like to include canvas shoes of some ilk; some of these aren't as "athletic-y" as they might be.
I love the idea of a bright tote bag, especially in the warm weather when it's less likely to get "slushed."
When you have colors in your wardrobe that are challenging to match, don't forget the option of metallics for your leather goods. As much as I would have really liked turquoise sandals here, by the time I found 3 pair in the right shade, without 5 inch heels, that didn't cost $1,000 a pair, the summer would be over…
And for what it's worth, if you like that first pair of sandals, they're available in 17 colors; I think Nordstrom has carried them for YEARS… that's a pretty timeless classic, I'd say!
Another piece of amazing jewelry – this is the kind of thing you can do when most of your clothing is classic, solid-colored and simple.
Sunglasses must ALWAYS be included in your accessory wardrobe. While jewelry and scarves are just for prettiness, sunglasses are actually a necessary functional thing you should wear in any kind of bright outdoor conditions!
Couldn't you see this for a vacation trip to a destination with warm sunny days and cool evenings? A northern beach vacation, maybe…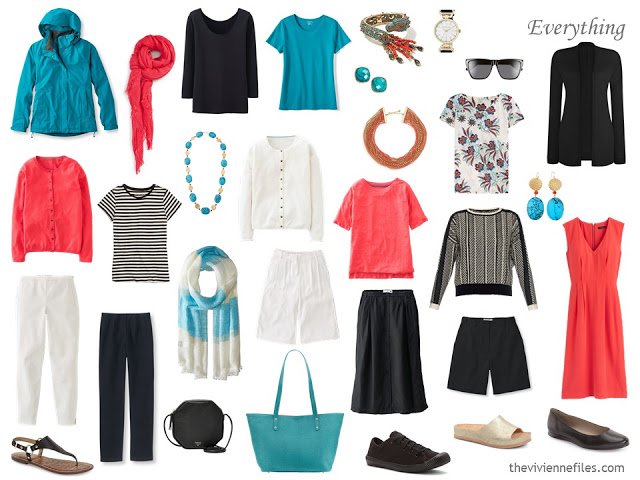 love,
Janice