Yes,
honestly, I looked down at our feet, and the wee heart-shaped pebble
was right there between our toes… It was that kind of vacation!
It
really was one of the best trips ever – everything fell into place for
us to a degree that's almost impossible to describe. We had 20 minutes
of rain (during which we stood under an awning and discussed the rest of
our day), we ate like crazy people, discovered some new (to us)
cocktails, did some excellent shopping, and walked about 10 miles every
day. Despite the mad amounts of eating and drinking that we did, I lost
weight…
The
first highlight – we got to see the Paris Marathon. As runners (well,
in my case, as a fast walker/runner), seeing the elite runners at the
head of the marathon was an absolutely breathtaking experience. Those
men have taken a natural human function and absolutely perfected it –
there's not a wasted movement, no part of their body that doesn't help
propel them forward. It's very motivating…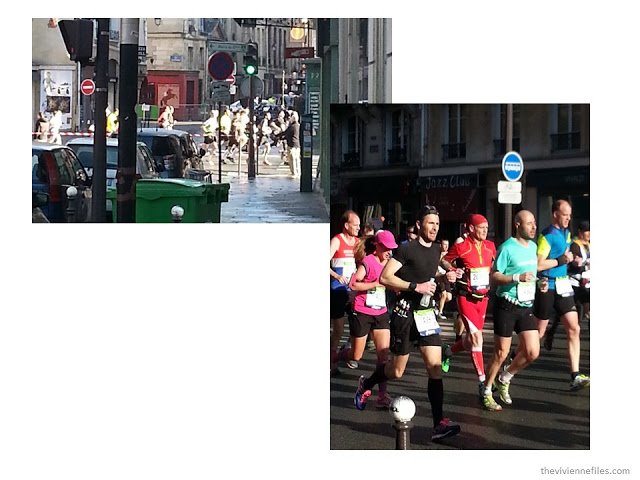 The
sheer number of participants, and the absolute ordinariness of many of
them, was also a potent reminder of the fact that we can, in fact, run
as far as we want to, if we just commit ourselves to doing it. In the
midst of all of our eating and drinking, it was a good thing to
remember!
Speaking
of eating, we discovered these astonishing little gems, seen below.
They're called Merveilleux, and they're basically little meringues with a
dab of filling and a covering of some some wonderful little fragments
of tastiness. We ordered a couple of the coffee flavored ones
(charmingly named the l'Inpensable – the Unthinkable); eating them was
like biting into sweet coffee-flavored crispy air! It would easily be
possible to eat a dozen of these, and then spend the rest of the day
kicking yourself for your folly…
Aux Merveilleux has a handful of locations around Paris, so if you bump into one, take advantage!
One
of the shopping highlights was visiting Denise Acabo, pictured above,
at her absolutely unforgettable candy store, A L'Etoile d'Or. The story
of her shop is a tribute to her – there was a gas explosion in a shop
nearby, and HER shop was also destroyed in the overall horror.
But she was able to re-open it about a year later, and it looks as
charming as it should, as a setting for her.SHE
is wonderful. She dresses like a schoolgirl, and has the energy and
effortless, sweet charm of a child. She gives you samples of things,
explains why she carries only certain candies (must be all-natural, and
preferably something with history and heritage), and makes you feel like
you're rediscovered a long-lost friend from childhood. You walk out of
there carrying more candy than you ever imaged you would purchase at one
time, and counting the days until you can go back. While the
neighborhood, near Le Moulin Rouge, isn't filled with wonderful tourist
attractions, it's worth a special trip. Trust me.
Wandering
the streets of Paris looking for somewhere to dine is one of the great
dilemmas of life. Sunday evening, when many things were closed, we were
walking down the very quiet rue Claude Bernard, when we spotted a woman
standing in the window of a small restaurant, rolling out pasta dough.
To me, that's a good sign….
So
in we went, to Pasta e Fagioli, on 82 rue Claude Bernard, and sample
the first Aperol spritz we'd ever had that used PROSECCO instead of
sparkling water… Not a bad substitution, I have to admit…
And
the pasta was exceptional. We kept passing our plates back and forth,
trying to decide which of the 2 of us had ordered the better dish. I
think we'll have to go back there and try again, to settle the debate!
Did I buy any clothes? Heck yes!I didn't buy anything for myself at Agnes B.
this trip, although I did pick up a tee shirt for a dear friend. Agnes
B. is one of my favorite stores – I feel like everything there was
designed with me in mind!
But I did buy things at 2 other places: an oddly-named store called & Other Stories, and my favorite COS.
The
dress shown above is light, breezy, and sports the weirdest print I've
seen in a while! With cropped leggings and sandals, it will be in heavy
rotation all summer. (assuming summer ever comes…)
And
the coat, from COS, is a lightweight spring and fall classic that I
have been wanting for a while. I started wearing it as soon as I took
off the tags, and found that it was the perfect weight over my dresses,
while we were walking all day.
We visited quite a few museums, too! If you were following me on Instagram, you got to see some of the wonders of the Musee Guimet
– one of 2 Asian art museums in Paris. (the other, Musee Czarnowski, is
closed until June for renovations) We also went to the Louvre, of
course, and had a startlingly wonderful visit to the National Museum of Modern Art
in the Centre Pompidou! You're going to be seeing a LOT of art from the
last here on The Vivienne Files in the upcoming weeks and months.
I've
got lots of photographs – my favorite ones of street art and graffiti,
and a lengthy study of the wonderful of the Parisian costume jewelry
world. My mind just whirls trying to remember everything, and to keep it
all somewhat organized so I can tell you about it without sounding
confused and silly…
love,
Janice