April 13, 2016
Well okay, not what everyone was wearing, but what caught my eye…
Belovedest OF COURSE knows what I'm doing when I'm looking at people in Paris, and he's turned out to be an invaluable partner in spying patterns and noticing the garments that seem to be worn by 10% of the people we see.
First up – grey jeans! We couldn't tell if these were black jeans that were well faded, or if they were jeans that were grey by design. At any rate, we saw them often, and generally they weren't skin-tight. We saw virtually nothing cropped, but quite a few jeans were rolled neatly at the ankles, exposing jazzy socks…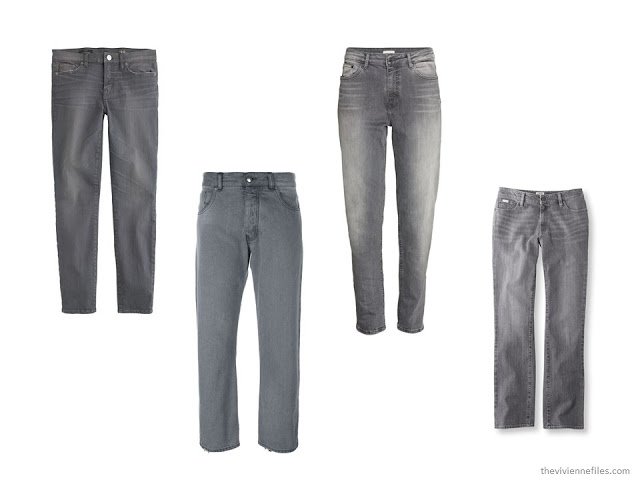 Toothpick – J. Crew; blue/grey – MM6 Maison Margiela; tapered – H&M; classic – L.L.Bean
And let's put an old rule to bed for at least a while… For years, we were all given the (very correct) advice that one shouldn't wear athletic shoes in Paris, because it made you stand out like a sore thumb among the natives.That's OVER. We saw TONS of athletic shoes, in every neighborhood, including on the Faubourg Saint-Honore, outside of the Hermes boutique. And these weren't necessarily really expensive designer "athletic" wear; the single most common-spotted shoes (I'd estimate that we say a pair every 5 minutes, at least) were these green-trimmed Stan Smith style Adidas. It got to be a joke between us to see how often we could find a pair!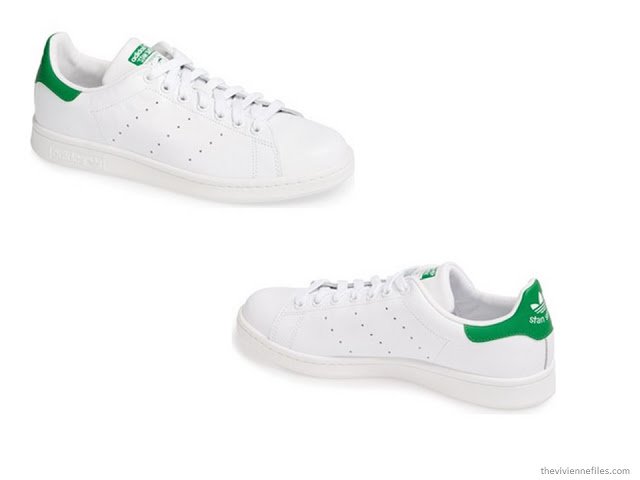 Shoes – Adidas
I've been pondering a pair of these with the black tab for months…Other than these 2 really noticeable trends, I didn't see anything common among lots of the women. More often than not, what attracted my attention was either an innovative combination of patterns and prints, or just a really tidy, well put-together outfit on a woman with exquisite grooming and perfect posture.
First up, a young-ish woman in a mix of prints and textures. All of the colors were matched, so the 2 floral prints along with the tweed looked very creative, but not at all outlandish or hard to wear.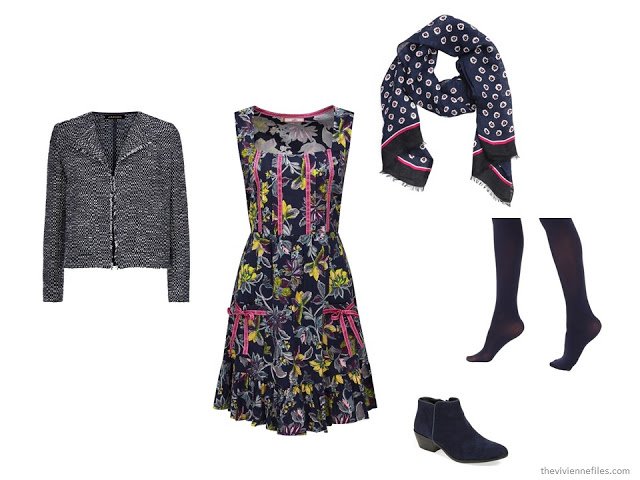 Jacket – Jaeger; dress – Joe Browns; scarf – Burberry; tights – Wolford; booties – Sam Edelman
The temperature was all over the place while we were there, so we saw all kinds of mixtures of warm weather and cool weather clothing.This woman looked casual and fresh, with great floral shoes sparking an otherwise simple, monochromatic ensemble.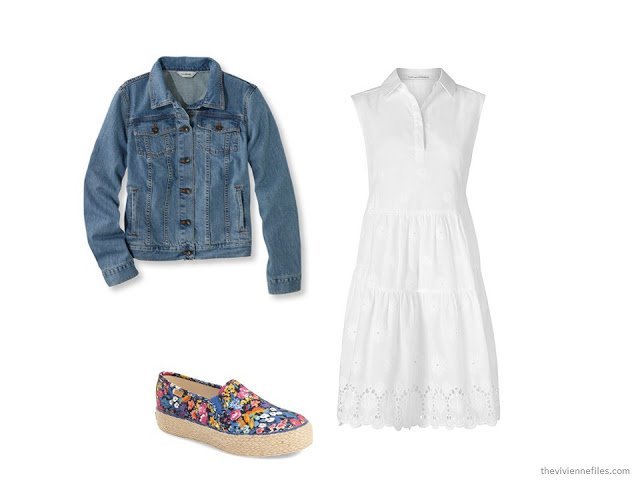 Denim jacket – L.L.Bean; espadrilles – Keds; dress – Diane von Furstenberg
I really liked this look – the linen pants were soft and drapey, and the tan jacket was a great contrast. I wish I had been able to tell what she was wearing under the jacket…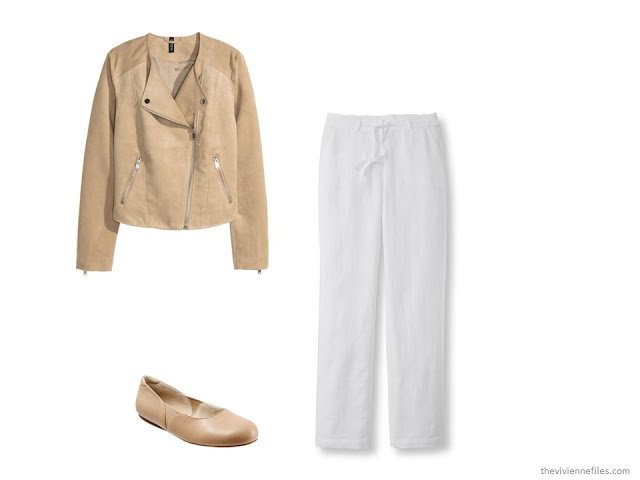 Jacket – H&M; flats – SoftWalk; linen pants – L.L.Bean
The beautiful lady was much older than you might expect, given that she's wearing athletic shoes, but her haircut was perfect, and her smile was warm and confident. It all looked wonderful, and she was walking with long strides, alongside her equally chic husband (or gentleman friend?).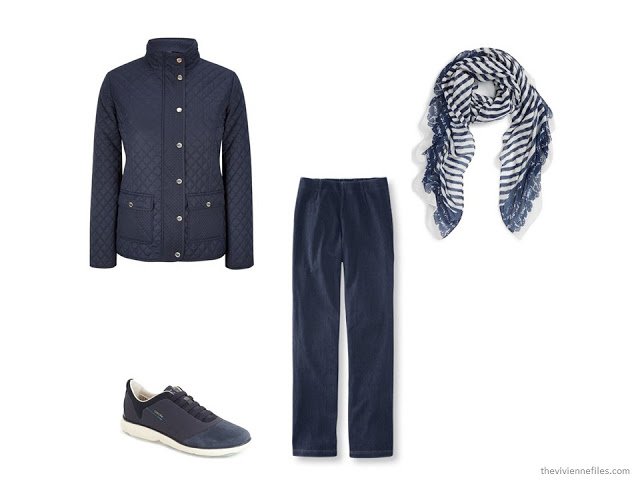 Jacket – Austin Reed; shoes – Geox; jeans – L.L.Bean; scarf – Natasha Couture
The most relaxed way possible to wear a navy blazer!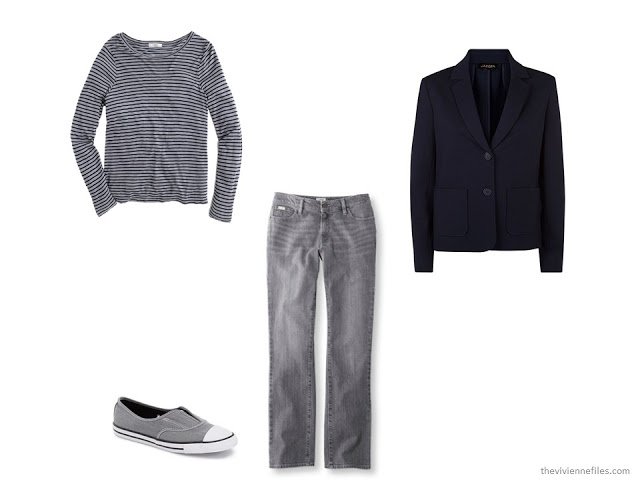 Tee – J. Crew; sneakers – Converse; jeans – L.L.Bean; blazer – Jaeger
I just caught a glimpse of this woman as she passed us in the middle of an intersection; grey hair, blue eyes, and color-coordinated block print and florals.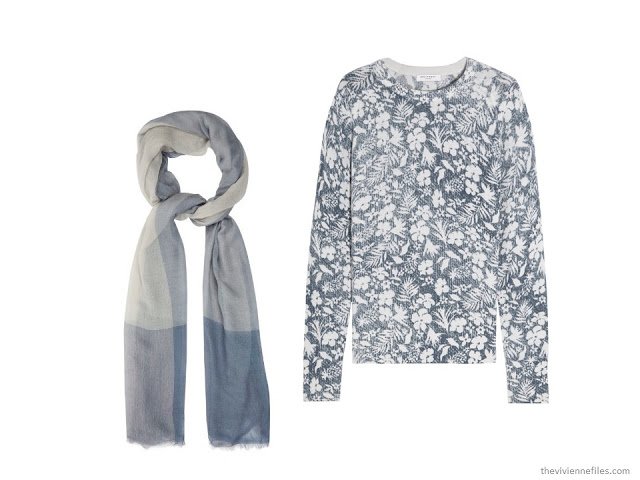 Scarf – Denis Colomb; sweater – Equipment
The "real" outfit I saw included a sleeveless top in an all-over print; I couldn't find one similar. But this comes close enough to convey the fresh, spring-like beauty of her outfit. The longer skirt was fine with the flat shoes…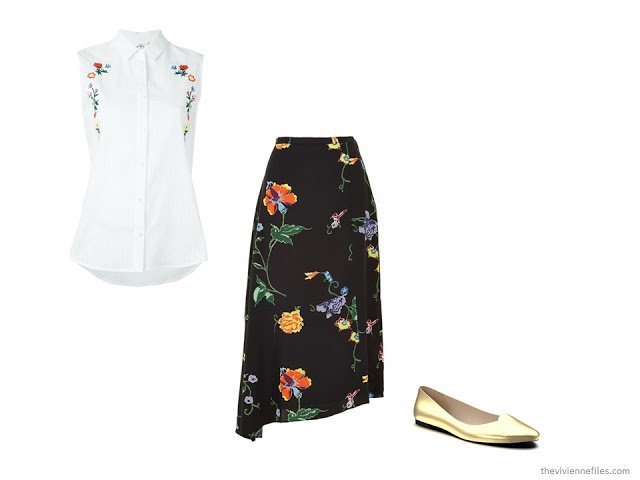 Top – SteveJ & YoniP; skirt – Tibi; flats – Shoes of Prey
3 or 4 times, I saw women wearing varieties of purple, all tossed together with reckless pleasure.! And these weren't eccentric little old ladies with purple hair, either! It can be a look that's not easy to pull off, but if you truly love a color, who says they have to be "dye-lot matched" to be worn together?And we saw TONS of New Balance shoes in Paris. Tons. More than Nikes, even…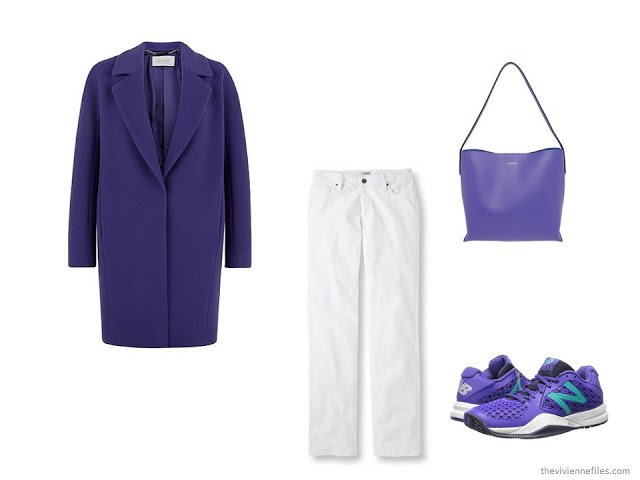 Coat – Hobbs; jeans – L.L.Bean; bag – Lodis; shoes – New Balance
B spotted this woman – a simple column of grey, amazing moss-green shoes, and a peach scarf. The thing that made it all "hang together" was that the 3 colors were all the same intensity, with the same slightly muted feeling to them. That, and the fact that she wore the outfit as if it was supposed to be that way. Sometimes, attitude is everything!
Scarf – Nordstrom; sweater – L.L.Bean; pants – L.L.Bean; shoes – Manolo Blahnik
This woman was hurrying past our breakfast cafe, but I absolutely loved the dark tonality of her outfit. You could tell that she'd given some thought to the scarf/coat combination!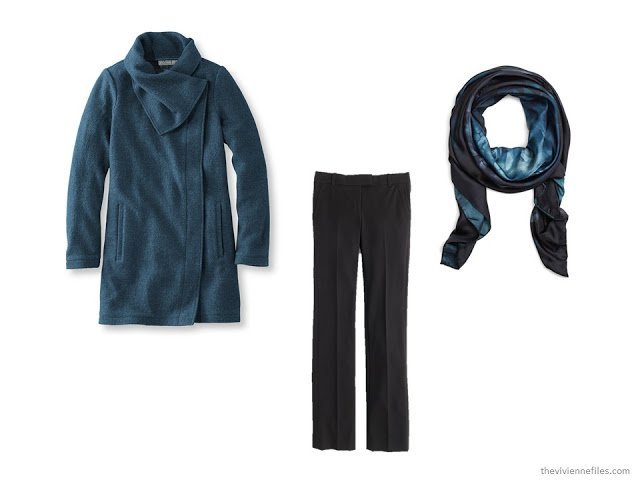 Coat – L.L.Bean; pants – J. Crew; scarf – Brooks Brothers
And lastly, this woman who, at first glance, seemed to wearing brown. Just brown. But when I looked closely, I could see that the colors in the tweed skirt were beautifully mirrored in the patterned scarf. I'm pretty certain that she likes brown quite a bit!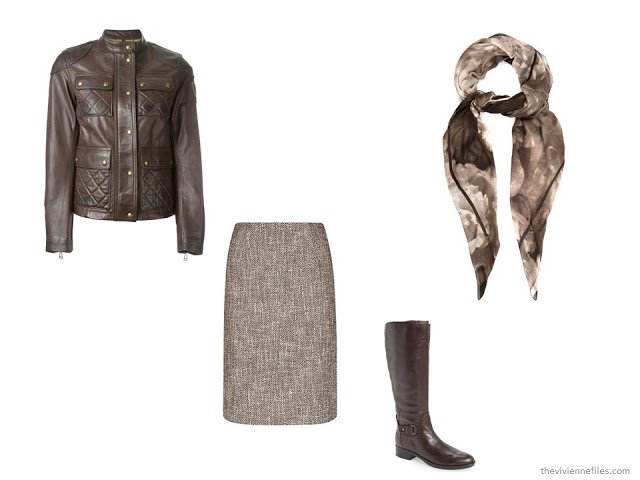 Jacket – Belstaff; tweed skirt – Austin Reed; boots – Geox; scarf – Max Mara
What a lovely bunch of women…Tomorrow, I'll share the street art I saw!
love,
Janice