You might not fully appreciate my love of good graffiti, but I walk a LOT in Chicago, and never get to see anything nearly this witty or just plain well-executed. The graffiti in Chicago is that same tired, self-aggrandizing and incomprehensible "tagging" that's some variation of initials or names, written large, and badly…Okay, this guy was NOT graffiti, but I think someone sitting outdoors, playing a harp, qualifies as street art of the very finest quality!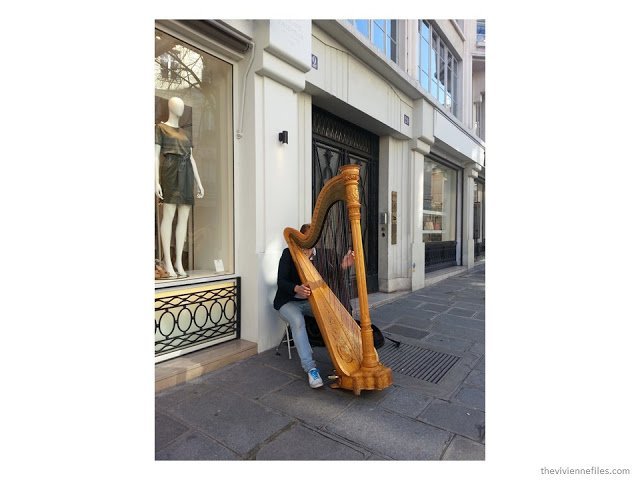 Some of the graffiti is just small pieces on a wall (sometimes quite HIGH on a wall); and sometimes, you see a bike driving out of the building. Very Harry Potter-ish…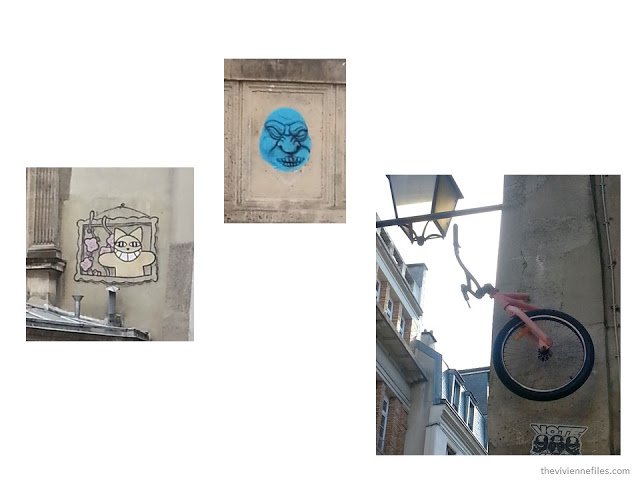 The first image was seen quite a bit, and was apparently part of the sponsorship project for the Paris Marathon. And the second was a small image, tucked in a corner…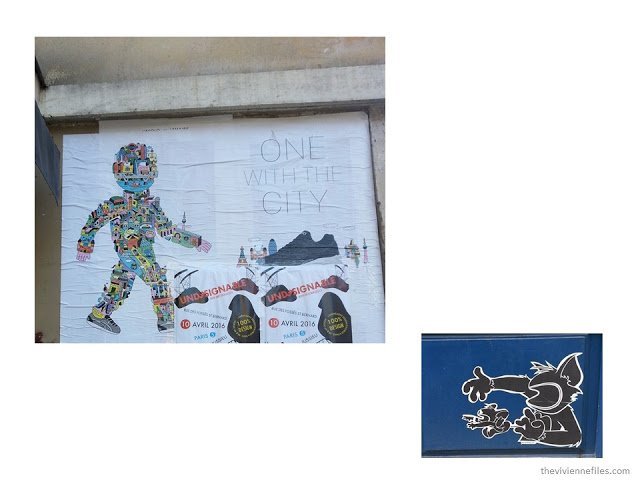 Sometimes, you see people who are larger than life. I particularly like the way the window of the closed business was given a touch of whimsy.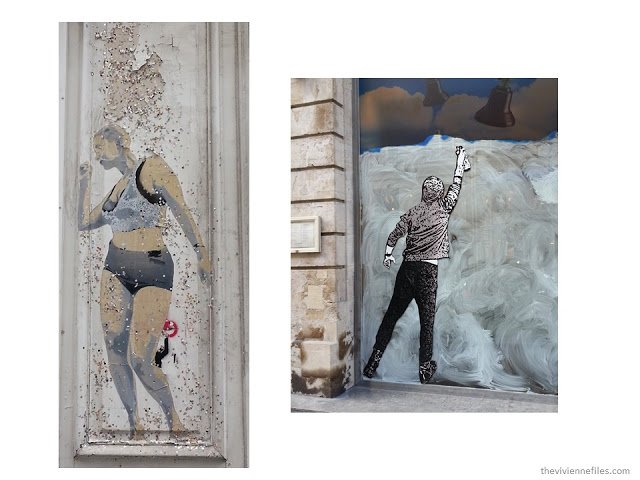 Someone in Paris is doing a good job with their English!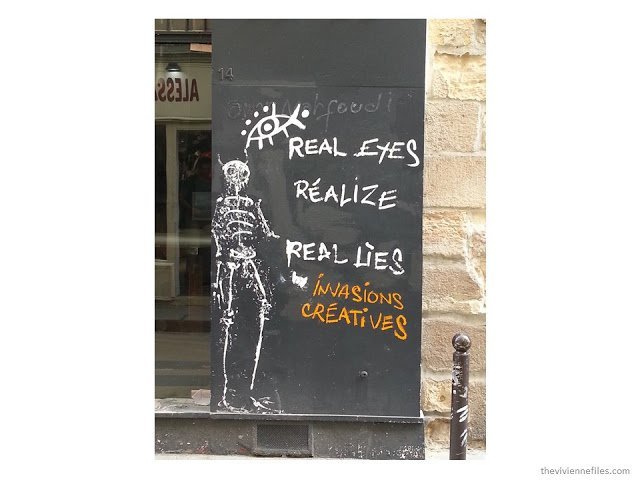 Occasionally, there are works of art that are so large that they MUST have some kind of sponsorship or legitimacy. They're also a delight when you turn the corner and find them!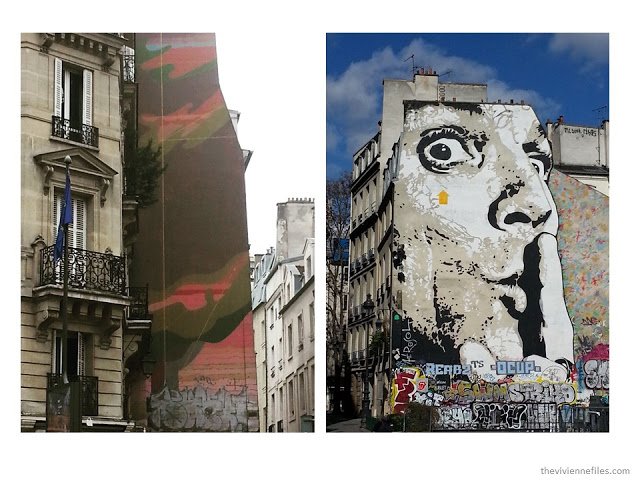 Yes, these are mannequins. They startled the daylights out of me…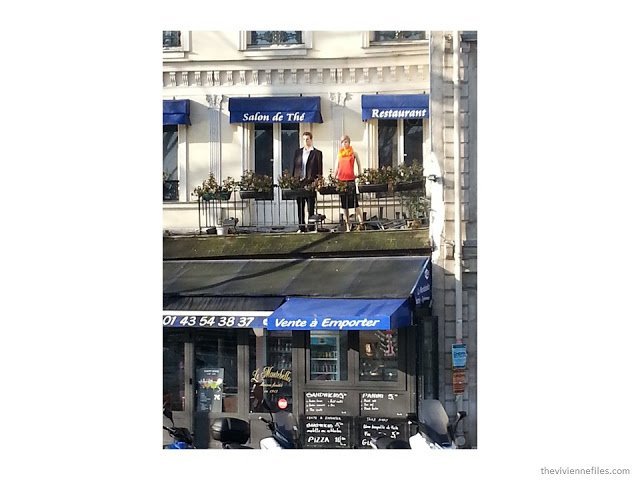 A neon pig mermaid? Why not? And you want to stick up one of your snapshots under a street sign? okay…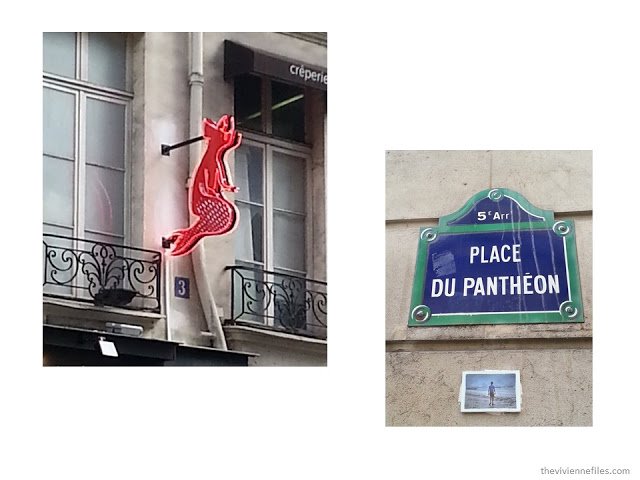 The sign on the left is a standard "do not enter" symbol, altered to look like someone has been put in the stocks! The blue and green thing is just weird and interesting, and the building with the fake beehive embedded in the corner must have, at one time, housed some sort of honey shop? Logic isn't necessarily a big part of interpreting these things, however…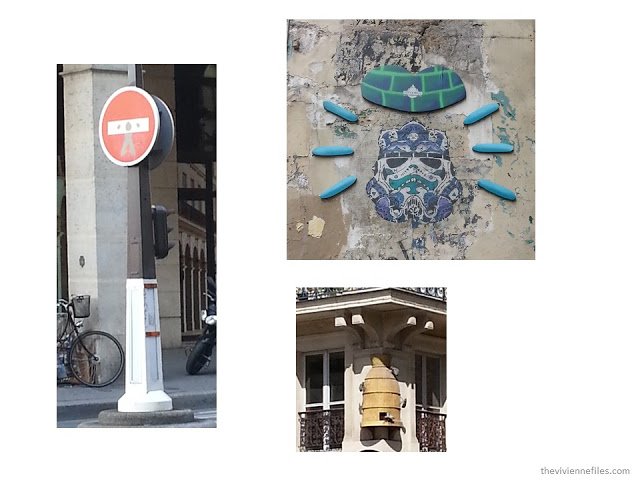 A shopping bag is only considered art in the most abstract and broadly interpreted way, but I loved this bag. And B found a gorgeous cardigan/blazer in this store… their things are lovely.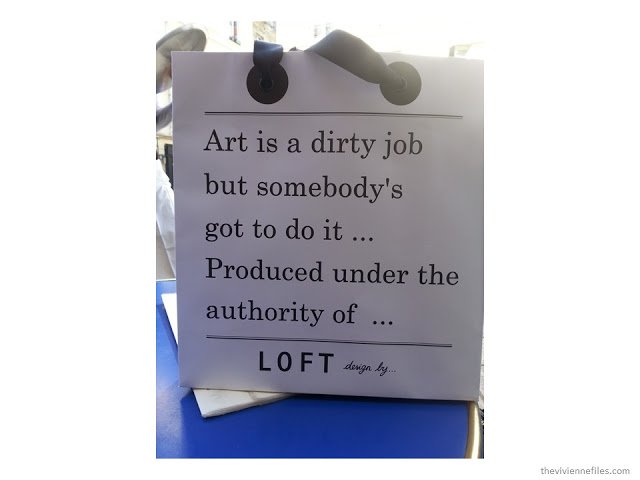 All large cities have street musicians, and some cities do a better job than others of vetting who's allowed to noise pollute the neighborhood. These young guys were both good musicians and amusing, cheerful entertainers!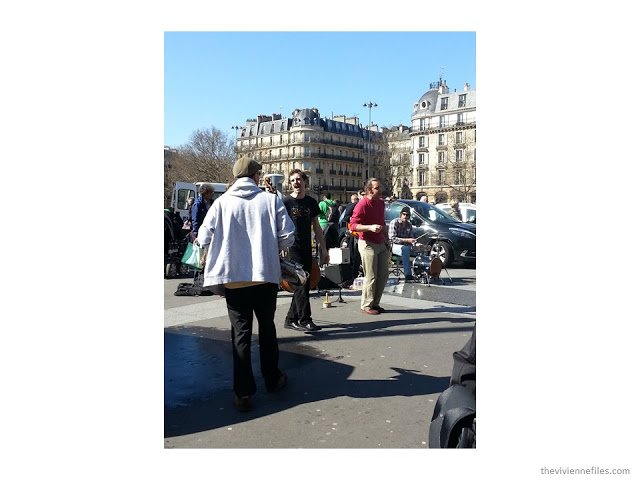 One of the things that you see from time to time is a BEAUTIFUL old window, or mosaic, or other advertising piece from years ago, which has been preserved in direct contradiction to the current business on the premises. This was one of the walls of a Chinese traiteur…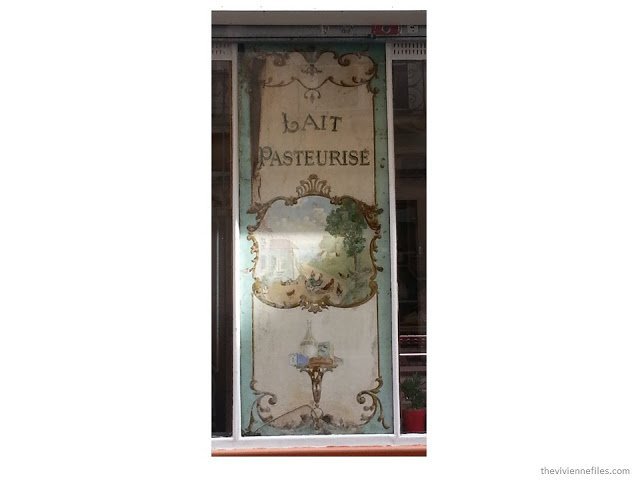 For some reason, the Rue Taitbout had a lot of little graffiti/art pieces. I particular like the "austerite" poster – simple, clear, effective.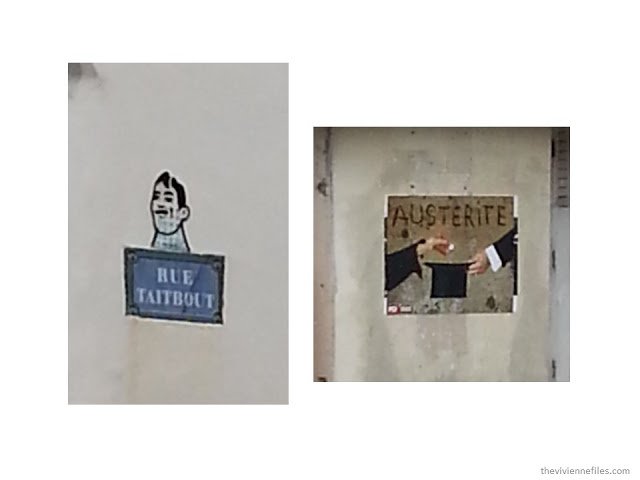 Do you think that the proliferation of "art" in public spaces encourages or reinforces the idea of dressing and accessorizing in a way that is self-expressive?
I still have photographs; I am going to tackle ALL of the jewelry photographs tomorrow!
hugs,
Janice