March 2, 2016
I decided to pull a scarf into this one, in order to illustrate the color scheme a bit – I think that adding the scarf lends a bit of validity to the possibility that this outfit could be someone's favorite: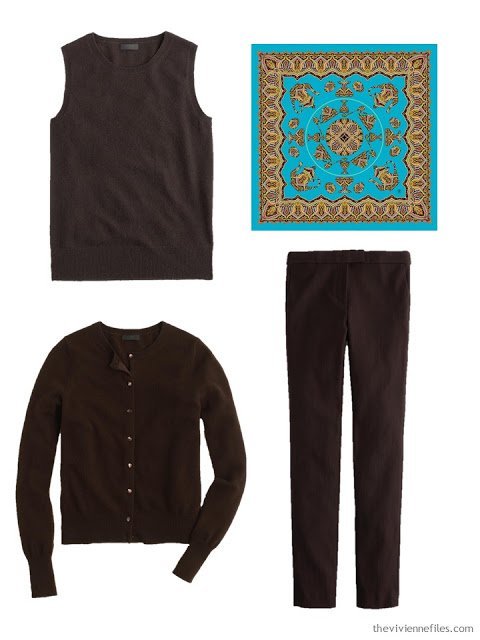 Shell –
J.
Crew; cardigan – J. Crew; scarf – St Petersburg Global Trade; pants – J. Crew
I love the possibilities – dark chocolate, caramel, whipped cream, and…. I do NOT have anything except ugly artificially-colored sprinkles to offer in turquoise!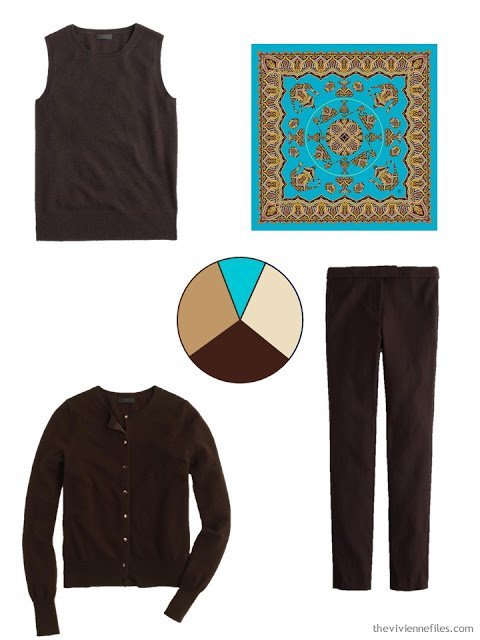 Shell – J. Crew; cardigan – J. Crew; scarf – St Petersburg Global Trade; pants – J. Crew
Normally, I try to start building a wardrobe with solid garments, because they feel more versatile. But sometimes, you see something that's just perfect, and you grab it!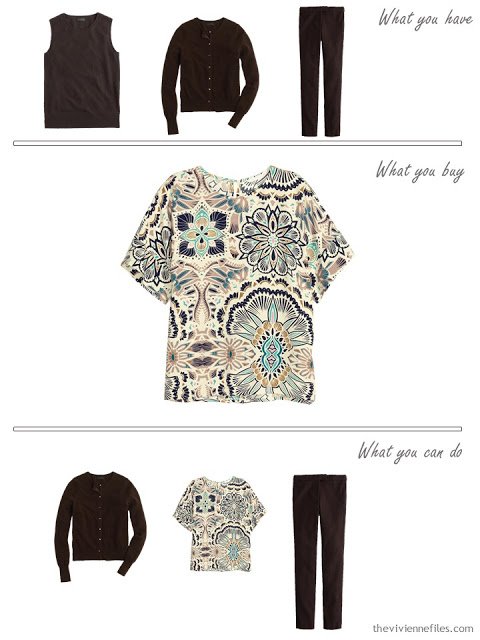 Blouse – H&M
Here's a case of "I love it in chocolate, I will probably love it in caramel." That's not at all a bad strategy for expanding your wardrobe with taking huge risks!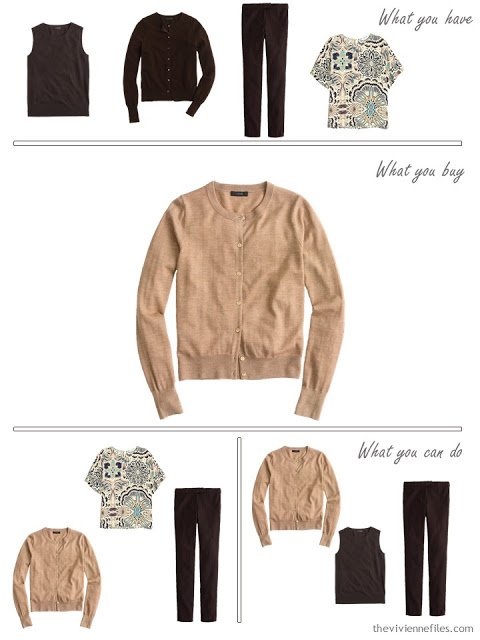 cardigan – J. Crew
These trousers give you a… sort of… suit look. Again, I normally wouldn't introduce plaid pants as the 6th item in a wardrobe, but they're perfect, and they had "whappage." Thus, here they are!
I indulge myself in these sorts of wandering from the system in order to show you that you don't have to march in lock-step with me in order to build a functional wardrobe. If you stick to your colors, and you choose pieces that you love, a little bit of variation will do no harm, and will let you build a wardrobe you really like. Getting the "right" things doesn't help you at all if you don't want to wear them frequently.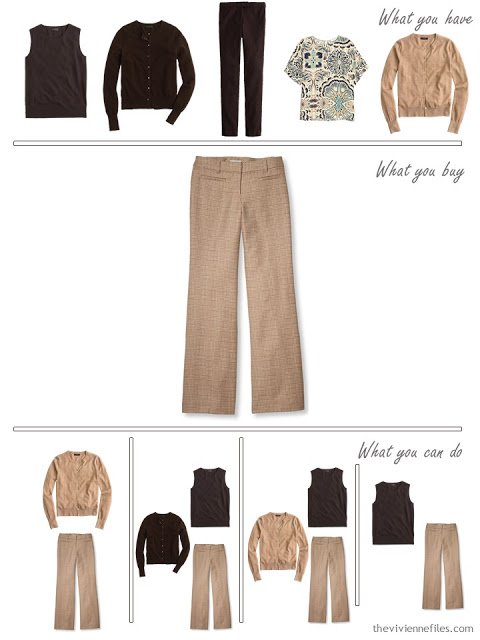 Pants – L.L.Bean
A shell, or a sweater vest? A cream blouse or shirt (which I don't include) could be a handy 17th piece of this wardrobe!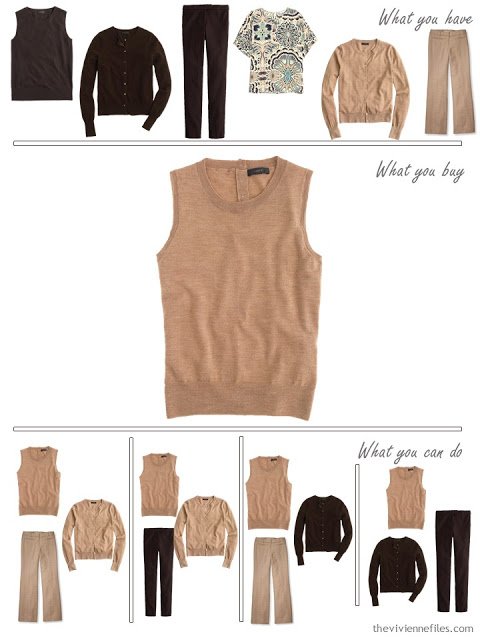 Shell – J. Crew
It's pretty important to settle on a shade, or range, or turquoise when you start this wardrobe; blending these pieces is an important part of owning a wardrobe that gives you plenty of options.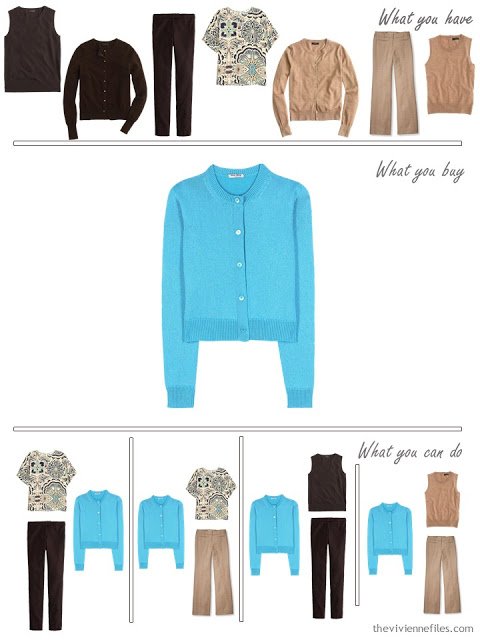 Cardigan – Miu Miu
If you don't want a skirt, look for a 2nd pair of pants, in a different fabric – suede, leather, denim, corduroy, flannel…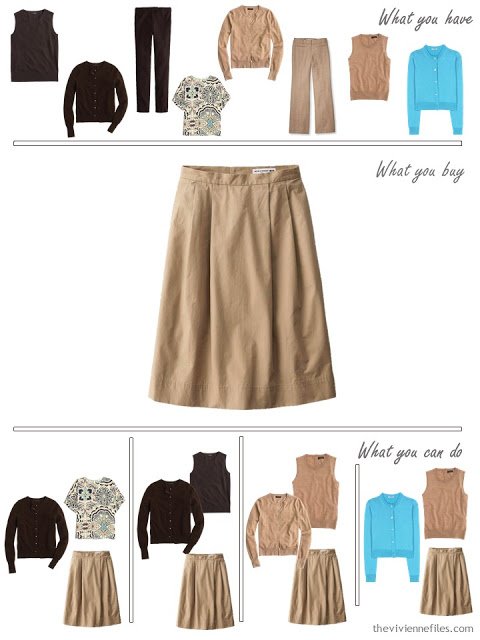 Skirt – IDLF
Love at first sight here: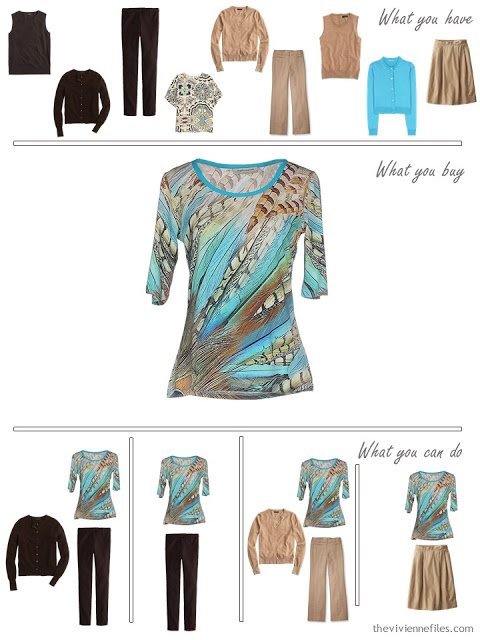 Tee – Angelo Marani
The 3rd neutral makes an appearance: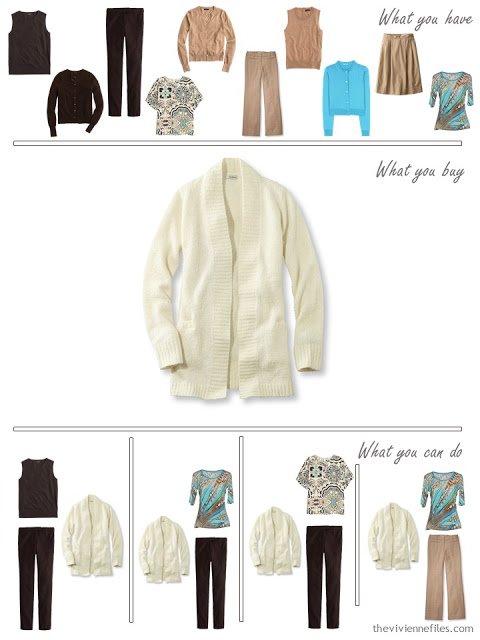 Cardigan – L.L.Bean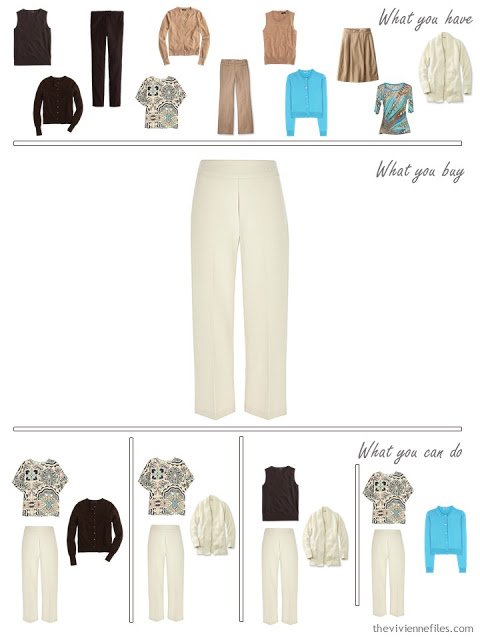 Pants – River Island
It might be "un-fascinating" to build up your supply of neutral pieces like this, but you'll be grateful you have them, some early Monday morning…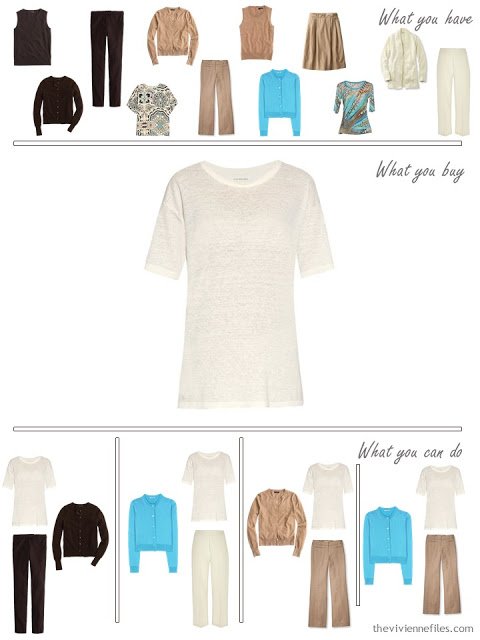 Tee shirt – Isabel Marant
Woman does not live by cardigans alone! As long as your colors blend nicely, your fabrics do NOT have to match.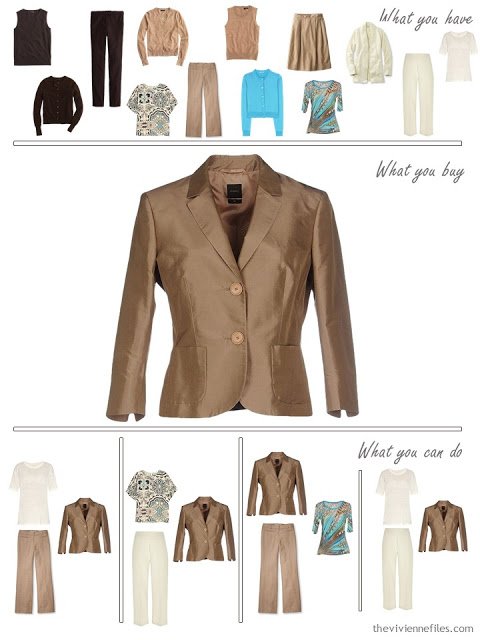 Jacket – Seventy
Yes, you've seen some of these pieces before. I do this deliberately (and not out of some inherent laziness) to show you how versatile some items can be if they work well with your chosen neutrals.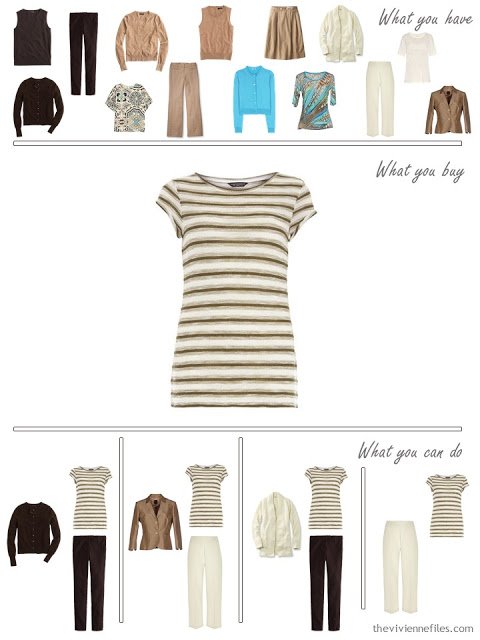 Tee shirt – Dorothy Perkins
One last "bottom." Depending on the season, this could be shorts, culottes, a skirt, or another pair of trousers. A brown, camel and cream print skirt could be pretty… But I'm offering up a pair of jeans, just for relaxation and variety.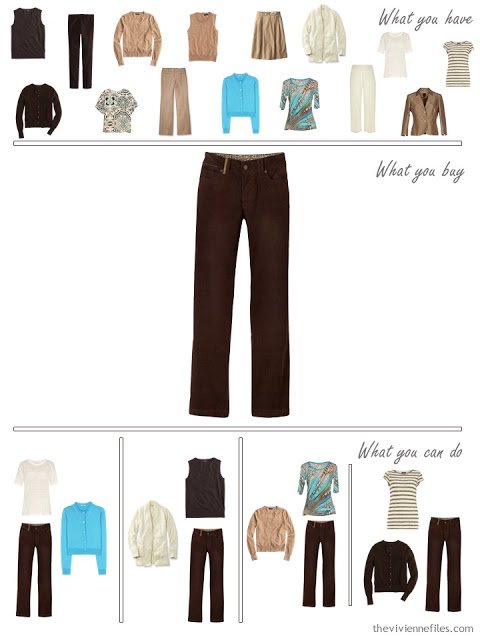 Cords – Prana
Everything works well together, and there are lots of clear possibilities for the next few purchases, too!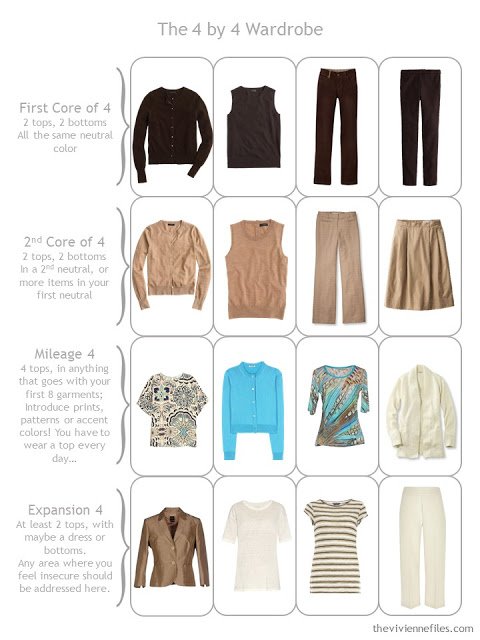 love,
Janice