This was a little bit more challenging than I expected it to be! Finding these colors was surprisingly difficult…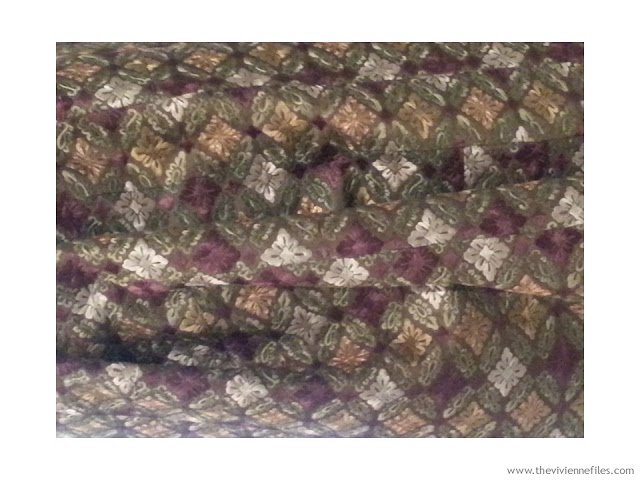 It's just a small exhibit – maybe 28 items? – but if you have a chance to come to Chicago, to the Art Institute, before February 14th, you won't be disappointed. The exhibit displays only a few of their collection of Buddhist kesa, but they're beautiful. And because this is a "minor" exhibit, in the basement area of the museum, it's usually quiet, and uncrowded (bordering on empty). Very restful, very inspiring, very wonderful way to spend an hour!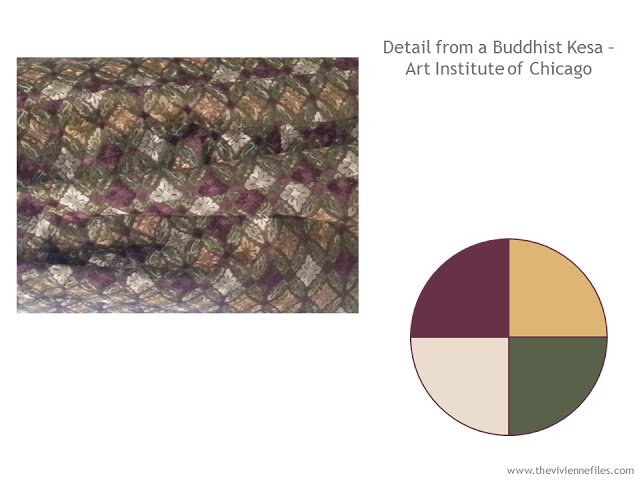 I considered using the burgundy as the first neutral, but I think that this olive/sage green is more readily available through more of the year. This kind of color is a staple with the "outdoorsy" brands like L.L.Bean, Patagonia, or REI, so it's worth checking in with them every 3 or 4 weeks, as new merchandise is stocked, if there's something particular you want or need.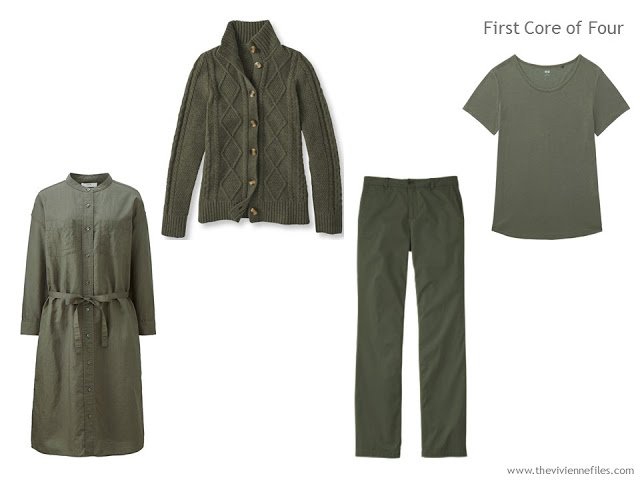 I included two dresses, because I thought that they were both great! It seems like I can go for ages without including a dress in The Vivienne Files, and then all of the sudden, I'm seeing nice ones everywhere…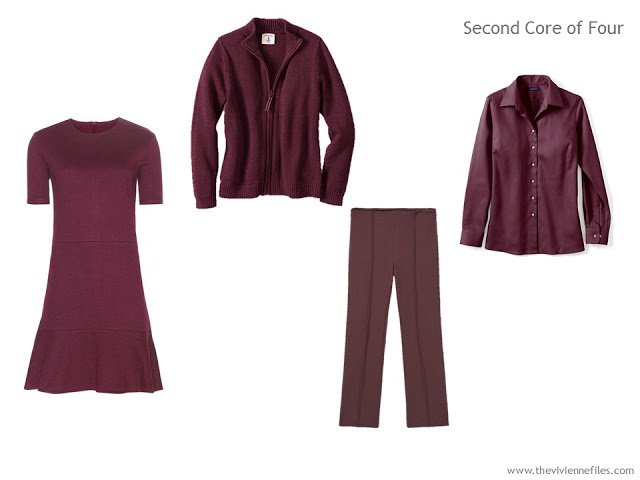 My next step is to find four additional shirts or sweaters, now introducing the secondary colors. These give you a lot more "mileage" for wearing your original 8 garments. Sometimes, I really do name things logically!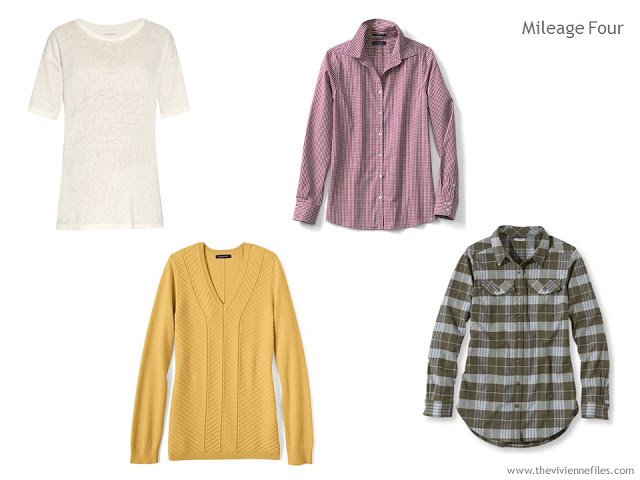 These colors migrate nicely into warmer weather if you leverage the usefulness of that beige/off-white color. There should be lots of linen and cotton pieces in that color later this spring.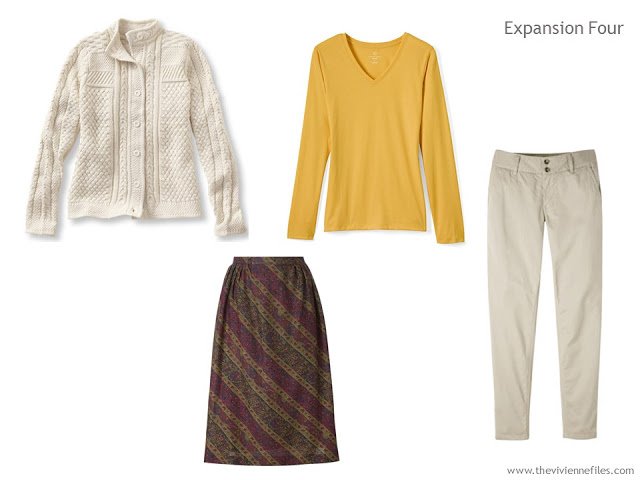 Burgundy leather seemed an obvious choice! The accessories go a long way toward integrating solid-color garments into coherent outfits, so they're well worth looking for and enjoying. Although sometimes I find a scarf that's… ahem… an investment….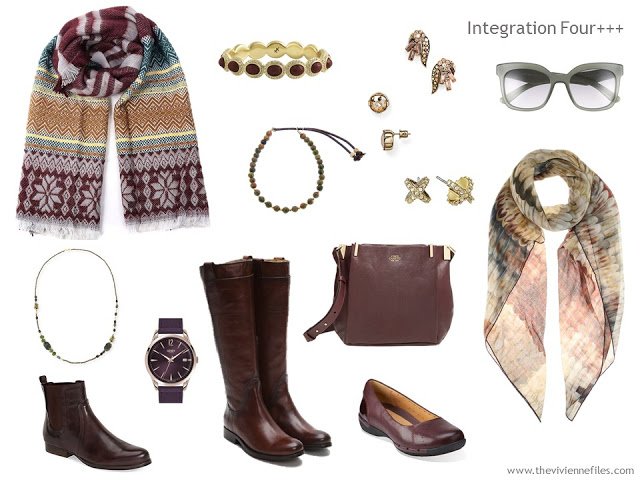 Snowflake stripe –
Yoins
;
burgundy bracelet –
Karen Kane
; flower stud earrings
booties – Maxstudio; riding boots –
Frye
; bag –
Vince Camuto; flats – Clarks
As is true of so many wardrobes I do, this would be a great choice for travel. Wear three of the garments (trousers, shirt and cardigan, with some accessories) and pack the rest. Having 2 dresses with you would make going out in the evening super-easy.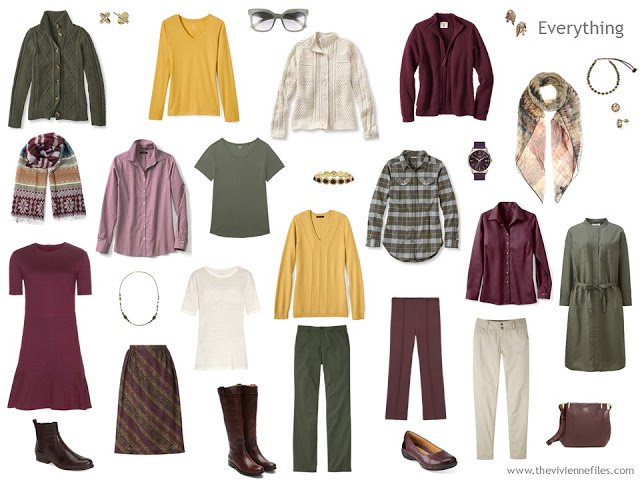 This is how everything fits, so neatly, into the 4 by 4 Wardrobe template: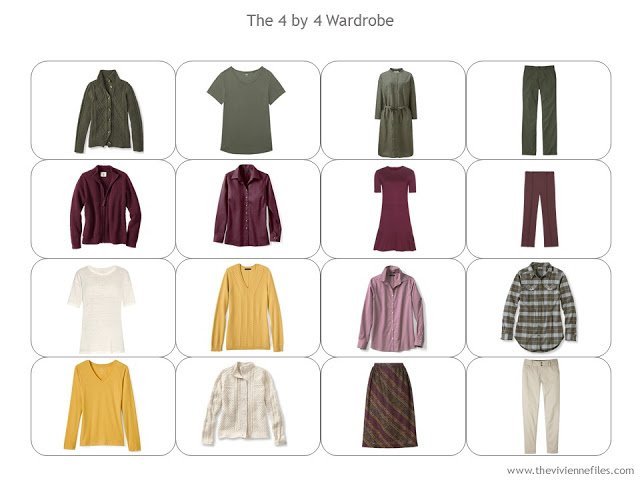 There are 3 more of the kesa color schemes that you wanted to see – I hope to have one for you on Monday.
love,
Janice