October 3, 2015
To say that we're excited would be a bit of an understatement! Two weeks (which is SO un-American, the country that has NO law requiring any vacation, at all, for any person, ever) in Wales and England, including attending a Rugby World Cup match! And dinner reservations at some amazing places, and a few days in London, and a visit to my English relatives, AND a bunch of driving around amazing places etc. etc.This is gonna be good…
If you don't follow me on Instagram, you might want to start. You'll be able to see what I wear every morning (I lay out my outfits and photograph them), and we'll take some pictures of beautiful or amazing places. I'm not one of those people that buries you in photographs, but I'll make sure that I share the really great things with everyone.
To follow me on Instagram, click on the teeny tiny little camera image over to the right, next to the Twitter birdie. Above the blank space to put in your address. I'm not sure what happens when you click it… I can't follow myself! But it would be great fun to see you all on Instagram while I'm so far away.
Now, to one of my very favorite activities – PACKING!
Travel outfit – pretty expected. No scarf, because I'm wearing a brooch (note the Irish shamrock, married to pearls = quintessentially me!). I'm afraid I'd have snagging issues…
(please note that I'm only putting links up for things that are of a remembered brand, and are still available…)
I debated between a cashmere v-neck sweater and this cotton cardigan, but chose the cardigan because the cotton is less bulky and less likely to shed all over my boiled wool jacket. Plus my body temperature has been swinging wildly between super-hot and super-cold; super-hot and cashmere are a terrible combination, especially on a long flight! I'd rather shiver than pour sweat…And I'm pretty excited about my carry-on bag; it was a gift from Standard Luggage, and you know how seldom I receive swag to review here on the blog! And I'm sort of a suitcase fanatic, bordering on fetishist…
So the bag hasn't been out of the bedroom yet, but I'm already pretty impressed. When I opened the box, my bag had orange leather trim on the black, and I was (I'll admit) a bit crestfallen – I had been hoping for turquoise trim.
When I opened the bag, in addition to the shoulder strap, and the rain cover (yes, the bag has a wee raincoat of its own!), there was a bag of leather goodies IN TURQUOISE, which could be swapped out for the orange! Including a velcro-attached logo patch for the front of the bag. So I did indeed get the bag that I wanted…
The bag that I'm checking is a beaten but undaunted Tumi hard-side bag. This is truly a case of "the quality is remembered, long after the price is forgotten." I remember thinking that I had lost my mind when I bought this bag, but it's been paid for long since, and it shows no signs of wearing out. And it's acquiring that patina of travel abuse that I love.
In addition to the few necessities for the flight (tickets, ID, phone, empty water bottle), I'm going to pack all of my running gear in the Standard bag. So far, I've got so much space that I'm really tempted to take 2 pair of running shoes…This trip is going to be a head-to-head comparison of two wool tops – one from L.L.Bean (I believe made by Smartwool) and one from Icebreaker. Wool athletic tops are expensive, and I want to know which ones perform best!
And yes, I love my running skirts. They're great when you want something fairly tight (they have lycra shorts underneath), but you want some… modesty… around your anatomy. Plus the swishy of the fabric makes me feel faster, which I desperately need…
I know for some of you that's WAY too much athletic information…This is what will be packed in the hard-sided bag, and checked, to be left to the fates of the airline staff:
My logic in choosing to check THESE clothes rather than my running gear was that it would be really hard to replace running shoes at the last minute, while jeans and more "normal" clothing might be easier to find. I hope this theory is NOT put to the test! We're gone for 2 weeks, so laundry is definitely in our plans – I know that most of the places that we'll be have same-day laundry services in town… it's always interesting to see what happens with your clothes!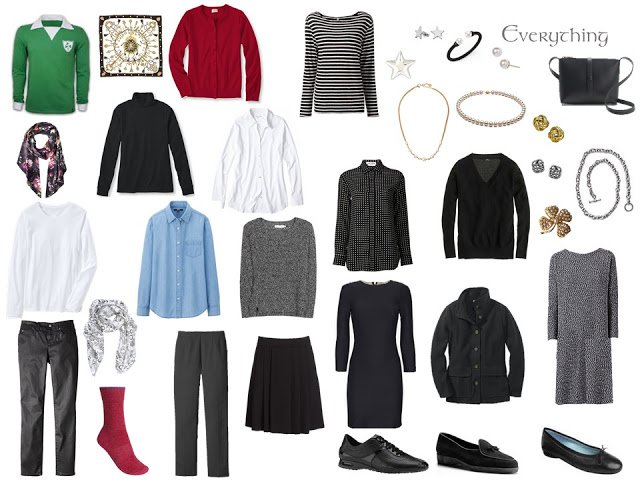 This is a visualization of how I might dress. I'm sure it won't actually pan out quite the way I'm picturing it, but doing this at least reassures me that I have tons of choices and options!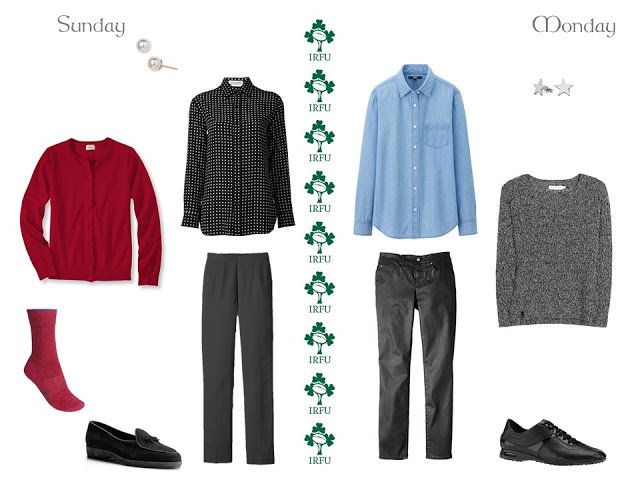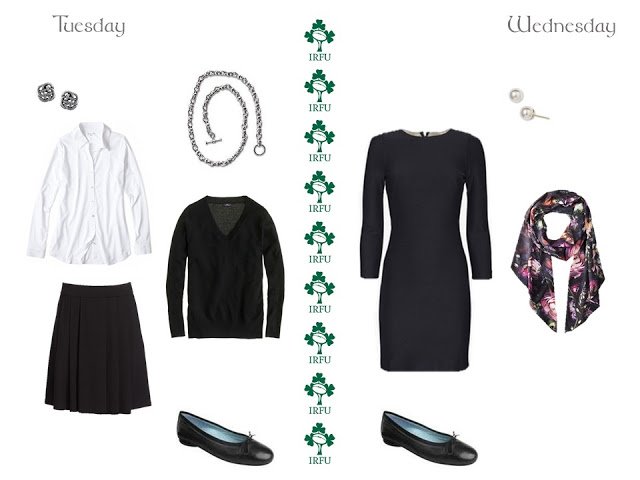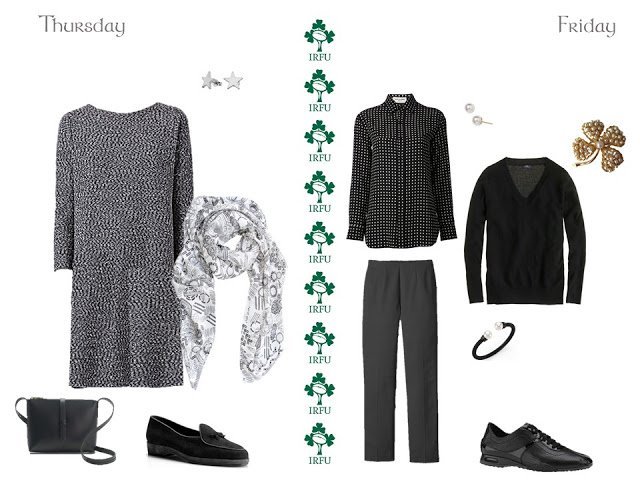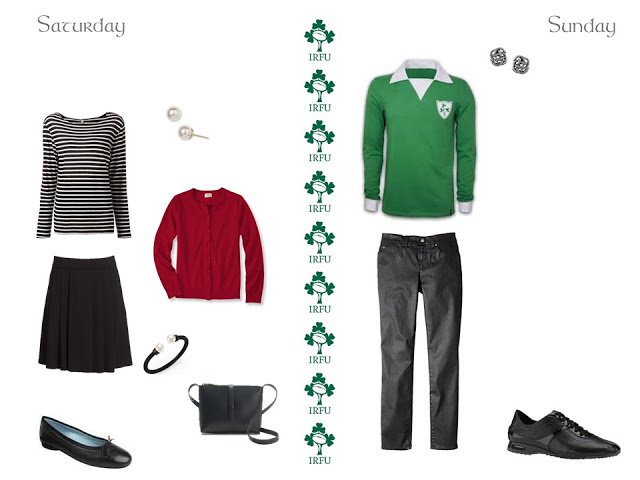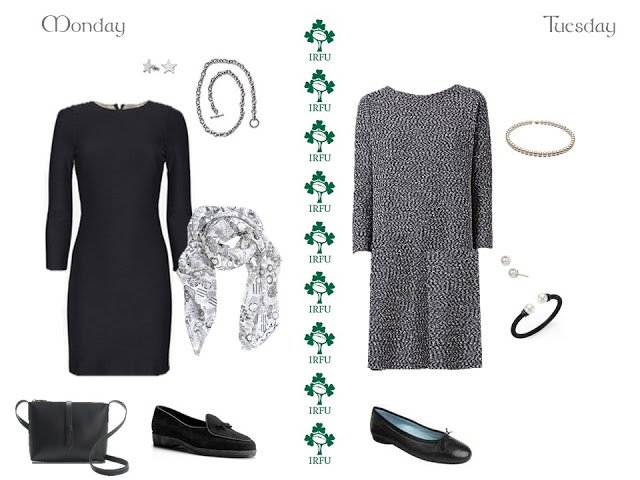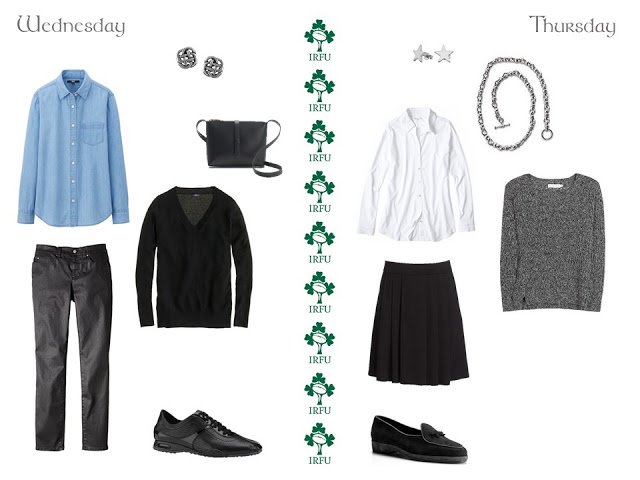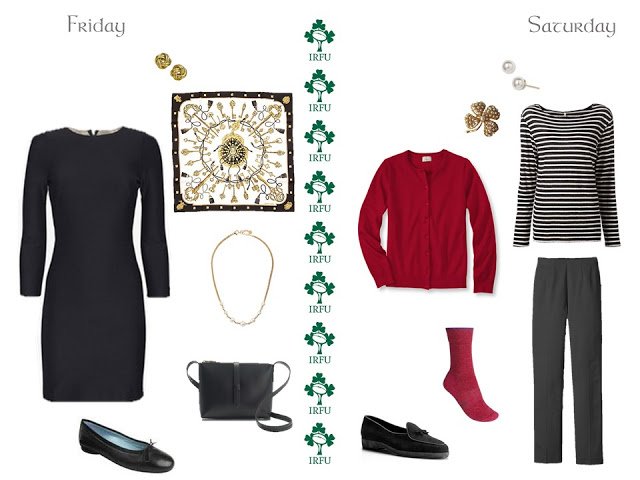 Yes, this is all sort of "long" on Irish imagery, but in the future, when I see these images out of context, I will be able to remember which trip and which blog post this was!
I hope you all keep well and safe until we're in contact again. I won't be able to answer emails for the next 2 weeks, nor respond to comments. But DO try to follow me on Instagram – I would love to be able to be in touch at least a little bit…
For the next 2 weeks, there will be posts here on The Vivienne Files 6 days a week – I went through all of my old posts, and chose 12 groups of posts, with 12 themes, that are among my favorites. While it's not a full-blown "new" piece of work, it might lead you to posts you've overlooked, or remind you of an old favorite. I hope these are okay with everyone…
much much much love,
and big hugs,
Janice