One last look at our beautiful art, and the very unusual, but workable, color scheme that I chose from it: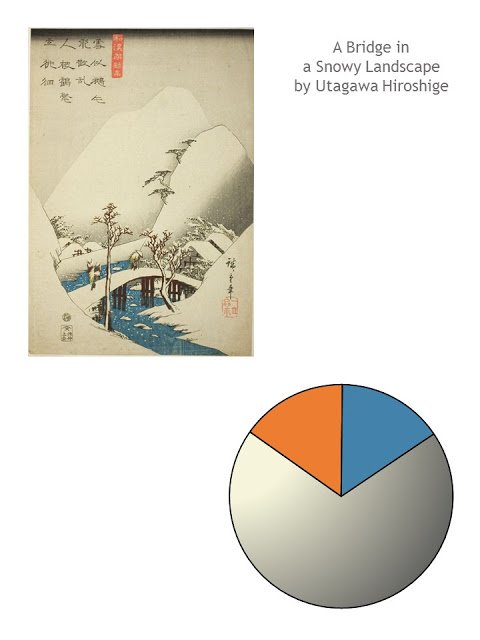 You Must Always Look Elegant and Refined
That's what they told her when she accepted the position. They even give her a clothing allowance any time they change the color scheme of the business, which is every 4 to 6 months, sometimes more often!
But she's clever, and knows that they aren't going to ask for receipts, so she chooses timeless, elegant, classic clothes that might be "recyclable" into a later scheme…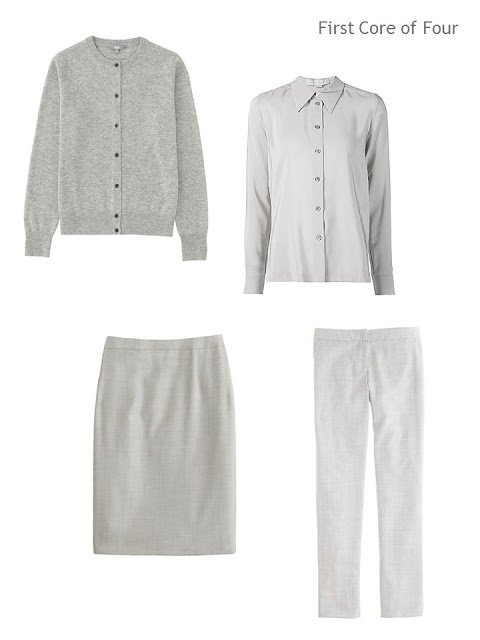 She knows that a simple ivory silk blouse might be usable in any number of different "aesthetic messages" that her employers choose. No frittering away of a that shopping money here!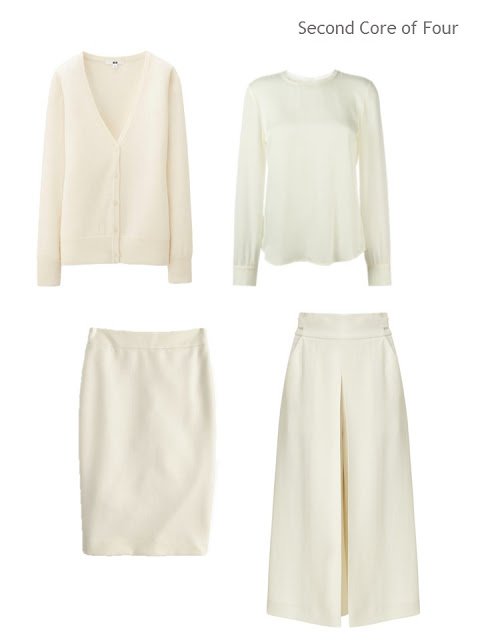 One of her smartest moves is to buy a few distinctive blouses or sweaters, that seem to be specifically made for the current "look". When she wears these, nobody much notices that she pairs them with a classic skirt that might be back around in six months, when the whole staff needs to wear powdery pastels…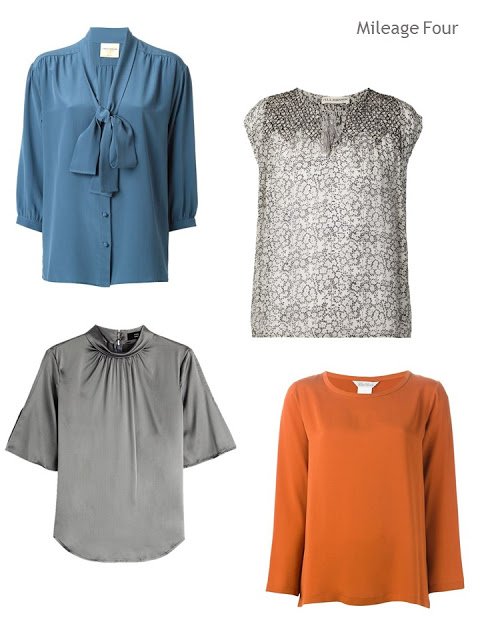 Yes, a couple of pieces might never make it beyond this current "vision" of her bosses. But that's okay, because it gives her employers the clear sense that she's completely on-board with this nutty, constant, wasteful changing of their "signature look."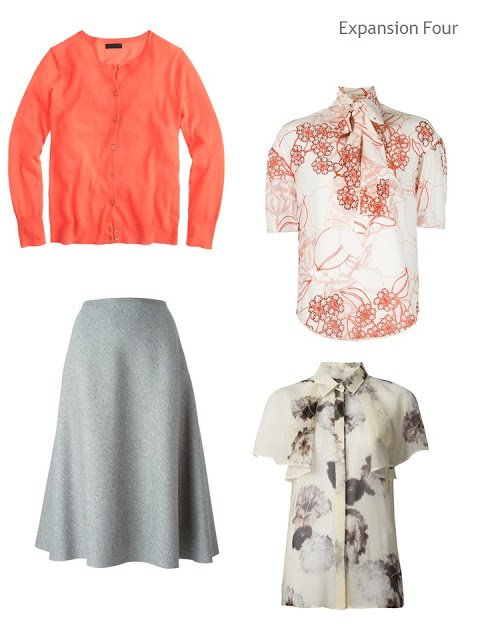 Accessories are key to making this work – these outfits look a lot more polished with just an earring or brooch. And since she has to greet people and "mingle," comfortable but beautiful shoes are essential. She has a PILE of accessories, that get rotated in an out of active circulation depending on how well they suit her current color scheme…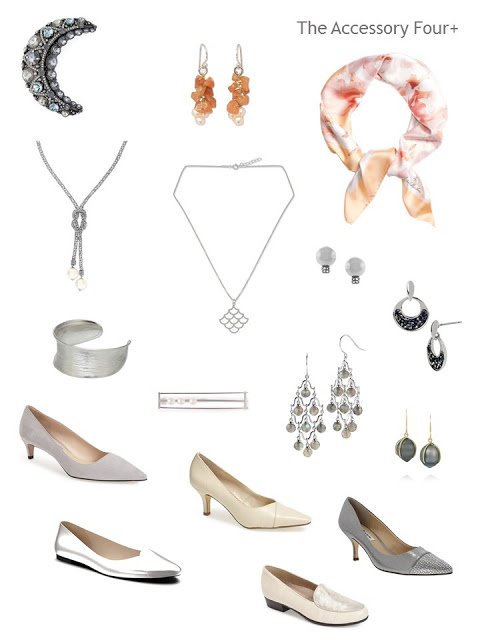 Moon brooch –
Lanvin
; aventurine earrings – Nareerat; silver and pearl lariat –
Effy
; silver pendant – Jantana; stud earrings – Vince Camuto;
blue stone circle earrings –
Kenneth
Cole New York; cuff bracelet – Achara;
pearl brooch –
Bukkehave
; labradorite chandelier earrings –
JCPenney
;
charcoal pearl earrings –
Melissa Joy Manning
; silk square –
Brooks Brothers
; pale grey pumps – Prada; silver flats – Shoes of Prey; bone pumps – Bella Vita; bone loafers – Munro; cap toe pumps –
Nina
Since she chose her pieces carefully, she will have plenty of outfit options for the next few months. It's always interesting to see how different members of the "team" interpret the color guidelines that they're given…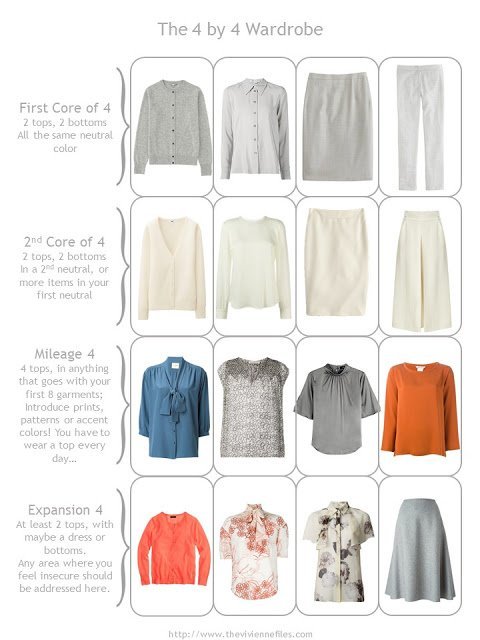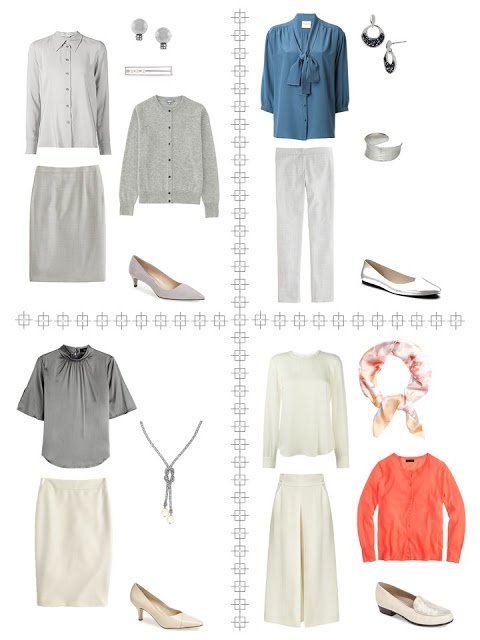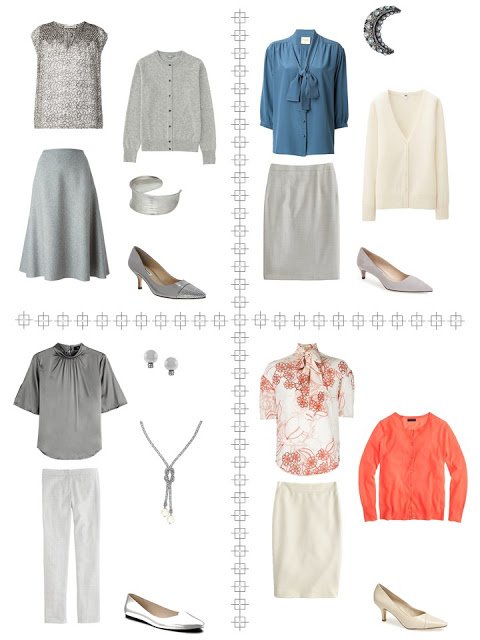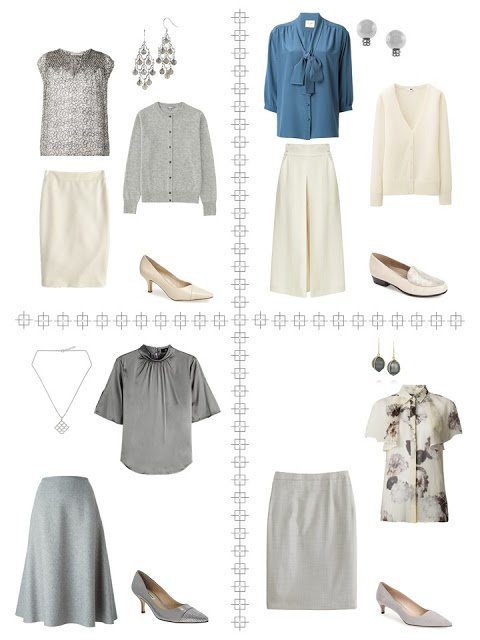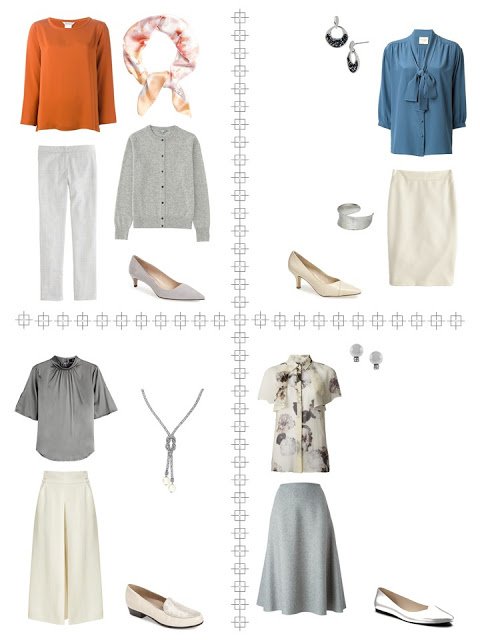 At home, she wears jeans, and black tee shirts. The idea of color reminds her of work, and that's not necessarily good… but she's accumulating an amazingly varied wardrobe, and she's going to have the world's best garage sale, some day!
love,
Janice