September 14, 2015
You asked for it, you get it: a Whatever's Clean 13 for men – the first of at least a couple…
Menswear is SO EASY; pick a color scheme and stick to it like glue! I've sold menswear two different times, as well as selling men's shoes, so I can safely admit that I have some experience in this area…
First up, the finished product, designed to carry you through a vacation that will range from rather nice dinners and other events (a concert or opera?) through to a cool weather morning walk in the park.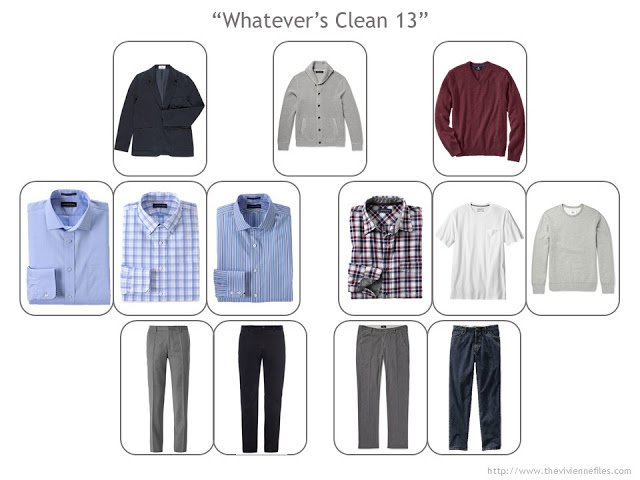 I started with a navy blazer, just as I would start with one for almost any man building a wardrobe from scratch. While a lot of men can get through life without a suit, in this day and age, a blazer is still pretty important. It can stand in, with nice wool trousers, in place of a suit for all but the most formal occasions.
Tan or grey trousers are the traditional companions to the blazer, and since I chose to stick with a cool color palette for this wardrobe, I'm using grey. A white shirt here would be simple, elegant, and fool-proof, but I chose blue for visual interest and variety. A simple, classic tie, belt, shoes and OVER-THE-CALF socks complete this outfit, which could (very handsomely) take you around the world.
Next I wanted to pull together a couple of outfit options that weren't quite so dressy, but that still would be appropriate and attractive for museum touring, window-shopping, or dining out. I love men in cardigans… (well, I love Belovedest in a cardigan most of ALL!!!)
Note that this cardigan would be perfect with your grey trousers, and these two shirts could easily be worn with your navy blazer. However, these pants do NOT go with the navy blazer. This is one of the bizarre but unbreakable rules of men's clothing – navy blazers are NOT worn with navy pants, and the jacket from a navy suit is NOT the same as a navy blazer.
I don't make the rules, and I don't enforce them – I just pass them on…
And note the wonderfulness of the knit tie; it's a tie, but it's much more relaxed, and it can be folded into a pocket without fear of ruinous creasing. They're very useful, and more men should take advantage of their inherent versatility!
Another step more casual, this time with a sweater, corduroy trousers, and a much more relaxed plaid shirt. This shirt might not work well with your blazer, but with your cardigan it's ideal. And I'm introducing a second pair of shoes – excellent for walking, and not nearly as formal as the oxfords with which we started.
And finally I want to make sure that our companions have their sweatshirt, jeans, tee shirt, and sneakers. While this isn't an outfit that will carry you to all of your vacation activities, there are places where this is the best option – sporting events, outdoor-ish stuff, and any place that might carry with it grime, splashing, or other messiness. And these pieces are very versatile when mixed into your more formal pieces.
With one outfit worn in transit (I'm voting for the cardigan!), the rest of these will fit pretty easily into a carry-on bag. Toiletries and electronics can go into a briefcase, and the man in your life is good to go almost anywhere!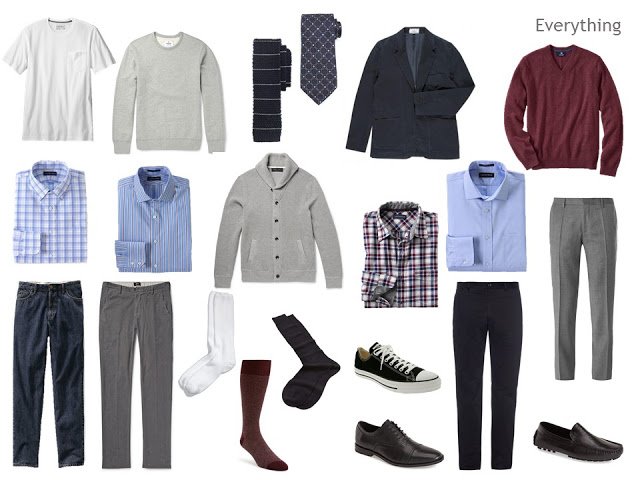 Because I love to mix and match clothes more than any normal person would, I show you here three outfits based on each pair of pants. There are, of course, many more options available than I'm showing…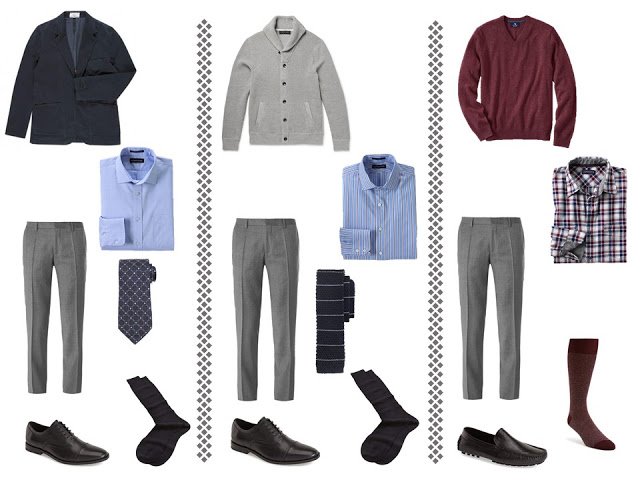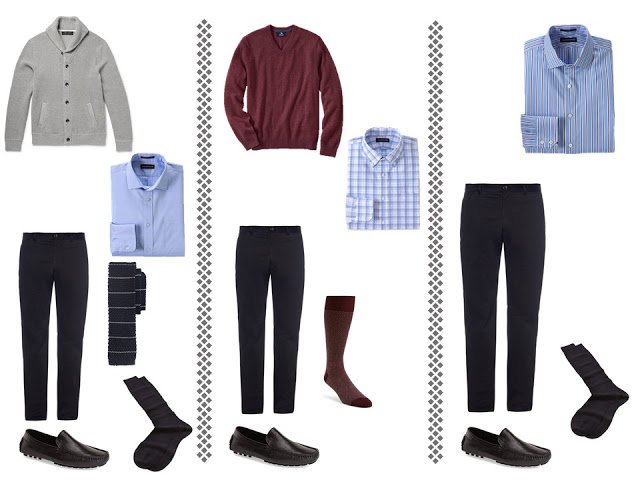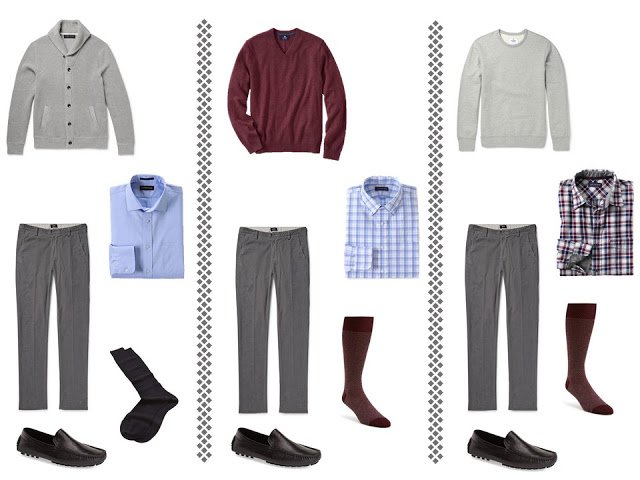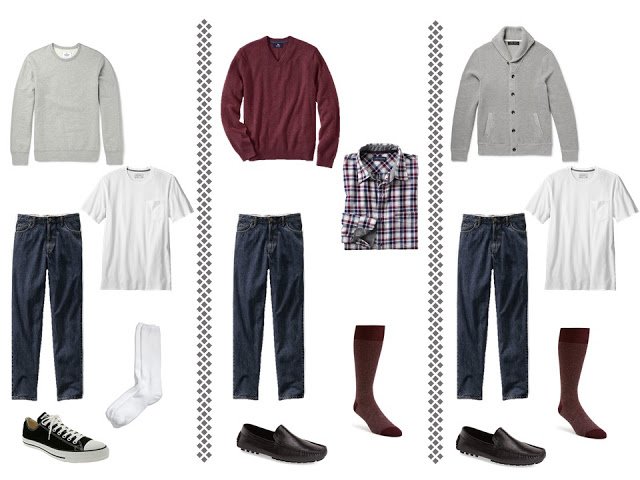 Tomorrow, I'm going to replicate this overall idea in warm colors, for the "gingies" (i.e. red-haired) and warmer-complected men we love…
And I'm thinking about doing a couple of these for warmer weather – are you interested? Let me know!
love,
Janice