Finally! We are settled in our new apartment… It was, realistically, a pretty small move – just down the hall, from a west-facing studio apartment to an east and south-facing 1 bedroom apartment.We wouldn't have moved – we were massively happy in our studio, but we received SUCH an incredibly kind offer to rent the 1-bedroom unit that it was pretty much impossible to pass up. Now, we have enough space to have either of our mothers visit, and give them a bedroom and master bathroom to themselves. They will have a modicum of space and privacy, which is always useful when family members are in close quarters.
This is our view, seen over my extraordinary chaise longue. Why yes, it IS wide enough for Belovedest and I to sit in together!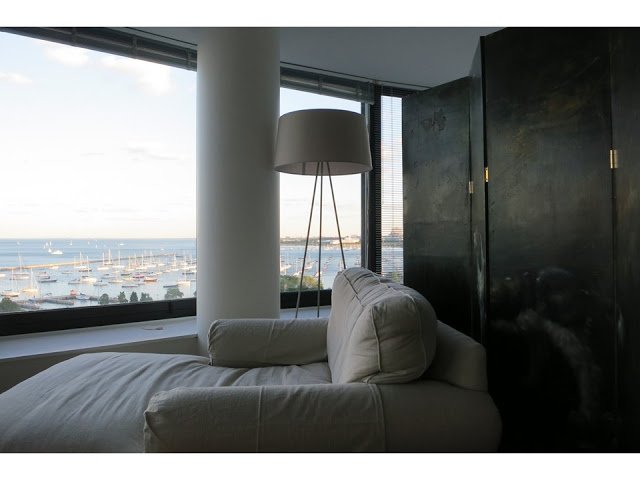 Possibly the most interesting part of the move, from a Vivienne Files standpoint, was moving into a new closet. Our closet now is an open mini-room, much more than a normal walk-in closet, because it has a WINDOW… But knowing how very quickly light will fade clothing, we keep the shade tightly closed… As much as you see really appealing open closet arrangements all over the internet, where your perfect capsule wardrobe is hanging against a wall in your bedroom, I can't advise this kind of setup. Closets and armoires became common for a reason; dust and light are not the best friends your wardrobe can have!
Can't you tell that this is mine? Black, white, grey, and a touch of red: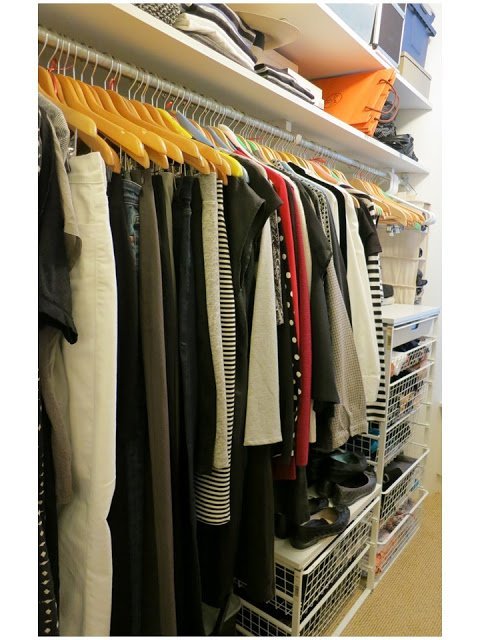 In the course of sorting through EVERYTHING, I realized that I own a few things that need to find better homes. Foremost among those, I have FOUR Hermes twillies…
I love these little gizmos – they're the most cunning idea Hermes has had in at least a few days! They're perfect to wear at the neckline of a shirt with a collar, as an ironic throwback to the bows that we all wore in the 80's. And they're great to wear in your hair. Unless… you have to use a product in your hair. Sigh…
As my hair gets longer, I've found that I look like a big brown and grey dandelion unless I use some curl defining lotion in my hair. And after I've put that in my hair, I'm REALLY reluctant to put a gorgeous piece of silk into the middle of it; the idea of those chemicals on that silk just gives me the willies.
PLEASE NOTE: ALL FOUR HAVE SOLD – THANKS SO MUCH!
In the next couple of weeks, I'm going to do a major clean-out of my silk scarves, and will thus be selling a stack of Hermes scarves. Prices will be good, so stay tuned!
From the top:
a sepia brown with tiny black letters that spell (if you're an acrobat) Hermes. (SOLD)
yellow, turquoise, bright green, grey and black geometric print.(SOLD)
soft greys, celadon green and blue Astrologie pattern (SOLD) , and
black with golds horse tack pattern.(SOLD)
These are cool; you won't be disappointed!
After the dust has (sort of) settled, I have to admit that I really love to move. Does anyone else, or am I alone in my insanity?
love,
Janice