July 15, 2015
I've really admired scarves from textile artist Yuh Okano for a while, but it wasn't until I held one in my hands that I realize how truly wonderful they are. Her scarves have that beautiful reflectiveness and iridescence that's characteristic of organza, but they're not "crispy" or difficult to wear… I'm smitten!
But best of all, if you leave me a comment on today's post, you will be entered to win this gorgeous scarf shown here! It's all silk, 70 inches long by 13 inches wide (or 180 cm x 33 cm for most of the world), and is gorgeous. (I have it here in my apartment, and I can assure you that giving it away wont be easy!) commenting closed 7 a.m. Chicago Time July 22, 2015.
Beautiful color schemes are possible here:
Three words that should NEVER be in the same sentence:
Staff. Weekend. Retreat.
Your agenda:
Leaving Friday, after a day of meetings. Friday night on your own (hallelujah for that!)
Saturday will be spent doing "team-building" exercises; if that term doesn't make you cringe, you just haven't worked in the right environment!
Saturday late afternoon everyone may avail themselves of the pool and other amenities (that should bring out some really scary looks…).
Saturday night: a "dressy" dinner. You just KNOW that someone is going to show up in a strapless dress. You just know… sigh….
Sunday is brunch and a review of who won the "team contests" from the day before. Be still my beating heart, eh? And then, you're free!
Since you've got real business on Friday, your travel outfit is going to look like a pretty normal work day, with a pair of gorgeous opal earrings, and your favorite scarf to add a spark to a simple outfit.
Your pared-down suitcase:
Just for reference, this is what it looks like, all together: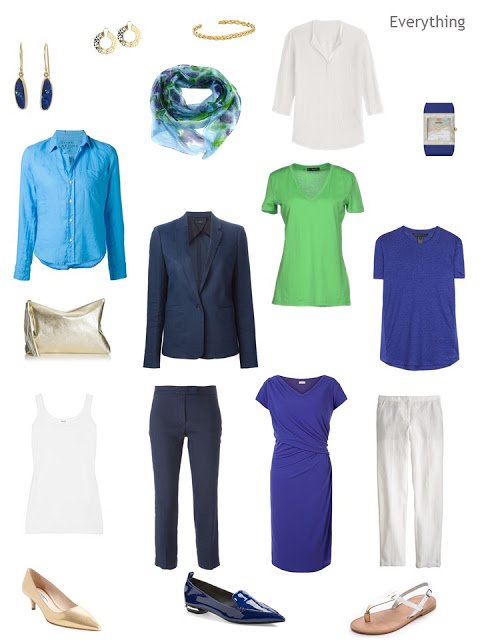 You're covered, literally and figuratively. Yes, someone will wear cut-off jeans and a spaghetti-strap top to the team building. Swimsuits…. shudder at the prospect. You, however, will be both modest and beautiful. The rest of those knuckleheads can do their own thing…
Can you tell that I've attended a few of these in my day?
love,
Janice