May 21, 2015
We've all done it. Something just CALLS OUT YOUR NAME… and the next thing you know, you get home, and you have a pair of red cowboy boots in your hands. Maybe not cowboy boots, but something that's outside of your normal wardrobe confines…
There's nothing wrong with this, if the item in question has true "whappage" – if it really strikes you, appeals to you, speaks to you on some deep level. Let's just figure out how to incorporate this newly exposed facet of your persona into your existing wardrobe.
These are the culprits in question:
And your normal wardrobe (I know, because you told me…) is grey and camel. Let's grab a couple of simple outfits with which we can work – jeans and sweaters are temperamentally well-suited to cowboy boots. Just a reminder – if you're going to purchase jeans to wear with your boots, take the boots with you. The way the leg of your jeans falls over, or into, the top of your boots is important!
These boots could also be worn with a dressier trouser, bearing in mind that you're always going to have that joie de vivre in your outfit that these boots deliver. Maybe appropriate for work, depending on your office; appropriate for fun evenings – DEFINITELY!
For me, the first, and the easiest, way to pull together various colors and sensibilities in an outfit is a great scarf. It's important to remember that scarves don't have to be meticulously folded and tied! Just lay the fabric around the back of your neck, loop it over in the front once (or not), and go. Complicated knots can be fun – I do them sometimes. Any outfit that includes cowboy boots is going to have a more relaxed insouciant air that means the scarf should be soft and uncontrived…
Red handbags are easy to find, and they're a lot of fun! It's an easy way to incorporate red into your wardrobe without having to have it "on your person" constantly.
Even something as small as a piece of jewelry can add another spark of red to your outfit, and keep your cowboy boots from feeling lonely…
I could see wearing these: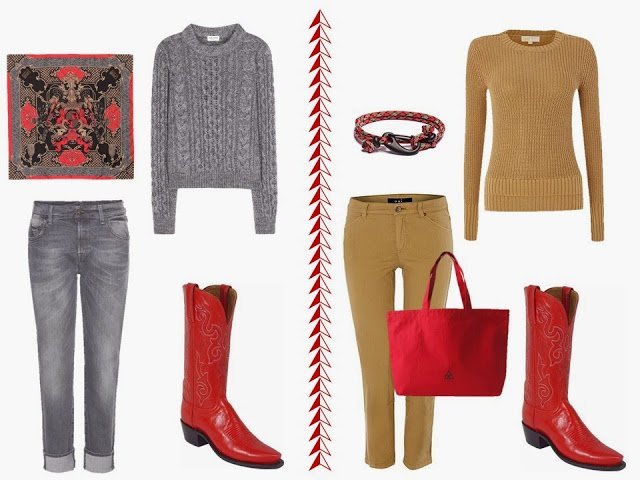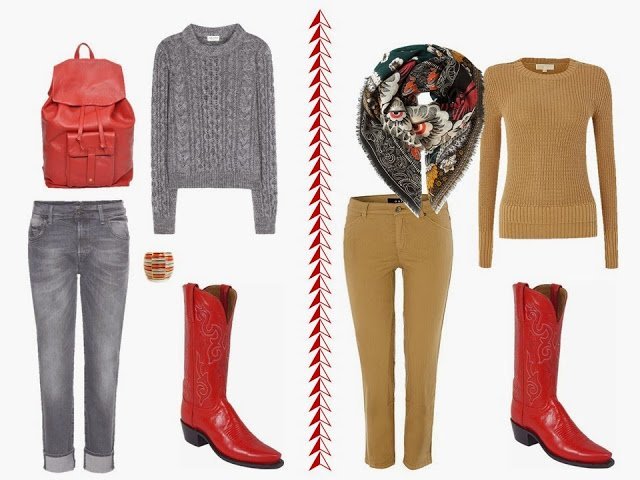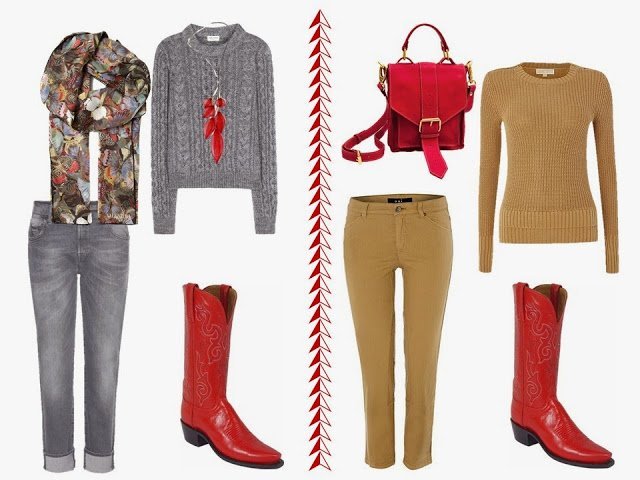 What's your wild splurge? I'd be happy to see what I can suggest…
love,
Janice
Looking Back:

2014: Start with Art: Paris Street; Rainy Day by Gustave Caillebotte
2013: The Blue and White "Whatever's Clean" Summer Wardrobe, with Accessories
2012: Mother of the Betrothed goes HOT (a guest post at tishjett.com)
2011: Things Europeans would know about: the Heineken Cup – my favorite (DUBLIN!!!) rugby teams wins the European championship, and I'm obsessed…