May 22, 2015
One of the interesting things about writing The Vivienne Files is that I can see what posts are continually revisited, and what images get Pinned (and re-Pinned) on Pinterest. And without fail, every week, the "Whatever's Clean" wardrobes are at the top of the list.
That makes sense to me – there's really nothing in the world easier than being able to reach into your closet without looking and know that you can grab a coherent ensemble.
So I've been thinking a lot about how "Whatever's Clean" can transfer to travel – it's an obvious fit. Especially for all of you who have to travel through a variety of climates, knowing that all of your clothes will work together makes it possible to relax about at least one aspect of your voyage.
I'm going to play with this idea off and on for a while, but I thought I'd start with a packing challenge that I know well – the long business/leisure trip that spans temperatures from cool autumn-ish to warm late spring-like temperatures. No winter coats, and no swimwear needed, but temperatures from the 50's F to the 70's F at least…
(random note: just put gloves and a knit hat in your bag and leave them there! Last weekend, in Chicago, we were wearing sandals. Yesterday, when I went out for lunch, I wished that I had my gloves with me. Temperatures can swing – be prepared!)
In transit – you're going to somewhere cool, and you're going straight to the office! You want to make a bit of an impact when you arrive, so you select a bright blouse and a statement cardigan to wear while traveling.
Okay, that a great outfit, but you've got… six weeks? to go. How do you build?
I suggest that you think about what you could substitute out for any ONE garment in your travel outfit.
floral cardigan – OFF, solid black cardigan – ADD
yellow blouse – OFF, white shirt – ADD
yellow blouse – OFF, denim shirt – ADD
yellow blouse – OFF, purple tee shirt – ADD
yellow blouse – OFF, black tee shirt – ADD
yellow blouse – OFF, red tee shirt – ADD
black straight skirt – OFF, black pleated skirt – ADD
black straight skirt – OFF, black capris – ADD
black straight skirt – OFF, black dress trousers – ADD
black straight skirt – OFF, black jeans – ADD
It's always wise to have lots of tops, because they are most likely to need to go to the laundry, they are close to your face and are more memorable (both for you and those around you), and you can switch out necklines and sleeve lengths to address changes in climate.
Jewelry and scarves are critical; I didn't show scarves here, but I would probably include one scarf or necklace for each top packed i.e. five. They're small, they're light, and they give you the feeling of something different to wear. For this example, I chose all jewelry that mixes yellow and white gold, so that you're not standing in a hotel room in the pre-dawn darkness trying to tell if your earrings are silver or gold. NOT a question you need to consider…
This shows all of your "stuff". It's a lot of black – if you keep to a dark neutral for your major "below the waist" pieces, you can cut way back on the number of shoes that you pack. Just assume that if you're packing carry-on for more than a month, you're going to grow tired of some of your garments. But if you're moving from place to place, the people around you aren't going to notice nor care that you're wearing the same 13 garments week after week, and you're saving yourself time and hassle by not having to deal with a lot of luggage!
And yes, you're going to have to have laundry done, probably once a week. The money you don't spend paying to have a suitcase checked will be easily eaten up having laundry done! But don't assume that you have to have the hotel do you laundry; there are a lot of "same day" laundry services which cost much less, and do a wonderful job.
And don't, whatever you do, send all of your shirts, or all of your pants, to the laundry at the same time! That's asking for trouble – everything damaged, lost, etc. Just too much out of your control; don't risk it.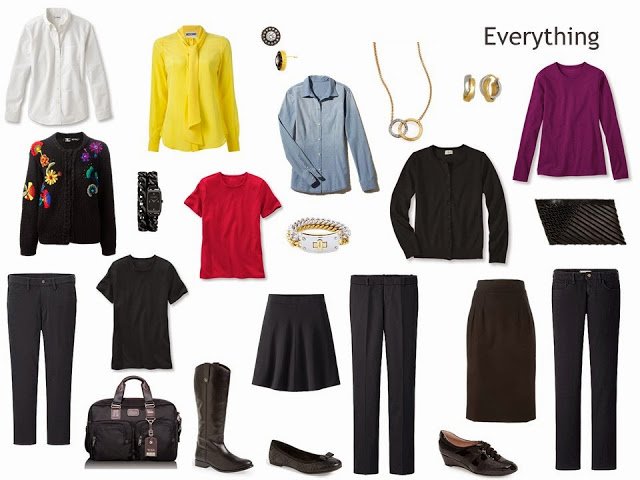 There are at least 80 ways to wear these 13 pieces. That will easily get you through six weeks! In reality, you're probably going to find combinations that you like the best, and wear them often. But it's good to have lots of choices – if a garment blows out somewhere between Milan and Berlin, you still can get dressed!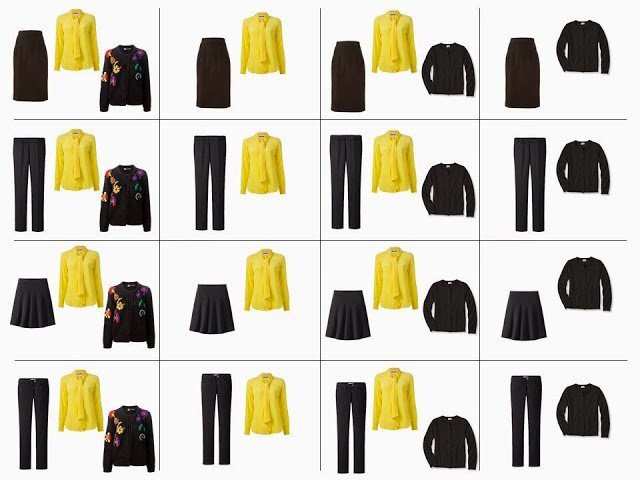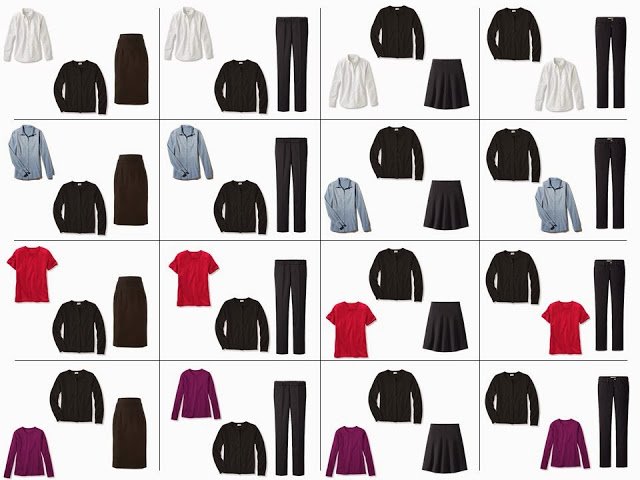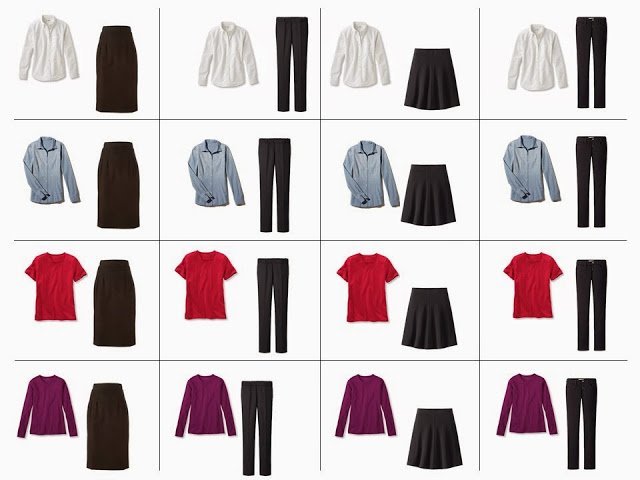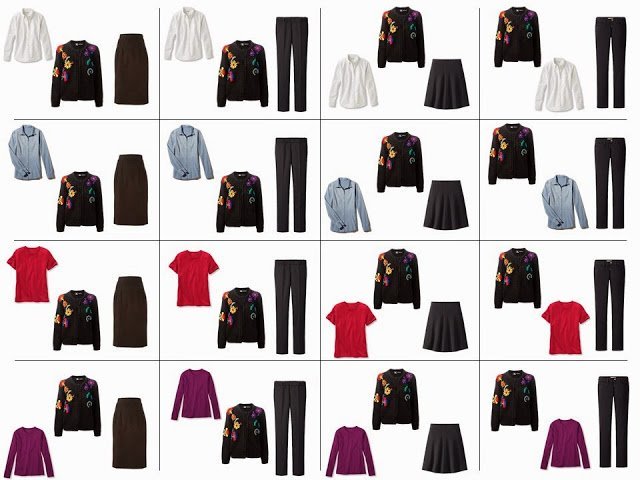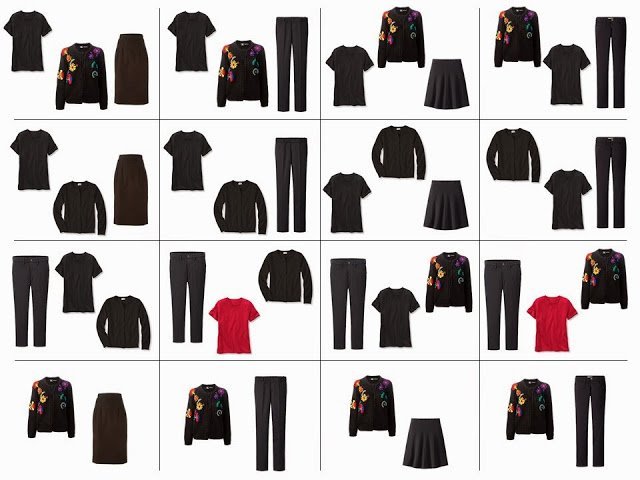 Does this work for leisure travel? Heck yes! Just think about substituting shorts or capris for dress pants and skirts, tank tops for blouses etc. I would like to work more on this idea, so if you have a particular trip upcoming that worries you, leave a comment about it and I'll think…
love,
Janice
PS – For more tools to help you plan your wardrobe, including the latest Pantone Color Planner, check out the Planning Documents section of the website.