April 9, 2015
I clearly am doing something wrong in the blogging world, because after blogging for 4 years, I just NOW have received my first "swag" i.e. a gift from a retailer! Other bloggers seem to be swamped with gifts, but that's not my experience… sigh…
But the lovely people at House of Fraser sent me this gorgeous item, pictured below! It's nubuck suede, which is the best stuff available! Well-made, too…
When I lived in Ireland, I remember that when you absolutely wanted to buy clothes, your best option was to hop onto the LUAS tram, and take it south to the Dundrum Shopping Center, where the only House of Fraser in the area was located. Their store was like an oasis of nice things in an absolute SEA of cheap and cheerful. (there are a lot of things to love about Ireland, but Dublin is awash in junky clothing shops…)
So to thank the thoughtful and generous people at House of Fraser, I'm going to build an entire travel wardrobe capsule from items available in their stores. And just for fun, I'm going to pretend that someone from the UK or Ireland is coming to Chicago for a long early summer weekend…
While this jacket would be glorious with black and white, I chose to soften up the look a little bit and give it a feeling of spring. Khaki is easy to wear for travel, and gold accessories make it feel a bit special. While you might wonder about a scarf for warm-weather travel, between airplane drafts and the Chicago phenomenon of "cooler near the lake", you might be happy to have it with you.
Whoops! The clutch bag is from Nordstrom…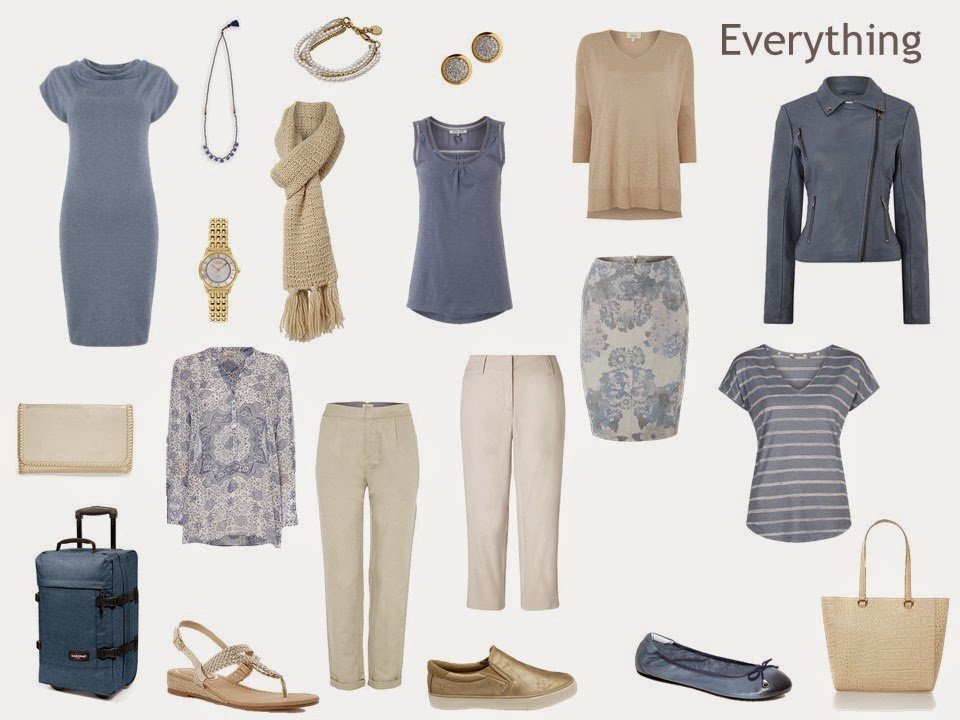 After you arrive, change into a clean top and head out to get some daylight and start readjusting your circadian rhythms. Michigan Avenue is a full-contact way to see a LOT of people in a hurry, and at the end of the street, there's a lake, and a beach! Even in the worst weather, the lake is very beautiful…
And later, after a shower and maybe a quick nap, head to the newly remodeled Atwood Cafe in the Burnham Hotel, smack in the middle of the Loop on State Street. A lovely restaurant, and very close to Millennium Park, so you can have another stroll after dinner. If you don't like to walk, you're going to miss a lot of what's most beautiful in Chicago.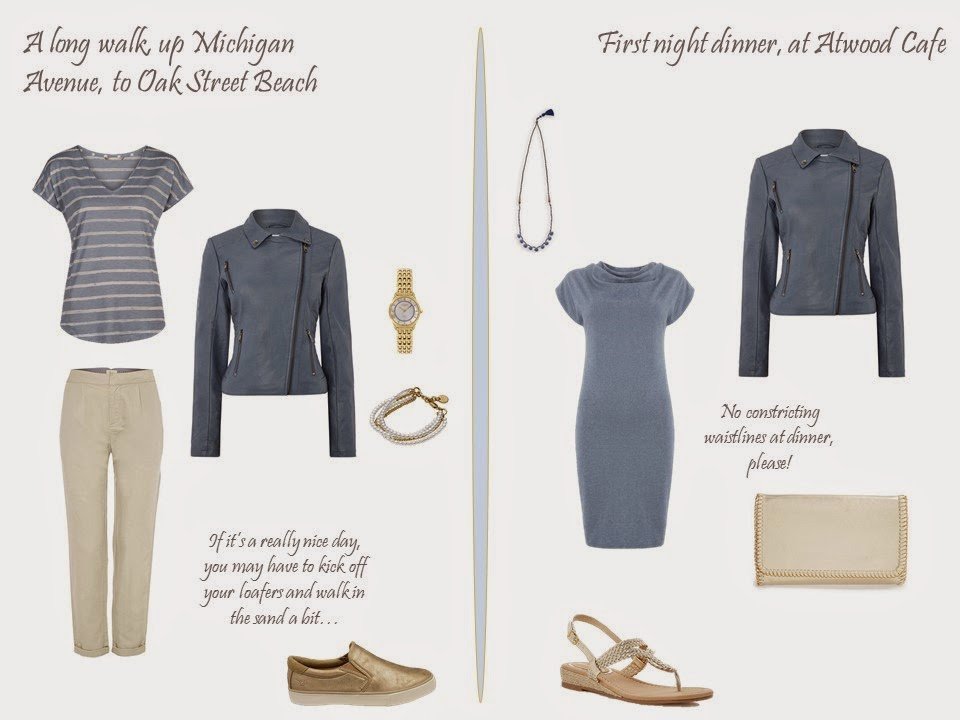 If you don't see anything else here, go to the Art Institute of Chicago, and spend a LOT of time there. It's really worth it – it's one of the landmark museums in the world. And there are a couple of excellent places to have lunch right there in the museum; you can take a break, reconnoiter your plans for the afternoon, have a glass of wine and a lovely meal, all beside a fountain in an outdoor courtyard. It just doesn't get any better!
You can take another afternoon break in your hotel room (one of the BEST parts of vacation is the hotel – you don't have to clean up after yourself, and you can avail yourself of all of their amenities…). Then wander south a few blocks in the park – you'll find all of the Chicago softball teams hard at it, you will get to dodge the Segway tours, and you'll see lots of joggers (you might even see ME RUNNING!!!). Then find a place to dine outdoors in warm weather, and admire the architecture…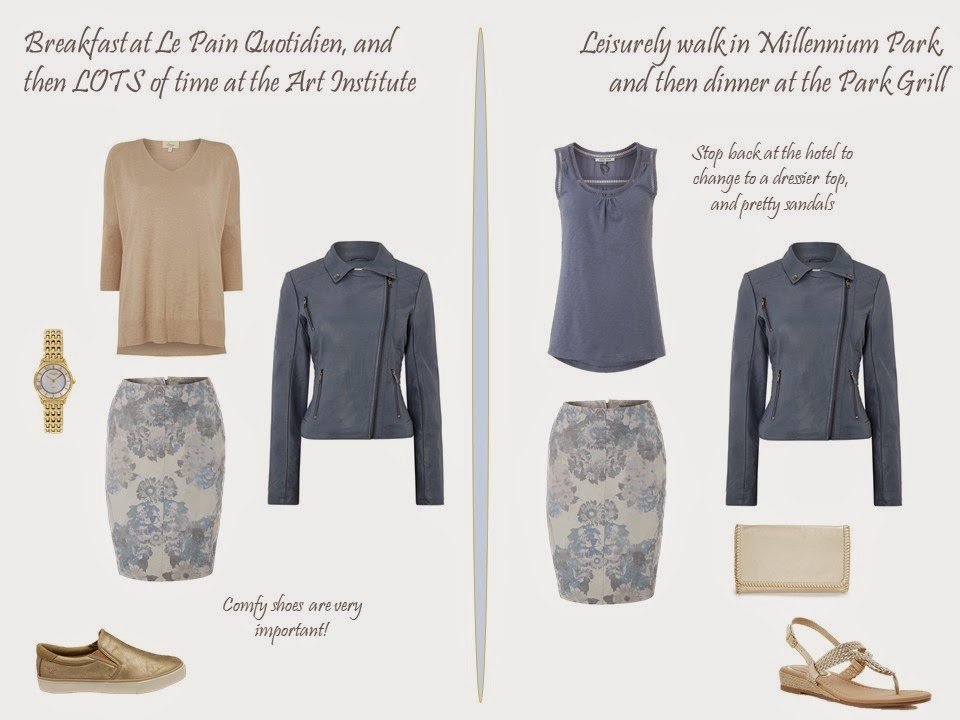 Your 3rd day could be spent many different ways, but for a lot of visitors, it's not Chicago unless there's baseball involved. We're fortunate to have 2 baseball clubs here, so when one team is out of town, the other is here; we have a game SOMEWHERE almost every day all summer! But be warned – if you have ticket in the shade at Wrigley Field, you may be sitting in seats upon which the sun has NEVER SHONE. Not once. An 80 degree day can feel like late autumn; the Cubs sell thousands of sweatshirts a year to the unsuspecting!
And dinner tonight? Grab a cab and have them take you to Jefferson, just north of Roosevelt, to Manny's Deli. It's been there since the 40's, and I'm willing to bet the price of your dinner that you can't finish one of their sandwiches! When you order your corned beef, be sure to specify if you like it lean or not…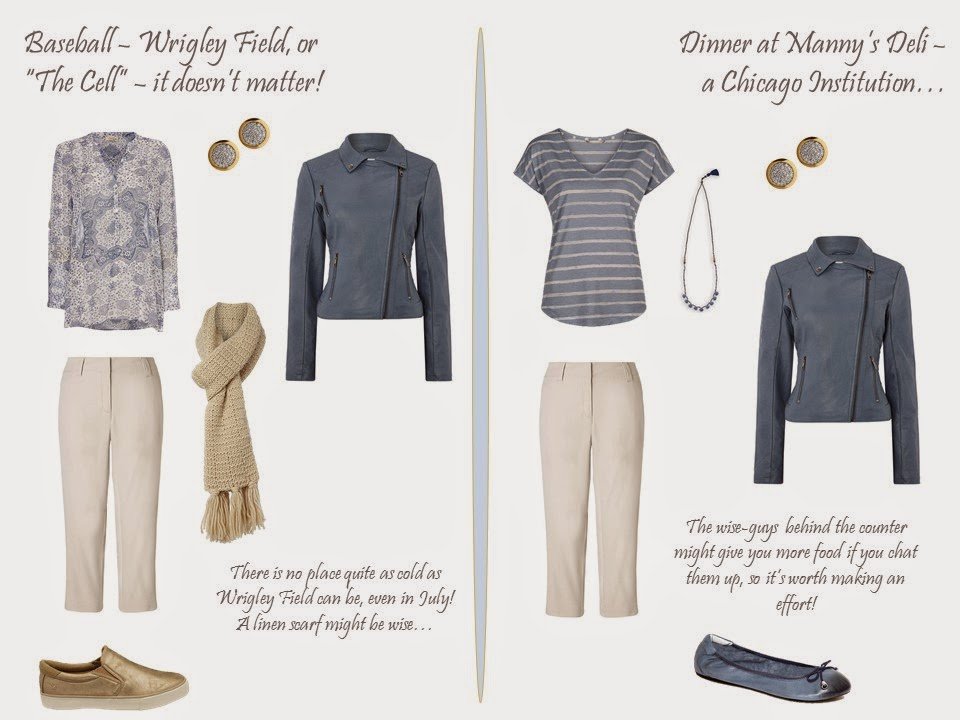 You're on your own for the rest of your visit – we have a wonderful Museum of Contemporary Art, some pretty good shopping, and some architecture tours that will please your aesthetic sense, and educate your brainy side, too.
If you live near here, or if you've visited, what do you recommend to a Chicago visitor?
love,
Janice
Looking Back: