December 29, 2014
It comes as a surprise to nobody that I am not a spring chicken; Dwight D. Eisenhower was President of the United States when I was born… so it also won't surprise you to hear that I have a few… marks of experience and character about my person. And frankly, it doesn't bother me a bit. I'm not going to dye my hair, nor shoot dubious chemicals into my face in order to try to look younger. After everything I've done in my life, I look pretty fabulous! (your preferences may vary – do you own thing!)
I'm coming around, more and more, to feeling that way about inanimate objects too – particularly scarves and jewelry. Small spots on silk, or tiny scratches on metal, don't bother me much – most people around me can't even SEE the flaws… and frankly, I often find that I can purchase a really gorgeous vintage item for less than half the price of a similar item purchased at retail.
Best of all – someone ELSE had to endure that first scratch or spot! Let THEM eat the depreciation…
This year, for the holidays, I gifted myself with this lovely gem: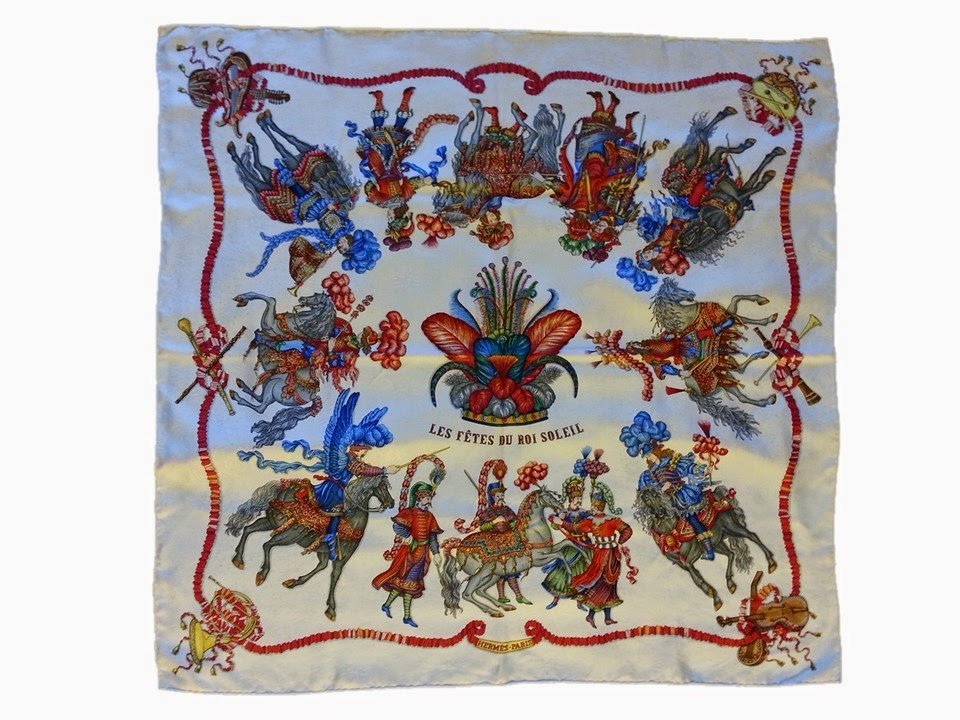 This scarf is no longer manufactured by Hermes, and if they choose to re-release it, it won't be the fireworks jacquard fabric…
All of this babbling is in pursuit of encouraging you to look at non-retail sources for indulgences that you avoid. I can warmly recommend Tradesy, Vestaire Collective, and The Real Real.
Poshmark
and Ebay both have lots of appealing things, but exercise caution when purchasing from them – they don't have the best record regarding authenticity of items. (I get no money from any of these companies, by the way)
If you're looking at a scarf, send me a note and I'll authenticate it. For other items, just search on the internet for a collector's group, and ask them! There are collectors for everything in the world…
So we save money, get to own beautiful things, and save the environment by destigmatizing vintage goods. (as if that really needed to be done…) We have unique accessories that nobody else owns, and we're beautiful. Not a bad outcome, I'd say!
Love,
Janice
p.s. those of you who have purchased the
Images and Color Schemes
document – which of those would you like to see expanded into a wardrobe?