November 13, 2014
Isn't this beautiful? One of you sent it to me, and it captivated me immediately. The vertical layout, the soft background, the muted shades of green and blue, the accents of warm rust, gold and orange – what a wonderful painting.
There are so many things about this that could serve as inspiration and focus: the colors, the organic nature of the image, the soft blending of the background colors, the use of about a billion shades of bluish green – there's just no end to the ideas that can come from this one work of art. (but that's probably true, for the right person, of any work of art, right?)
This was my chosen color scheme – a base in very dark navy, accents of all those shades of soft teal green, and just a dash of the bright golden orange.
Given that it's freezing cold in Chicago right now, I envisioned a woman going on a weekend visit to family, from one cold destination to another. This is a woman who's not (on the outside) all about frills and ruffles, but who does carry the motif of the flower, and of colors from nature, in her heart. Note the subtle floral motif in the earrings…
This coat has a wool exterior, but is filled with down, and the boots are amazingly warm. Bundling up is a priority for this travel capsule wardrobe!
As always, you get a core of solid neutral garments from me – warm dress pants and a cardigan that can be worn on it's own, or over other things.
The blouse contains just a touch of the warm accent color from our painting, and note that, again, our earrings are just a wee bit flowery (and have a beautiful ornate setting).
The pastel sweater also can stand alone or be layered, and combines fluffy warmth with the softest color from our painting.
The bag – a beautiful shade of blue, and a feminine but not girly ornament.
Although you're only traveling for a weekend, you do have choices in how to dress, depending on your activities, and on the weather that greets you at your destination.
It might be worth including a pair of loafers in your bag, if you don't want to wear your ankle boots constantly! If you are staying a few days longer and need more choices, a navy skirt and blouse or tee shirt would add about a dozen more options to these few garments, and you still would only need a carry-on or tote bag.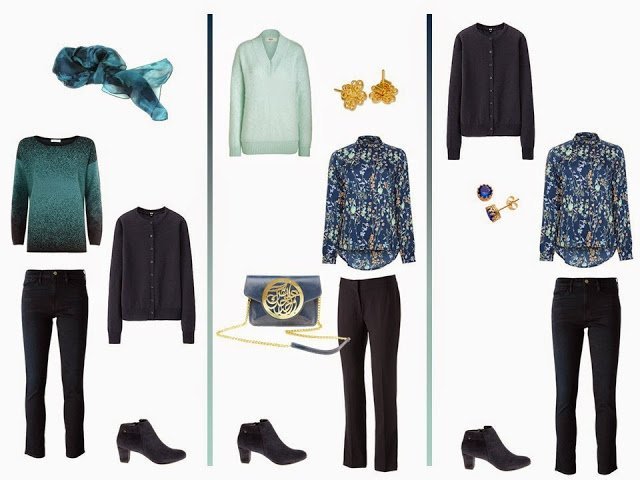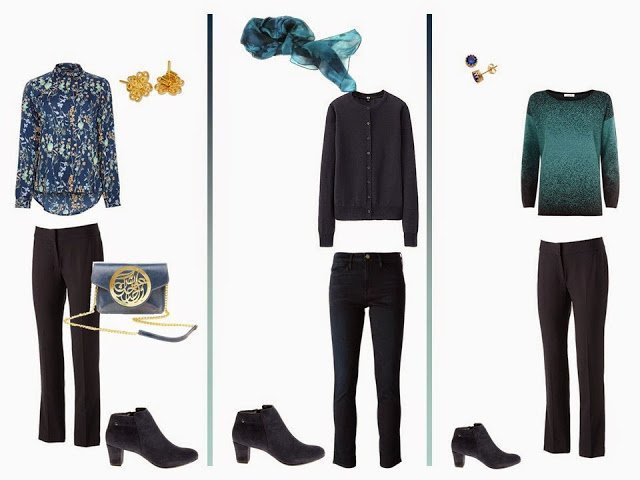 love,
Janice