November 18, 2014
It could happen to anyone of us – you're minding your own business, and then… you see it. The garment that makes your heart sing. Something that you admire aesthetically, that looks perfect on you, that is beautifully made, from gorgeous materials, and that will last the rest of your life… But OWWWW… it's expensive.
The biggest question to answer: can I wear this wondrous garment frequently enough to make it worth the purchase price? I'm NOT going to say it's an investment, because only in a few cases will you be able to sell something for more than the purchase price, which is the technical definition of an investment. But in a way, if you get more joy from something, and it enhances your image, your confidence and your identity in ways that exceed what you pay, then I guess it IS an investment…
Such complexities are to be discussed over a long lunch with a few glasses of wine. In this very real-life case, the love is also compounded by the color of the garment: black. Black, for someone who wears mostly earth-tones. Must we walk away? I think not; there are possibilities here!
I've mentioned shopping around once you've found something that you really want – this jacket is a perfect example! There are stores carrying this jacket in a price range of over $300; it's well worth spending a half hour looking at a dozen websites and doing some insightful Googling to save that much money.
A few garments from a warm-toned Common Wardrobe
With a jacket that makes this much of a statement, I think it's important to keep the other garments in your outfit pretty simple and streamlined. A print, too much texture, or other ruffles/pleats/tucks etc. would distract from the glorious craft of the jacket and quickly become too much.
The Match-Makers – accessories that include the colors in question, and that bring them together in beautiful, harmonious and happy ways!
None of these items looks as if it's at all unnatural, or a stretch, to combine warm copper brown and black in the same item! Just one or two or these worn with black and brown clothes helps make everything look intention. Keywords to remember when looking for this kind of thing: bronze, copper, caramel, saddle, tiger eye. Brown isn't always called brown, especially in jewelry.
This is the traditional color combination for riding boots – how nice that it works so well for us here! These particular boots come in wide-calf sizes, and the loafers come in all widths, which was very considerate of someone.
A few ways to wear a black jacket with warm-toned garments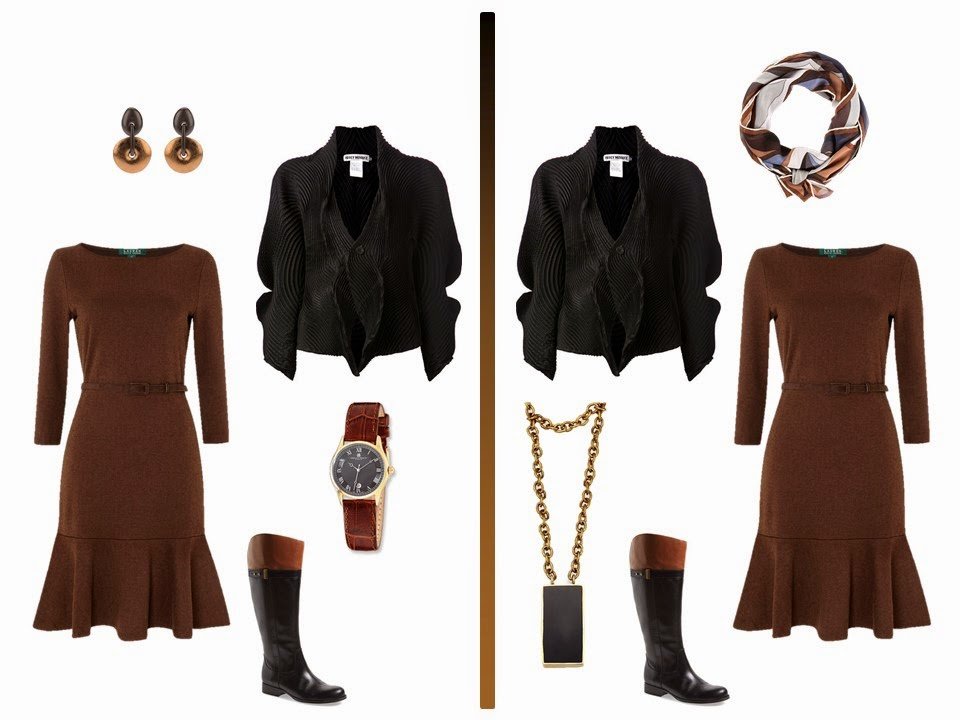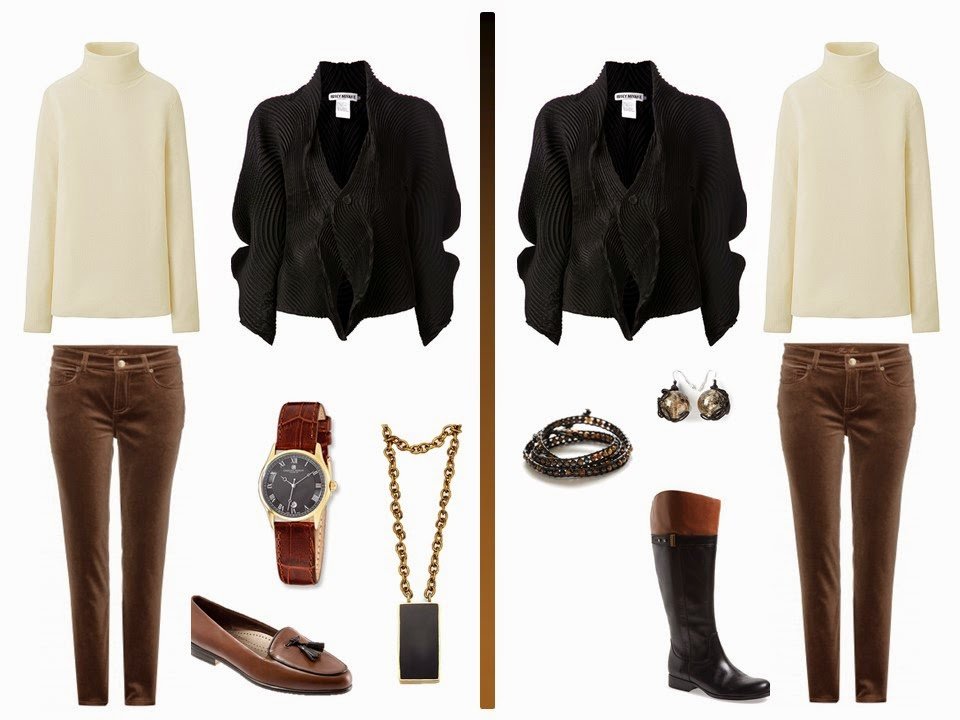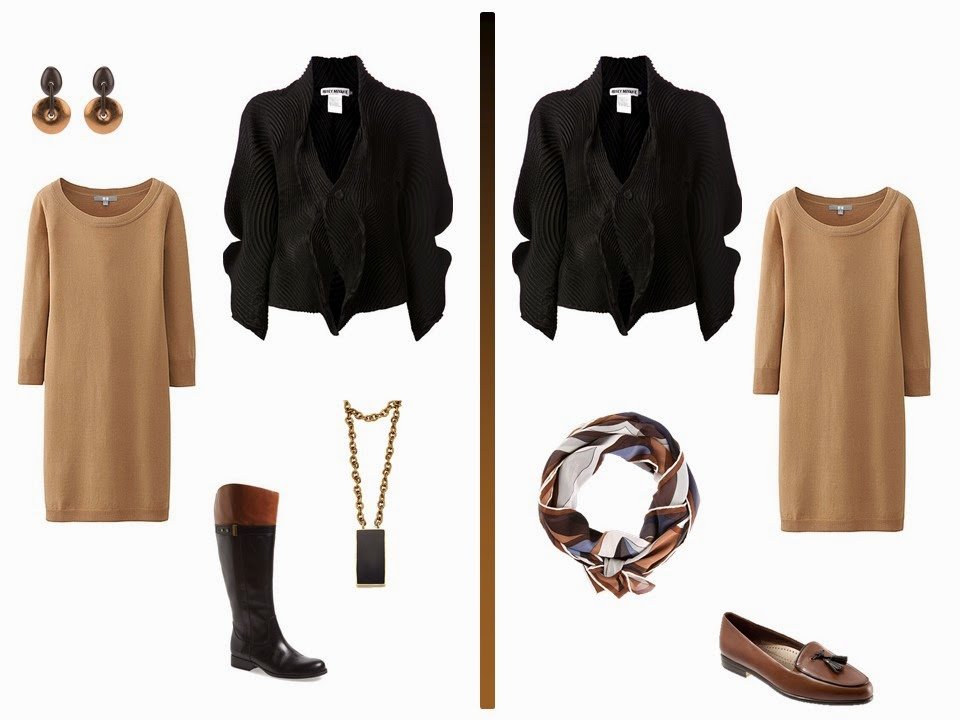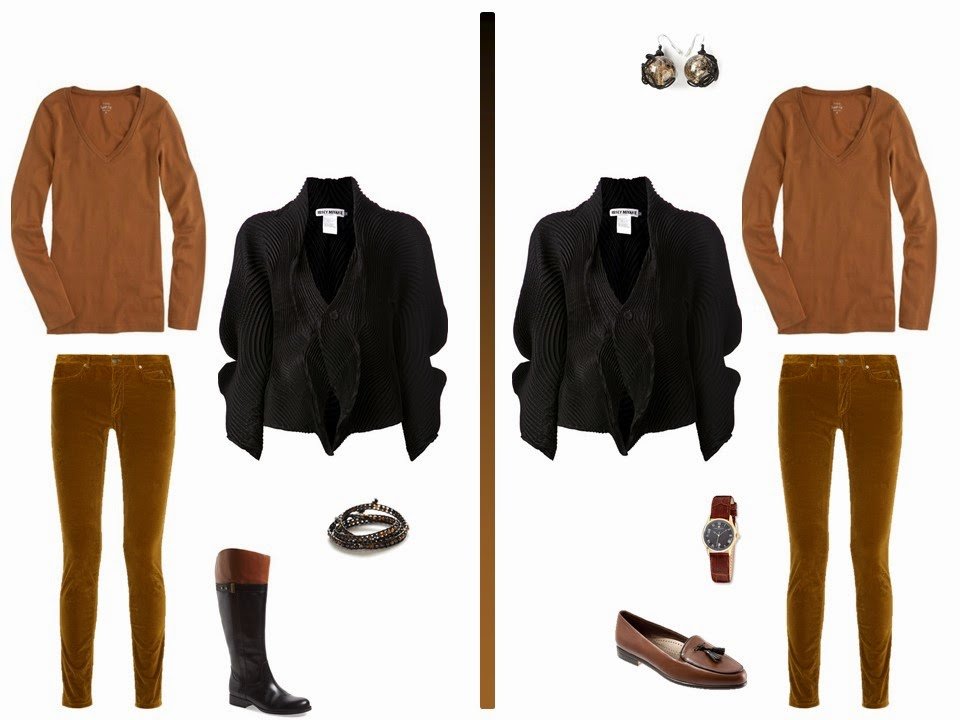 love,
Janice