October 15, 2014
We looked at using a variety of shades of pink as an accent in a capsule wardrobe (post
here
), and it was something that everybody either seemed to love or hate. So I'm going to see what response is to shades of blue – that very particular muted blue that you see in blue onyx.
A note about this scarf – it's from Hermes, and it's in their usual amazingly lustrous silk twill, but it isn't a square – it's a very long rectangle with mitered ends. Per square inch of silk, these scarves are MUCH less expensive than the squares, and for many people, they're a lot more versatile style. If you've never been interested in a square scarf, then these (called Maxi Twilly), are at least worth seeing, just to admire their beauty… The Hermes website has changed the way they display scarves; it's now whimsical, and very pretty.
So here's the 5-Piece French Wardrobe – classic shapes for the most part, everything related to that shade of blue.
And here's
A Common Wardrobe
in black and grey. The only difference from the navy and grey we were using is just a switch of the five navy garments to the identical items (except the skirt) in black. I was toying around with how many possible combinations there are, just within these twelve garments, and it came out over 4 dozen. These core items in your closet could make a lot of mornings much simpler.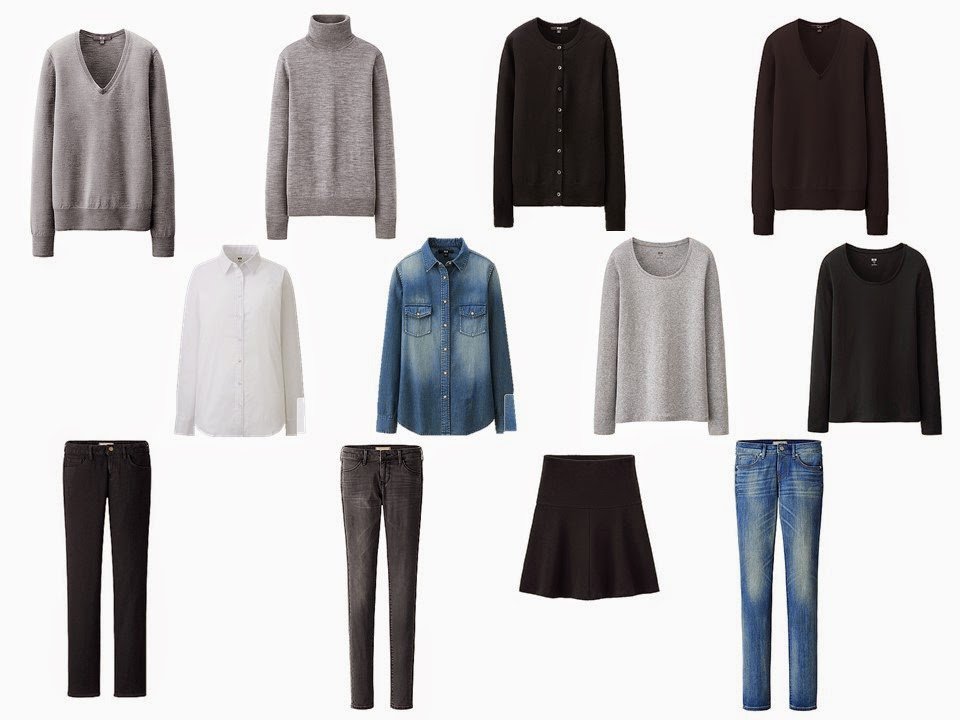 Grey v-neck – Uniqlo, grey turtleneck – Uniqlo, black cardigan – Uniqlo, black v-neck – Uniqlo, white broadcloth shirt – Uniqlo, denim shirt – Uniqlo, grey tee – Uniqlo, black tee – Uniqlo, black jeans – Uniqlo, grey jeans – Uniqlo, skirt – Uniqlo, faded jeans – Uniqlo
The new tops add a lot of interest to your neutrals, but the scarf and the earrings are often just the touch that's needed to bring a fresh look to the garments you love and wear the most.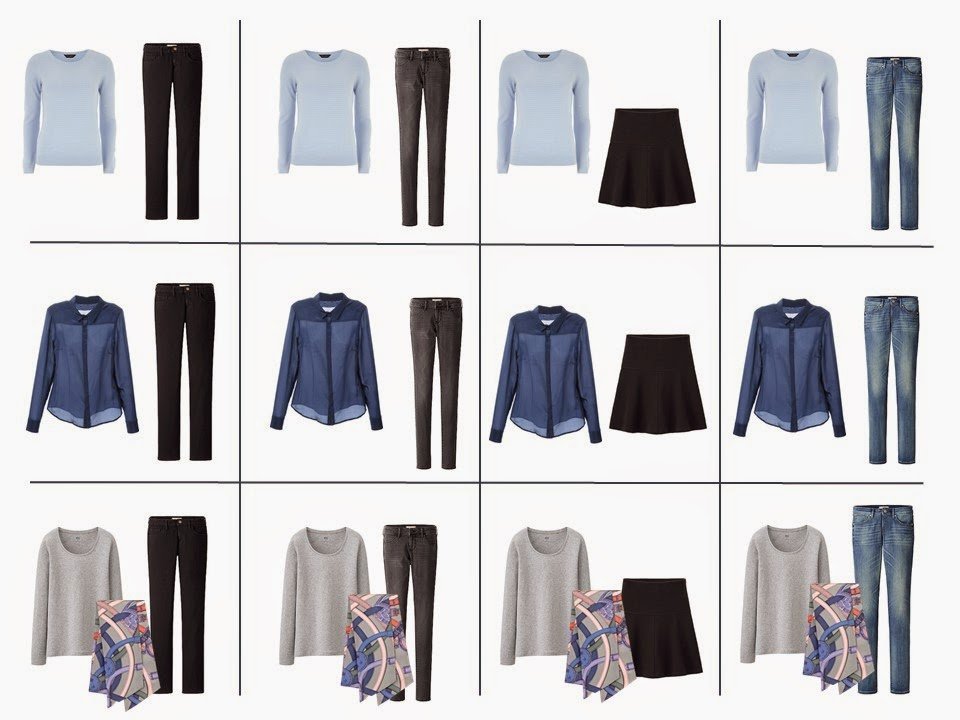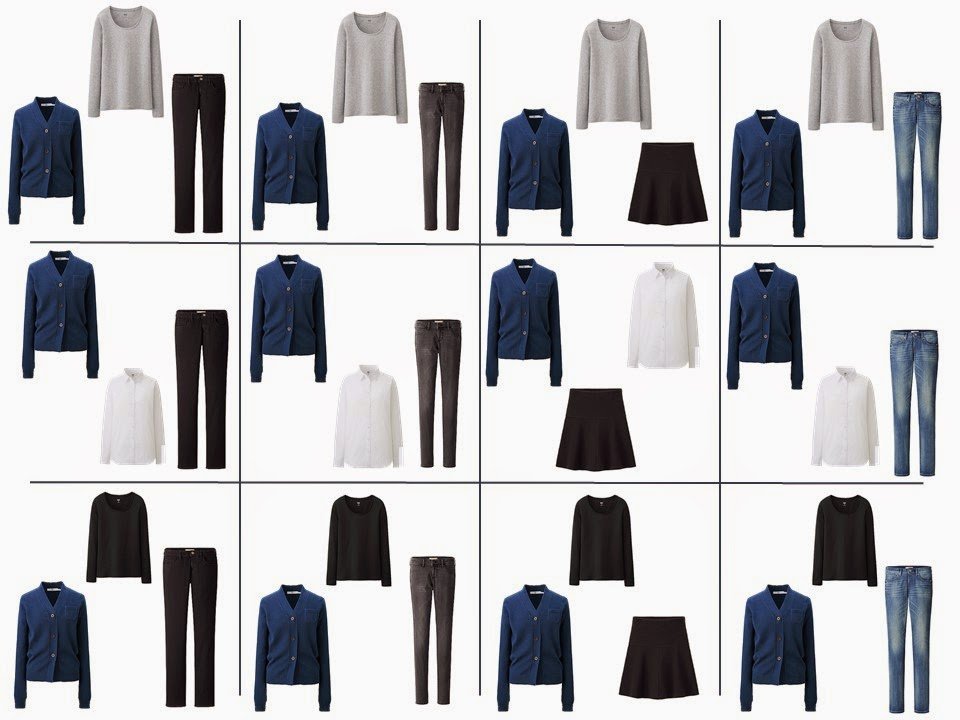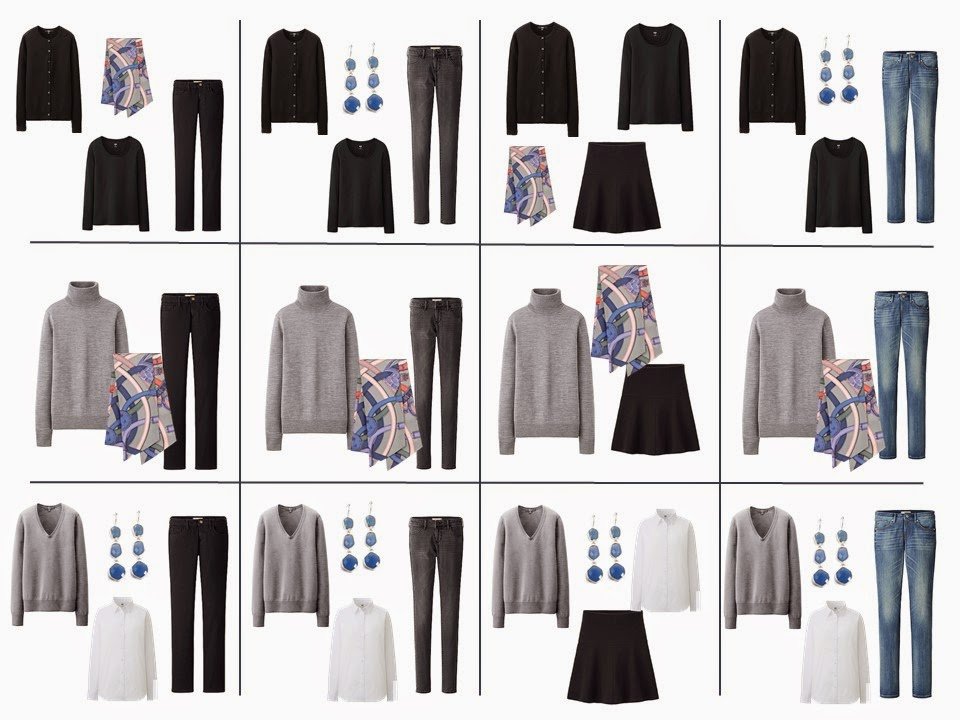 love,
Janice