Seotember 16, 2014
So beautiful, and such inspiring colors! I was completely unfamiliar with this artist; my readers send me the most wonderful things…
I chose a muted palette from this painting – I think I'm in a muted mood today. Would you like to see a 2nd post (after my vacation!) based on this painting, with more vivid colors?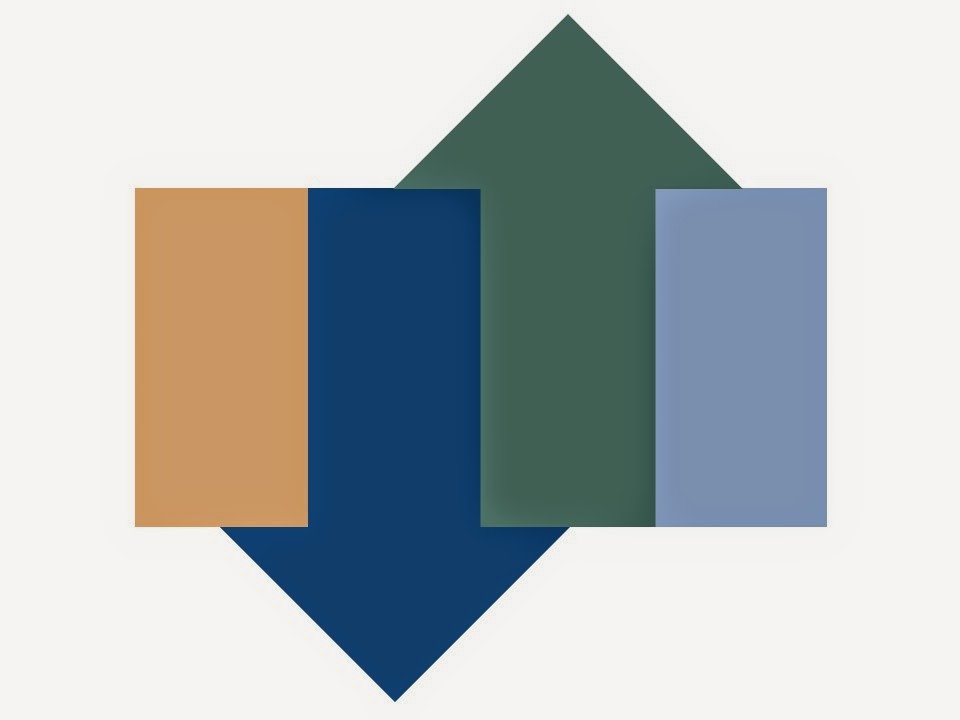 I've been asked to clarify the role of the various "fours" in the 4 by 4 Wardrobe, so I'm going to do that while working with this painting. Multitasking…
The First Core of Four is designed to give you two tops and two "bottoms" (I don't know why, but lots of people are completely bothered by the term bottoms…) that can be worn as four outfits. It's the most simple and high-mileage combination of neutral clothes you can find, and it makes a great base upon which to build your wardrobe.
A second Core of Four (another four blue-on-blue outfits), now gives you sixteen different combinations! (4 x 4 = 16). Yes, these outfits aren't the cutting edge of trendy fashion, but they're certainly acceptable and appropriate pretty much anywhere you can wear jeans, and if you love these colors, they'll be outfits that make you happy.
But as we all know, you need more tops than bottoms, and so we have an Expansion Four of tops that can be worn with either color of jeans. When I'm looking for these, I try to find tops that combine the two colors with which we're working, in order to introduce some prints into the mix. Texture can be nice too…
And finally, we introduce the accent colors in order to really be able to wear these clothes A LOT without seeming to be limited in our colors. This Mileage Four gives you a final ration of tops to bottoms of 3:1, which is not a bad target. What you wear above the waist is much more noticed and memorable than your trousers or skirt, so it makes sense to have more variety in shirts and sweaters. Also, many of us find that we can easily wear jeans more than once without laundering them, but tee shirts have to be washed ALL THE TIME…
Woman does not live by clothing alone – most of us have to at least wear shoes! The role of integration is to give you a sense of coherence in your outfits. For example, if you wore a green sweater with blue jeans, it would all hang together if you were also wearing a blue scarf that picked up the color of the jeans.
In the original 4 by 4 wardrobes, I used only 4 items to Integrate the Wardrobe. Those wardrobe were for hot weather, and were very minimal – we were really pulling together the very least necessary for a beach vacation or similar activities. Since then, I've surrendered to my longing for accessories and expanded the number, but you could certainly get by with just a couple of pairs of shoes, a bag, and one scarf, or one pair of earrings. Always remember – the choices are yours, and nobody else's!