July 16, 2014
Many of you have been following the concepts of A Common Wardrobe, or a Whatever's Clean wardrobe, and you've expressed great curiosity about how those ideas work with this much larger capsule wardrobe-building concept. So let's see if we need to make any last tweaks to our wardrobe to be as inclusive and versatile as possible…First off, remember this bad boy? This was the original Common Wardrobe – garments that I saw day after day on my co-workers from international advertising agencies. These garments and accent items were combined in all sorts of different ways, and accessorized like mad:
I threw my analytic brain at this, and defined each of these garments functionally, i.e., the first is a "dark neutral sweater", the second is a "light neutral tee" etc.
Then, I went back to our wardrobes and filled in the various categories with garments that we had in the wardrobes. First thing I noticed is that NONE of our wardrobes included a denim shirt, so I've chosen one to add to each wardrobe. And there were, in all cases, a couple of very basic items that we'd just never added. First off, in the black and grey wardrobe, there is no plain black sweater, nor a plain white tee shirt!
So a simple shopping expedition to find these classic basics gives you everything needed for a Whatever's Clean, or a Common Wardrobe. You can't deny that these would give a ton of additional versatility to your existing black and grey wardrobe.
Can you imagine the response of your friends if you all went shopping, and this was your shopping list?
Similar situation here – simple, neutral tops had been neglected…
Basic tops are the theme here… they're so easy to overlook, but can do so much of the wardrobe "heavy lifting" day to day.
Of course, if you're not interested in a denim shirt, don't buy one! Similarly, if these very neutral tops don't strike a chord with you, you're certainly free to omit them from your wardrobe. As much as these additions add versatility to your wardrobe, if you don't LIKE them, and won't WEAR them, they're certainly NOT going to be versatile, are they?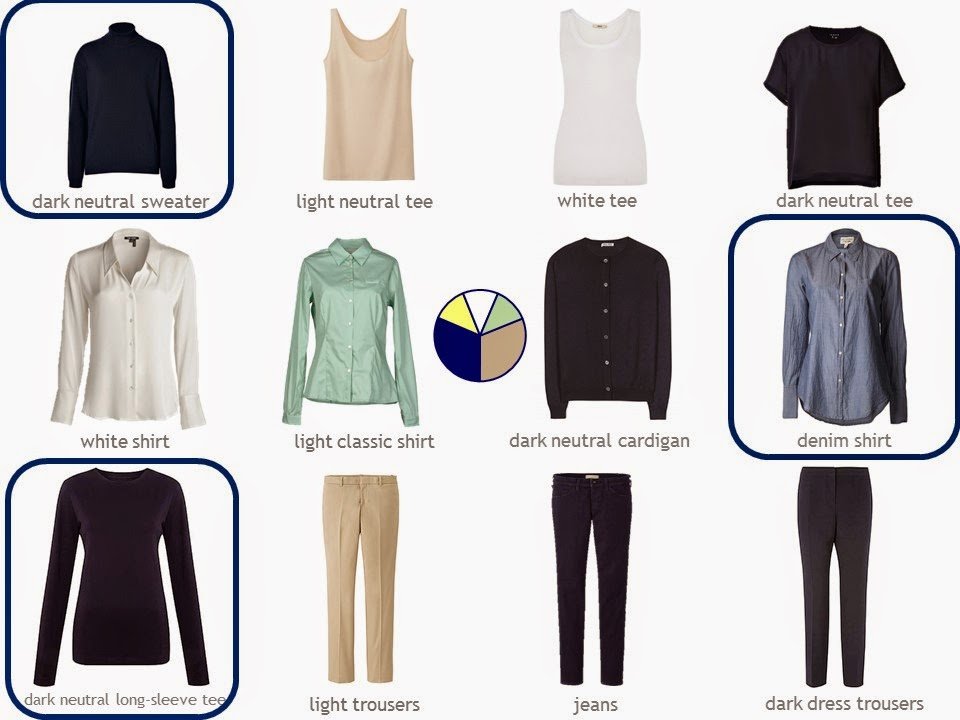 This wardrobe was pretty complete; the navy long-sleeved tee was the only missing item (except the universally overlooked denim shirt). This tee shirt might seem ordinary and quite plain, but under one of your cardigans, it provides a simple, warm base for jewelry or a scarf. Sometimes, accessories look best if they're against a more plain background that lets them stand out on their own.
Tomorrow, if I can keep my eyes focused, I'm going to show the final final wardrobes, as well as a few combinations that are possible… Then I'm going to work through the steps with a new color scheme that one of your sweeties requested, so that we can get one more good primer on how the steps work.