July 25, 2014
Coral comes in a range of tints – there are more "pinkish", less "orangish" versions out there too if those would be more flattering. But any of them will look completely appropriate and attractive with all of our neutral color usual suspects. And as we move into August, and what is for many of us the end of summer (my great-nephew goes back to school IN 10 DAYS!!!), this might be a good wardrobe refresher, as well as a low-commitment way to test drive a new accent color for your wardrobe.
Please note – this tunic-length top is going to be "iffy" with some cardigans; I personally can wear a top hanging out below my cardigan without worry, but you might want to bear this conundrum in mind when you choose your coral top.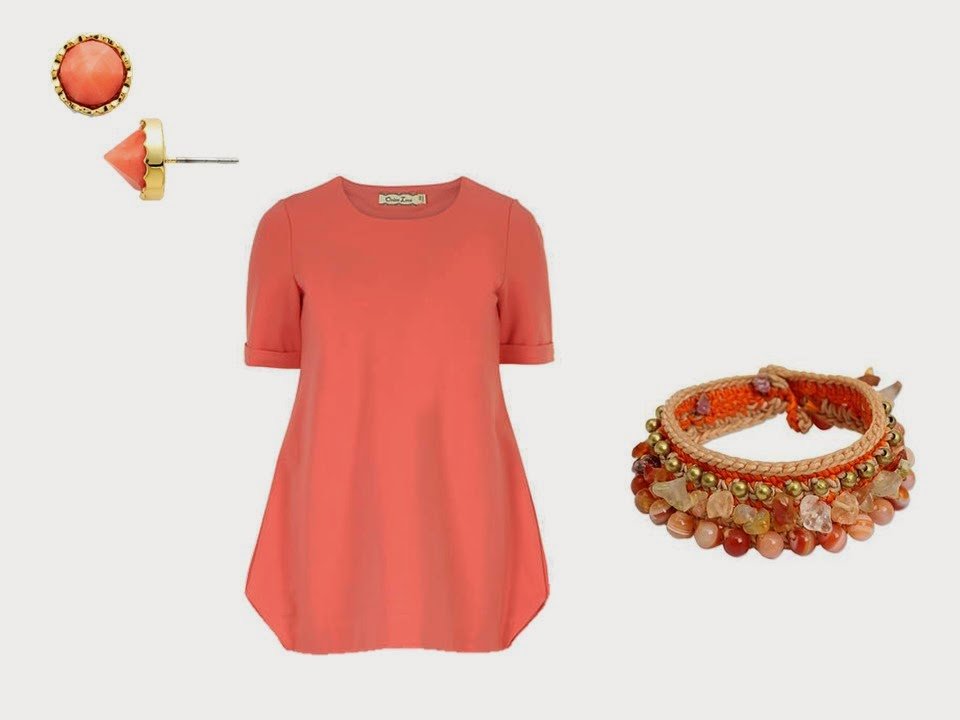 Earrings – Rebecca Minkoff, tunic – Dorothy Perkins, bracelet – Chuleekorn
Here's coral added to the brown and beige Starting From Scratch Wardrobe.
Coral with our black and grey Starting From Scratch Wardrobe.
Items from the caramel and black Starting From Scratch Wardrobe takes on an entirely different look with coral additions.
Coral looks wonderful with with selections from the khaki and olive Starting From Scratch Wardrobe.
The navy and beige Starting From Scratch Wardrobe had yellow and green accents; coral brings a very different look to these neutrals.
The Starting From Scratch Wardrobe in navy and grey emphasized pastel accent colors; the brightness of color is a real departure for these neutral clothes.
I'm furiously at work on our color combinations file (which explains why I'm reusing clothes from yesterday – not just fundamental laziness!), and I'm on schedule to release it Saturday August 2nd, if all goes well!