July 12, 2014
Back in the early 1980's, I was in graduate school, and I was the manager of one of the departments in a large department store. (I'm still catching up on my sleep!) One of the more interesting and educational responsibilities I had was to "ring up" all purchases made by staff in my department.
I'm telling you this story, because I want to tell you about someone named Agnes. I'm not sure what we can learn from her example, but I still remember her so vividly after 30 years, and I'm quite sure that she was nobody's dummy… Agnes was probably in her mid 50's, employed 40 hours a week (remember the days when retail could be a career?), qualified for 3 weeks of vacation, health insurance, life insurance and all the other normal work benefits. I am pretty sure she lived alone…
But what was striking about her from our perspective was the way in which she made her wardrobe purchases! Our department was "Better Sportswear", which in those days meant blazers with matching skirts and trousers, and coordinating blouses, tee shirts, other tops, cardigans, and sweater vests. This was office attire, and we were expected to wear what we sold.
So twice a year, the week after the big delivery of new season merchandise, Agnes would stay in the store after her shift ended, and shop. She asked for the use of a small rolling rack, and she collected 15 garments. She then walked over to the shoe department and came back with 2 pair of shoes. Then she headed to the first floor and came back up with a scarf, and four or five pieces of jewelry. Always a brooch!
And then she didn't shop again, at all, for 6 months:
She didn't care what went on sale.
She didn't care that she wore variations on the same clothing for half the year.
She didn't care if she wore only two or three colors for months on end.
Beginning as soon as the jackets, skirts and trousers were altered, Agnes would start wearing her new clothes. She mixed in older jewelry and scarves, but her clothing was absolutely current with what we were carrying in the store.
For leisure? I saw her on the street once, walking back from the grocery store, and she was wearing clothes from last year's 15-piece extravaganza. I strongly suspect that she never in her life owned a pair of jeans.
How things have changed!
If Agnes were still about, this is what I envision her wearing right now:
A few options: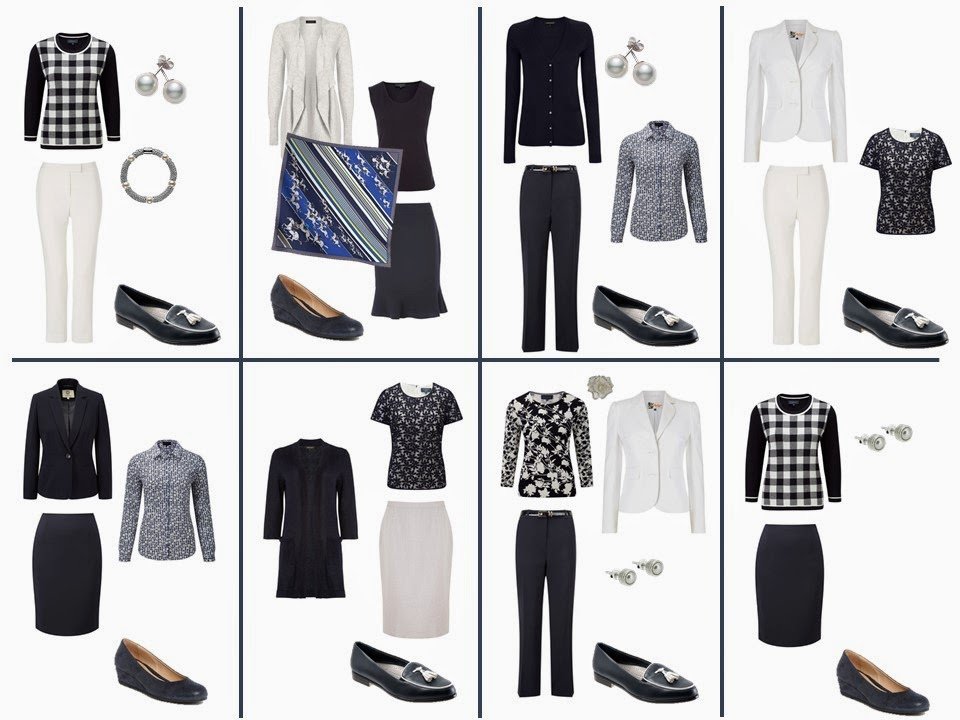 You do appreciate that fifteen pieces of clothing chosen like this gives you 125 combinations. 125 really repetitious combinations… But she was, without question, the best-dressed woman in the entire store, executives and buyers included.
love,
Janice