July 14, 2014
BIG BIG BIG EDIT: THIS IS ONLY STEP SIXTEEN…
If you are going to make a typo, make a really big one!
I had medical tests this a.m., and have been asleep all afternoon; I am so sorry for the delay in fixing this inexcusable error!
We're very close to wrapping up our capsule wardrobes, but there are a couple more things we need to do to make sure that our choices will work as well for us as possible. So far, we've added pieces within our color scheme, but we've not been particularly rigorous in making sure that we have a balance between our neutrals.
To address this, I've looked at each wardrobe and tried to find the "Core of Four" (two tops and two bottoms, that will make 4 outfits) in each neutral. For example, here in the brown and camel/beige wardrobe, we're well established with brown garments, but we haven't yet filled in a major gap of beige "tops".
This is a pretty common oversight; sometimes we don't feel comfortable wearing one of our neutrals near our face. If you're feeling this way, consider purchasing one top instead of two; don't skimp, but don't invest a mortgage payment in something that you're testing. If you find that you just can't wear the neutral near your face, you can re-adjust your choices to have more accent colors near your face. There's no hard and fast rule here, except that you should be happy with your wardrobe!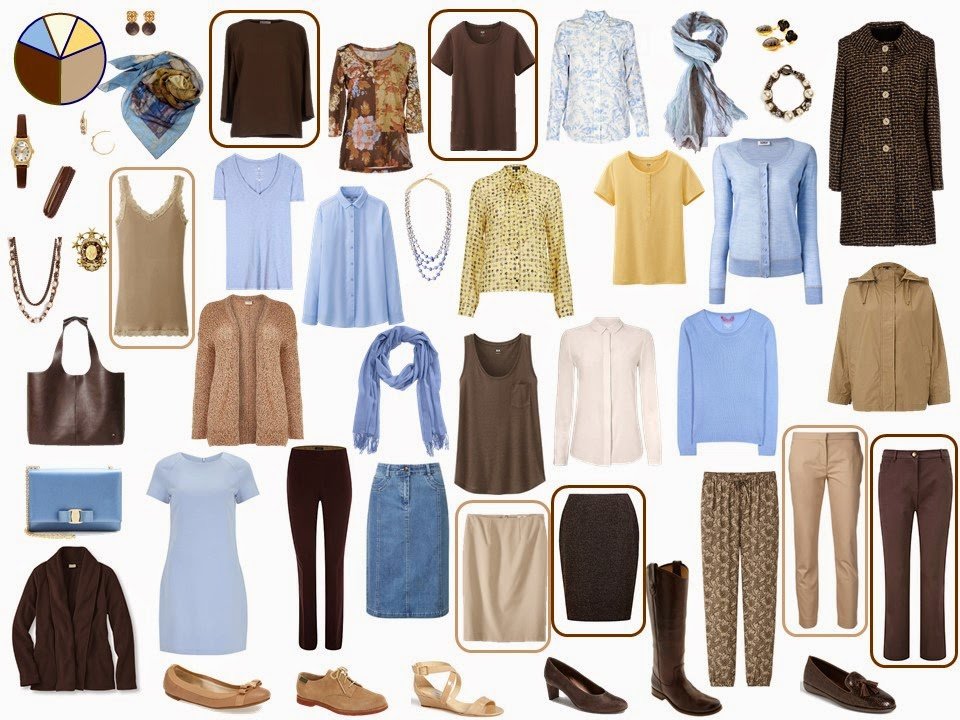 After adding these tops, and sorting our wardrobe by color, you can see that we have a lovely assortment of brown garments, a respectable and useful range of beige, some good "bridge" garments, and plenty of accents!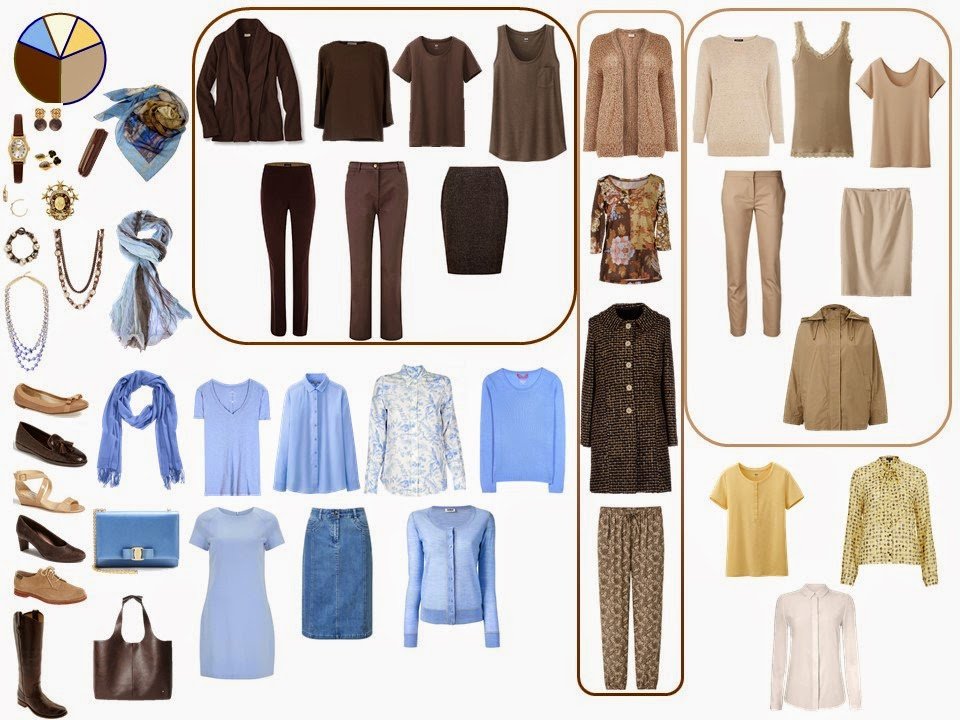 They grey and black wardrobe is suffering from a shortage of greys! It's easy to go overboard with one neutral at the expense of the other – just make sure to keep them balanced if you don't want to have items stranded in your wardrobe because they don't have enough "family members" for full utility.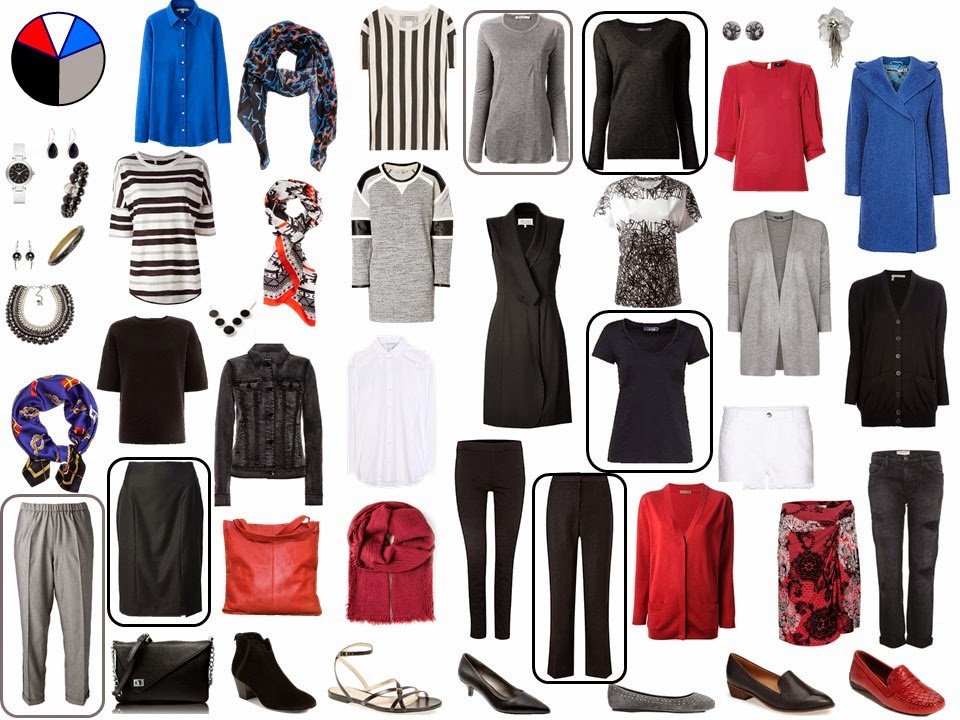 We were missing a grey top and bottom? How about a simple but madly versatile skirt and sweater – it's an outfit all on its own, and two separates that will be very at home in this closet.
This wardrobe now still shows a strong bias toward black, but the grey garments offer a lot more versatility. The bridge garments are strongly represented; but we could add to the light neutral, and the bright blue…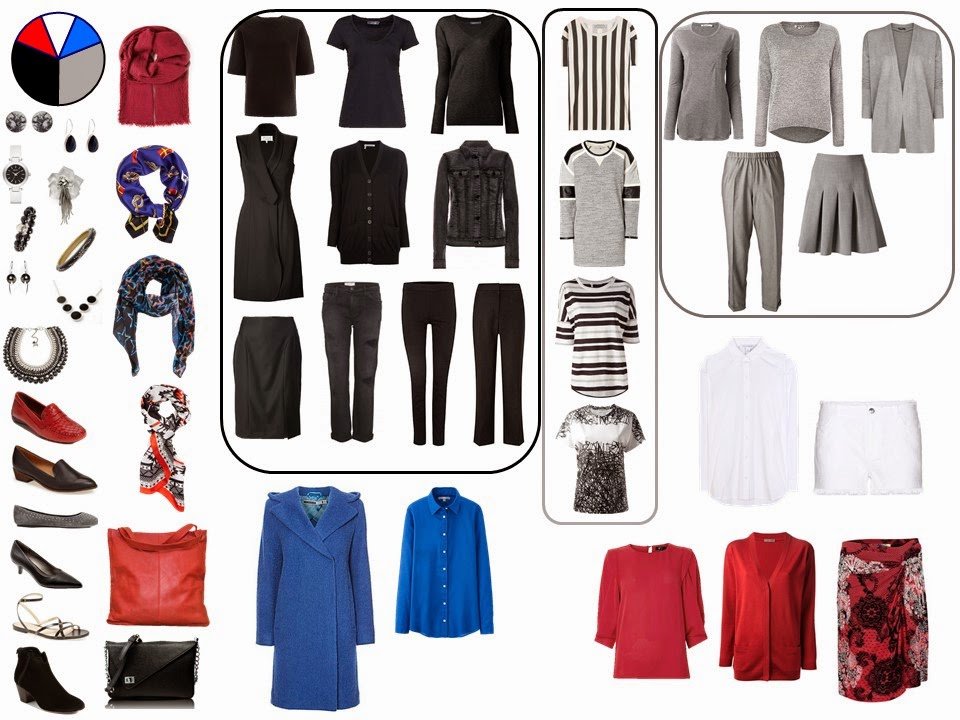 Similarly, we're rather neglected the olive garments in this wardrobe in my enthusiasm for the beautiful accent colors, and the rich elegance of beige…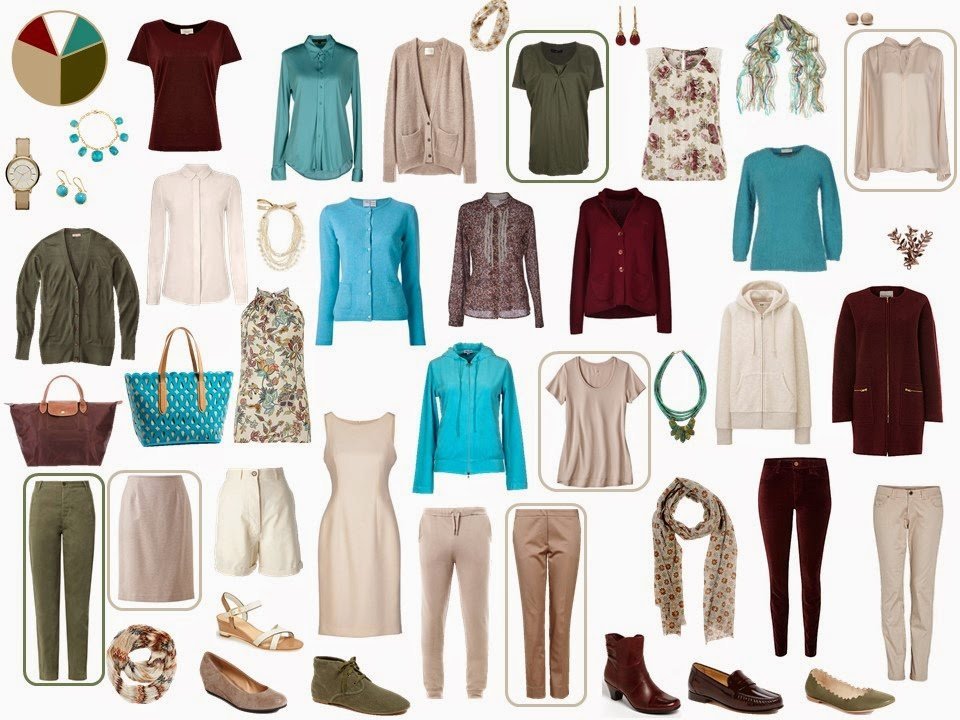 These two piece should make quite a bit of difference – they're simple, but will be beautiful worn together, and very useful when worn with everything else in this closet!
This wardrobe now still shows a decided preference for beige neutrals, but has lovely accent garments. Maybe a few more bridge garments would be useful?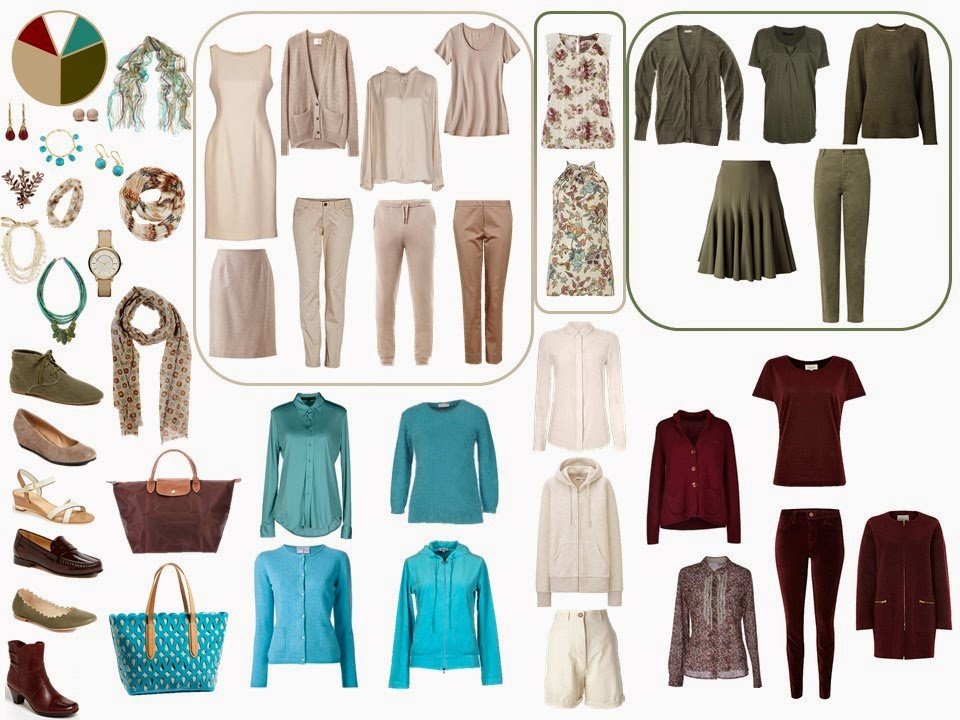 Another clear example of "neutral bias" – I haven't enough navy tops here!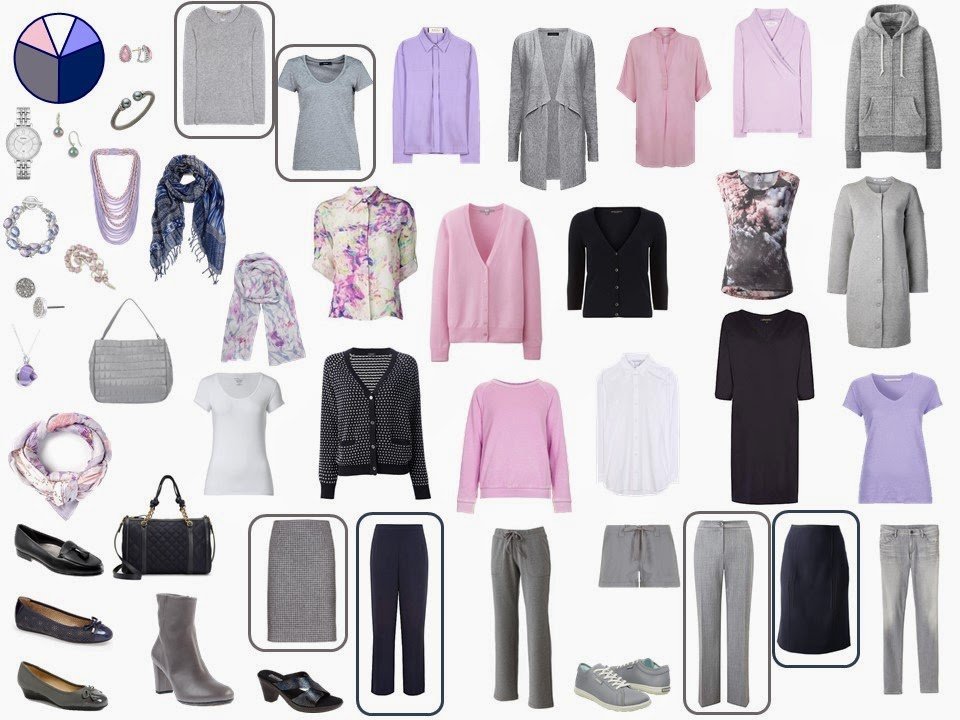 I always opt for simple sweaters and tee shirts, but any simple navy shirt or blouse would also be perfect here…
A couple of bridge garments, maybe another print, and this wardrobe will be nicely balanced.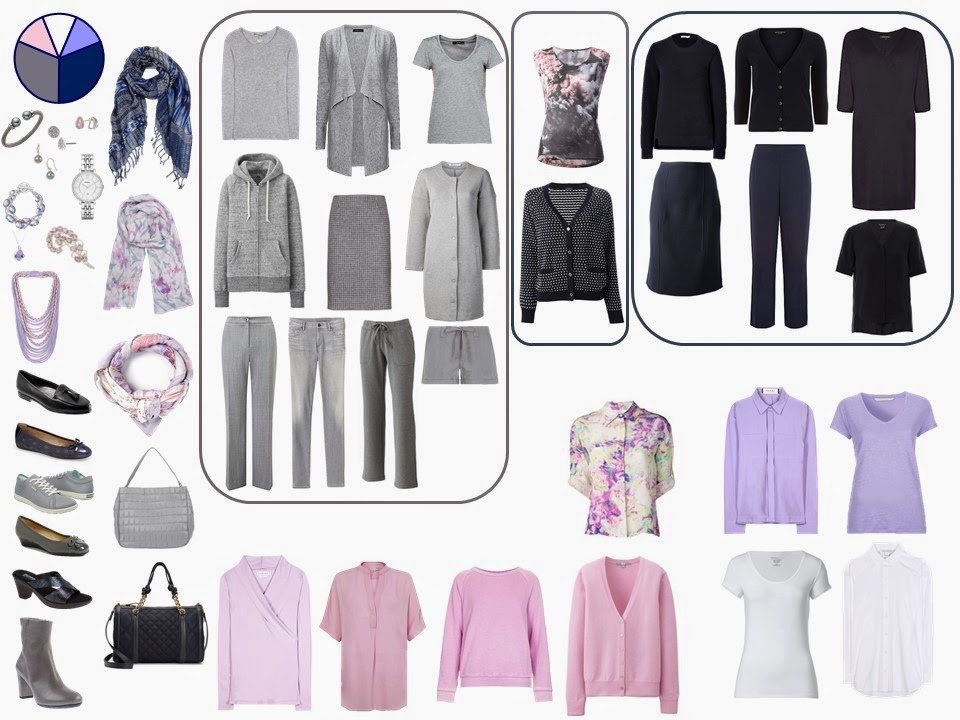 The neutrals here are well balanced – there are clear "Core of Fours" in both neutrals, but there's a noticeable absence of light neutrals blouses or sweaters. Unless you're completely opposed to wearing white, off-white or cream near your face, these are garments that are always useful to have on hand.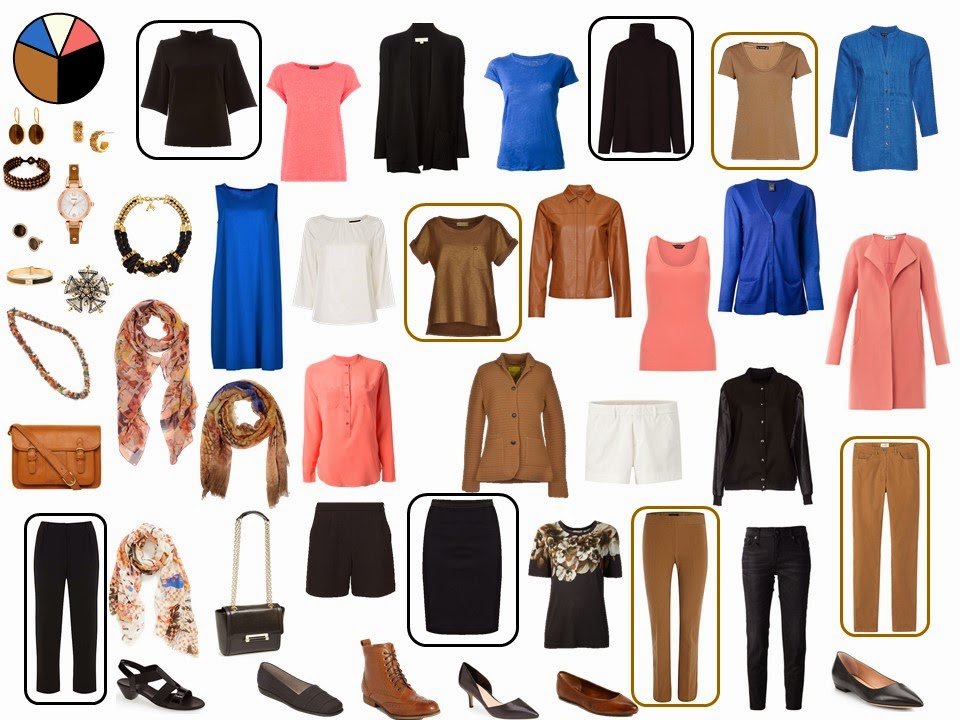 Almost perfectly balanced neutrals (please note that you're almost NEVER going to have exactly the same number of pieces in each of your neutrals – that's really not an objective!), but a definitely lack of "bridge" garments…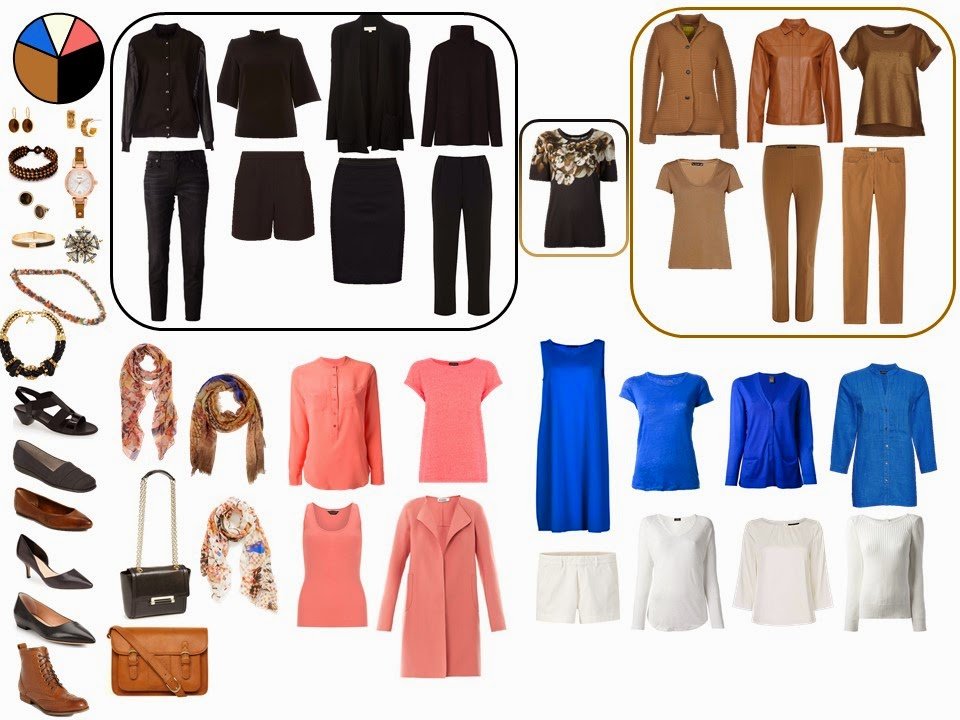 Here again we find an absence of beige blouses, sweaters or tee shirts. While that might be a conscious choice because of a color aversion, it's worth trying these colors out – maybe with scarves or jewelry. If you are firm in your color preferences, then stock up on accent colors or "bridge" garments that are easier to wear.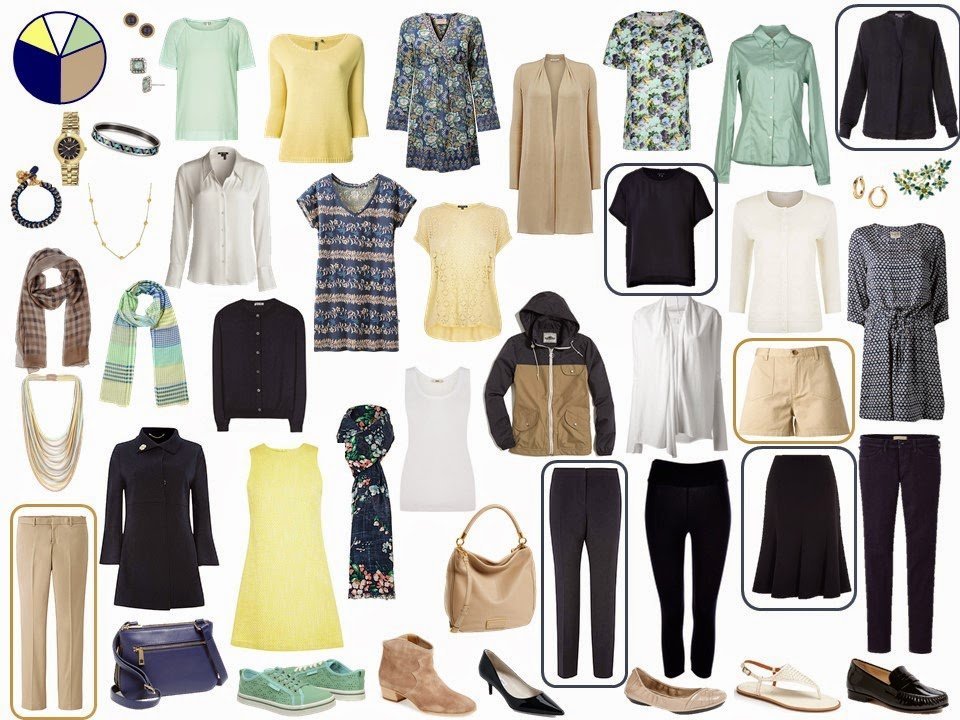 A bit more beige wouldn't go amiss here, and more accents could be handy. But it's an amazingly versatile and efficient wardrobe already.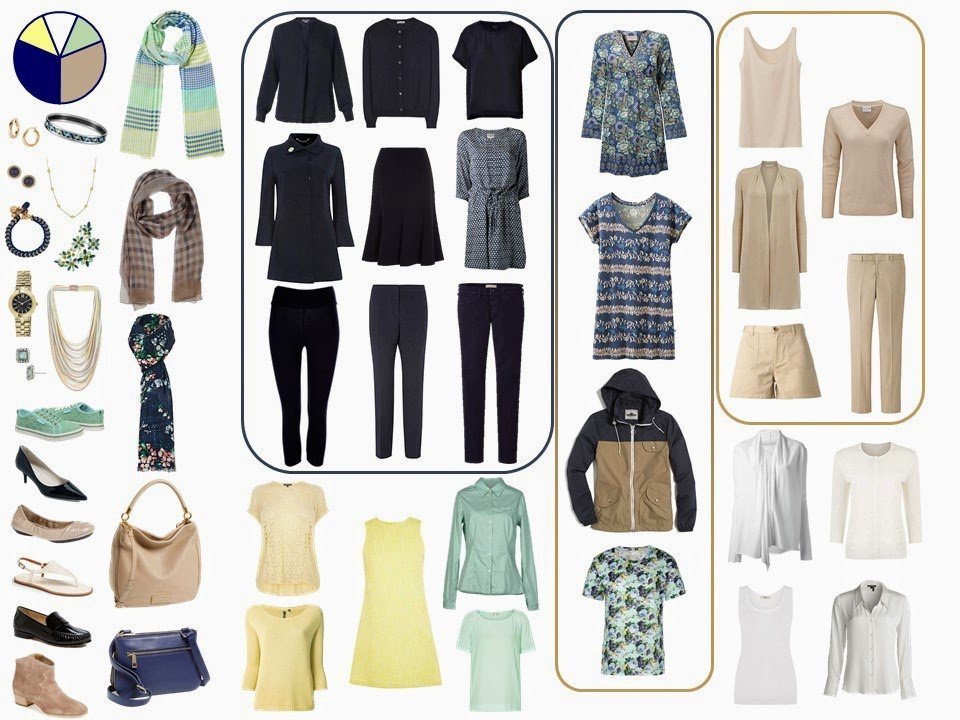 love,
Janice