June 24, 2014
Now that we have enough clothes in our capsule wardrobe to put together at least a handful of combinations, it's time to pause and make sure that we're truly heading down a path which we like; if we want to change courses, now is the time!
At a minimum, wearing coordinating accessories with your wardrobe will keep you from making that excuse in your mind – "this wardrobe isn't working because I don't have the right earrings (watch, scarf, bag); when I get THAT then it will be okay."
So let's take a break from clothes and take a look at our accessories. Unless you're making a completely radical change of colors, you might find that you have accessories already in your collection which will work beautifully with your new wardrobe.
This isn't the time to go racing out and buy a Rolex in your colors, or an Hermes Birkin… Keep these purchases (if you have to make any) reasonable – nice quality but not over the top. You're still test-driving these colors at this point, and you don't want to handcuff yourself to a color combination just because you've spent six buckets of money on your purchases! Conversely, you might turn yourself away from the perfect colors if you buy really junky accessories and never feel comfortable with them.
So for navy, I'm thinking of these kinds of things: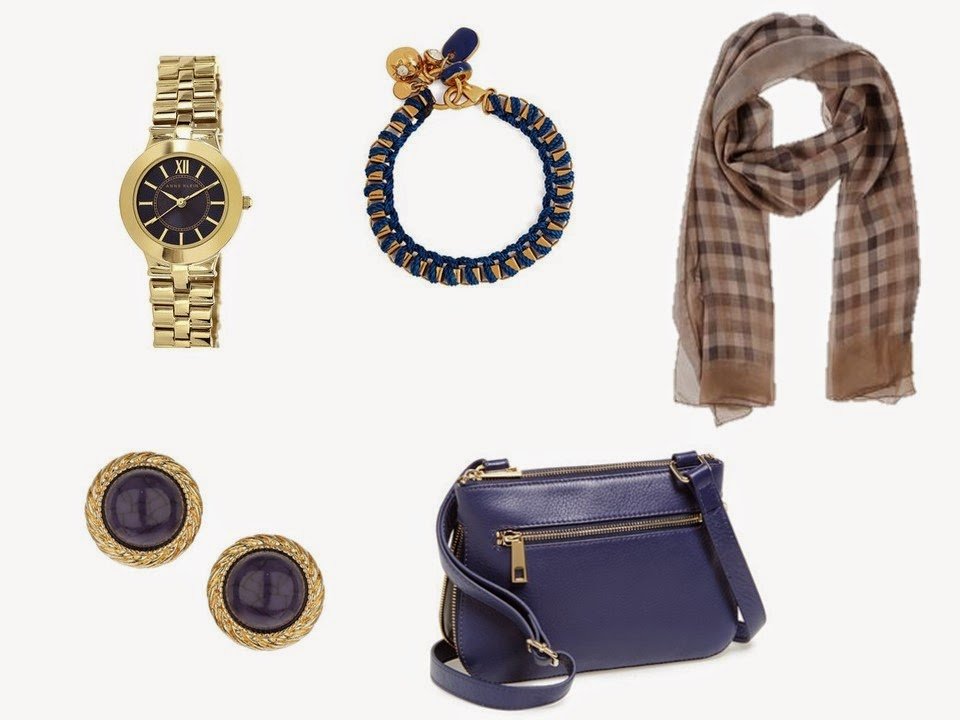 watch – Anne Klein, bracelet – Brooks Brothers, earrings – Dorothy Perkins, bag – Halogen, Beige and navy checked scarf – Aquascutum
And thus your wardrobe starts to look a lot more "real" with these additions. I find that I can get a much better sense of my comfort level with things now that I picture some earrings and a scarf with the clothes…
All the rest of the color combinations follow – are these starting to look coherent to you?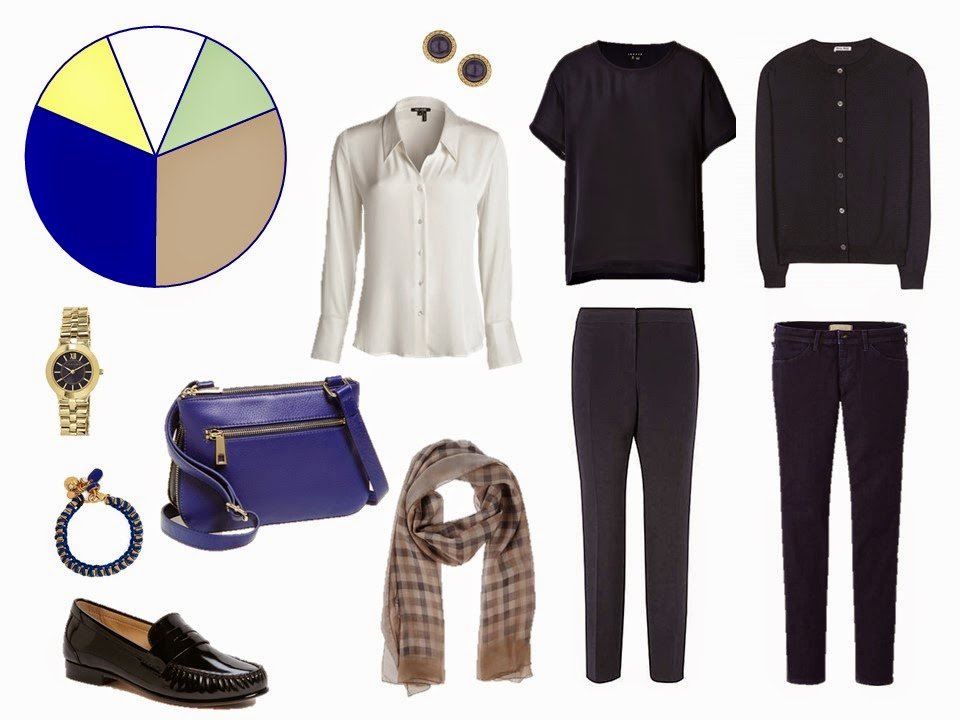 Black penny loafers – Cole Haan, navy trousers – Viyella, navy wool cardigan – Miu Miu, navy silk tee – Theory, white silk blouse – Nic + Zoe, Navy
jeans – Uniqlo, bracelet – Brooks Brothers, watch – Anne Klein, earrings – Dorothy Perkins, bag – Halogen, Beige and navy checked scarf – Aquascutum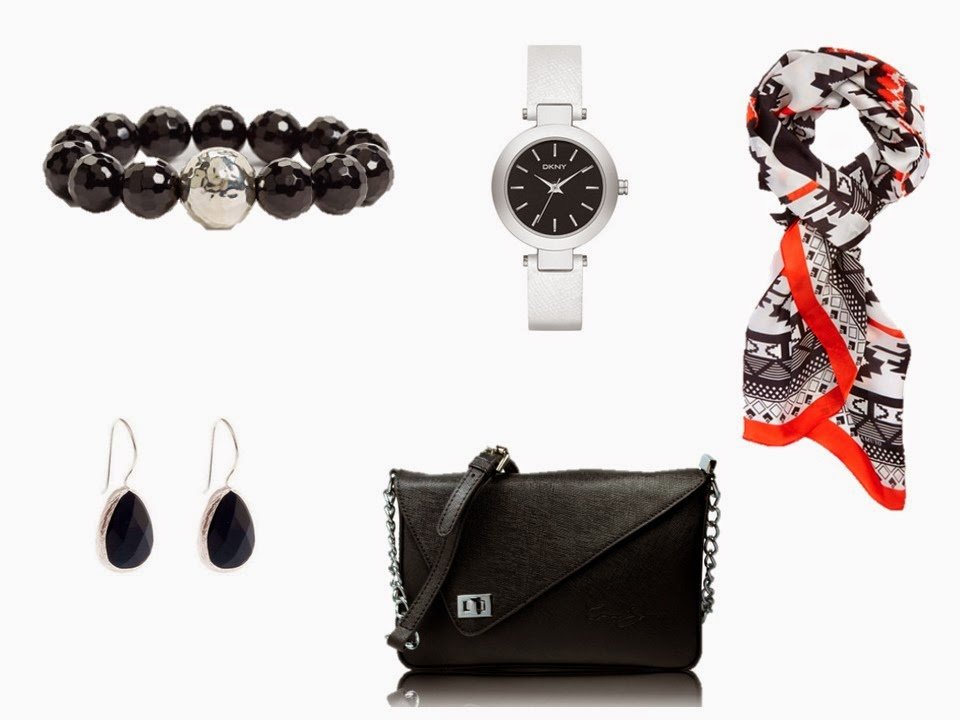 Bracelet – Simon Sebbag, earrings – Toosis, watch – DKNY, bag – Gregory Sylvia, black white red scarf – Vince Camuto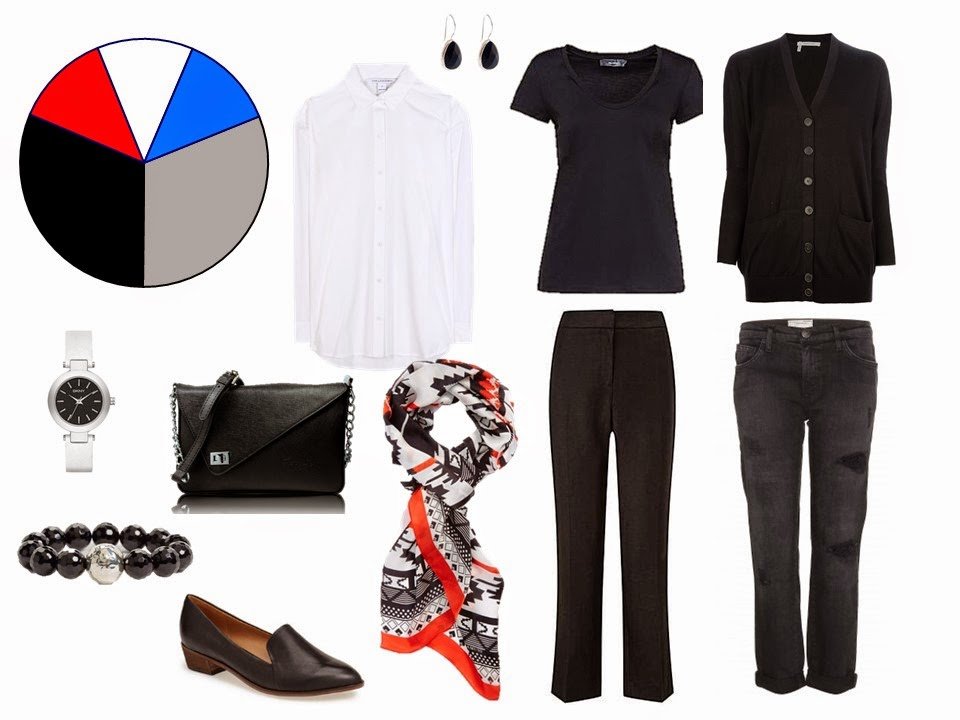 pointed toe loafers – Kelsi Dagger Brooklyn, white cotton shirt – Diane von Furstenberg, black linen trousers – Viyella, black tee – Hallhuber, black cotton and
cashmere cardigan – 10 Crosby Derek Lam, black jeans – Current/Elliott, bracelet – Simon Sebbag, earrings – Toosis, watch – DKNY, bag – Gregory Sylvia, black white red scarf – Vince Camuto
I own this silver bracelet with grey pearls – I wear it a lot…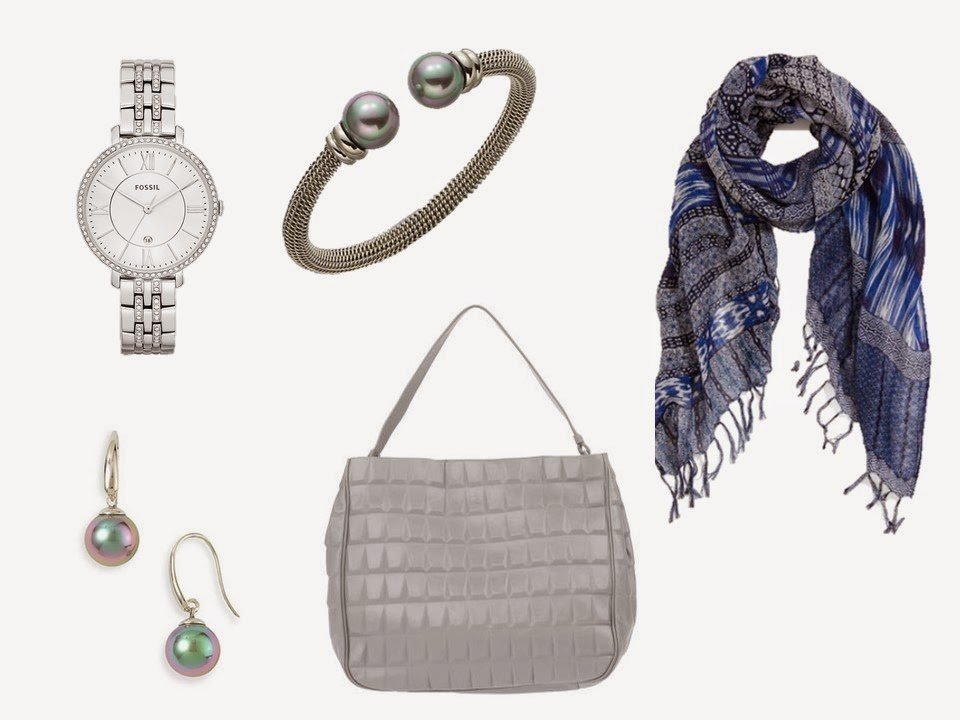 Watch – Fossil, earrings – Majorica, bracelet – Majorica, bag – CK Calvin Klein,
navy and grey scarf – Hinge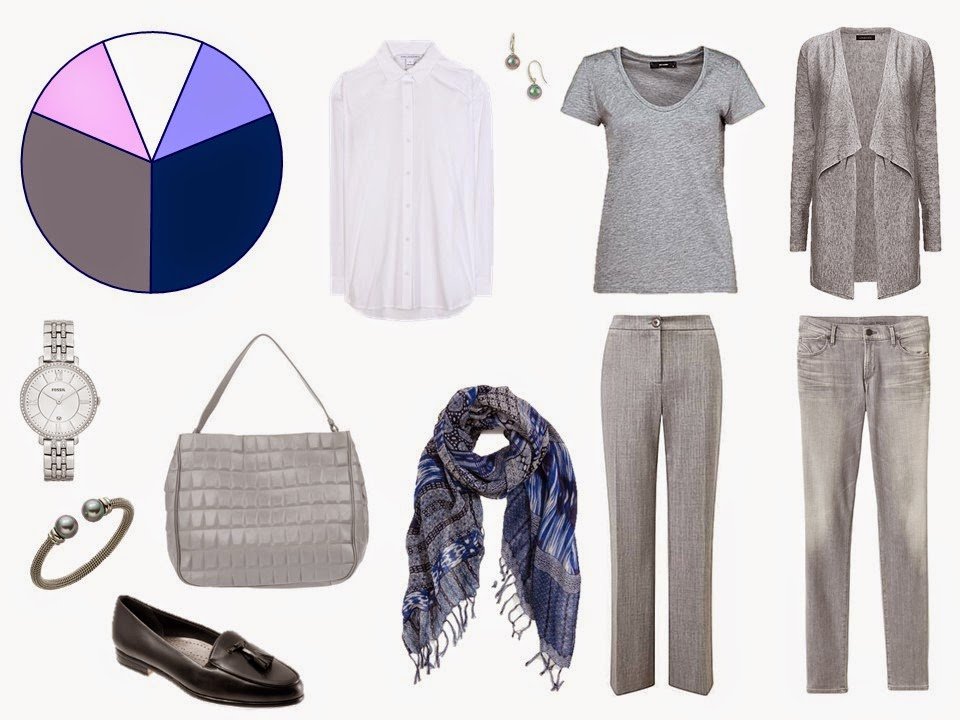 tasseled flats – Trotters, white cotton shirt – Diane von Furstenberg, silver grey trousers – Viyella, silver grey tee – Hallhuber, grey cashmere cardigan – Jaeger,
grey jeans – Rebecca Taylor, watch – Fossil, earrings – Majorica, bracelet – Majorica, bag – CK Calvin Klein, navy and grey scarf – Hinge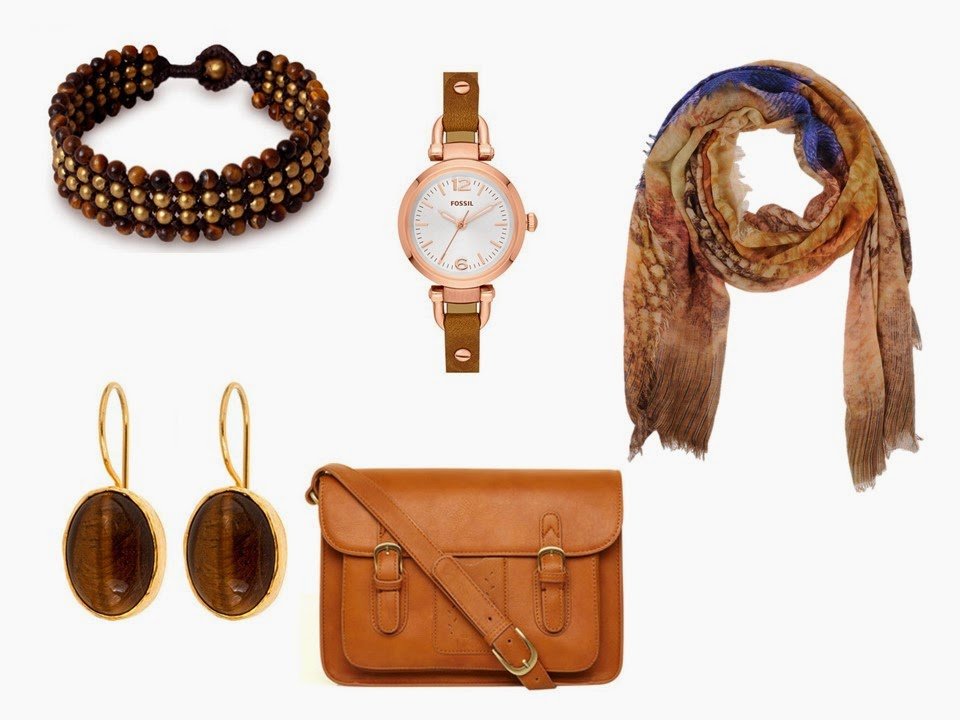 Bracelet – Tiraphan Hasub, earrings – Max and Chloe, watch – Fossil, bag – Dorothy Perkins, scarf – Erfurt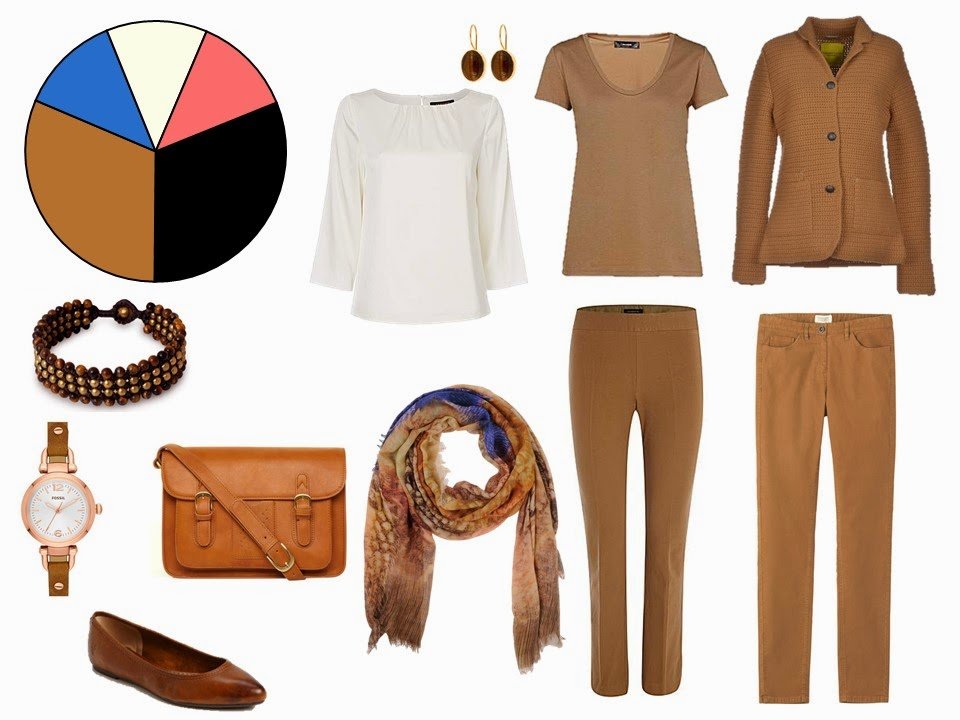 Ballet flats – Frye, ivory silk top – Jaeger, copper twill trousers – Lands' End, caramel tee – Hallhuber, caramel wool and cashmere cardigan – Customer
Lovers, caramel jeans – Toast, bracelet – Tiraphan Hasub, earrings – Max
and Chloe, watch – Fossil, bag – Dorothy Perkins, scarf – Erfurt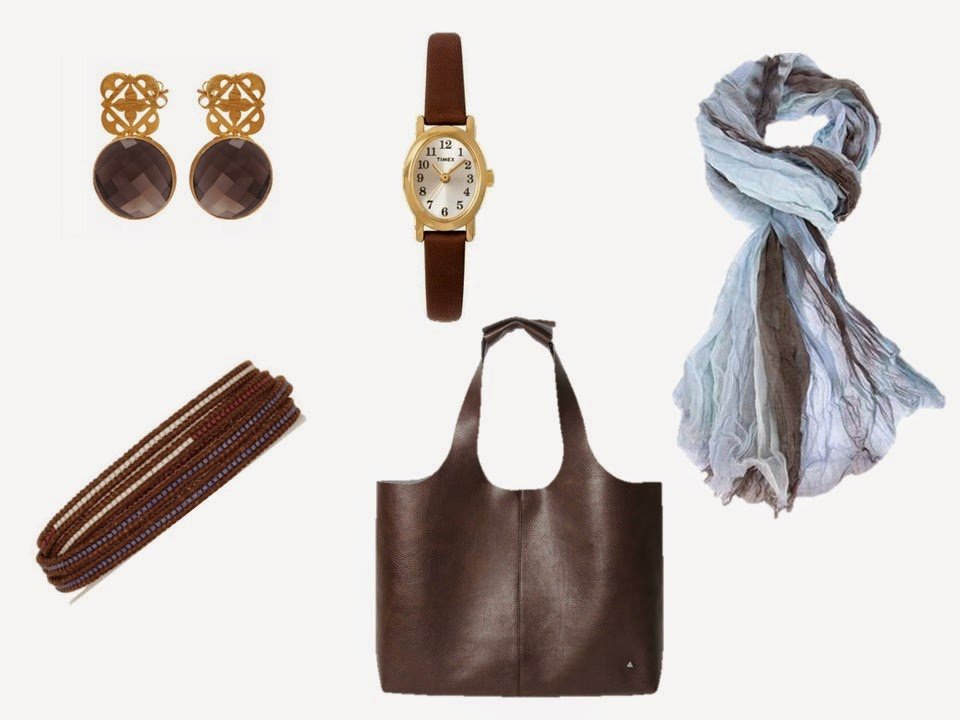 Earrings – Kasturjewels, beaded bracelet – Chan Luu, watch – Timex, tote – Coet,
blue and beige scarf – Paola Pecora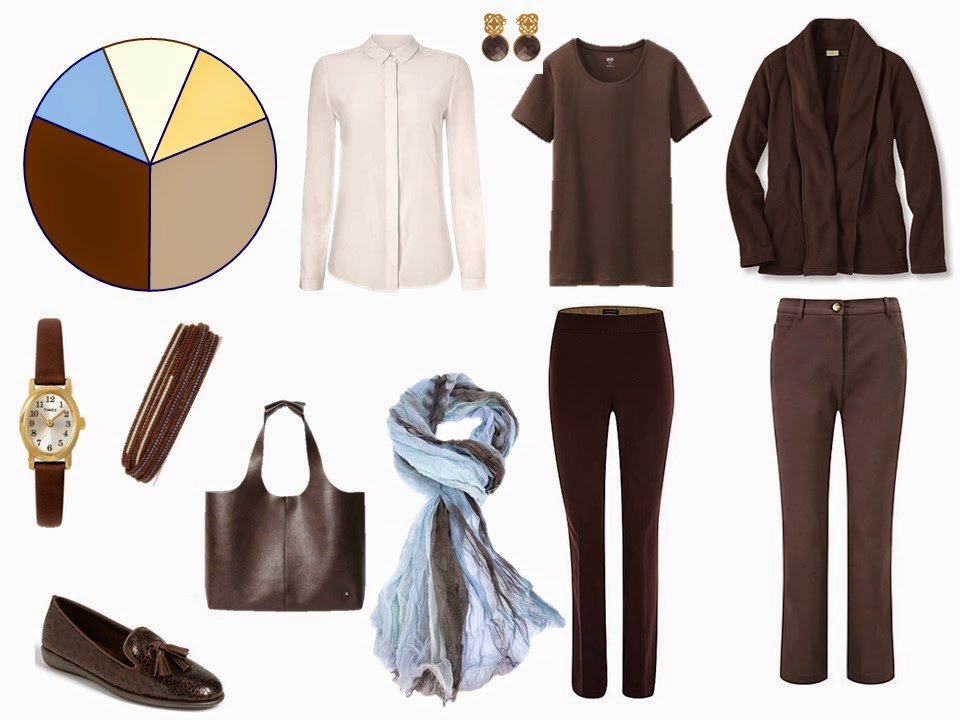 tassel loafers – The Flexx, ivory silk blouse – Jaeger, brown twill trousers – Lands'
End, brown jeans – Viyella, brown cotton tee – Uniqlo, chocolate brown
fleece cardigan – L.L.Bean, earrings – Kasturjewels, beaded bracelet – Chan Luu,
watch – Timex, tote – Coet, blue and beige scarf – Paola Pecora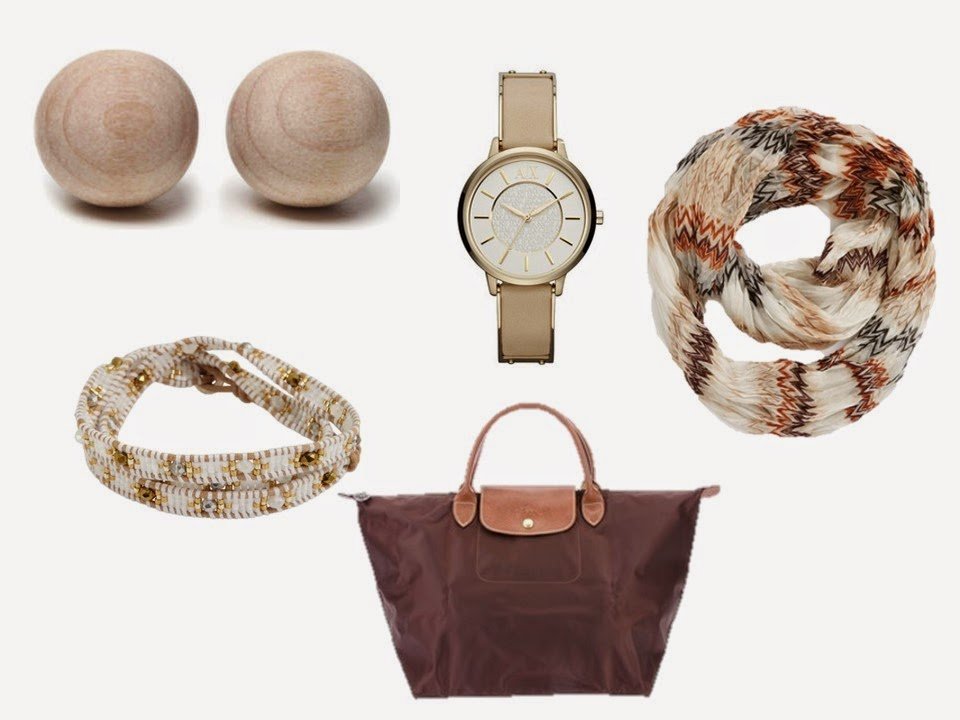 Wooden earrings – Hring eftir hring, bracelet – Chan Luu, watch – Armani Exchange, bag – Longchamp, zigzag infinity scarf – Brazen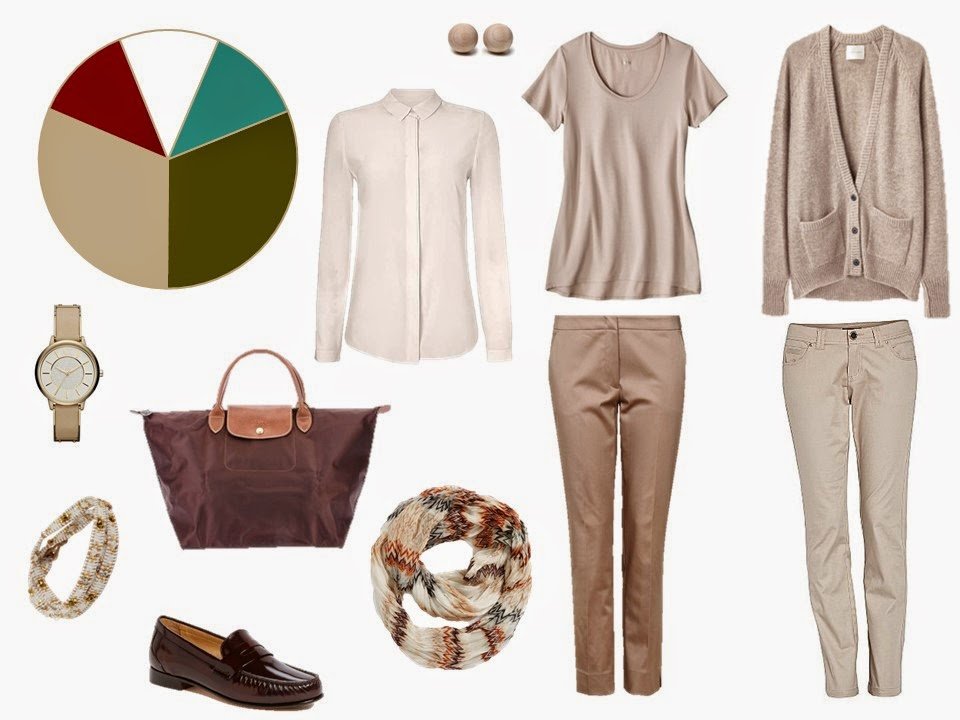 penny loafers – Cole Haan, ivory silk blouse – Jaeger, tan trousers – Hallhuber, khaki tee – Target, tan cashmere cardigan – La Garconne, beige jeans – Morgan, wooden earrings – Hring eftir hring, bracelet – Chan Luu, watch – Armani Exchange, bag – Longchamp, zigzag infinity scarf – Brazen