Yes, the book is blindingly expensive, but if you've never felt like you are beautiful or that your particular "type" is lovely, this book might change your mind forever. The authors site a wide variety of fine art from throughout history in order to demonstrate that everyone is beautiful. Period.
I'm not completely convinced by every one of the exercises in the book; I've never been sold on the "your best red is the color of the blood drawn from your right kneecap at midnight under a full moon while chanting the lyrics of the full Partridge Family oeuvre and facing east" school of colors, but if it works for you, I encourage you to persevere. If I were only going to recommend one book for building self-esteem and looking at your face and body in a new way, this would be it.
#2. Style Statement: Live by Your Own Design by Danielle LaPorte and Carrie McCarthy
If you're comfortable with your face and figure, but still struggle to clearly define the essential "you-ness" of your style, take a look at this book. These authors show you examples of individuals who have worked through their system – and it's FASCINATING. The core of their approach is to analyze all sorts of things about your life, and then distill the entirety of it down to two words, (an adjective and a noun, FWIW), that encapsulate your essence. For me, I was able to whittle myself down to Cosmopolitan Clarity, and it's been wicked useful to refer back to when I'm losing focus.
If you need about a million ideas about how to combine simple neutral garments, check this book out. It's available used for pennies, and while a great deal of the book is enormously dated, the lists of "how to wear a tee shirt" or "how to wear a blouse" are fascinating…
The photographs are laugh-worthy, but the essential advice here is timeless – buy less, buy better, accessorize it in your own wacky way, and take good care of yourself. Now that the prices for this book have dropped from the stratospheric levels of about 10 years ago, it's good fun to page through, and it helps me remember that the essential wardrobe items are actually very few in number; more is not necessarily better.
#5. French Style: How to Think, Shop and Dress Like a French Woman by Veronica Vienne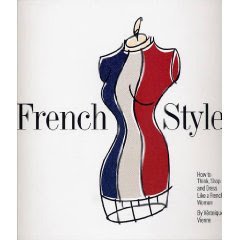 This book was originally published and distributed by Express Stores, which is pretty amazing, if you've been into an Express store recently… It's not a big book, but it has some fun information about history and French style, and it has the obligatory checklists of the really essential "must-have" items which I always tell you to ignore…
But the photographs are wonderful, the writing is very high-quality, and some of the insights are priceless…
love,
Janice