February 25, 2014
This photograph was sent to me as a suggestion for a wardrobe – and what a great idea. This photograph prompted, in me, ideas of wood, stone, natural fabrics and textured fabrics. While I'm going to start with mostly colors in the beige/brown/grey families, there are definite hints here of green, blue and orange that would be great accent colors here.
Another question I've been asked is about the possibility of purchasing garments one at a time, so this is something we're going to try here. And the idea of not matching colors exactly – the colors in this wardrobe (with one exception) won't be identical matches…
So here we go! First off, wouldn't you like to be sitting in this room with a good book and a glass of wine (or cup of tea)?
These are the only two garments that match, and this was more by accident than design. I could envision making the decision to purchase a light neutral jacket and pants with one top – maybe just a sweater – and then building from there. Maybe you already owned light neutral shoes? Add in a leather bag and a warm peachy tee shirt and we're off to a good start.
In my mind, a skirt would be a logical next choice – and I chose the darkest color from the stone pillars. Next, you could maybe shop your closet for a very light, creamy top… A cardigan in a color very close to that of the skirt will also look good with your beige pants and your other tee shirt. Jeans in a medium stone color can be worn with your beige jacket, your light rust sweater, and either tee shirt…
Finally, the weather gets warmer, and you opt for some more fluid and dressy fabrics. A couple of comfortable tunics, in linen or silk, can be chosen with an eye to the colors of pants and your skirt… To balance out the numbers, add in a pair of blush silk pants, and then a muted, nature-inspired print skirt… Nude sandals, and a bracelet with an assortment of subtle stone colors, and you've got literally dozens of options.
I could get through quite a long time with these clothes!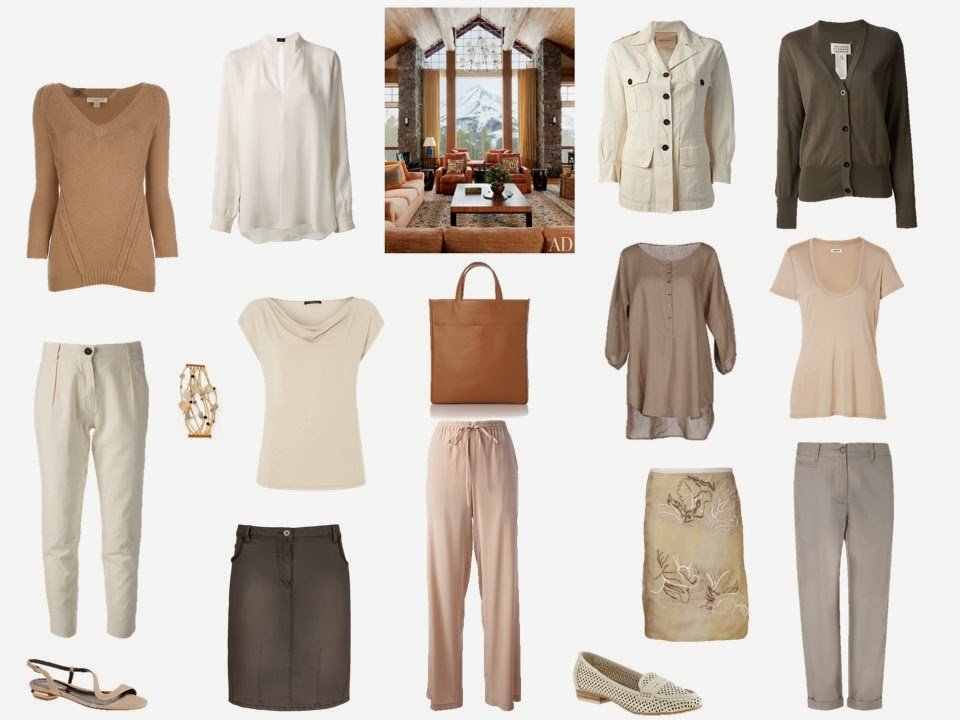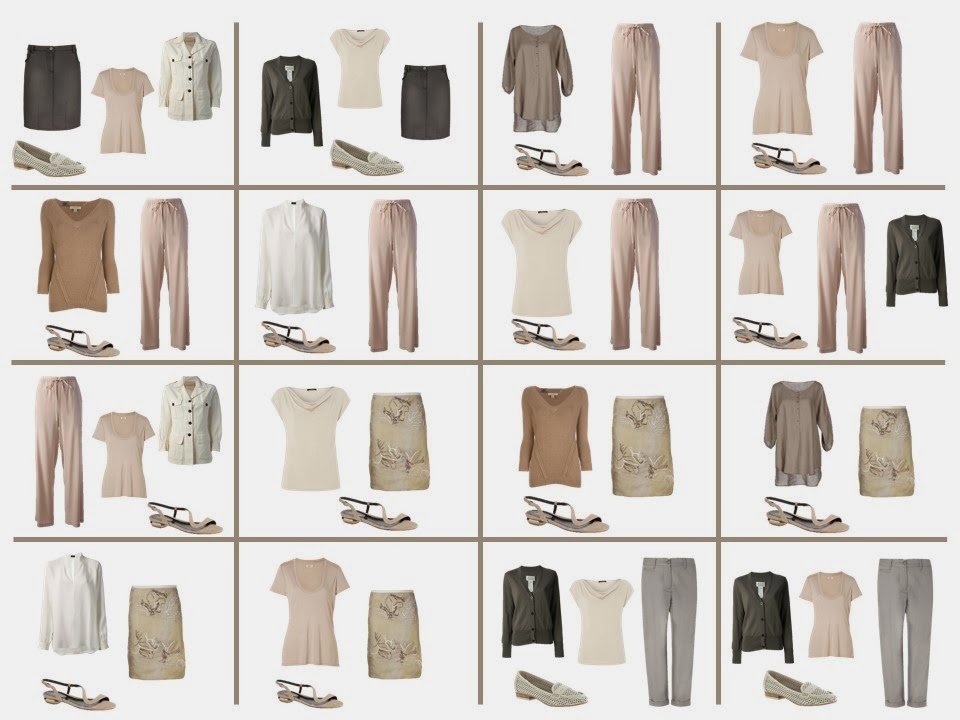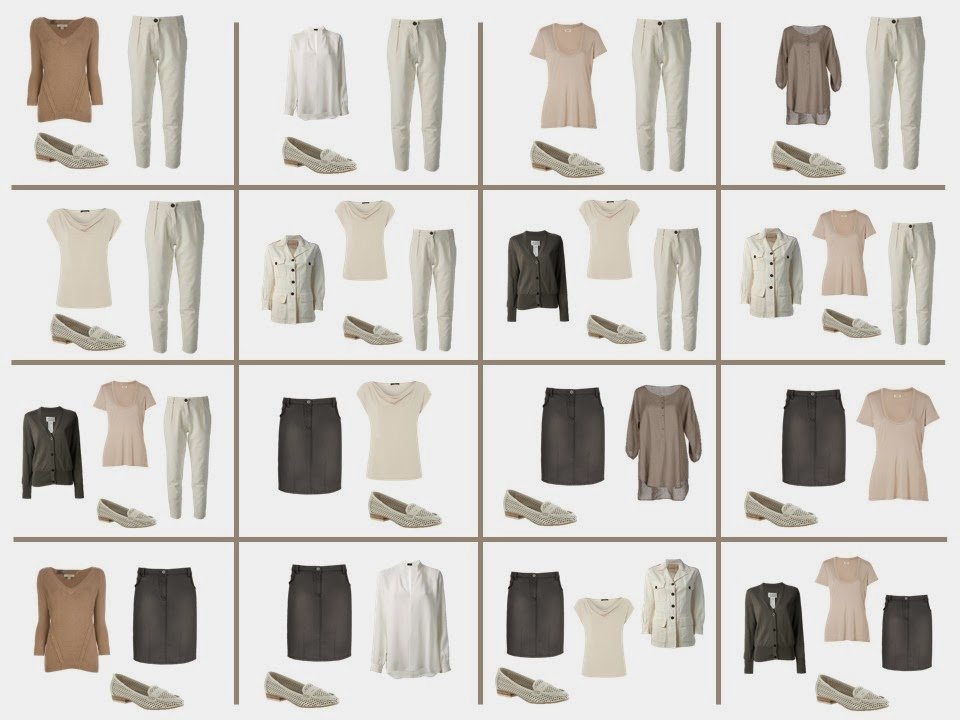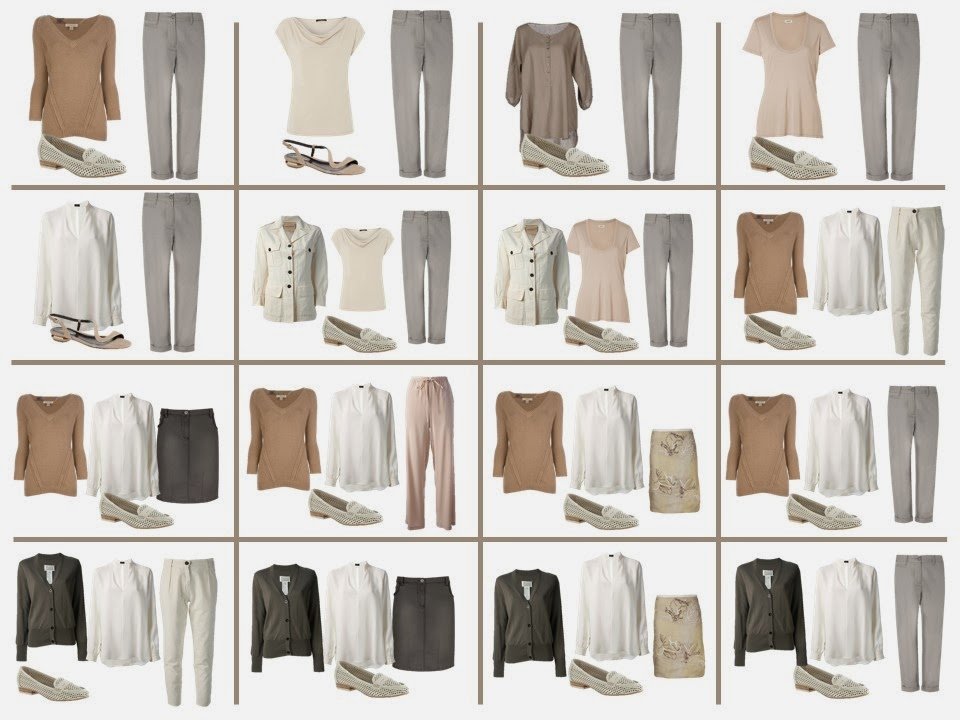 love,
Janice