I'm not shopping these days, but I do LOOK at lots of things (as you well know!). So I decided to do some imaginary shopping; sort of walking through the process of what I would do IF I were in a shopping phase of my life.
First up: What basics do I already have in my wardrobe that I wear a lot, and want to use as a basis for leveraging my purchases?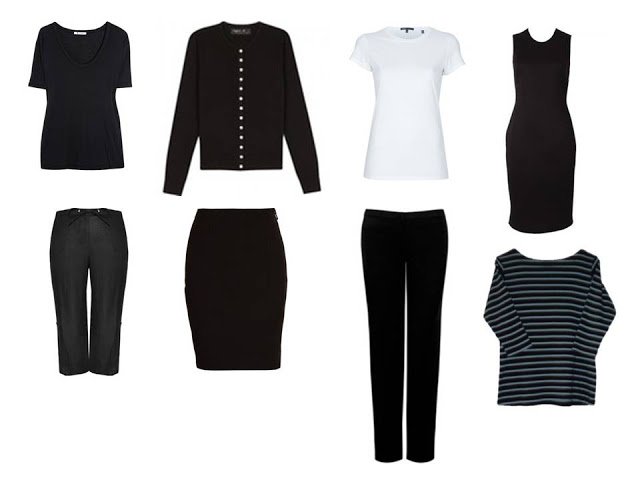 Now, what do I want? I've chosen to splurge on red this shopping spree. It's an on-trend bright color, but it's dead classic, and never goes out of style. It's a color I wear well, I already have a couple of beautiful scarves with a lot of red in them, and it mixes brilliantly with black.
So… a cardigan and a tee shirt (sort of a twinset), a summery top, a pair of pants, a killer dress…
And the add-ons: a "top accessory" (i.e. something above the waist), and a pair of shoes. These are, for me, essential, because if I'm wearing the red pants with a black top, I want something red above the waist to tie the whole outfit together. (yes, a scarf will do this, but in the hot weather, I want an additional option to scarves) Similarly, if I'm wearing a red sweater and a pair of black pants, red ballet flats will make it look as if the red was a deliberate choice as part of an ensemble, and not just the only clean top in the closet!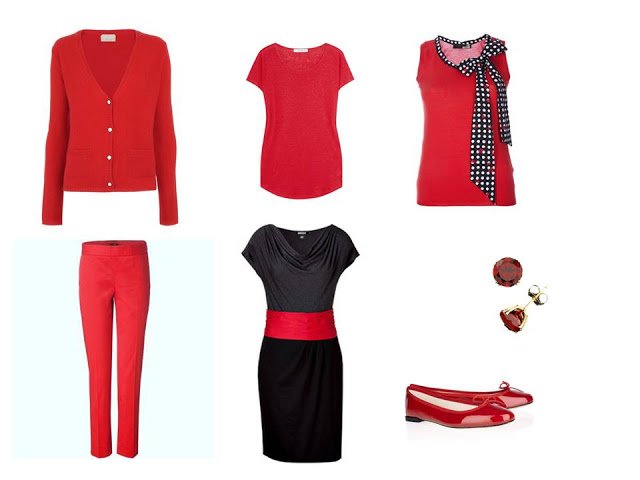 Red cardigan – Very Eickhoff, red tee shirt – Sandro, red
sleeveless top with dotted trim – Love Moschino, red pants – DKNY, sleeveless dress – DKNY, garnet stud earrings
– Macy's, ballet flats – Repetto
And now, the most important step of all: HOW will I integrate my purchases into my existing wardrobe? I do this BEFORE I ever set foot in a store; before my credit card ever sees the light of day. If I can't wear a new item at LEAST four or five different ways, it's not coming home with me…