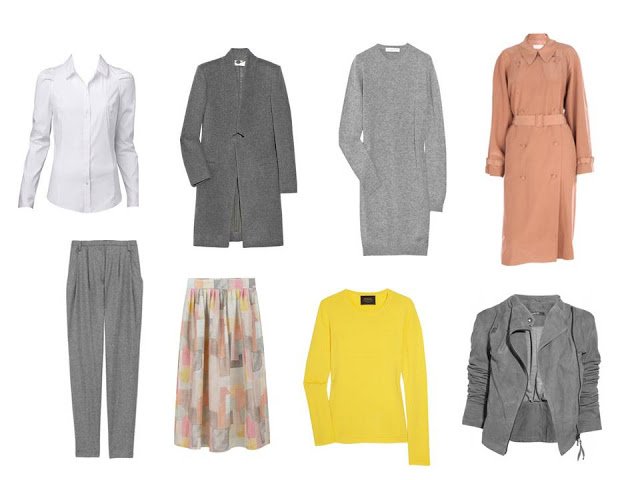 So as lovely as the garments above are, this is certainly not going to be enough clothing to even get you through a week. Most of us would want at least five separate tops and bottoms (or a dress) to get through the week. Even if you wear black pants repeated each week, it's nice to have more than one pair.
Thus, I decided to take it upon myself to determine what additional garments Vivienne would want in order to consider this a complete wardrobe. Realistically, I think most of us would do this exercise twice – once for cooler weather, and once for the sweltering misery that passes for summer on much of our planet. But for starters, let's just round out this core wardrobe with a few of the essentials.
The wardrobe cries out for another dress. Something seasonless and basic – maybe short-sleeved or sleeveless. Certainly, something that would be more practical between April and September (Northern Hemisphere) than a sweater dress.
A second cardigan or jacket. These second layers finish off many looks to give a more polished appearance, and are often terribly useful with air-conditioning, or cooler weather. In this example I'm introducing navy, which is beautiful with gray, pink and yellow.
Another short-sleeved tee shirt. These babies need to be laundered often – you want more than one.
A fun top in a pattern or accent color. All of us in love with stripes – this is our big chance! This one is navy and gray, which has obvious application for this wardrobe.
A longer-sleeved tee shirt. 3/4 sleeve or long, these are good basics to layer up in the cooler weather.
Another pair of pants. If you're a devotee of black, it could be a second pair of black pants, but for most of us, introducing a second neutral into the mix, or a pattern based on our primary neutral, will be more versatile. These pants are navy, to make a nice ensemble with the cardigan, as well as working well with gray, pink and yellow.
Another blouse or shirt. Silk or cotton, depending on you preference. Solid or patterned, or a new accent color.
A dressy top. Works wonders with pants, or any of your skirts.
Note that ALL of these clothes are not going to go with EVERYTHING else at this point, and that's okay. The point is not to build an infinitely mixable closet – not even Garanimals did that! But it's important to have some focus and some discipline; that's how a signature evolves.
Working with a core of two neutrals, some variation of white or off-white for tee shirts and blouses, and a couple of flattering accent colors that work with both of your neutrals, you can have enough variety to keep yourself happy, while always looking like you got dressed in your own, personal, one-of-a-kind closet.
My first interpretation of these add-ons: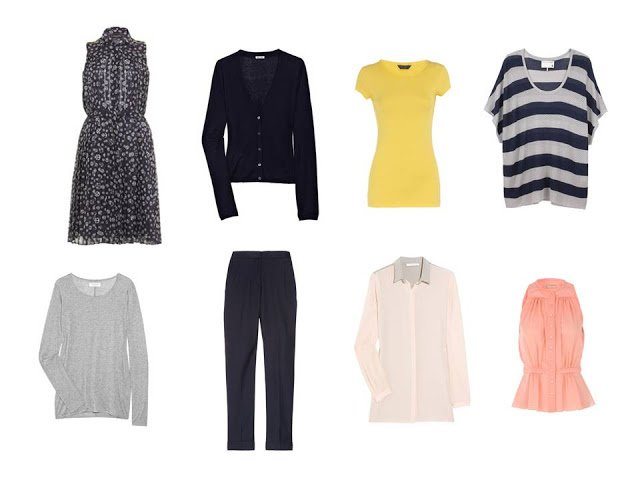 Which gives you the following collection of clothes, excluding outerwear: