One of the things about the book French Chic (Susan Sommers) which intrigued me was the list of garments which included "The seven essentials no well-dressed Frenchwoman would be without".
That list included:
A black straight skirt
a V-neck or cardigan sweater
a suit
a pair of jeans
a silk shirt
a couple of white tee-shirts
an Hermes scarf
The idea of a list of essential clothing fascinates me; in a world that tries to compel me to over-consume, that finite-ness of a list like this, in which I could have some discipline and some structure, seems heaven-sent. Knowing that I was going to buy a fixed number of garments would give me the freedom to determine how much I wanted to spend, in what areas I could be extravagant, and on which things I could choose to be more frugal. And the absence of seemingly infinite wardrobe choices would certainly make getting dressed every day a lot simpler.
But of course, the French wardrobe is not limited to just the above. French Chic counsels us that there are eight other garments which will round out the wardrobe. And this still is not the end of a French wardrobe – they do indeed own more than 16 pieces of clothing, but it does make up the core.
"The eight extras in a well-dressed wardrobe":
A white cotton shirt
a pullover sweater
a full or pleated skirt
pleated trousers
a simple sweater dress
a trenchcoat
a black leather blouson
a heavy coat
Envisioned as follows….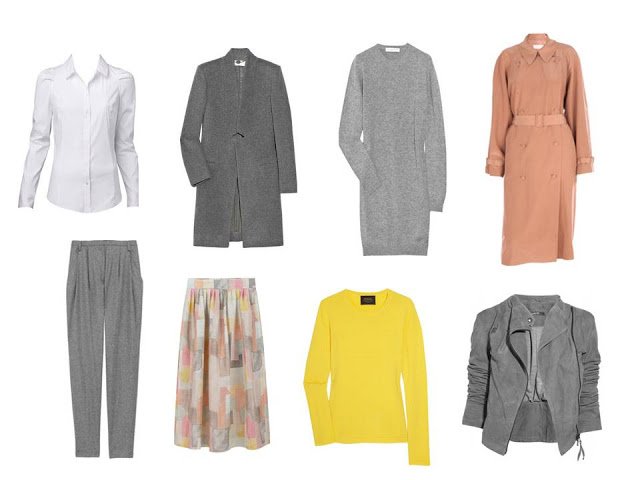 I'm building these vignettes in different color combinations – more to come soon.