November 8, 2023
This is her favorite colors, all in one painting!
If you like floral paintings, I strongly encourage you to visit Lilan Muheim's website and enjoy the range of offerings – she's got a LOVELY talent…
One of the things she loves about her favorite paintings is that it includes both navy and olive green; having two neutrals available for one's wardrobe is always useful.
She's Named For a Flower…
One of the less common ones for names! But she's embraced the whole idea for decades – much easier than feeling ill-used by her parents!
And her favorite colors include the colors of her name-sake flower, so that works out well.
Her color palette offers plenty of possibilities: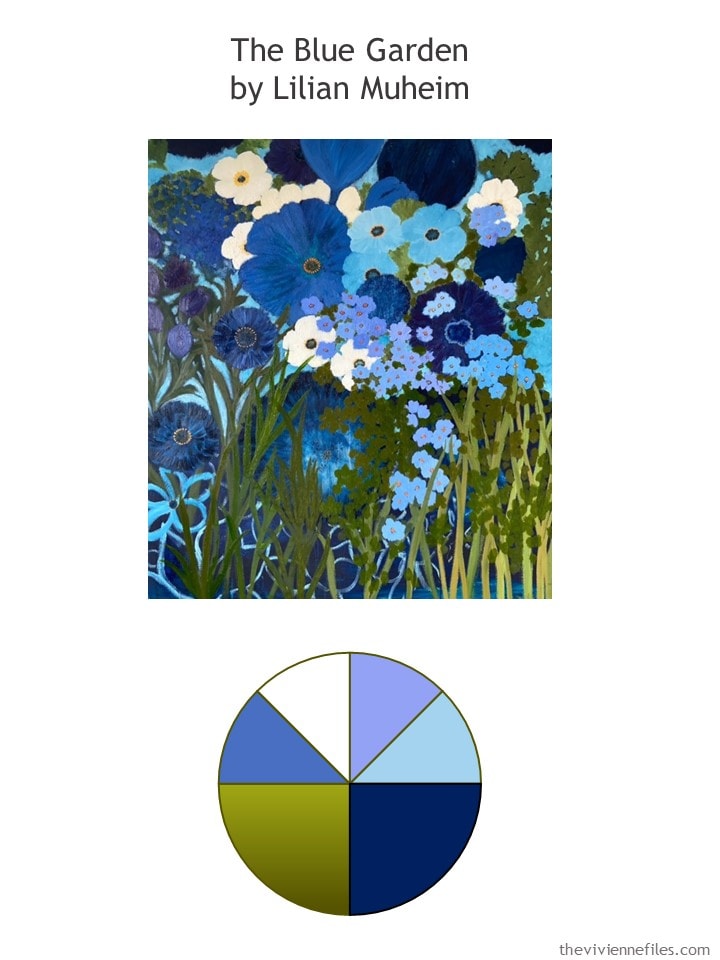 For her upcoming multiple holiday-season long weekends, she's decided to focus most of her accents on periwinkle blue – and who wouldn't? It's so pretty!
Her travel outfit is a classic navy "suit" with a light blue top, and an excellent scarf. Of course, a navy floral bag is just right…
The rest of what she's bringing with her will make it possible to get dressed up easily, but are also things that she can wear for many events. Velvet pants are versatile…
And a skirt! She will be attending religious events, and a skirt will be most appropriate. With opaque tights and flats, she can also wear her skirt just hanging around with family and friends – washable wool is wonderful!
This is everything that she will have with her – she's excited about how pretty everything is, and comforted by having enough things to always be nicely dressed…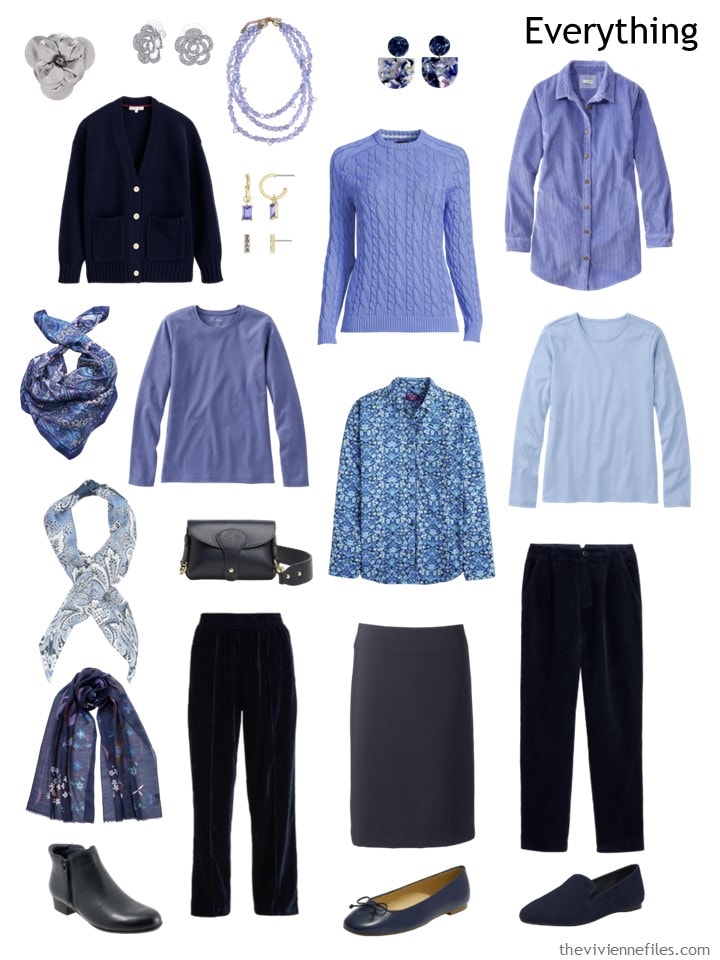 Depending on weather, and what she's off to do, and whatever's clean, she will always have something to wear!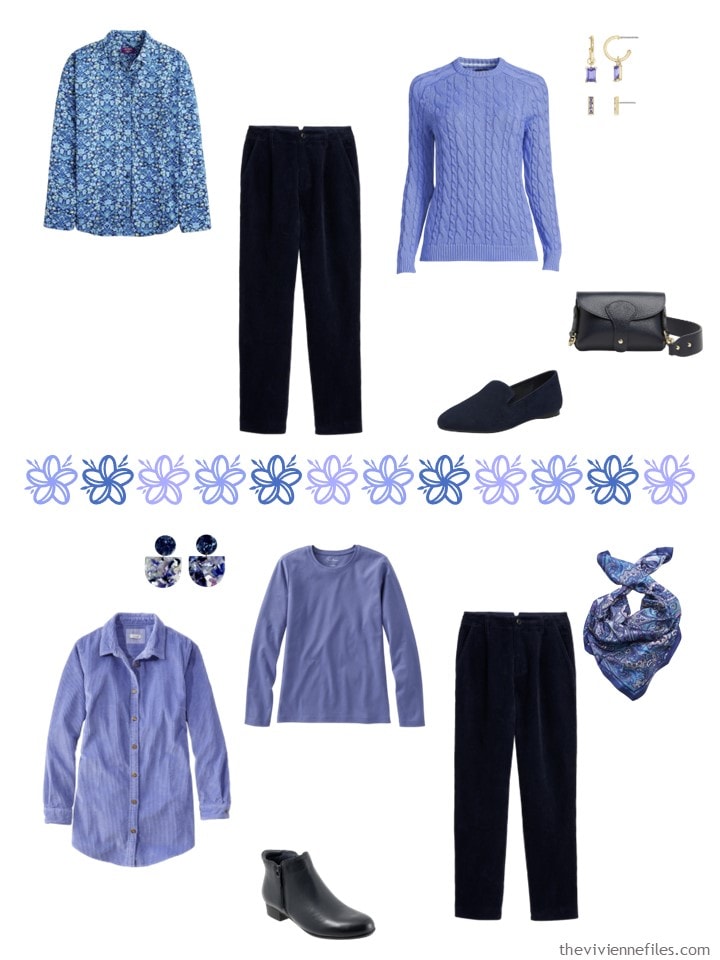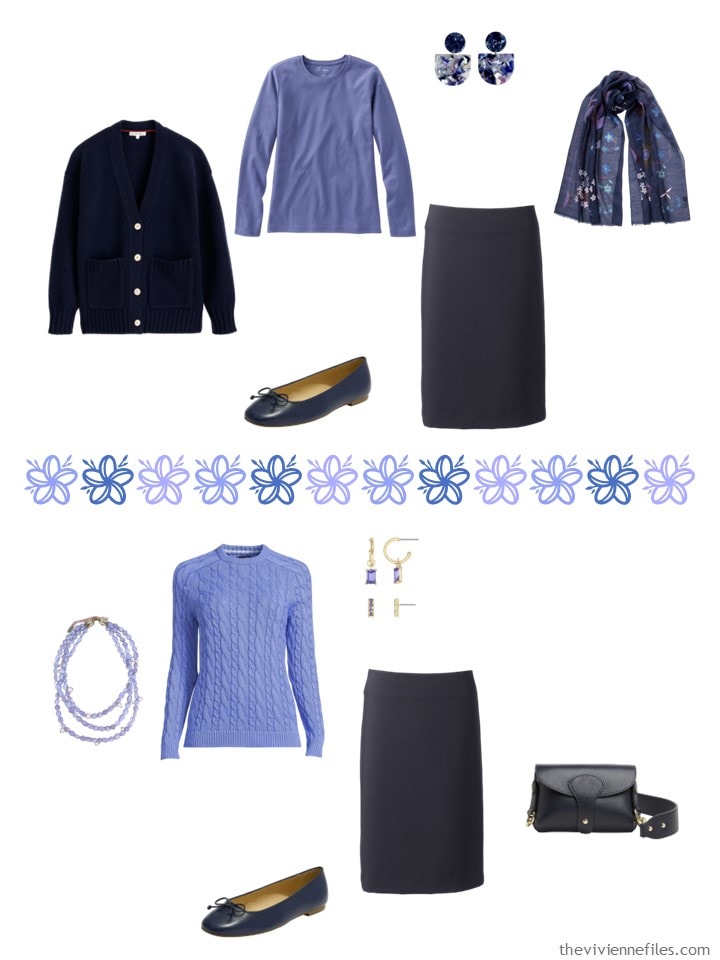 If you know that you're going to be taking multiple long weekends (with different people), would you be happy packing the same travel capsule wardrobe repeatedly?
I sure would!
love,
Janice
p.s. Ten years ago, I was spotting LOTS of women wearing brown with teal and turquoise blue…