December 12, 2022
Friday, I wore this:
This was interesting, because it was the FIRST time I wore my blue sweater, and also the snowflake scarf. So the first thing that I learned – over and over – was that I have clothes in my closet that I… not exactly forget, but recurringly overlook. Is there a difference?
But let me stop for a moment and think about the most important things that came from this project. First and foremost, if you buy a really great dress and take good care of it, it will indeed withstand 3+ months of constant wear. There's no reason to believe that clothing will only last a short while. If your clothes start falling apart after a dozen wears, you're very hard on clothes, or you're buying things that aren't very well made!
My dress, after I wash it and press it, will look new. There are no faded spots, no snags, nothing droops or sags or looks in any way as if it has been worn 100 times.
I laundered it every 10 days or so, but I steamed it EVERY NIGHT. A good steamer helps keep things fresh, removes a surprising amount of surface soil, and vanishes wrinkles. Arguably the best wardrobe investment I've ever made…
SHOES
I wore 10 pairs of shoes in 100 days! If I had started the project after the weather turned cool, I could easily have foregone the sandals and maybe the ballet flats too.
Yes, the flats and the low-heeled pumps are going into the BACK of my closet for a few months…
My personal recommendations:
Minnetonka moccasins are just as comfortable as they look. I will wear them all winter…
The Cariuma fleece-lined sneakers are AMAZING. I put them on one day and proceeded to walk across the loop and back, and literally never gave them a thought. Warm too!
If you want to wear shoes to death, get them from Thierry Rabotin. Both of my dress shoes are from them, and they last forever. Comfortable. Easily repaired by a competent cobbler.
EARRINGS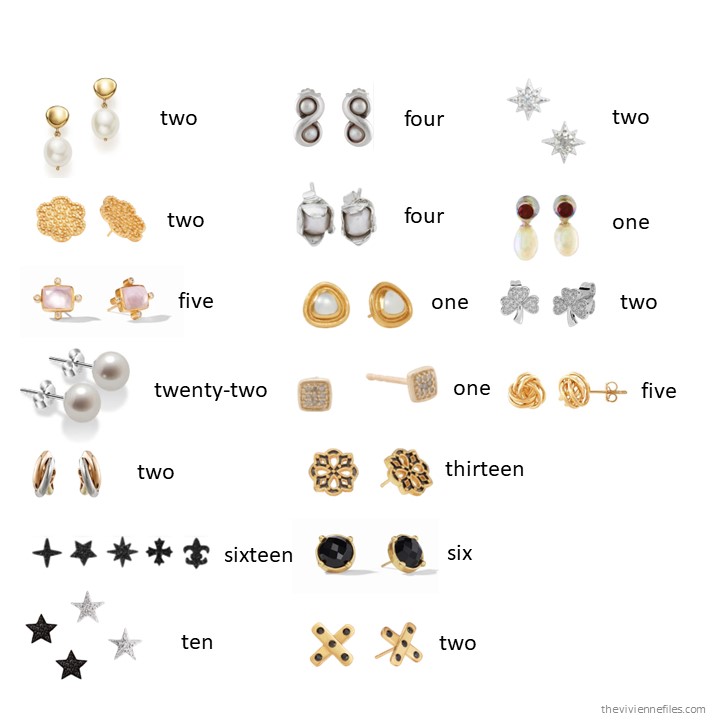 I noticed 2 things – I really REALLY like earrings from Julie Vos. I only wear her small studs – mostly of them about the size of a dime… They don't tilt or move around, they're heavy but they don't drag, and they're well made.
Another thing? I will wear the same earrings 3 or 4 days in a row, even though I take them off every night! I just get used to them, I guess…
SCARVES
Why yes, I do have the email address "woman of scarves," but in French! And I own a lot of scarves; I hadn't realized how many until I determined that I was going to wear ALL OF THEM during the 100 days…
First, Hermes! I have 17 of these – I honestly thought it could have been more! I've been buying them since I was… uh???… 36, I think. That's 26 years. And I do buy some of them second-hand – I'm not a snob about these things: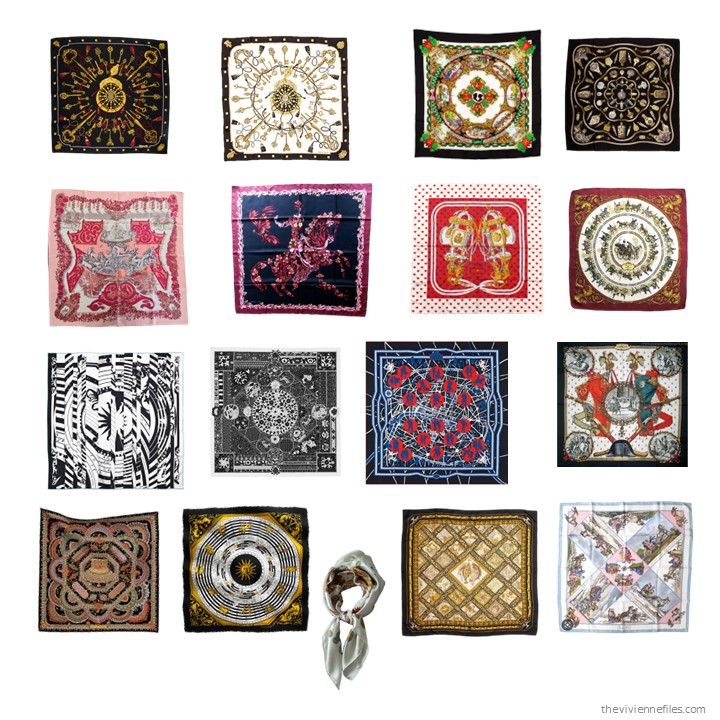 One scarf is so old that I can't find a good photograph of it anywhere!
Next up, square scarves from other companies – Echo, Aspinal of London, ImageDiary, Wolff & Descortis, and D&G. These are scarves that have whappage and must join my massive collection: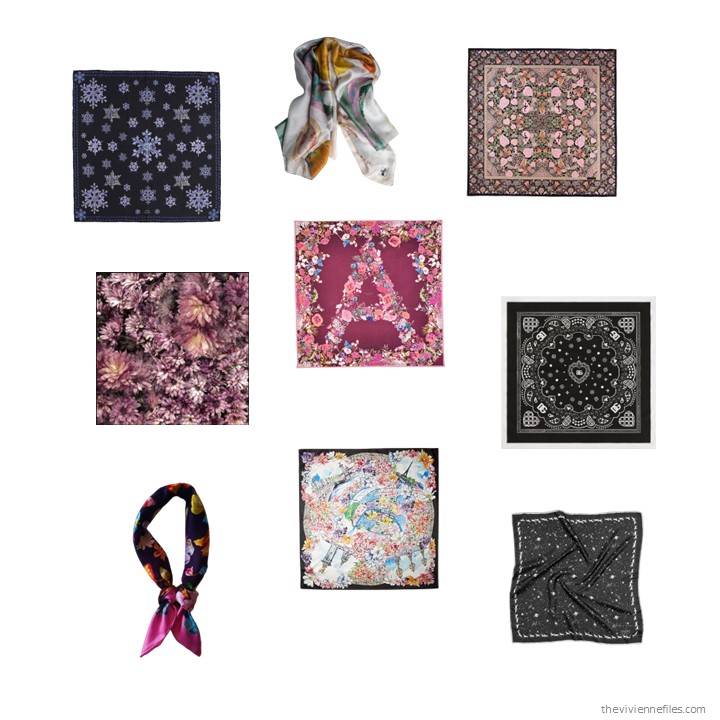 And finally, rectangular scarves. Some of these are from Paul Stuart, the menswear store; many others were purchased in France. Yes, I think I could easily thin this collection out to about half as many scarves, but I don't really need to, so I'm keeping them all!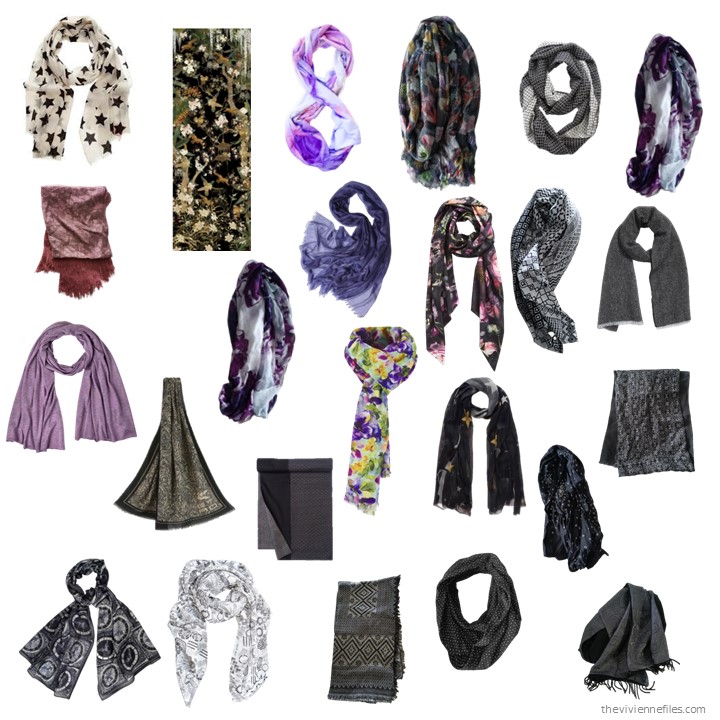 SECOND LAYERS
Here's where things get interesting…
First, I have to confess that if I were to do this project again, I would choose a dress that wasn't flared from the waist down, the way my Sierra is. When I put on anything that fell below my hips, the skirt of my dress would be gathered a bit under the hem of my jacket or sweater. Not a deal-breaker, but I would have been more comfortable with something that didn't have bunched fabric.
That said, I found TWENTY-SIX different garments that I wore over my dress – starting with shirts I wore unbuttoned over in warm weather, to cardigans and sweaters when I weather got cool: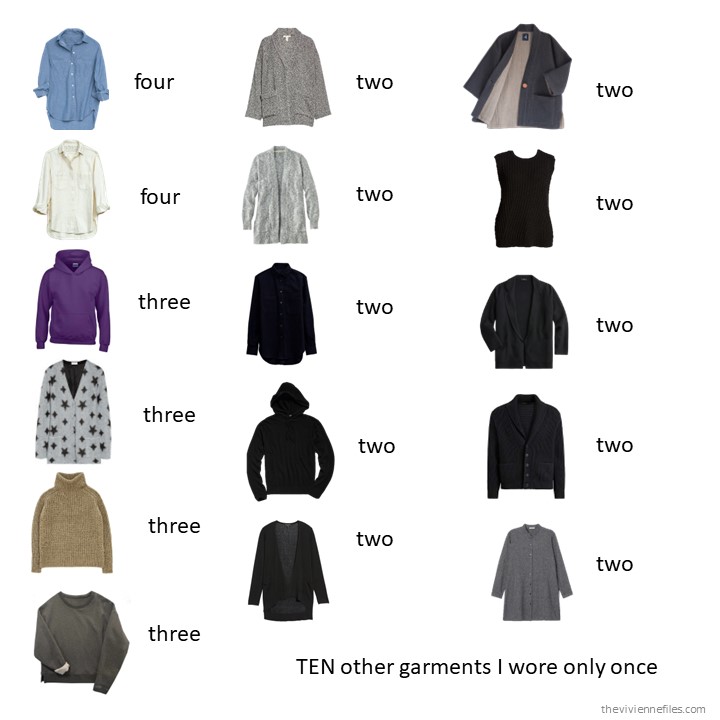 Another confession – I knew that I would be able to easily wear my dress with tee shirts and turtlenecks under it; the last trip I made to Paris (February 2020!), I packed 2 dresses and a stack of things to wear under them. It's a comfortable way for me to dress.
And I've learned that I own a LOT of tee shirts! I have this fear that striped tee shirts will suddenly vanish from the face of the earth and I will never be able to buy another one, so I stock up on them ALL THE TIME. It's a bit neurotic…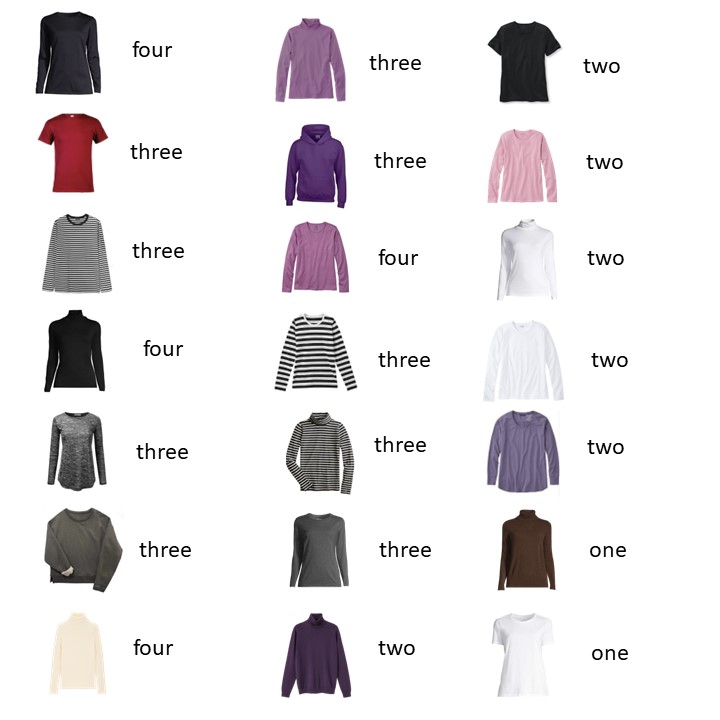 And finally, one of the reasons that this experiment went well is that I have all kinds of other accessories that helped keep things interesting. A good brooch is priceless, nice bracelets make a ton of difference to your look, and excellent necklaces are a game-changer.
A pretty (ahem…) knee brace is never to be refused…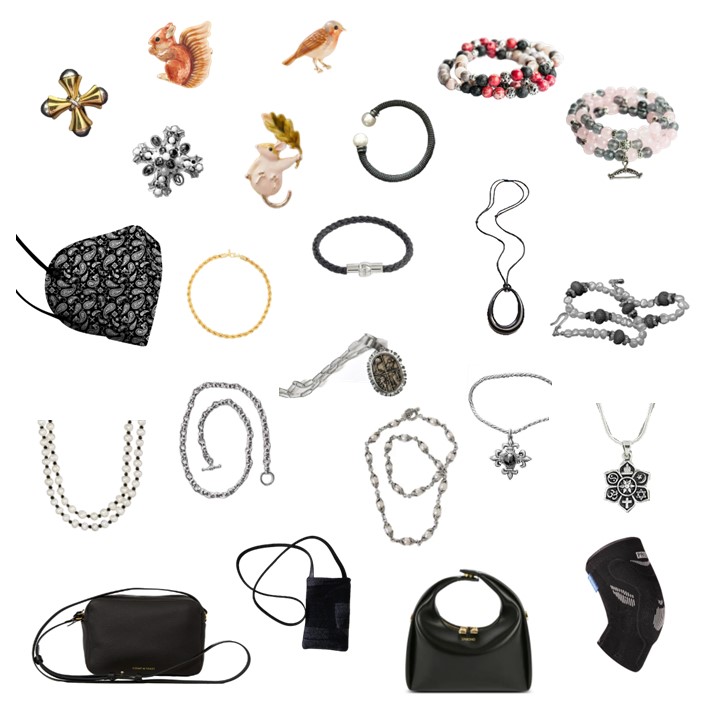 Last but never least, the things I wear every day – hair curling goo, a great watch, my sleep-monitor ring, some sunscreen and some fragrance!
I would have included my Sensate too, if I had received it earlier. It's this weird plastic rock-like object that one rests on their sternum, while reclining. It vibrates. You listen to a trippy spa-music recording for 10, 20 or 3o minutes while this thing is humming along, and you relax almost immediately.
Some reviews are indifferent, at best, but I'm loving mine… It isn't clothing, nor is it really an accessory, but I still want you to know that they exist, and that at least 1 person you know is having really good luck with one.
So – would I do this dress experiment again? Yes, for a good reason.
I can get by with a lot less clothing than I expected.
I wasn't bored.
I didn't get tired of black.
I didn't get tired of either tights or leggings every day.
I found getting dressed was absurdly easy, and that's worth a lot!
Are you considering trying it?
love,
Janice

p.s. EIGHT years ago, I shared some Chic Sightings in which lovely women mixed shades of green in their outfit. Still eye-catching…